If you're drawn to vintage style and antiques, chances are you have a jar or two of pretty old buttons. Carved mother of pearl buttons are especially popular to collect. With just a little wire and a few jewelry making tools, you can make an easy button pendant with basic wire-wrapping techniques. In this post, I'll show you how to wire-wrap buttons with a technique that can also be used for lampwork discs and other flat components.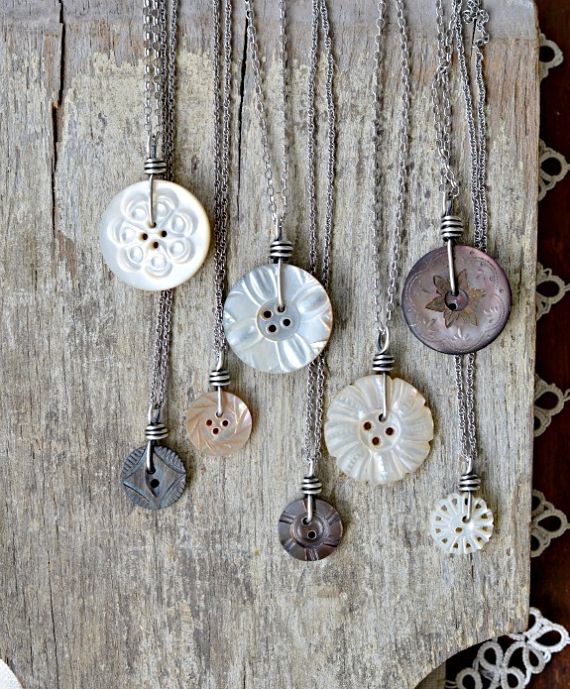 How to wire-wrap buttons and lampwork discs to make easy pendants
Tools and materials you'll need:
Button or lampwork disc of your choice.  I used a 24mm button in the step by step photos
18-gauge wire  (dead-soft sterling silver used in this tutorial)
Round-nose pliers
Chain-nose pliers
Flush cutters
Ruler
Sharpie
Step 1:
Cut a 5" piece of 18-gauge wire.
Step 2:
Measure the wire and make a mark at 1 ¼" with a Sharpie. Slide the button onto the wire and place on the mark.
Step 3:
Bend both wires up, pressing the wires snug against the button.
 Step 4:
Bend the wires so that they cross over top of the button. Be sure to leave a small amount of space between the button and wires so that the button can move freely.
Step 5:
Bend the long wire up with the tip of the chain-nose pliers. Bend the short wire forward. The wires form a 90-degree angle.
Step 6:
Grasp the short with the chain-nose pliers and wrap around the longer wire twice. Trim the wire.
Step 7:
Bend the long wire back 90 degrees. Place the middle of the round-nose pliers at the bend and make a wrapped loop. You'll want to make this loop large enough so that you can slide it on to a necklace chain.
Step 8:
Wrap the tail wire over top of the previous wraps, keeping the wraps parallel and neat. Trim the wire on the back side of the button and press the wire down. Check your wirework and be sure that the wire on the top of the button is in a straight line with the loop, creating a precise and finished look.
Now you are ready to slip the pendant on to a finished chain or leather cord — it's ready to wear!
Tip: For a more rustic look, use pre-oxidized wire or oxidize the pendant after it is completed.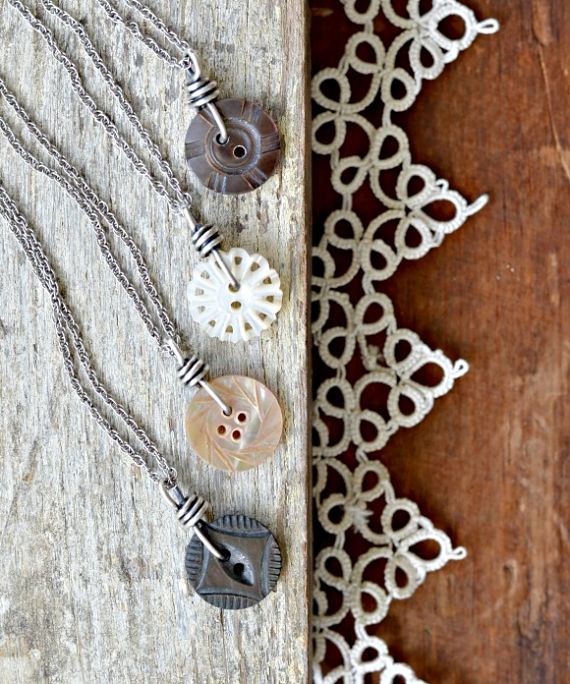 Once you get the hang of this easy wire-wrapping technique, you'll find there are many variations to try. You can vary the type of wire and use twisted wire. Try making pendants with different metals, such as brass or copper. Bring out your stash of art beads and make a wire-wrapped pendant with lampwork or ceramic discs.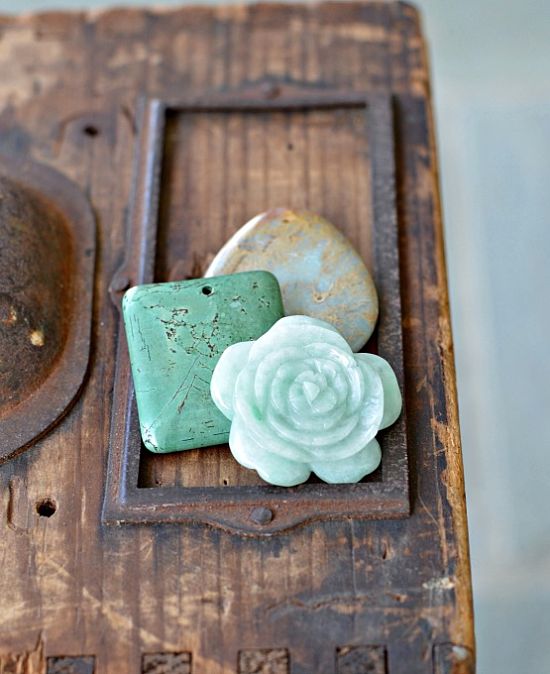 Stone focal beads like these are also perfect for making wire-wrapped pendants.

Free Online Jewelry Making Class