Winter is a wonderful and certainly magical time of year to hold a romantic wedding. The idea of snowdrifts, festive decorations, elegant place settings, intimate florals and glistening accents can really add a cozy feel to that special day.
However, with so many fabulous seasonal elements that are ready to inspire your wedding details it can be hard to choose the right balance of elements to create the perfect wedding cake, fit for a romantic winter-themed reception!
Here's our top 5 inspiring winter wedding cake design ideas…
Roses and ivy cake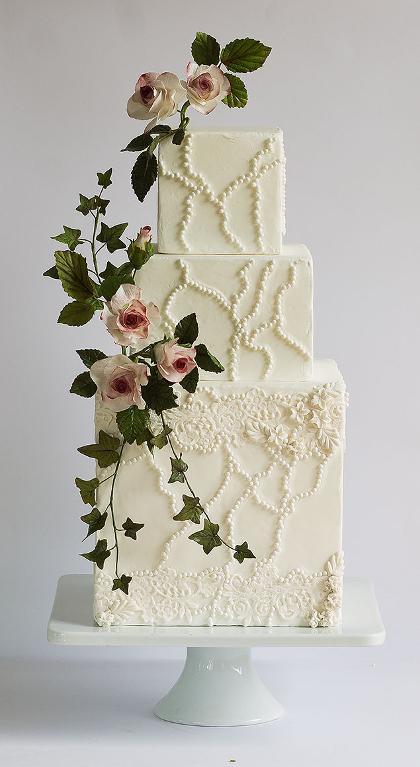 Photo via Craftsy member ModernLovers
A great idea is to take one winter floral or foliage element and delicately incorporate this into the design. We love how the small and rustic sugar ivy leaves branch out and cascade along the sides of this porcelain colored wedding cake. Further romance is added with dusky pink ombré sugar roses, striking bas relief-style decoration and an intricate web of fondant pearls.
Discover a wonderfully new world of creative cake design and sign up for Maggie Austin's Decorating in Three Dimensions class today! You'll learn so many innovative ideas, tricks and techniques!
Ice pink ruffle cake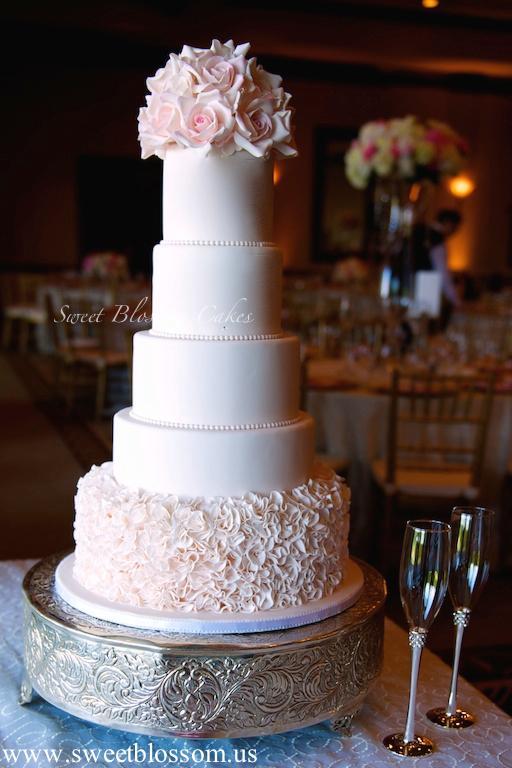 Photo via Craftsy member TaHe4ka
The pale ice pink utilized on this show-stopping cake is the perfect color for a winter romance inspired wedding cake. Keeping the design simple helps make the extra features, such as the ruffled bottom tier and the delicate sugar roses nestled on top, more striking.  Adding a few limited sugar rose petals that have fallen down the side of the cake may add a lovely carefree feel to the cake and reception!
Creating stunning sugar roses is a skill worth having when it comes to decorating and designing scene-stealing cake. Enroll in Nicholas Lodge's The Ultimate Sugar Rose class now to learn these techniques plus so much more!
Silver leaf cake
Photo via Craftsy member CakeBakerMoney
Planning a more modern and contemporary styled wedding or wedding cake? Why not entertain the idea of including a little luxury in the form of some fabulous gold or silver leaf work. This small and simple purple and silver wedding cake uses edible silver leaf smoothed onto the surface of a deep tier to draw in attention. Guests will be amazed at this look and technique!
A fantastic idea is to use gleaming gold or silver edible leaf with a cake that encompasses a striking Art Deco design theme. Why not feature a gorgeous silver leaf sequin tier amidst black tiers adorned with 1920s-inspired fondant tiling and stylised sugar flowers in bold yet dark colors.
Pom pom wedding cake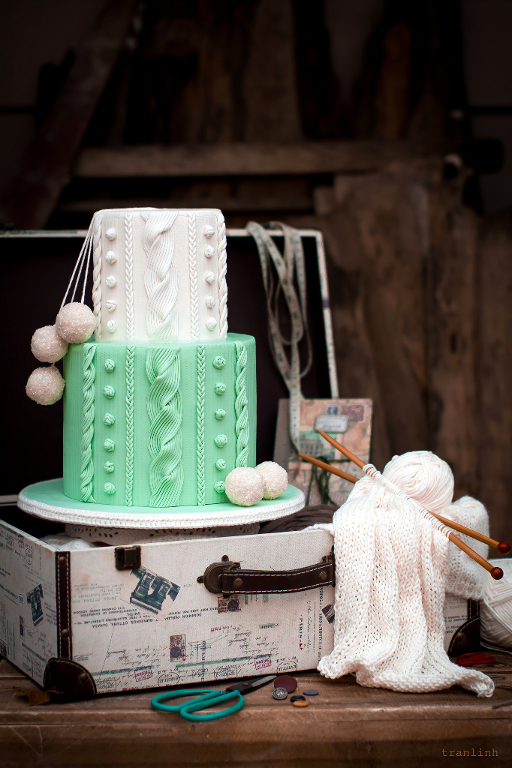 Photo via Craftsy member Tran Linh
We absolutely love this wonderfully adorable cake design idea! This knitted cake is perfect for cosy weddings with a hint of vintage to it's style. We think that this tiered creation would be perfect combined with a velvet ribbon trimmed cake board, each tier dotted with frosted berries and winter inspired bouquets too! Why not add a definite touch of glam with a tier encrusted with gold or silver painted edible sequins to0.
You would learn how to create a stunningly sweet pom pom inspired cake just like the one above with Erica O'Brien's A Cake for Every Season class! Enroll today to discover some gorgeous designs perfect for spring, summer and fall too!
Country garden wedding cake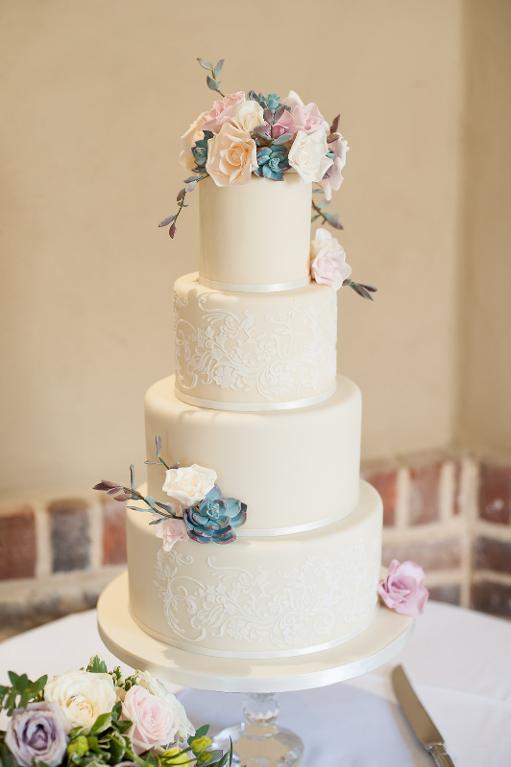 Photo via Craftsy member sinead_e_2063875
If a vintage look is needed for a quaint and magical winter wedding why not consider incorporating some ornate detailing to your design. We love the tall and sweet floral and succulent adorned wedding cake above. The pale neutrals of the cake itself combined with the detailed royal icing stencil work help evoke an elegant feel whilst the pretty florals contribute a wonderful rustic look!
Adding a beautiful and intricate touch of detail is an incredible way to make a cake ultra elegant and lavish. To get to grips with adding pristine stencil work to your cakes, sign up for Alan Tetreault's The Secrets to Perfect Stenciling online cake decorating class!
Inspired?
With so many beautiful design ideas perfect for a stunning winter wedding reception we're sure that you'll find yourself incredibly inspired to begin. Our top tip when designing a themed wedding cake is to keep it simple. Too many themed elements can make the cake look too busy or may give the design too much of a novelty look. Remember that less is more!