Do you love winter? With its crisp mornings, sparkling sunshine on the snow and coats the land in a beautiful clean, white blanket. Combined with a gorgeous blue sky, a priceless piece of art is created!
Winter can ignite that creative passion in you. Even better when you can capture that blue and white winter contrast in some fantastic quilts that bring pleasure to the eye and evoke magical winter thoughts!
Blue is considered one of the cool colors on the color wheel, destined to emulate calmness and a sense of peace. Coupled with the crispness of white, you end up with a modern, clean-looking quilt.
Enjoy these winter quilt patterns!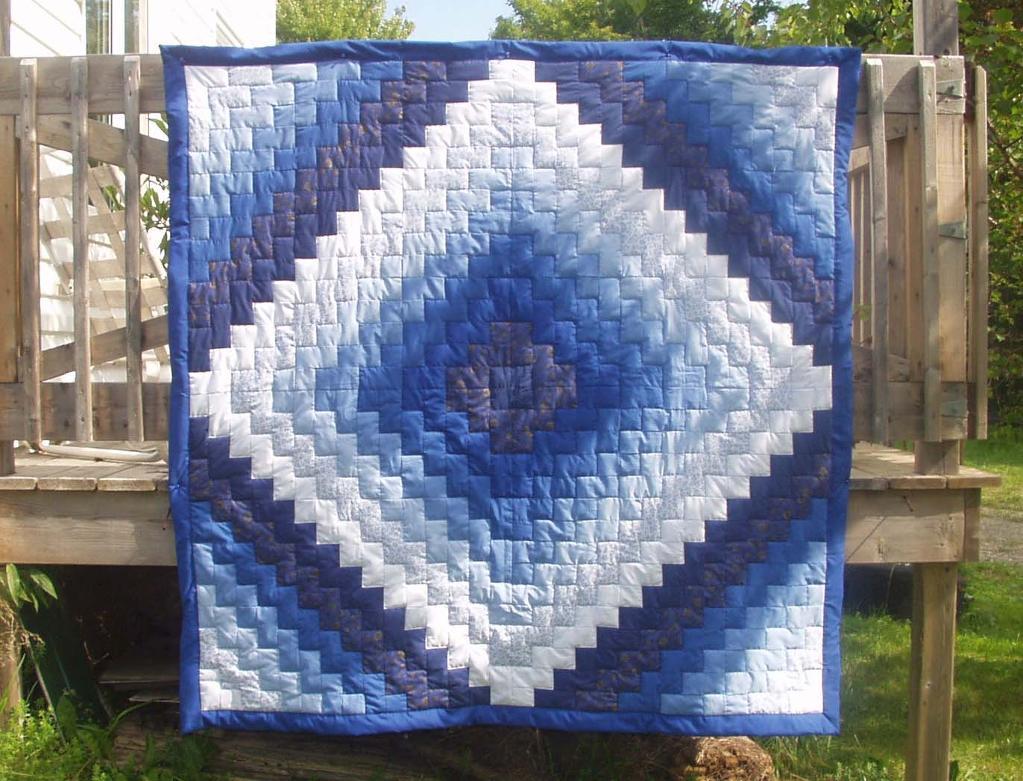 Q100 Blue Kaleidoscope via Bluprint member Pine Glen Designs
Blue Kaleidoscope
Take a look at this  quilt. With the different shades of blue it is cool and soothing to the viewer. It uses 8 different shades of blue, most only using 3/4 of a yard of fabric.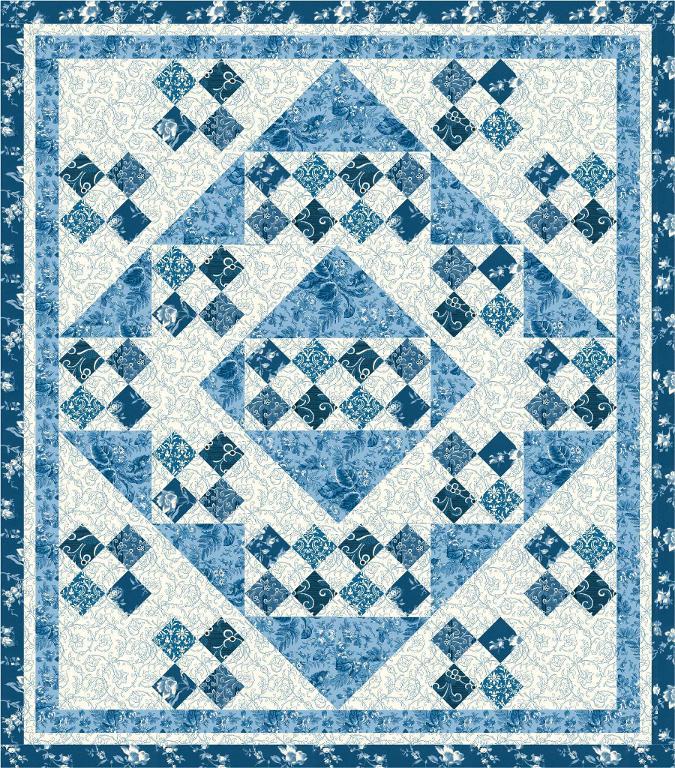 Argyle Blues via Bluprint member Cottage Quilt Designs
Argyle Blues
This quilt allows you to use up all that blue print fabric you have collected! Ranging from a throw size of 57″ x 65″ right up to king size, this pattern is a hit to make! Labelled as a beginner quilt, it uses simple piecing methods and makes a very captivating quilt with the squares set on point.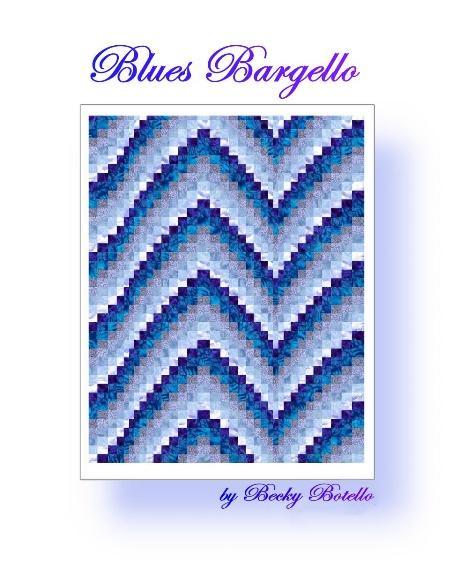 Blues Bargello via Bluprint member Lil Becks Corner
Blues Bargello
Now it is not a roundup without a Bargello quilt in there! What better one to put in then a cool blue one measuring  80″ x 60″ and using 1 yard of 8 different fabrics.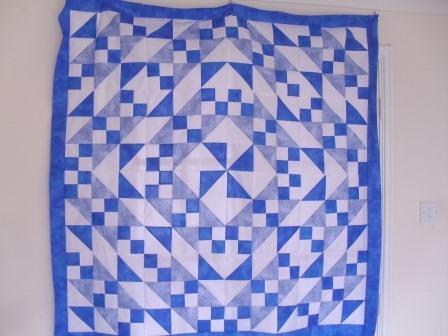 Steps to the Altar quilt via Bluprint member Ludlow Quilt and Sew
Steps to the Altar
Check out this free pattern! Finishing 52″ x 52″ it is based on one block with minor adjustments to end up with this lovely quilt. Using only squares and half square triangles to piece together and three pieces of fabric, it is ranked at a novice level.
Tips for choosing patterns:
Good lighting
When picking out your shades of blue and white, make sure to audition them in a natural light setting. Often under fluorescent lights, your whites look very different when brought out into the sunlight and by doing so will help match your shades up better.
Mix and match
It can be fun as well to mix and match solids with prints. It often allows you to bring in more of your fabrics as they can have different values of the color in the print.
Big or small projects
Remember quilted items come in all sizes and it is nice to switch it up every now and then.
Illusion pattern via Bluprint member From Blank Pages
Illusion pillow
Here is one fun pillow! It can be done in a 6″ or 12″ size and is meant for brand new paper-piecing beginners. What better way to learn to paper piece than to create a small but practical item?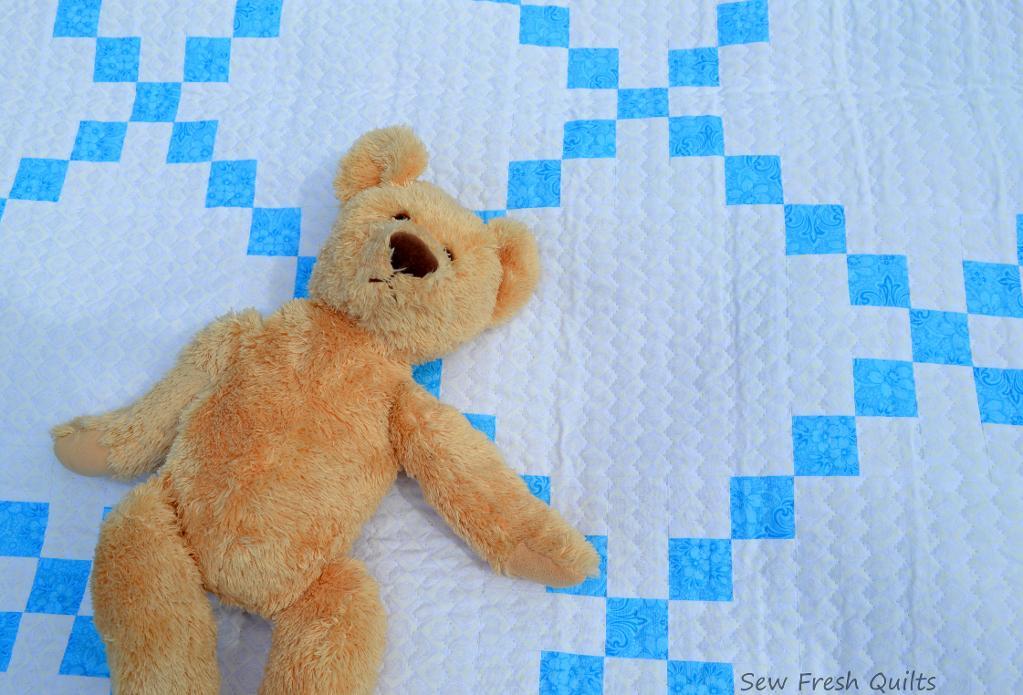 Country Lanes Irish Chain baby quilt via Bluprint member Sew Fresh Quilts
Irish Chain baby quilt
A sweet baby quilt in blue and white is sure to bring a smile to that family. Measuring 37″ x 52″ and only using two fabrics, this makes for a delightful gift for that special baby and is a great quilt for a new quilter. It is not big and uses only squares to match up with lots of negative space for fun hand or machine quilting.
Trillium Blues 'Mini' Wall Quilt via Bluprint member Inspired Creations by D
Trillium Blues
A wall quilt is a fun way to capture a quilt and is seen as  a piece of art. This stunning wall quilt measures 19″ x 19″ and with that size, you can hang practically anywhere. Ranked as an intermediate level, it also has a larger size measuring 28″ x 33″.
Whatever your color choice this winter season, be sure to check out the wonderful patterns available on Bluprint.
What colors do you like to quilt with in the winter?