From skiing and figure skating to hockey and curling, let the games begin with this inspirational collection of Winter Games themed cakes and cupcakes!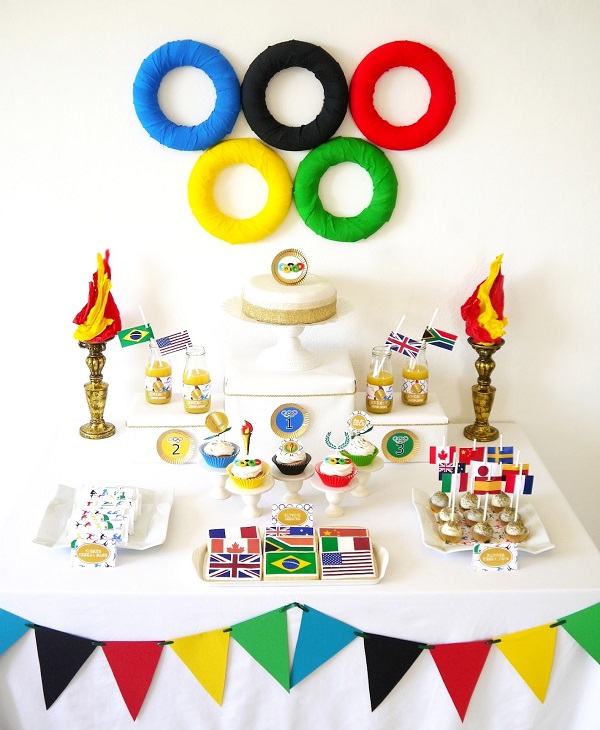 Photo via Bird's Party
Winter Games dessert table
In honor of the 2012 summer games, Bird's Party created this incredible dessert table that can easily provide inspiration for this year's winter sports. The presentation was anchored by a beautiful cake and cupcakes, while flag cookies, cake balls and chocolate bars filled in the rest of the display. Utilizing the primary colors found in the signature rings brightens up the entire set-up, while gold accents tie it all together. Check out additional party and dessert inspiration, including a tutorial for the rings utilized for the backdrop.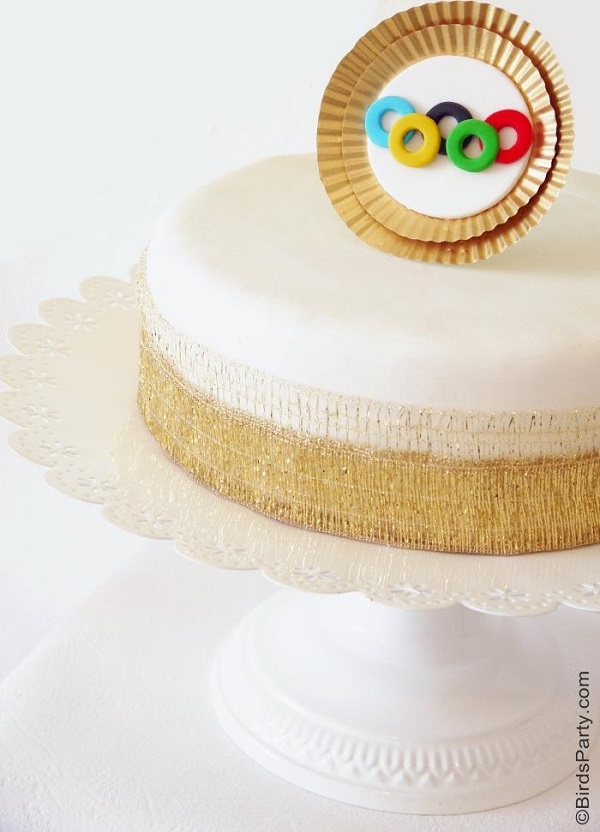 Photo via Bird's Party
Iconic rings cake and fondant topper
For the centerpiece in the above presentation, Bird's Party created this simple, yet gorgeously decorated cake! The cake was covered in its entirety with white fondant, creating a clean palette, and adorned with gold ribbon around the bottom. A fondant topper embellished with the iconic rings created by Lynlee's Petite Cakes (punched out with circle cutters) was attached to a couple of gold cupcake liners, creating a beautiful ribbon cake topper.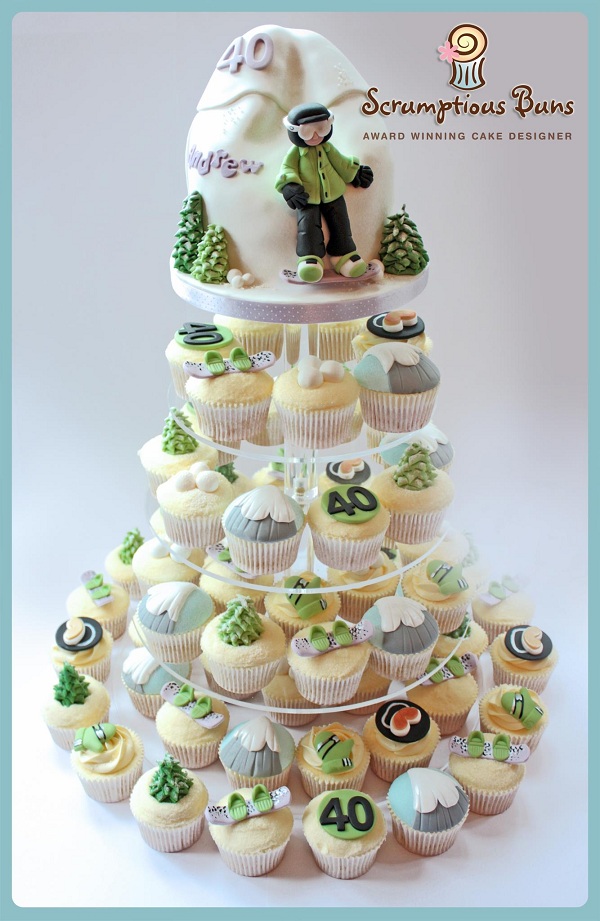 Photo via Scrumptious Buns
Snowboarding cupcake tower
This incredible cupcake tower by Scrumptious Buns would be perfect for those interested in the snowboarding events in the Winter Games. The tower is topped with a carved mountain cake and snowboarder, while the cascading cupcakes are adorned with pine trees, snowboards, and additional winter accessories. Cupcake towers are a great alternative for tiered cakes, providing simpler, individual portions and the opportunity to be creative with your decorations.
For more practice with modeling people, take a look at Cake Topper Techniques: Figure Modeling with Anne Heap.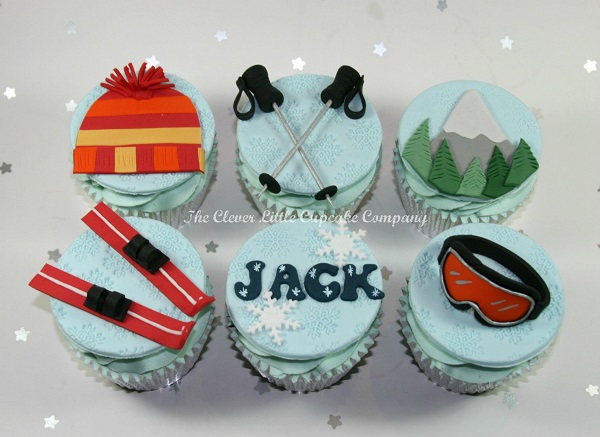 Photo via The Clever Little Cupcake Company
Skiing cupcakes
These especially detailed and adorable skiing cupcakes by The Clever Little Cupcake Company would be perfect for several winter sporting events! The uniform color and snowflake texture achieved with impression mats on the bottom of the toppers tie the entire collection together with a winter theme, while the skiing accessories are intricately molded. Additional accents are hand-painted in silver.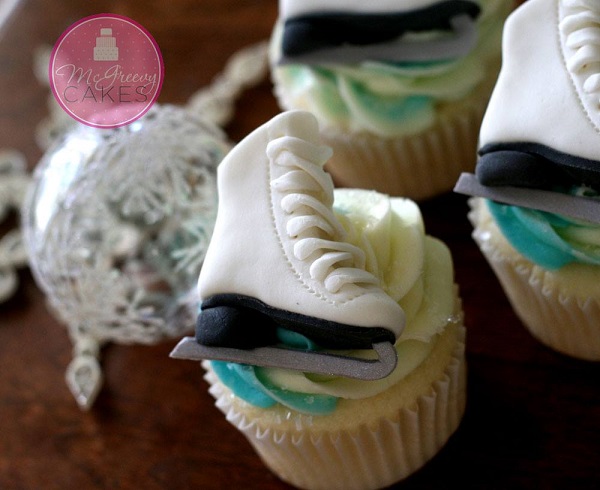 Photo via McGreevy Cakes
Ice skating cupcakes
These fondant ice skate cupcake toppers by McGreevy Cakes are just gorgeous! Once hand-molding them, extra details are added, including little perforations for the seams and crossed laces. The icing is piped on with two soft colors and sprinkled with white sparkling sugar, adding to the winter effect. These decorations can easily represent figure skating events, but with some simple color changes, they can be utilized for speed skating as well!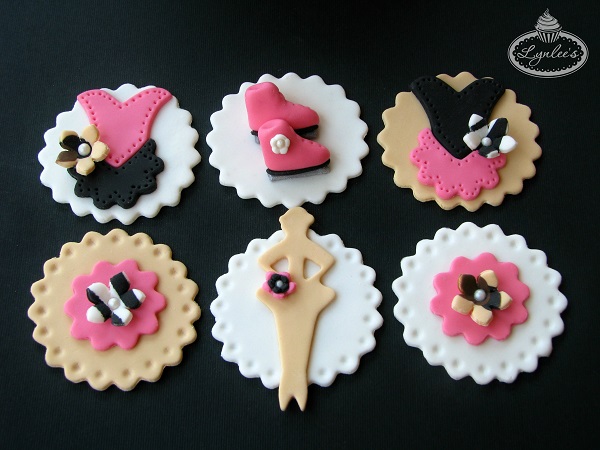 Photo via Lynlee's Petite Cakes
Figure skating fondant toppers
These girly and delicate fondant toppers would be the perfect addition to a figure skating-themed cupcake collection! Ice skates are molded from fondant, while the figure skating dresses are created with a variety of metal cutters. The ice skating silhouette was punched out from a ballet cutter collection, but works perfectly for an ice skater as well!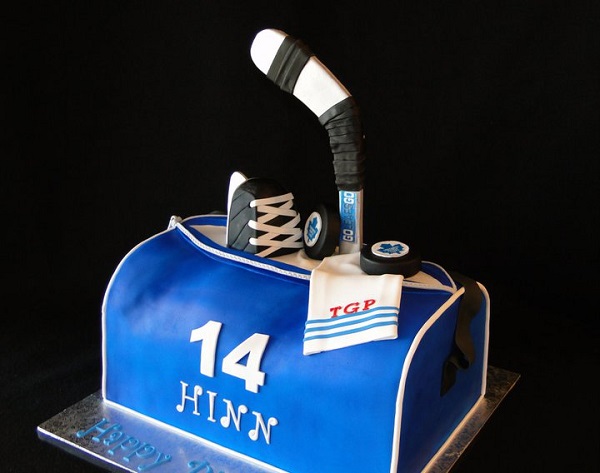 Photo via Cakes by Elisa
Hockey bag cake
Cakes by Elisa created this extraordinary hockey bag cake with all the essential accessories popping out of the top! The cake was sculpted and carved in the shape of a duffel bag and embellished with trim and the player's name and number. The amazing details, including ice skates, hockey stick, pucks and towel, are protruding from the inside of the cake, creating a sports bag any hockey player would be proud to carry…or rather, eat!
Learn more about sculpting cakes to resemble bags in Elisa Strauss's course Designer Handbag Cakes.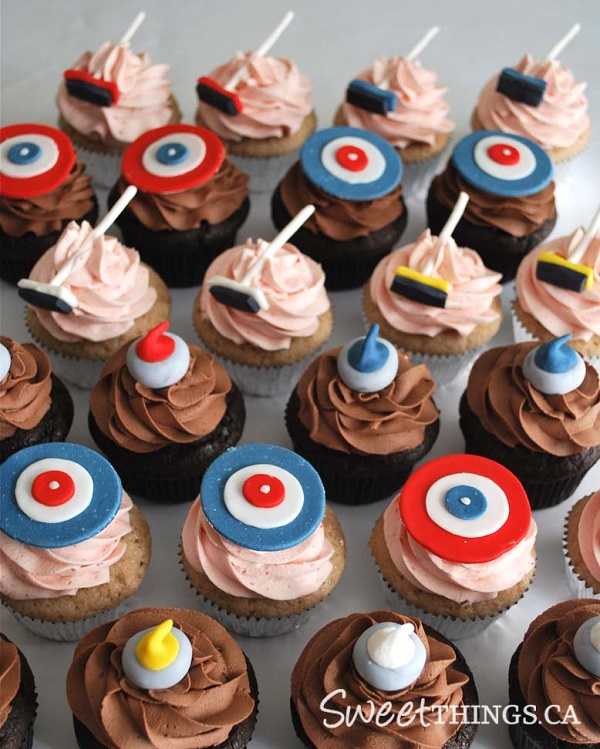 Photo via Sweet Things
Curling cupcakes
Sweet Things captured all the elements of the sport of curling in these adorable cupcake toppers! Replicating the curling stones, brushes and rings in fondant, all aspects of this winter event played in an ice rink are represented within this fun this collection.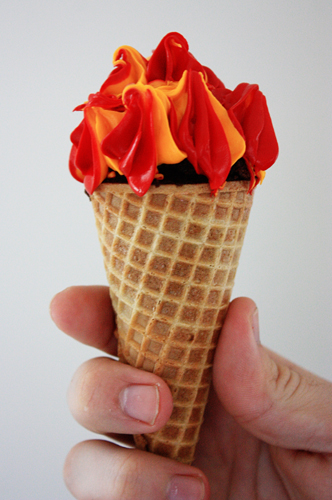 Photo via Creative Party Ideas
Torch cupcake
The iconic torch was transformed into edible form by Creative Party Ideas with the simple use of a cupcake baked into an ice cream cone! Red and yellow icing were combined in the bag and made to resemble flames via very creative piping. Check out the step-by-step tutorial to replicate these torches for tonight's opening ceremonies!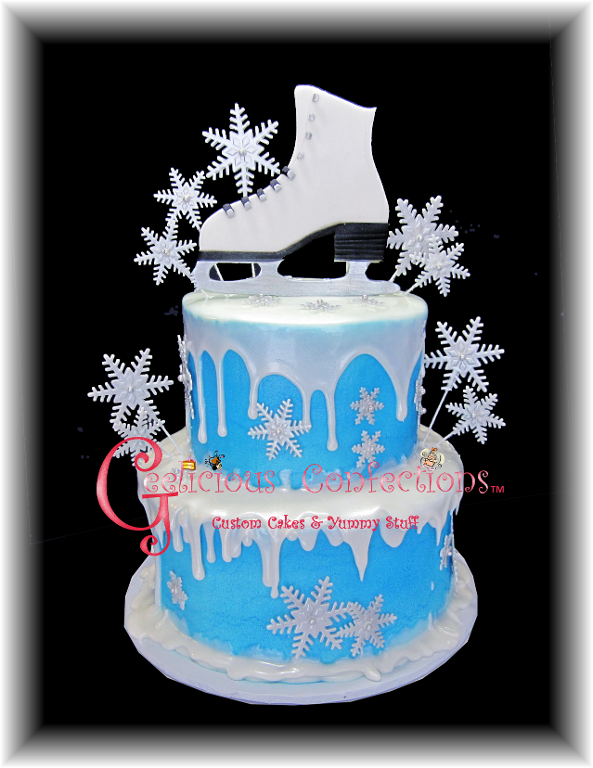 Ice Skate Cake via Craftsy member Gloria F.
Ice skate & snowflake cake
Craftsy member and cake artist Gloria F. made this beautiful and dazzling two-tier ice skating cake, embellished with winter details, including white snow flakes. The melted snow effect was created by combining fondant with water and warming it up. The concoction was then drizzled over the top of the each tier with rolled parchment paper and finished off with a sheer airbrush color to add shimmer.
For more details on airbrushing, check out Lisa Berczel's The Art of Airbrushing.
Snowboarding cake via Craftsy member Gramabev
Snowboarding cake
Craftsy member and cake decorator Gramabev created this adorable snowboarding cake by sculpting the cake and icing it deliberately with a thicker texture to resemble that of a mountain. The accents, including the snowboarder, were modeled out of fondant and modeling chocolate.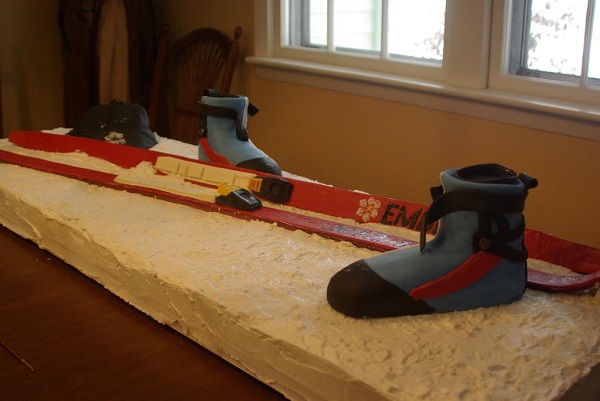 Ski cake via Craftsy member MasONeil
Skiing cake
Craftsy member and cake decorator MasONeil took Lauren Kitchens's Intro to Modeling Chocolate: Cityscape Cakes and as part of the class, created this amazing ski-themed cake. The skis were constructed out of modeling chocolate, while the ski boots were sculpted from rice cereal treats and both were covered in fondant, resulting in this incredible presentation!
What event are you most looking forward to for the Winter Games?