Though I'm still in winter mode when it comes to my photography, as the days start to get longer, my thoughts start to turn from winter landscapes and snow-covered mountain summits, to thoughts of the delicate beauty of wildflowers.
Follow along to learn more about how I make the most the chance to take wildflower photos.

Preseason planning
I usually start planning my wildflower photography long before the first buds poke through the leaf-littered forest floor. For that matter, I start planning before you can even see the ground due to all the snow. The reason for all of this early preseason planning is to maximize my ability to photograph the flowers I would like to capture, as well as increase the chances I will be able to make the specific photos I have in mind for certain flowers I often photograph.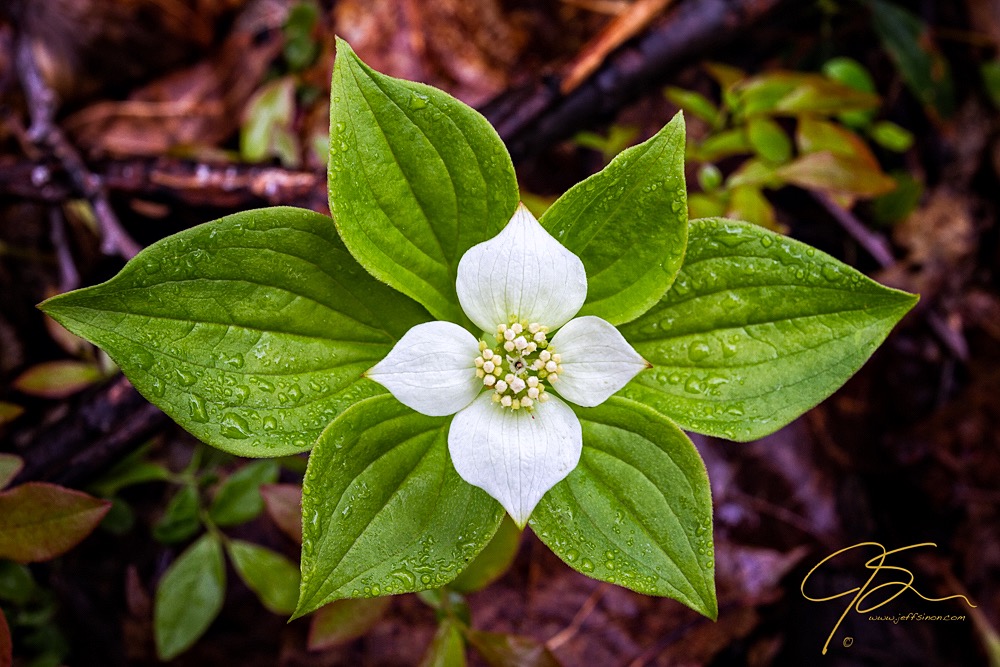 The growing season for some of the wildflowers I like to photograph can be fleeting. Depending on the weather, some of my favorites can go from full bloom to dropping petals in a weeks time. With this in mind I find it's best to have a plan. The first step in the plan is to decide what flowers are most important to me to photograph, since as much as I'd like I can't photograph them all. Each year I set out looking for specific flowers. It may be a new flower I've never photographed, or a specific photograph of a flower I've often photographed, but rarely do I ever just set off without some kind of plan or research.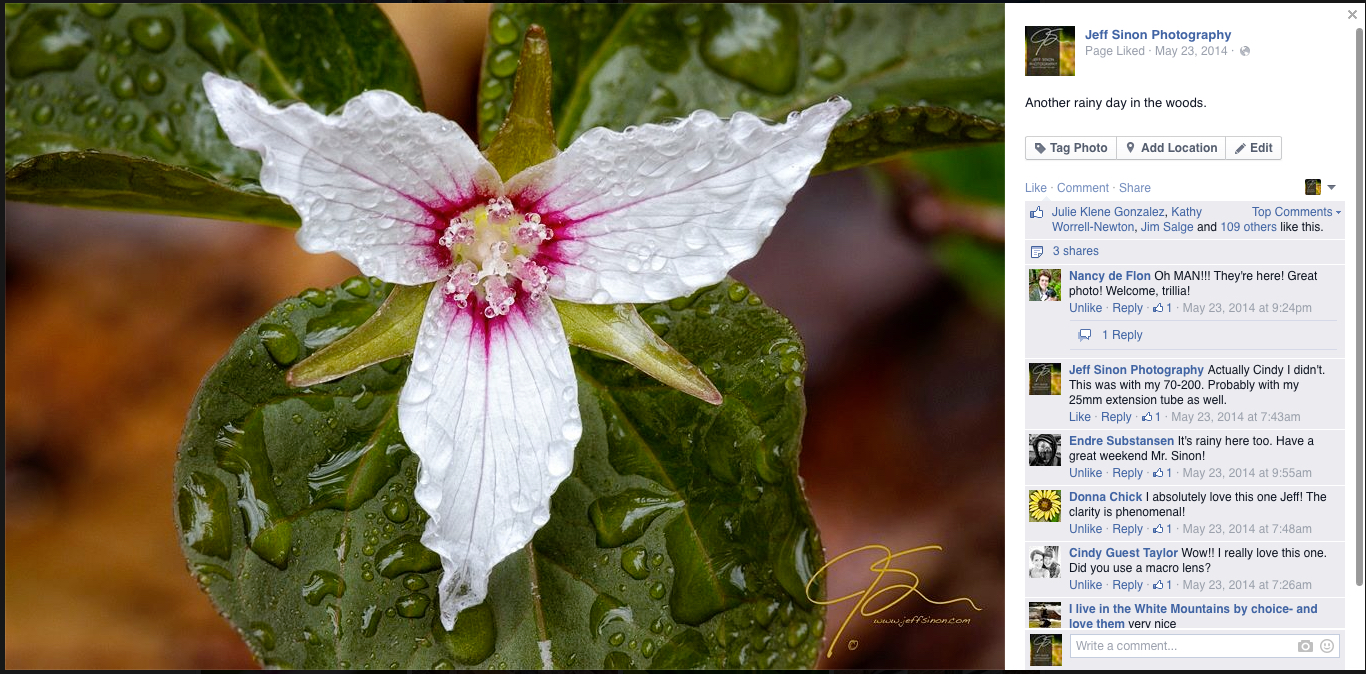 Tips for finding your favorite wildflowers
1. Do your research.
If there's a specific flower you'd like to photograph, the first place I'd recommend going is Facebook. If there are other nature photographers in your area who you know have photographed a specific wildflower you'd like to photograph, visit their fan pages and check out the photos. Scroll through them until you find an example of the flower you're after and look closely at the date the photo was posted. Most of us can't wait to share our latest images, often within hours of the photo having been made.
Another valuable resource is the photo sharing site Flickr. Just search the flower you're looking for in your area, again paying attention to the date the photo was posted.
2. Be early.
If you already have an idea of where a certain flower, lets say a painted trillium like the above screen shot from my fan page, can be found, I'd recommend you start checking these places at least two weeks prior to the dates the photos you've seen from other photographers have been posted. The times these flowers bloom are not etched in stone. Weather plays a huge factor. An unseasonably warm, wet, cold or dry spring can have a very big impact on when your favorite wildflowers make their annual appearance.
During one very warm early spring a couple of years ago, many of the wildflowers I regularly photograph were in full bloom almost two weeks earlier than normal. If I hadn't started my scouting early, I would have missed out on a lot of my favorites.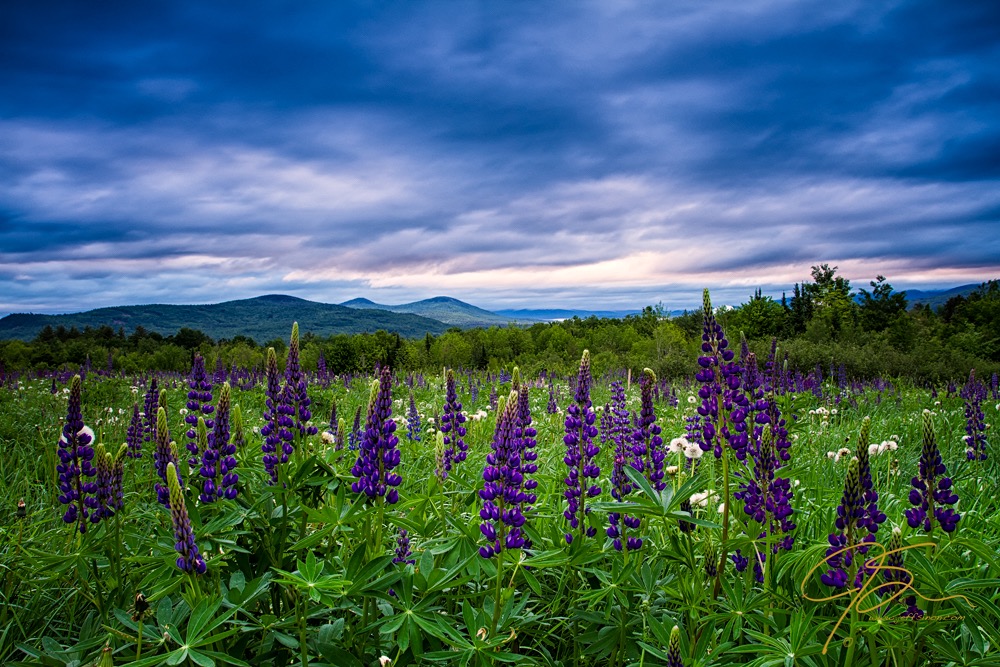 3. Ask the photographer.
Most of the photographers I know are willing to share the locations of where their photos were made, with one big exception. Photographers, myself and a large number of my photographer friends included, can be very tight-lipped if the flowers are a threatened species, or if they're located in environmentally sensitive areas.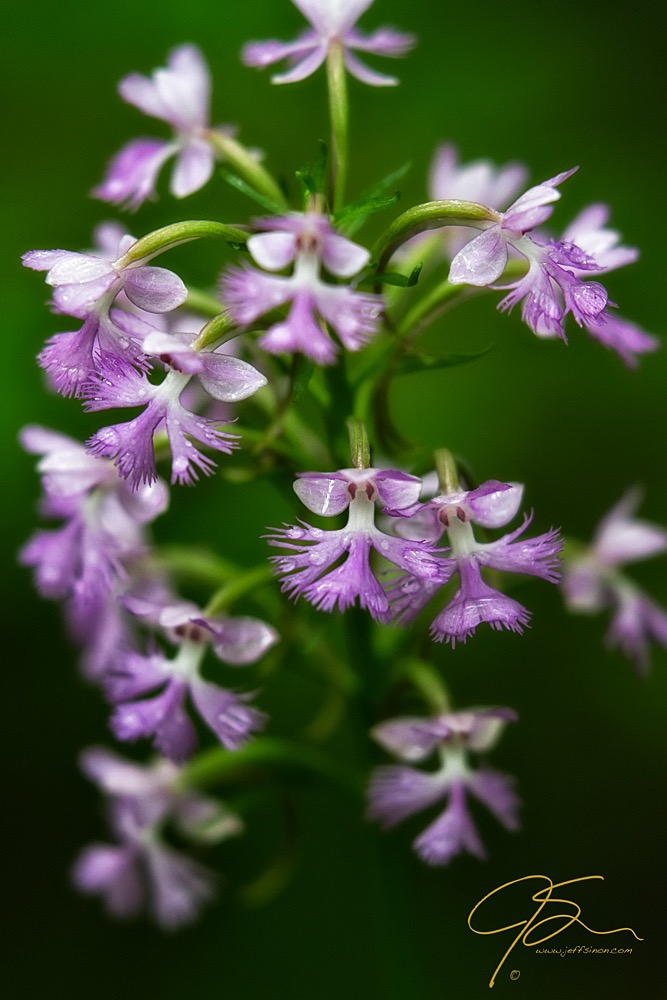 We are much less willing to share these types of locations with people outside of a small trusted circle of fellow photographers for fear that the areas might become overrun with people who may damage the ecosystem in question. I mention this only to prepare you should the photographer you contact refuse to divulge a secret location. Realize we aren't doing this out of some selfish desire to keep the wildflowers all to ourselves, we are concerned about the environmental impact of having everyone with a camera, well intentioned though they may be, trampling through a patch of rare wild orchids.
4. Plan ahead.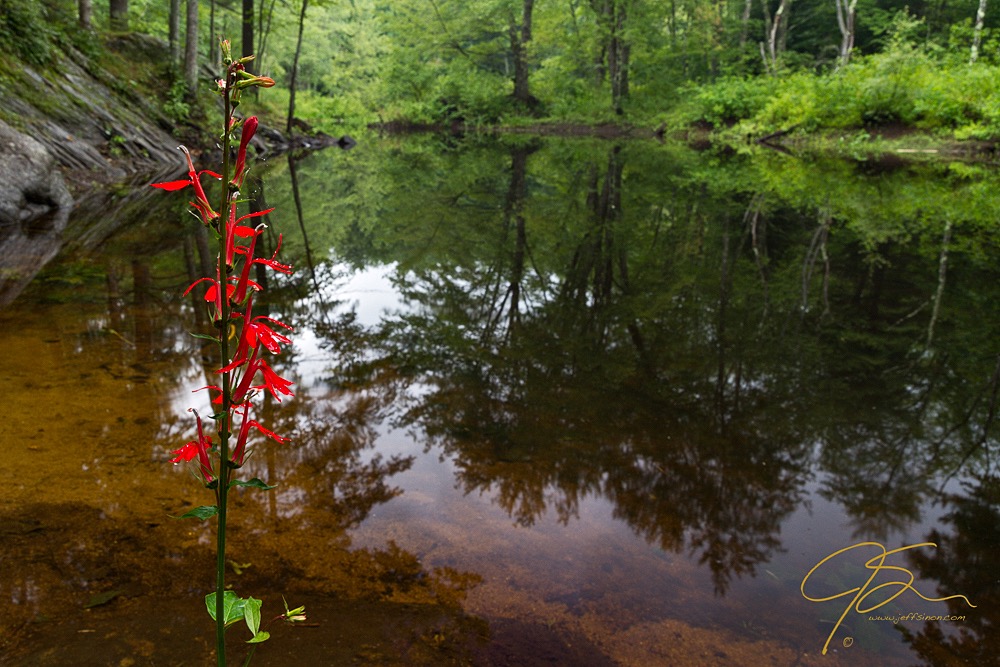 One more way I plan for my spring wildflowers is to pay attention when I'm out photographing something else, something like waterfalls. Many of the wildflowers I regularly photograph, like the cardinal flower and the purple fringed orchid, above, were stumbled upon by accident while wandering along a stream on my way to a waterfall.
Sometimes with these accidental discoveries the flowers are almost completely gone by, or the lights wrong for making a good photo. Either way I'll take a few quick snapshots and be sure to keyword them with the wildflower's name and location when uploading them onto my computer. That way, if they have gone by, a quick keyword search of my archives the next year will help me know where to find them and when to start looking in order to photograph them. This is one of the reasons why it's important to make sure the date is set correctly in your camera.
With a little effort and a little searching, finding wildflowers to photograph really isn't all that hard to do. And with spring right around the corner, there's no better time to start your search!