There's so much to love about pre-cuts! Today, I'm sharing my list of the top reasons I choose to sew with pre-cuts time and time again. Along the way, I'll share some of my favorite pre-cut friendly patterns.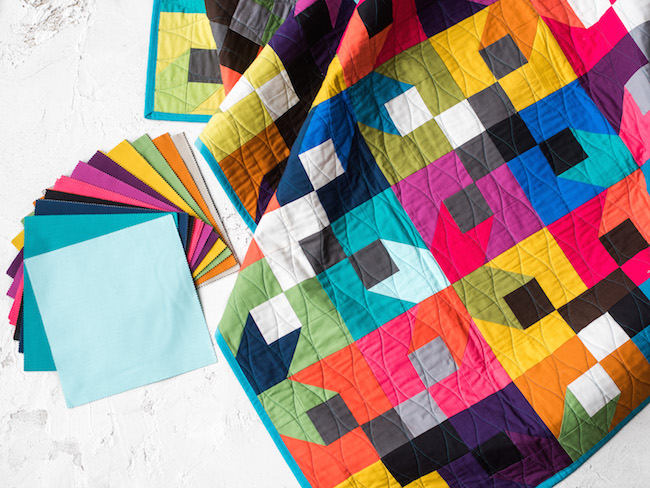 Two bundles of 10″ squares make up the Modern Brights Corner Lot Quilt Kit, making it easy to recreate in many colors and patterns.
1. Quick, easy, pre-cut-friendly quilt patterns are readily available.
Everywhere you look these days (online, in magazines, in books) there are fantastic patterns that call for pre-cuts like charm packs, jelly rolls, layer cakes and fat quarter bundles. It's easy to choose a pattern that speaks to you, find a pre-cut bundle you love and sew it up quickly — you know, for all those last-minute gifts we start the day before they're due.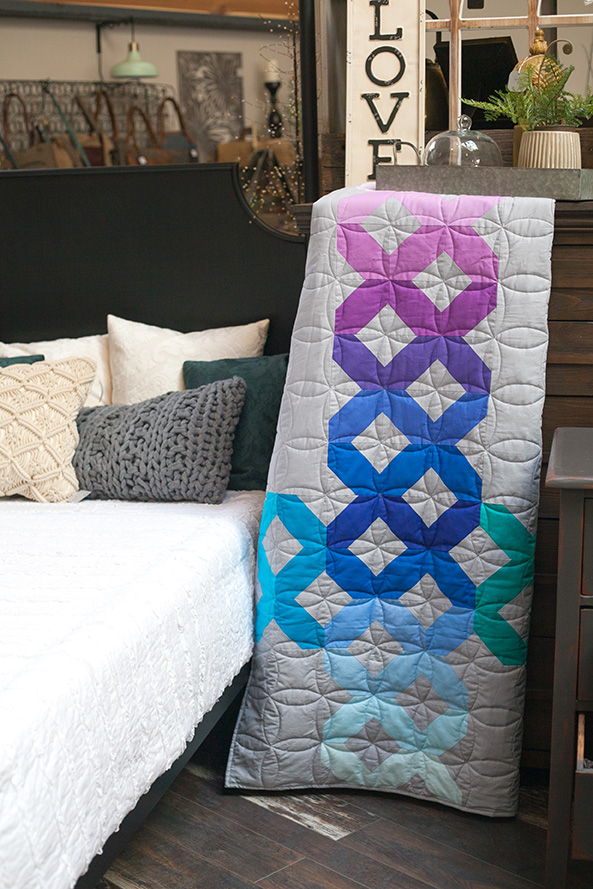 The Color Crossing Quilt pattern by Stephanie Palmer for Quilt Theory, is quick to sew and uses two charm square packs and neutral yardage.
2. Pre-cuts make color theory a piece of cake.
Color theory can be challenging. It's been known to stump even the most advanced quilters. But pre-cuts take the stress out of the design process!  You can relax knowing that a professional designer has curated the colors in your pre-cut bundle, so your finished quilt will be a show-stopper.
3. Waste less fabric with pre-cuts.
Everyone knows that a quilter will do anything to avoid wasting fabric. It's in our nature! When you pair pre-cuts with a pattern that's designed specifically for them, it means you will use almost every scrap, giving you the giddy feeling of satisfaction only experienced in those rare moments of complete efficiency.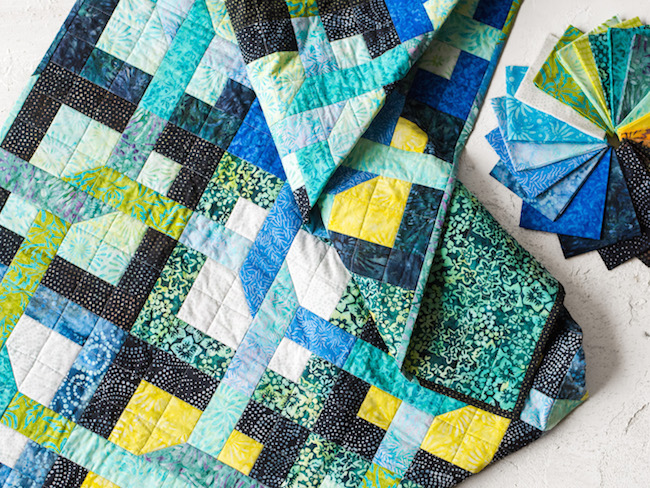 The Puzzle Tropics Quilt Kit uses fat quarters strategically sliced and pieced to create a chain link effect.
4. Pre-cuts save time.
Collecting fabric, auditioning it, cutting it into intricate pieces…it all takes time!  If you're like 90 percent of the quilting population, time is of the essence, and you never quite have enough of it. When you need a gift quilt, stat, turn to pre-cuts, and you'll be finished in two shakes of a lamb's tail.
Cross Cabins by Daisy Aschehoug uses a charm pack and a layer cake, with your favorite neutral yardage.
5. Pre-cuts keep your sewing room clean.
What?!? Now that's going too far, you say. No, really — pre-cuts are bundled so nicely, it makes it a breeze to store them and keep your sewing room more organized.
Jelly rolls are my favorite — they're beautiful to display, and they have 40 pieces of beautifully coordinated fabric all rolled up into one little, neat and tidy roll.
Staggered, by Kitty Wilkin, uses a jelly roll with neutral yardage to create a happy, colorful quilt.
6. Pre-cuts offer the perfect way to hoard fabric.
What I really mean is that pre-cuts make it feasible to collect each print from an entire collection. Our families may still think we're hoarders (even if we do only buy pre-cuts), but we know the truth: It could be a whole lot worse. Imagine if we always bought yards and yards of each print from our favorite designers' collections! Pre-cuts make it easy for us to collect and use a variety of prints in our quilt designs, without going overboard.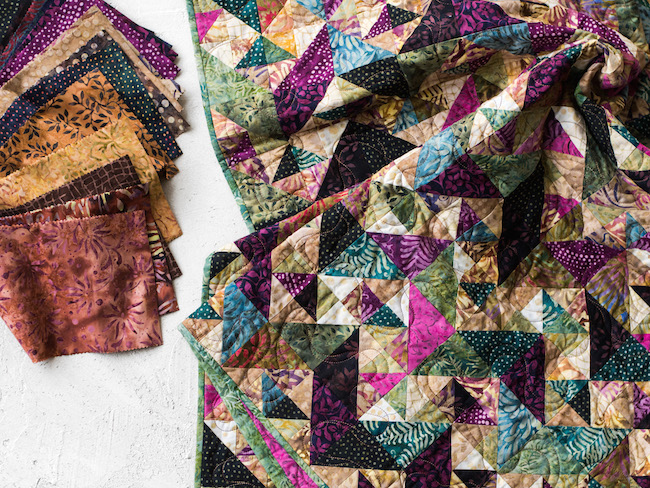 The Charming Chevron Vintage Reserve Quilt Kit uses coordinating charm squares. Just organize them by color and value so you can create the subtle chevron design.
7. Pre-cuts take the stress out of coordinating fabrics.
As a beginner or intermediate quilter, as most of us are, it can be hard to know whether various prints are competing for attention in your design. Pre-cut bundles are thoughtfully put together, with a perfect ratio of large-, medium0 and small-scale prints, by designers who know for certain whether that polka dot print you love works next to that mid-century modern plaid.
Jelly Lanterns, from Quilt Theory is a clean, modern take on a jelly roll quilt.
Do you have a hard time keeping track of the width of a jelly rolls strip or the size of a charm square?