Quilting is often so intertwined with patchwork and piecing, that the art of free-motion stitching can become an afterthought. Not so with wholecloth quilt designs, which rely on elaborate, decorative stitching! As the name implies, wholecloth quilts are made from one continuous piece of fabric rather than a pieced quilt top. But, did you know that they can also incorporate vintage linens or other embellishments like beading?
Let's take a closer look at some striking wholecloth quilt designs!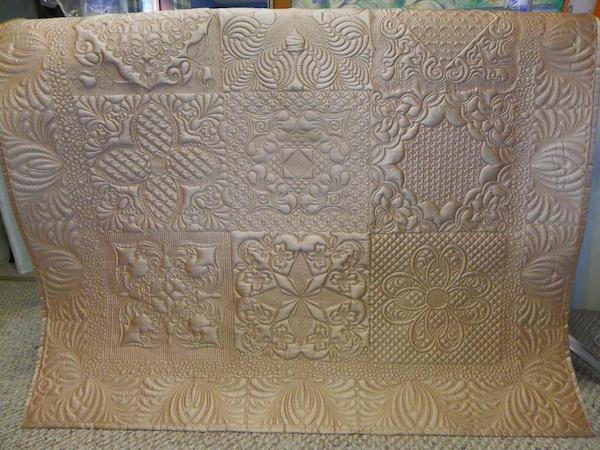 Photo via Bluprint member Malrene
Dupioni Silk Wholecloth Quilt
Computerized long arm quilting machines can be a great resource for creating wholecloth quilt designs. The luxurious Dupioni Silk Wholecloth Quilt features several blocks of quilted patterns, surrounded by free-hand pebble quilting. The outer border is another computerized design.
What's interesting about this pattern is that any of the individual block patterns can be enlarged to create its own wholecloth quilt design!

Photo via Bluprint member Morag2504
White Wholecloth Quilt
Wholecloth quilts can be quilted by hand or by machine, and using a wholecloth quilt kit is one great way to create your first project. Bluprint member Morag2504 has made four wholecloth quilts and says, "The main thing is getting your three layers nice and secure. I just did them at night when watching TV, and it is amazing how they progress." Her design on her White Wholecloth Quilt features a central floral pattern with some ribbons and straight line quilting to fill in the background.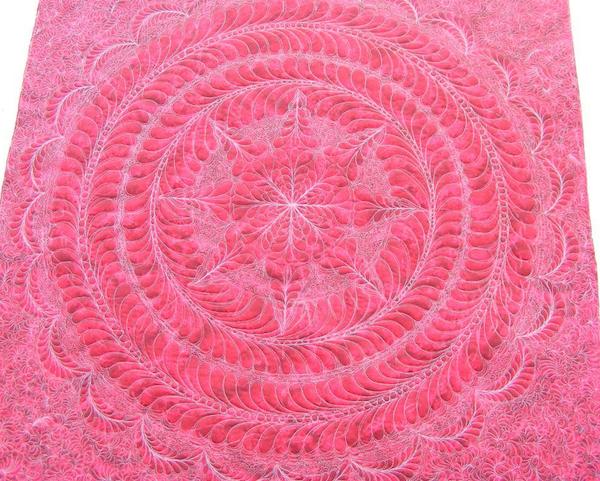 Photo via Bluprint member Deb Cavanaugh
Practice Red
Though some wholecloth quilts feature one quilting pattern over the whole surface and are commonly a canvas for elaborate stitching. In her Practice Red wholecloth quilt design, Deb has used rings of feather quilting around a center medallion. The background features tiny feather units weaving in and out from each other. With all of the fine details, it's hard to believe this stunning wholecloth quilt is just a practice piece!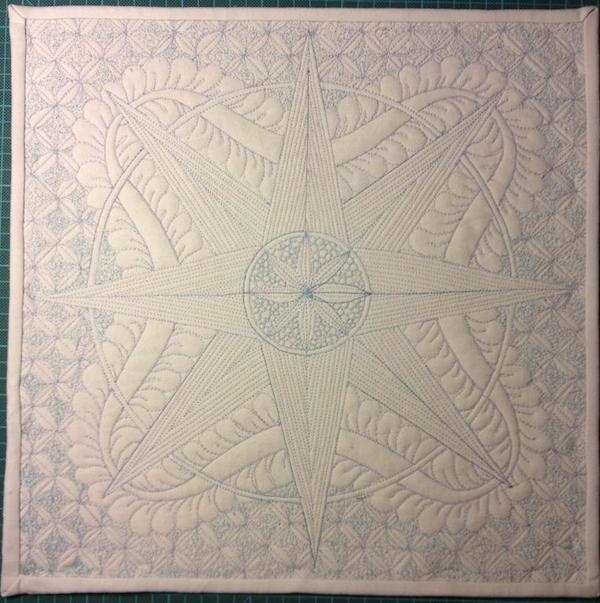 Photo via Bluprint member BabsK
Compass Wholecloth Quilt
Sometimes it's fun to let the thread have a voice of its own, rather than blending. In this Compass Wholecloth Quilt, blue thread quilted on white cloth really pops off the fabric. The medallion-style quilt features a central compass surrounded by feathers, cathedral windows and pebbles.
BabsK created it as a class project in Cindy Needham's Bluprint course Design It, Quilt It: Free-Form Techniques, and she gives this advice to fellow quilters, "Go with the process and rely on your feeling. You don't necessary have to make your mind up about the whole design when you start quilting."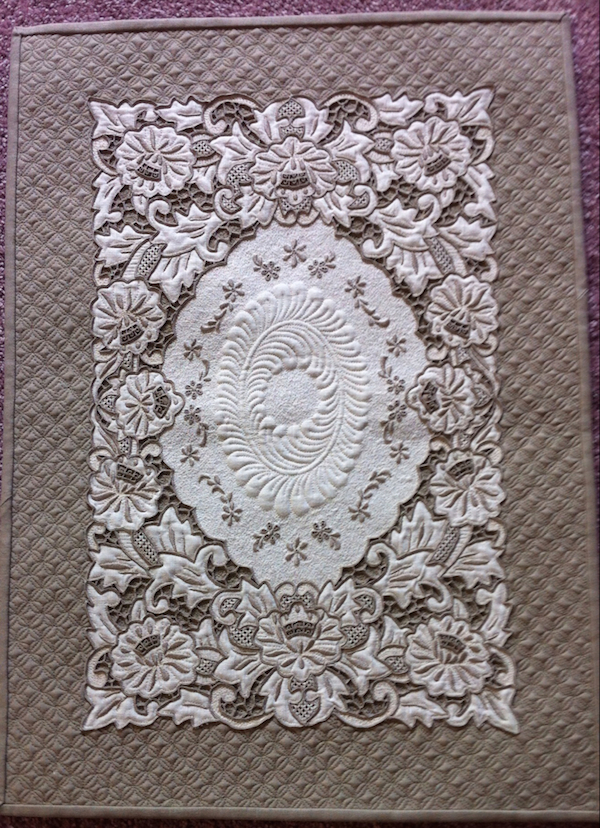 Photo via Bluprint member WannagoSDM
Linen Wholecloth Quilt
If you lack the patience for detail-oriented wholecloth quilting, you may want to incorporate another fabric like this vintage linen place mat to get the design started. In this Linen Wholecloth Quilt, feathers are quilted inside the place mat, which is surrounded by flowers. The contrasting brown quilt top is stitched with cathedral windows in an all-over design. Lovely!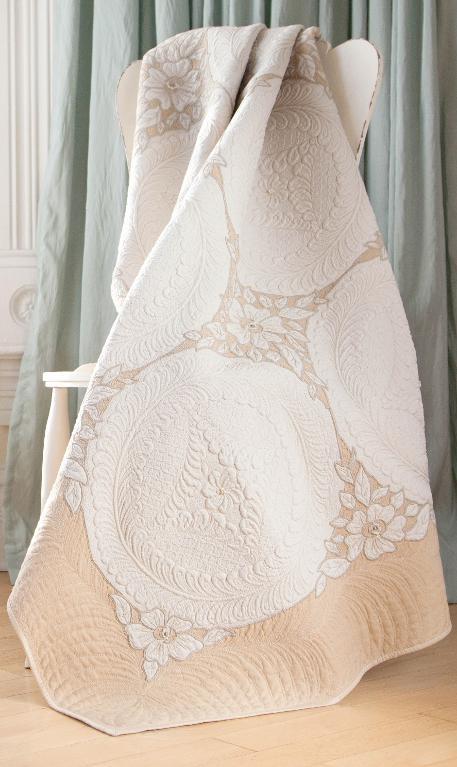 Photo via Bluprint instructor Cindy Needham
Vintage Wholecloth Quilt
With the addition of vintage linens, this Wholecloth Quilt from Cindy Needham features pops of white atop a soft beige background. The detailed free-motion quilting includes flowers, feathers, cathedral windows, leaves and more. In her Bluprint course Machine Quilting Wholecloth Quilts, Cindy teaches both medallion quilts with a central focal point and all-over designs.
As you can see, it's possible to design your own wholecloth quilts to stitch by hand or by machine. Or, you can take inspiration from already designed quilting motifs and vintage linens.
What's your favorite wholecloth quilting design or technique?