Whimsical wedding cakes are wonderful. In case you're fuzzy on the meaning, "whimsy" is defined as something with "a quaint or fanciful quality." In wedding cakes, whimsy typically translates as a cake that is traditional enough to please a crowd, but with a little something — call it a touch of magic, a subtle sense of humor, a flicker of wonder — that makes it shine in a special way. Admittedly, this definition can be somewhat vague, but trust us, when you see a whimsical wedding cake, you know it. It is simply luminous.
Need proof? Here's a collection of wonderful whimsical wedding cakes to inspire some whimsy in your personal cake decorating practice.
They serve as proof that whimsy can be attained by any number of ways: color, shape, or style — but that it's always bound to delight.
Whimsical colors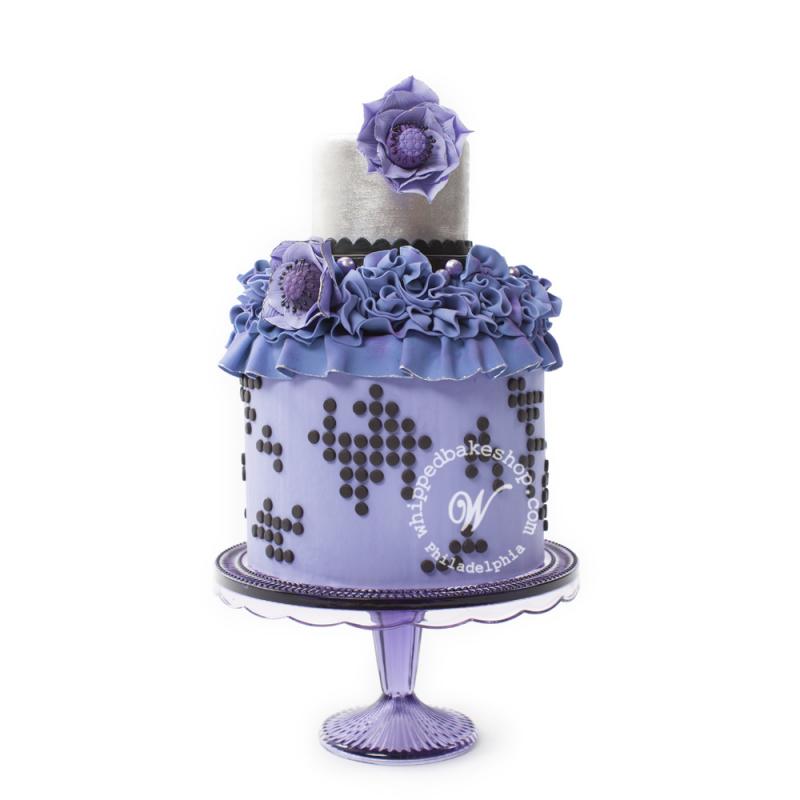 Photo via Whipped Bakeshop
According to Zöe Lukas of Philadelphia's Whipped Bakeshop, this cake took inspiration "from a black and white papillon sleeve dress from the Courrèges 2014 fashion collection." Modern, high- fashion details paired with romantic ruffles, pearls, and flowers made from fondant makes for a chic touch of whimsy on this lovely cake.
Learn techniques for dressing up your own cakes with couture-inspired stylings in the Bluprint class Fashion Inspired Fondant, taught by popular instructor Joshua John Russell.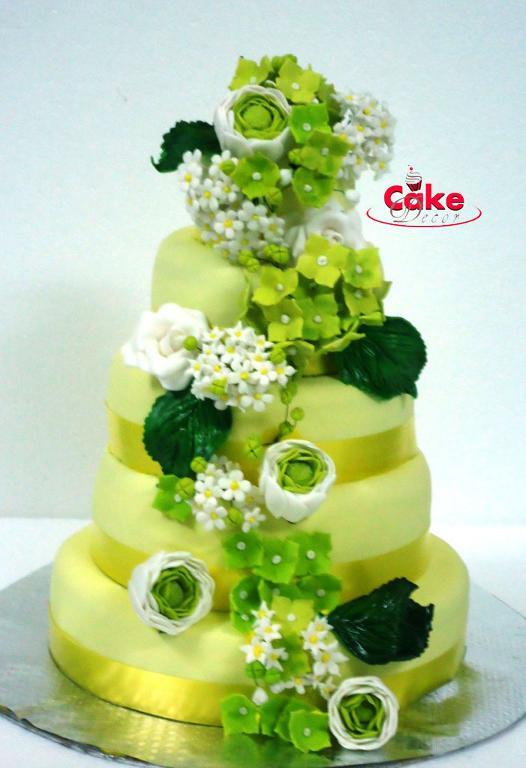 Wedding Cake via Bluprint member Cake Decor
The gorgeous sugar flowers on this wedding cake were perfected by Bluprint member Cake Decor during the Bluprint course Handcrafted Sugar Flowers. But it's the eye-catching green color scheme that adds a healthy dose of whimsy to this cake. Fondant-topped layers and delicate flower buds become like delicate fairy food when rendered in enchanting chartreuse.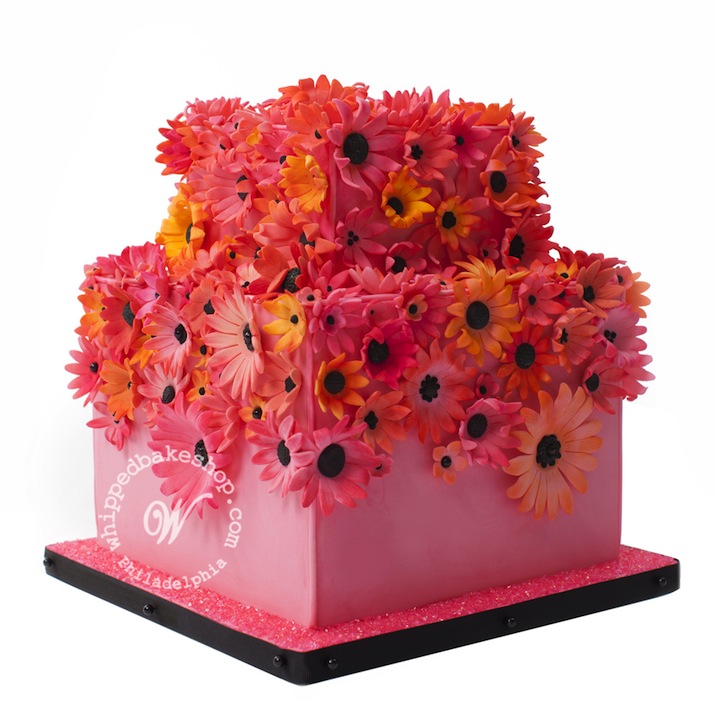 Photo via Whipped Bakeshop
While the tiers of this cake give it a formal vibe, the vibrant colors and square shape make it fun. Sugar daisies, which are like a starburst blossoming from the top of the cake, prove that sometimes, the whimsical nature of a cake can increase its happiness quotient.
Whimsical shapes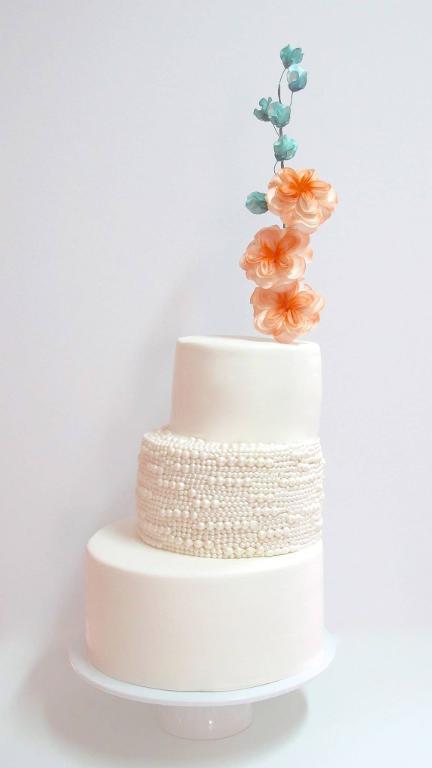 Photo via Bluprint member Confe55
This cake looks like a lovely, traditional cake, but shifted a little bit. The "flush" alignment of the layers on one side makes you look twice at this cake, and gives a classic white fondant topped cake new life. It's a bit of whimsy delivered as a whisper rather than a shout, and is both eye-catching and thought-provoking.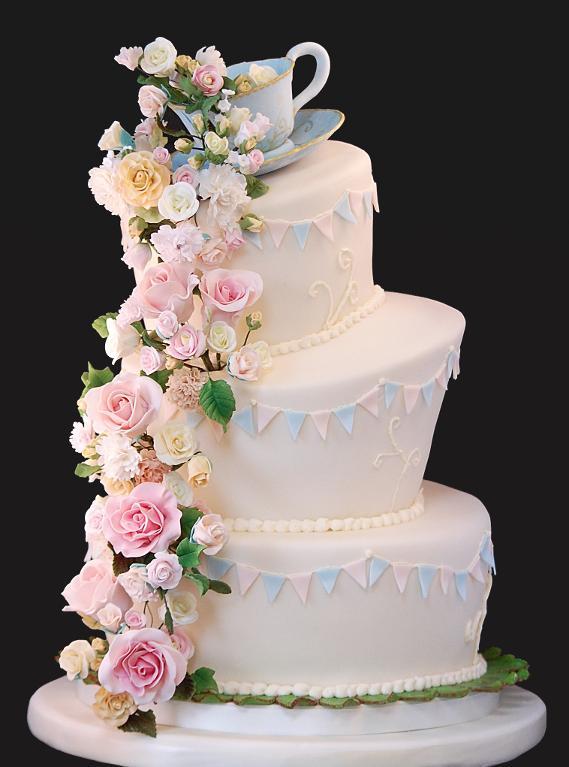 Photo via Bluprint member Claire Carousel
What makes this wedding cake whimsical? Is it the scalloped pattern of fondant flag banners? Is it the delicate cascade of pastel sugar flowers? The piped border? Is it the teacup on the top of the cake? Or is it, perhaps, the cake's topsy-turvy alignment? Perhaps a bit of all of these aspects add up to a slightly irreverent but awfully fun cake.
Learn how to take your cakes in new directions like this in Richard Ruskell's Topsy-Turvy Cake Construction class.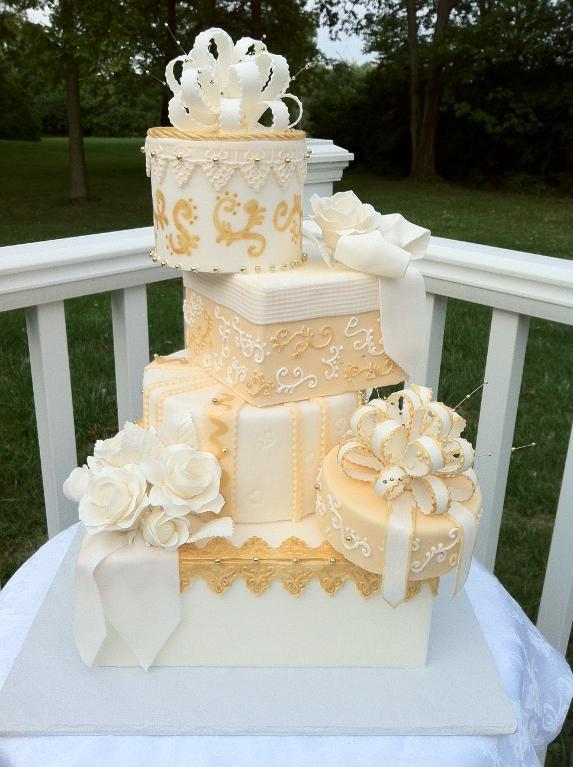 Ivory Gold Packages via Bluprint member lisascakes
Precise layers of fondant, decorated to resemble perfectly appointed gift parcels, are rendered whimsical and fun thanks to a topsy-turvy alignment. Here's a cake that will draw many an appreciative glance from wedding guests.
Whimsical themes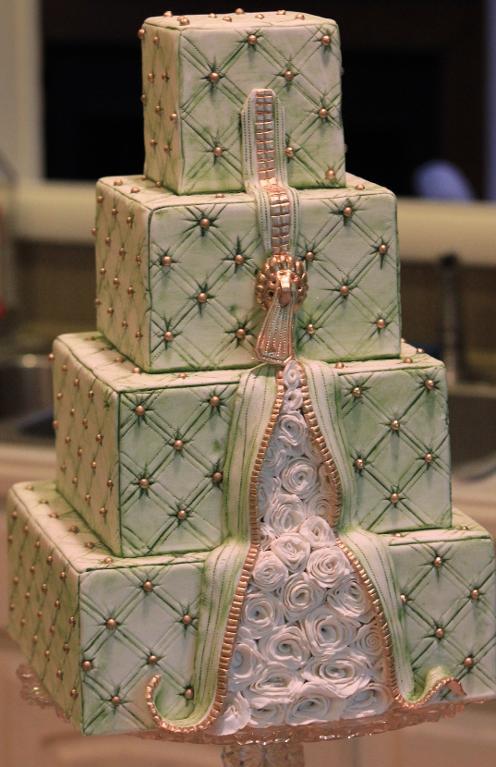 Fashion Cake Unzipped via Bluprint instructor Joshua John Russell
From three sides, this looks like an elegant square cake with a quilted pattern. But the front of this cake features a sweet secret rendered in painstaking fondant and gum paste detail: a zipper revealing an extraordinary rose interior. Like unzipping a particularly chic fairytale, this cake is enchanting and beautiful.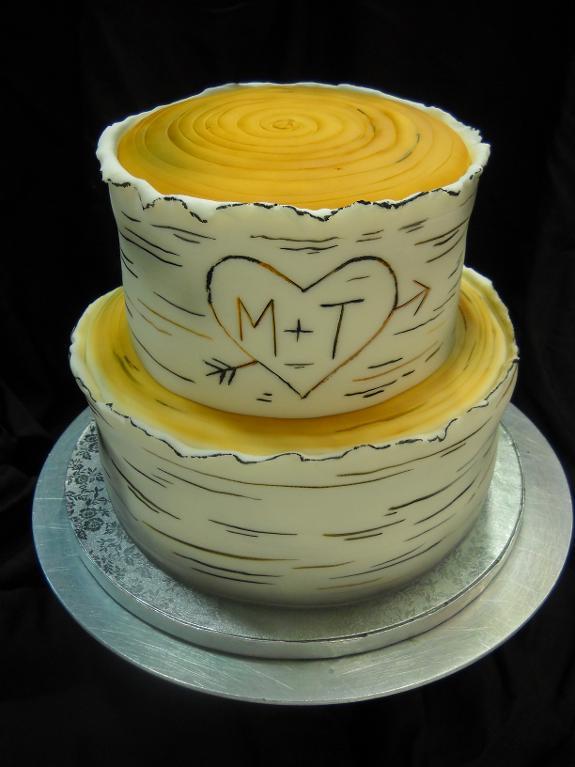 Paper Birch Tree Cake via Bluprint member DBL Laura 1
Declaring love by marking initials on a tree is not a new concept. But rendering the scene by cleverly configuring cake layers to resemble birch bark and hand-painting a bride and groom's initials adds a sweet sense of whimsy to a cake that is stacked to look like the cutest stumps you've ever seen!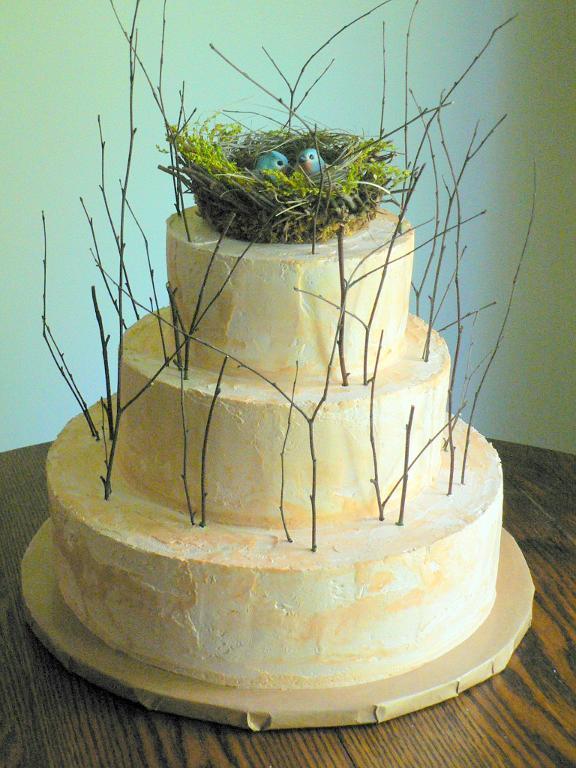 Woodland Wedding Cake via Bluprint member Max9680
When it comes to wedding themes, birds are nothing new. But here's a sweet and fresh approach to a classic theme. Tiers of cake topped with buttercream are "antiqued" for a textural finish that resembles the bark of a birch tree, and slender branches adorn the upper layers, leading up to nesting birds. This makes for a sweet and whimsical cake that certainly conveys a message of sweet love.
What is the sweetest whimsical cake you've ever seen?