I get asked all the time where I get some of my supplies. Sometimes shopping for the goods is almost just as fun as creating jewelry!
Here are a few of my favorite vendors for some essentials.
Packaging supplies
Every jewelry designer needs a good supplier for their packaging supplies. I have tried a few different vendors out there, but these have been consistently affordable, quick to ship or easy to find locally.

Photos via Lorelei Eurto Jewelry
Bubble wrap can probably be found anywhere but I tend to buy it locally at Staples, only because I typically recycle bubble wrap as much as possible. I may buy a roll this size once every few months.
I love using Kraft gift boxes and have found very nice quality boxes that come filled with cotton inserts, in a variety of sizes from Papermart. I usually order a small 3 x 5-inch box for earrings, and then a 5 1/4 x 3 3/4 x 7/8-inch necklace-size box that I use for bracelets or necklaces. Buying in bulk like this, is always more economical! I get these in a case of 100 boxes.
I order my bubble mailers in bulk from RoyalMailers. I choose a nice roomy size of 7.25 x 11 inches to accommodate up to two necklace-size boxes, plus two earring-size boxes. They offer many different size cases, and the more you buy, the more you save!
Earring display cards
Finding display cards in line with your brand is key. I have found that these simple manila shipping tags work great and are quite versatile.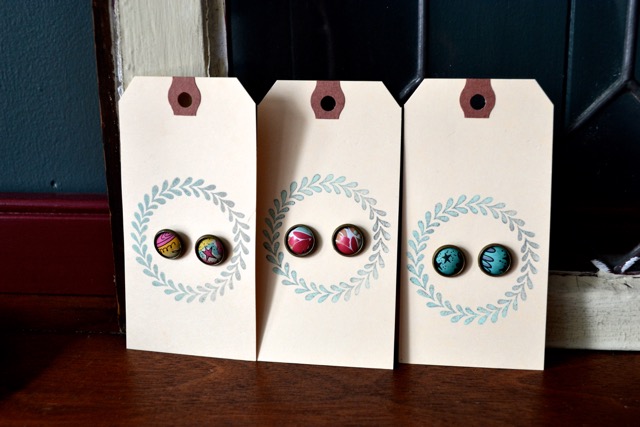 I find these Avery shipping labels with reinforced holes and attached string at Staples. They come in a package of 100 tags, for around $7.00. I remove the attached string so I can hang them on hooks in my display. A sweet rubber stamp dresses up the otherwise very plain tag.
Business cards
I suggest shopping around online for business cards that fit in with your jewelry business aesthetic. I have been searching for my favorite business cards for years, and these are probably my top three
favorites.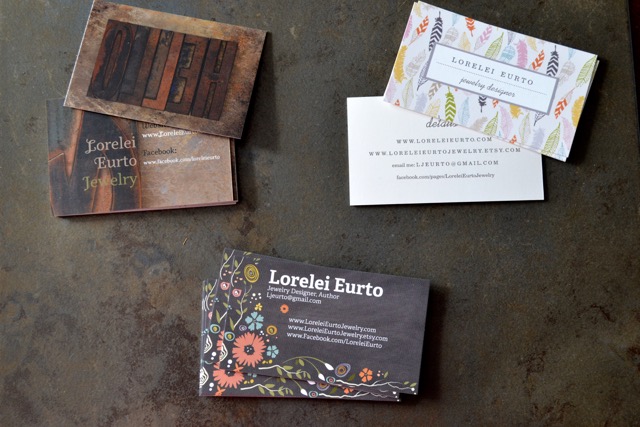 Top Left: Moo Cards are a very nice, high-quality business card at a moderate price point. You can pay a little extra for rounded corners and double sided printing. They have plenty of different pre-printed designs to choose from or you can use your own logo.
Top Right: Zazzle, Inc. offers a wide range of pre-printed designs. Pay a little extra for extra thick
premium paper, rounded corners or double-sided printing. This pre-set template called Light as a Feather cost $22.95 for a pack of 100 cards.
Bottom: Vistaprint offers completely customizable cards, or if you want to use one of their designs, there are hundreds to choose from. This style is one-sided and cost only $20 plus shipping for a box of 500 cards. This is definitely the most economical choice I have found.
Wire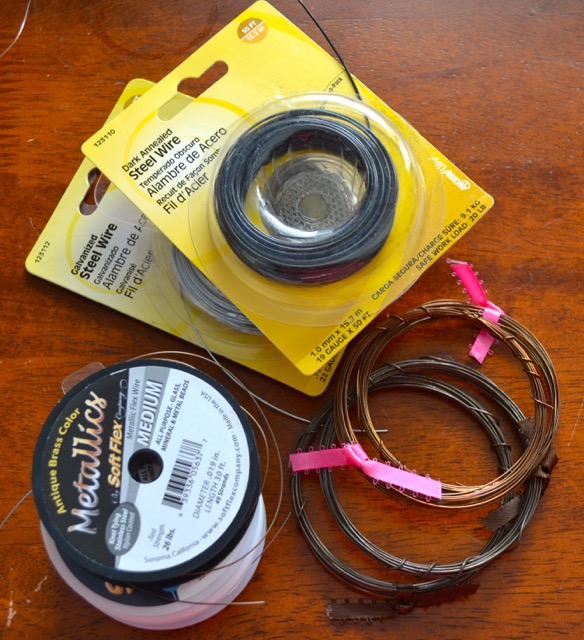 I use a variety of different wire when creating jewelry. Some of my favorites include Soft Flex beading wire. It comes in a wide variety of thickness, and colors and the quality are the best that I have used. The company is great to work with, and provides stellar customer service and great sales to those who subscribe to their mailing list.
Copper and brass wire with a nice patina can be found at Patina Queen. The prices are very affordable and the customer service is fantastic.
Finally, steel wire can be purchased in most hardware stores, but I like purchasing it from author and designer Brenda Schweder. She has written a fantastic book on steel wire jewelry and has since opened an Etsy store where she sells great supplies, including steel wire in galvanized or blackened colors, and a variety of gauges.
Tools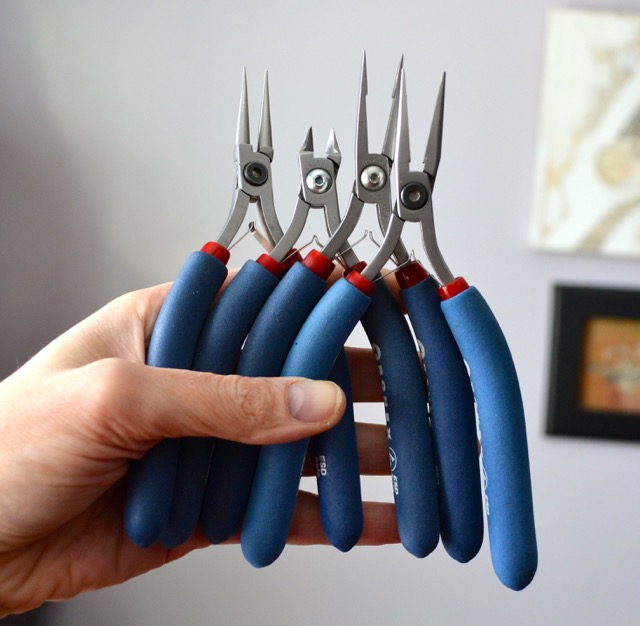 I am an avid fan of all jewelry pliers by Tronex Tools. I have a basic set of jewelry pliers with long, ergonomic handles and really enjoying working with these tools. You can also choose a short-handled version of each plier. They are incredibly well crafted and engineered tools with exceptional reliability. You can purchase Tronex tools directly from their website, or from a number of different online vendors. Their customer service is unmatched and their tools have a lifetime warranty.
Brass findings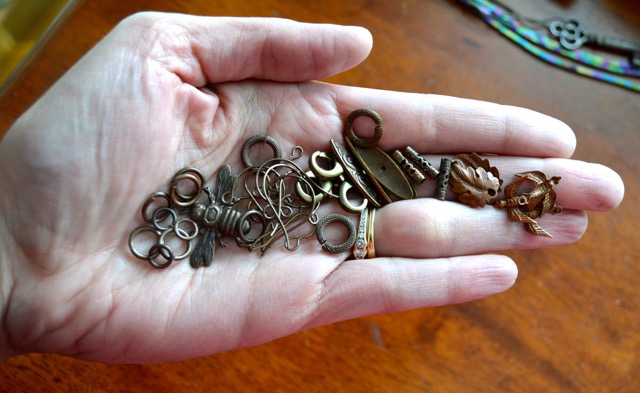 I have been using Vintaj Brass Co. products from the very moment I saw them in Stringing magazine back in 2007. They offer a wide variety of different brass stampings and findings, all with a beautiful vintage deep brown patina. They also offer components in a golden raw brass, copper and a black metal.  These are very high-quality products for an exceptional great value if you buy them wholesale directly from the website. I love that they are constantly coming out with new products!
Beads and supplies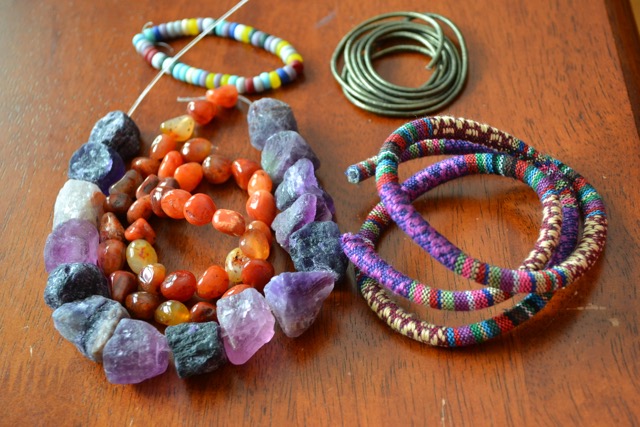 When shopping for supplies like beads, wire, fiber, tools and other essentials, my favorite place to shop is an all-in-one type of store. Lima Beads is that store for me. I have never placed an order for just one thing because they have such a huge stock of inventory that I always end up finding everything I need plus some. Operating out of Ann Arbor Michigan, the four operating offices, Kevin, Ali, Steve and Cathy consistently go above and beyond to offer high-quality goods, but also strive for that close relationship between the company and customers.
I hope you enjoy checking out these great vendors and exploring where to buy jewelry supplies for your work!
Where do you like to shop?
Free Online Jewelry Making Class