Everyone knows that April showers bring May flowers. But what you may not know is that there is a lot of work done in April that produces those beautiful May flowers. Read on to discover what to plant in April, and other garden chores that should be on your to-do list now.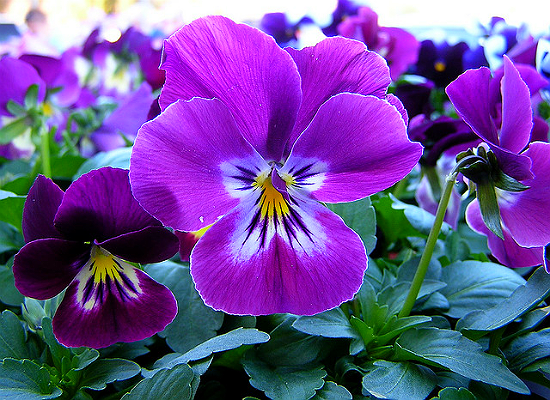 Purple Pansy by Liz West via CC BY 2.0

1. Care for annuals and perennials
Sow seeds for hardy annuals and perennials directly in the garden. The rainy month will help your seedlings get established and you don't have to worry too much about your seedlings drying out.
If you started cool-season annuals, like pansies or snapdragons, indoors, you can bring them out and transplant them into the garden along with your cabbage, cauliflower and broccoli after all chances of frost have passed.
Make sure you don't weed or thin-out any of your annuals and perennials that have self-seeded. If you are unsure if your seedling is a weed or a seedling, give it time to mature before yanking it out of the soil. You won't know what to plant in April unless you have a good inventory of what seedlings are coming back on their own.
Wait on fertilizing your perennials until they show signs of 2-3 inches of growth. Fertilize your spring-flowering bulbs now that have have stopped flowering. Follow the directions of your favorite fertilizer for fertilizing fruit trees and roses.
Topdress your raised beds with organic compost in preparation of plantings throughout the month. Collect newspapers to act as much to kill grass and weeds in new areas you are planting. See what your neighbors have in their garden that you would like to add to yours. This will give you a good idea of what to plant in April.
2. Tree and shrub care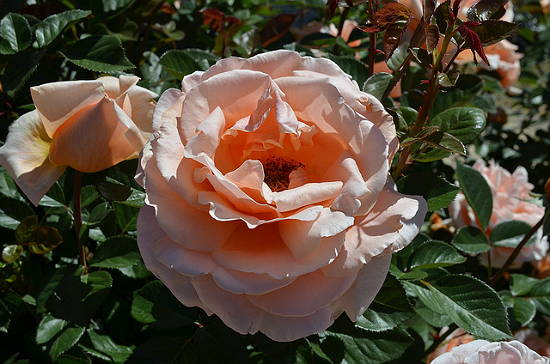 Flowers & Roses by SoulRiser via CC BY-SA 2.0
Make sure your bareroot roses, shrubs and trees go in before the rains begin. This is still a good time to plant potted trees, shrubs and roses.
Prune early-blooming shrubs right after they have finished blooming. Prune dead and unsightly rose canes as the buds begin to push.
3. Fruit, vegetable and herb care
Sow cool season crops (carrots, peas, radishes, etc) directly in the soil this time of year. Cool season crops can be planted even if there is still a chance of a light frost hitting your garden.
Build and plant your beds for asparagus and start your seedling potatoes, if they haven't be woken up from dormancy yet. If your seed potatoes are still asleep, bring them into a warm, bright and dry location for a few days. They'll start to send out shoots from their "eyes" and you'll know they're ready to go in the ground or container.
Head to the garden center and buy your strawberry plants and plant them now for delicious fruits. Don't have a lot of space? Don't worry, you can plant strawberry plants in containers and hanging baskets.
4. Indoor plant care
Continue to clean up and tidy your houseplants and other plants that you kept indoors over winter. Since the weather is nicer outside, it's a good time to take houseplants outdoors and wash off the winter dust and bugs with a good blast from the garden hose.
5. Tidy up
April is a good time to continue cleaning up any dead foliage and garden debris that accumulated last fall and into winter. Pull back winter mulches from your perennials and spring bulbs. Dig new beds and build raised beds that you can fill with new vegetables, herbs and ornamental plants.
An excellent garden chore for April to make sure gets done this month is sharpening the blades of your mower.