Tunisian crochet has been in the spotlight, and we can't blame the knitters and crocheters who have traded their traditional tools for Tunisian crochet hooks. Discover why this craft has so many fiber artists trying a new style of stitching!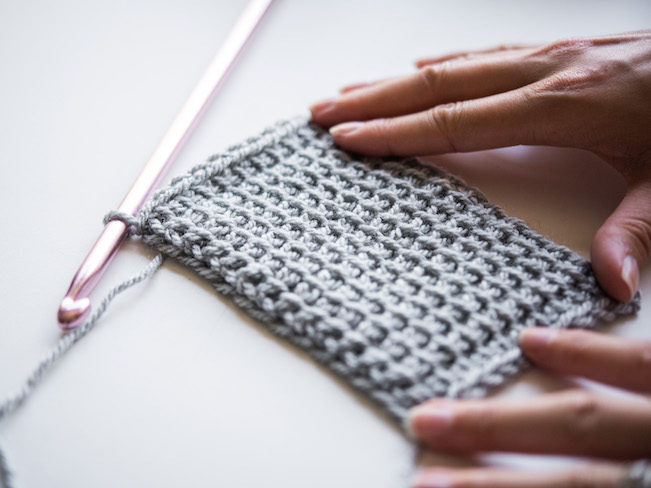 Tunisian crochet is like a hybrid of knitting and crocheting
Tunisian crochet (also called afghan crochet) uses a special kind of crochet hook to pull up loops that form the stitches. But the fabric this technique creates closely resembles knitting.
How is it different from knitting and crochet?
Similarities to crochet and knitting
Tunisian crochet starts with chain stitches, like most crochet projects.
It's worked with a hook, and the fabric is made by pulling up loops.
Differences from crochet
Tunisian crochet hooks are extra long so that they can hold many stitches. They also have a nub or cap on the end to prevent stitches from falling off.
In crochet, you only have one live stitch at a time. In Tunisian crochet, you can have many live stitches at once.
Similarities to knitting
Some Tunisian stitches — like the Tunisian knit and purl stitches — sound and even look like knitting stitches, but they're completed differently.
You can have many live stitches on your hook at one time.
Characteristics all its own
Tunisian crochet is always worked back and forth, but you never turn the work.
Each row in Tunisian crochet has two steps: the forward pass and the return pass.
When you look at Tunisian crochet fabric, it's easy to see that this craft is really unique: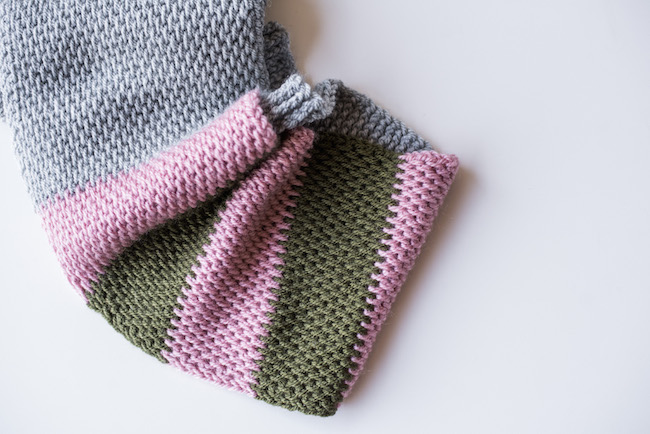 Incorporating color into Tunisian crochet
One benefit of Tunisian crochet is its many possibilities for colorwork. If you prefer a crochet intarsia look, that can also be accomplished with Tunisian crochet.
Creating a color palette is one of my favorite parts about Tunisian crochet. You don't have to limit yourself to just one or two colors. Go nuts! Experiment and see how all the colors look when you combine them.
Materials for Tunisian crochet
The good news is that Tunisian crochet doesn't require a whole toolbox of specialty tools. In fact, you can even create small swatches with a regular crochet hook.
When you want to move on to bigger or more complex projects, though, you'll want to invest in a specialty Tunisian crochet hook.
Want to learn Tunisian crochet?
Start with our free step-by-step tutorial for Tunisian crochet basics. Then, if you want more, check out our Tunisian Crochet for Beginners class, where you'll get hours of up-close video instruction.