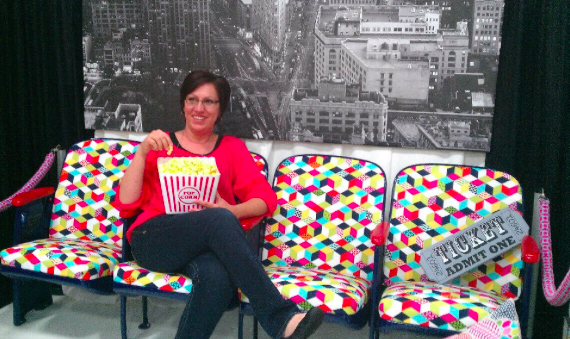 Emily Herrick of Crazy Old Ladies hanging out in her "Technicolor" movie theatre at Spring Quilt Market. (Photo via Fabric Seeds)
Twice a year, quilting industry pros gather together at International Quilt Market to share new fabrics, patterns, publications and products. With Spring Market taking place in Portland this May, there was a strong representation of modern quilting fabric and the overarching movement toward fresh, modern quilts.
But what is modern quilting fabric? It might help to start with a discussion on modern quilts. The Modern Quilt Guild gives several characteristics that often appear in modern quilts, such as:
Bold colors and prints
High contrast and graphic areas of solid color
Improvisational piecing
Minimalism
Expansive negative space
Alternate grid work
"Modern traditionalism," or the updating of classic quilt designs
When it comes to modern quilting fabric, it appears that bold colors and prints play a significant role in making fabric new and fresh. With many fabric manufacturers and designers now contributing to the modern movement, it's an exciting time to be a quilter.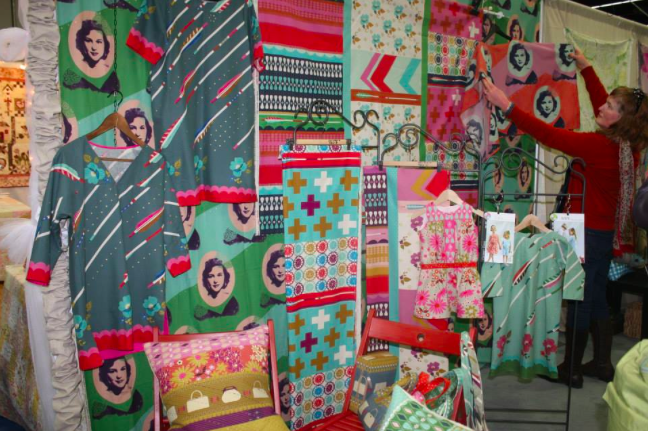 Melody Miller fabric at Spring 2013 Quilt Market (Photo via Sew Sweetness)
When asked what makes a fabric modern, here's what some of you had to say!
"I would definitely say the pattern style. Chevrons are 'in' right now so I would think of that as modern as opposed to country cottons or pastels, which I tend to think of as more old-fashioned." – Rachel Phillips, Young Homemakers
"I mostly think of clean lines, geometrics and trendy colors." – Lindsay Hindman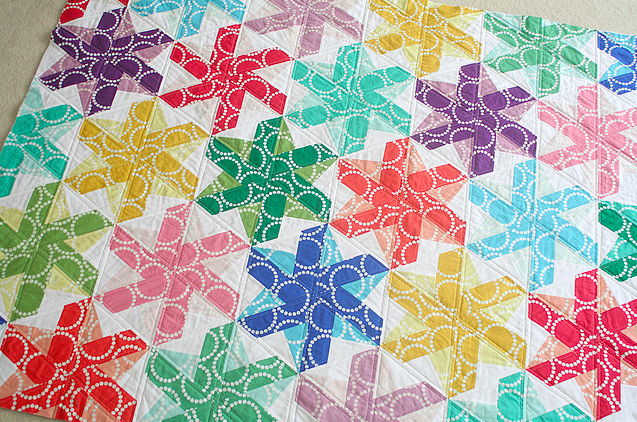 Pearl Bracelets by Lizzy House for Andover Fabrics, featured in the Bloom Bloom Pow quilt (Photo via Freshly Pieced)
"I think for me it starts with color, pattern and appeal. I find that I am drawn to certain designers. I can be looking at hundreds of fabrics online and something just jumps off the screen and, yep, it will be from a designer that I usually am drawn to." – Lisa McGriff
"The use of recycled, repurposed or sustainable fibers to make the fabric makes it 'modern' in my thinking!" – Anne Voss
"I think it can be a combination of things. There is quite a bit of vintage flair in modern fabrics. The basis for a modern collection is usually going to be the color palette, followed by a good mix of prints that can include florals, stripes, dots and geometrics of varying scale. In terms of modern fabric collections, you won't usually find blender prints, as the designer expects you to use with coordinating solids." – Stefanie Williams, Oh Sew Fabulous Quilts
"I'd say colorways play a big part. I think a lot of the manufacturers at least have something that's considered modern, some more than others. There are often more graphic or bigger prints, too." – Sara Lawson, Sew Sweetness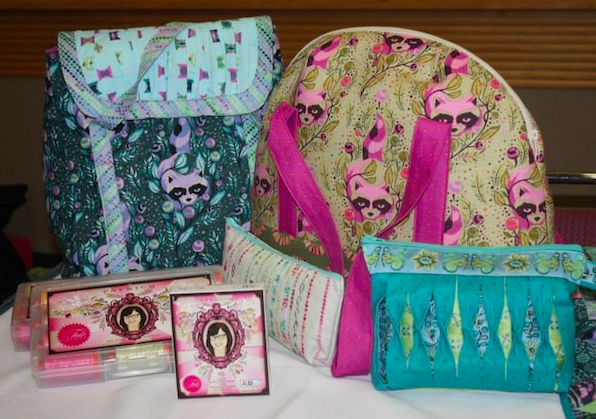 The Petrillo and the Aeroplane bags in Tula Pink fabric at Spring 2013 Quilt Market (Photo via Sew Sweetness)
"Bold, bright colors, as opposed to mundane or pastels. Also, unusual patterns, as opposed to florals, batiks, etc." – Darcie Mair, Clover Quilts
"Old seems to be new again! The retro fabrics are so popular now. I love them, because they remind me of my mother's and grandmother's sewing projects." – Yolanda Solferino
"Any company that gives a portion of their proceeds to worthy causes or charities." – Susan McConnell
"Vibrant colors, unique and bold color combinations, lots of solids and very graphic designs. When I think of modern quilting, I think of fabrics showcased on Spoonflower as well as Tula Pink, Riley Blake. It's not your momma's calico! But modern quilting is also about using traditional materials in a non traditional way, and having a wonderful use of negative space!" – Debbie Grosskopf
"I just experienced my first Quilt Market as a blogger/observer rather than a buyer. Instead of sitting down with the fabric reps and looking at fabric on headers or on paper, I was wandering around photographing booths and talking to designers. It was very interesting to look at collections for the big picture, rather than the marketability of individual prints. It really got me thinking about how much the presentation of a group can influence whether or not it attracts the eye of buyers interested in the modern fabric market. More than ever, I believe it's the sewist or quilter that makes something modern, rather than the fabric itself." – Kristin Link, Sew,Mama,Sew!
To learn more about modern quilting, we recommend Elizabeth Hartman's Craftsy course, Inspired Modern Quilting: 7 Small Projects with Big Style. In addition to learning Elizabeth's guide to thoughtful fabric selection, you'll learn several foundational modern piecing techniques.
Since modern quilting means something a little bit different to everyone, we're sure you have some ideas about what makes a fabric modern. What does "modern quilting fabric" mean to you? Are there any upcoming fabric lines that you are particularly excited to see?