I always just assumed a gratin was made of potatoes. At least that's what I thought of when I heard that word. Images of a dish where the potatoes are sliced so thin you can practically read the paper through their flesh would pop into my head. Tucked in between the layers is cream and cheese. It is all baked together until the components become one dish that is comfort, pure and simple.
Then I started to notice tomato gratin, zucchini gratin, and cauliflower gratin and suddenly my understanding of what a gratin is expanded and my mind was reeling with ideas — that's how I came up with this recipe.
Create an crave-worthy, comfort food dish with this incredible recipe for kale gratin!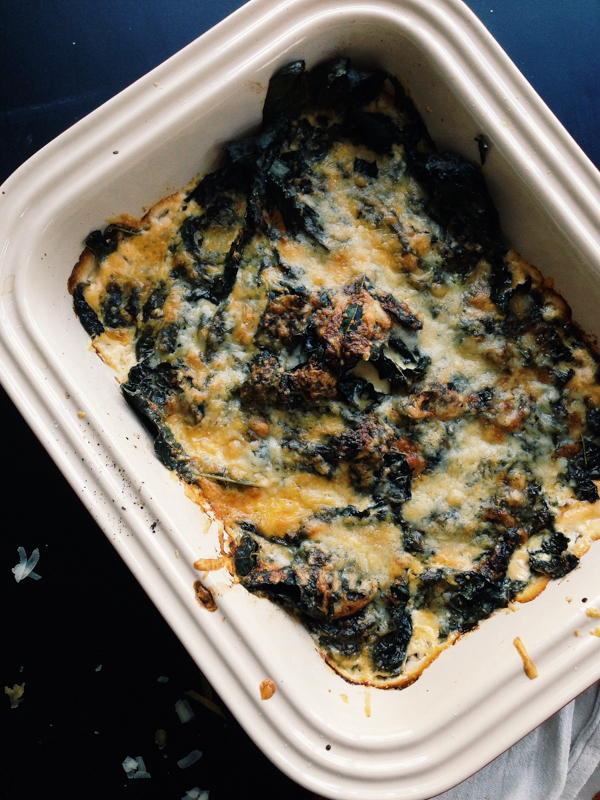 Not afraid of cream and cheese? Neither am I and neither are the French. To learn more about classic French cooking, including how to make eight delicious dishes, check out the class, French Home Cooking: The Essential Techniques.
Sign me up! >>
What is gratin?
A gratin is actually in the category of my favorite sort of dishes. The ones where little bits leftover in the fridge come together to create a completely new meal, which has no resemblance to a thrown together meal. It is essentially a vegetable cooked together with cream and there is often some sort of crisp golden cap on top. This can be created with bread crumbs, cheese or butter. Everything is baked in a shallow dish until thick and bubbling.
The word, gratin, is a form of the French word, "gratter," which means to scrape or grate as in the gratings of bread and/or cheese. The word gratiné means crust or skin so basically the most important part about a gratin is the top crust — which is always my favorite anyway. Then we can also assume that anything that can be topped with a crisp crust can become a gratin.
So let's gratiné kale, shall we? We're told we need to eat more greens and quite frankly I like mine with a bit of cream and cheese. Especially when the cheese sits in a hot oven for nearly an hour, adequate time to form a deeply flavorful and thick crust.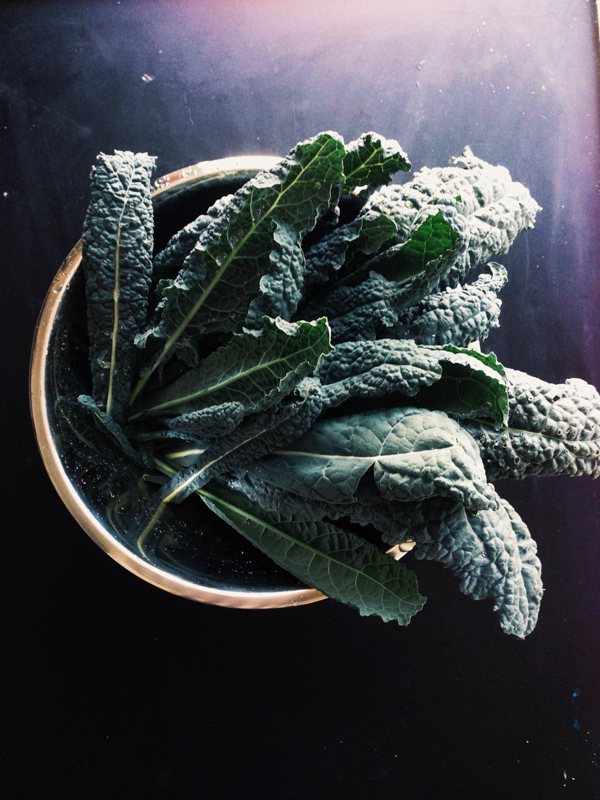 We start with fresh kale that has been overwhelming my garden as the summer sun starts to turn a bit cooler.
To remove the tough ribs hold the thick stem then pull on the frilly greens. It should easily pull off the rib. If a bit of stem comes with it, that's fine. The kale we are using in this dish is lacinato or Tuscan kale.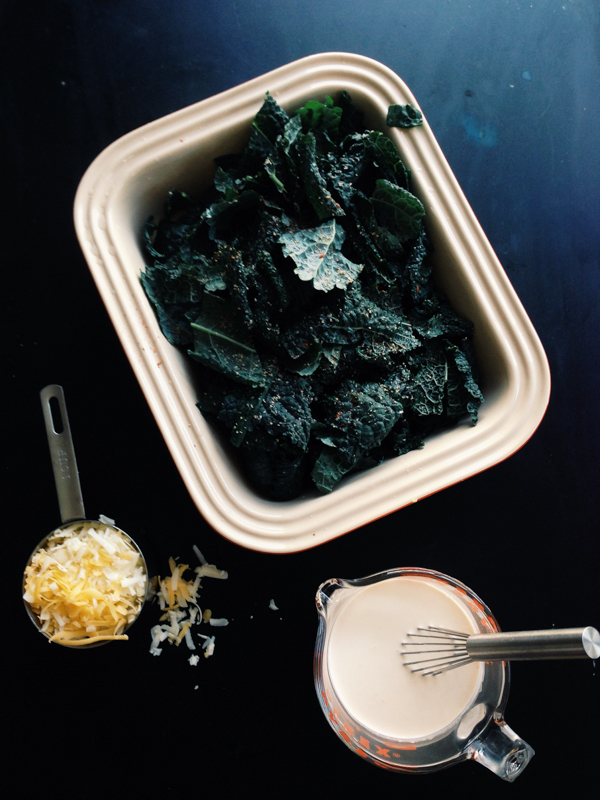 To the kale we add a bit (read: a lot) of cream and cheese. I add a bit of tomato paste for flavor and there's also a touch of nutmeg which pairs beautifully with greens.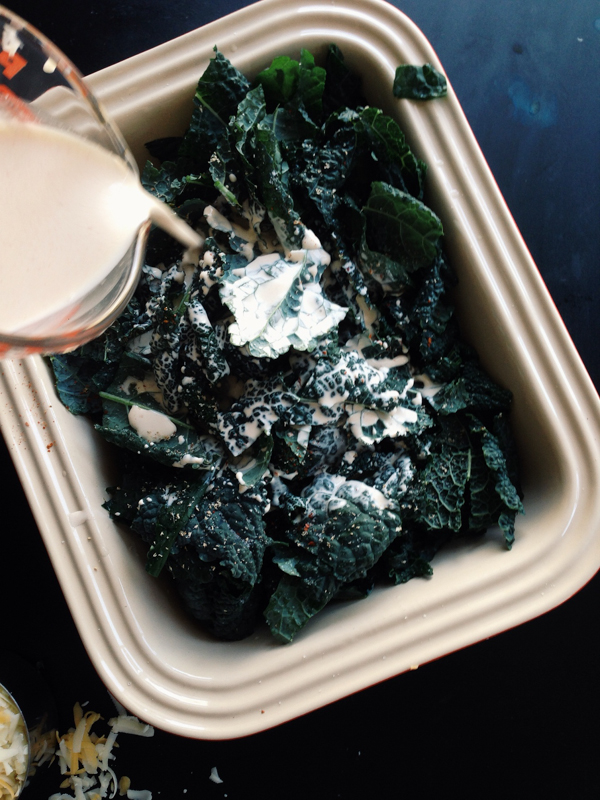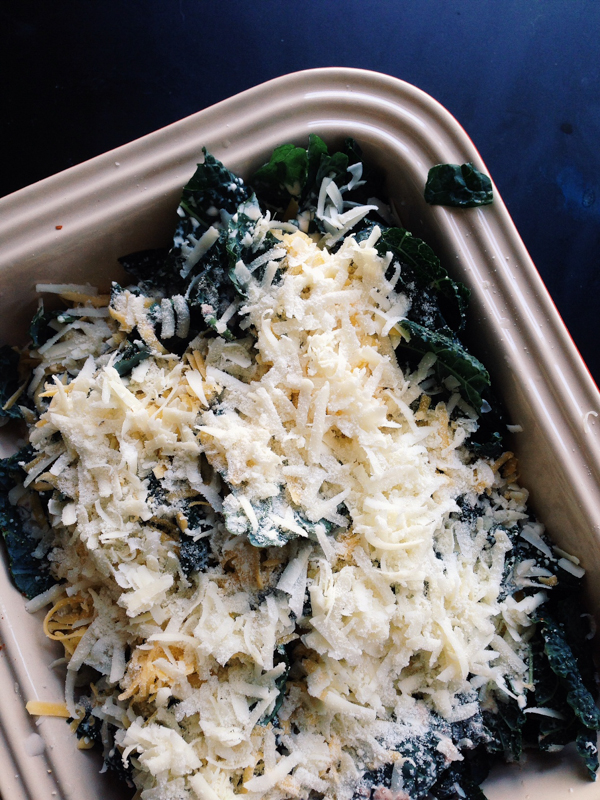 Recipe for kale gratin
Adapted from A Boat, A Whale & A Walrus by Renee Erickson 
2 bunches lacinato kale (about 1 pound) ribs removed and roughly chopped
1/4 teaspoon fresh ground nutmeg
Salt
Pinch chile flake
2 cups heavy cream
1 tablespoon tomato paste
1 1/2 cups grated cheese (I used a combination of cheddar, gruyere and Parmesan)
Directions
1. Preheat the oven to 350 degrees F.
2. Place the kale in a shallow baking dish. Season the kale with nutmeg, a couple of pinches of salt and a bit of chile flake.
3. In a small bowl whisk together the cream and tomato paste. Carefully pour this over the kale.
4. Top with the cheese then bake for 45 minutes to an hour or until golden on top and the cream is bubbling and thickened.
5. Let the gratin cool for a few minutes before serving.
6. Alternately you can make this ahead of time, let is cool completely, refrigerate then rewarm when ready to serve.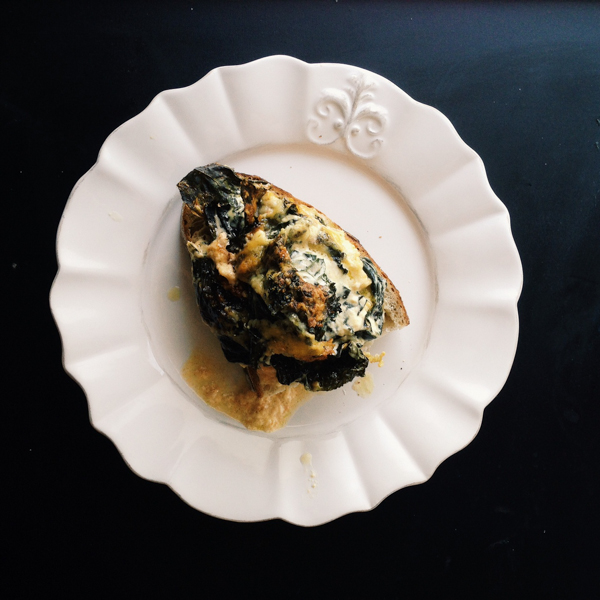 I like to have a big scoop of this gratin over crusty bread but it also makes a great side dish for a holiday table.