Wet in wet, one of the most distinctive techniques of watercolor painting, is basically an application of pigment to wet paper. This challenging method produces highly unpredictable results, because there are so many factors that matter (such as paper texture and weight, the amount of water, the thickness of pigment or the timing). With that being said, there's something magical about the way colors flow and blend with each other, creating a beautiful, striking effect.

While spontaneity is a wonderful thing about wet-in-wet watercolor painting, it never hurts to have a little control over the process. Here are some tips and tricks that can help you with that.
Follow along to learn 5 tips that will make wet-in-wet watercolor painting easier!
1. Choose the right paper
As mentioned above, the texture of the paper plays an important role when you paint wet in wet. Hot pressed paper is less absorbent, so colors will float on the surface longer. Cold pressed and rough papers, on the other hand, absorb the water much faster.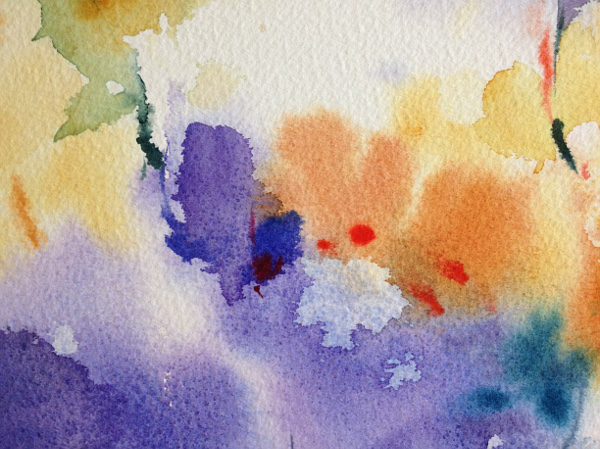 The only way to find a perfect paper for your needs is by trying it out. My personal favorite for wet-in-wet technique is cold-pressed,140-pound, 100-percent cotton watercolor paper.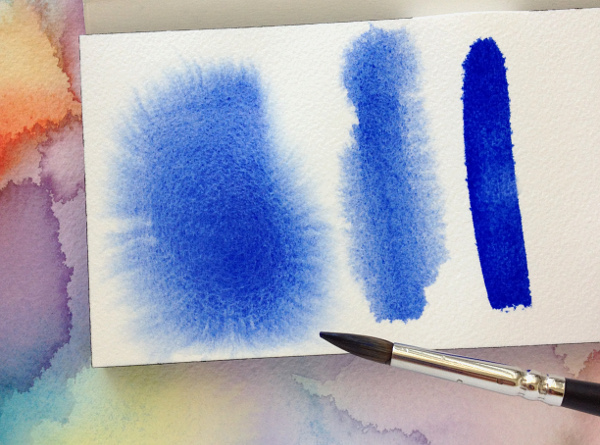 2. Catch the right moment
If you apply paint when the paper is shiny wet, colors will spread over the large area of your painting, producing undefined shapes. When you need to make a soft, but not too diffused brush stroke, just wait until the surface is no longer glossy, but still damp and cool to the touch.

The water/pigment ratio is also very important. On the picture above, the first brush stroke was applied to the shiny wet paper. The second one was made when the paper was no longer glossy, but the paint happened to be very watery, so it spread significantly. The third brush stroke was made at the same time, but using thick pigment.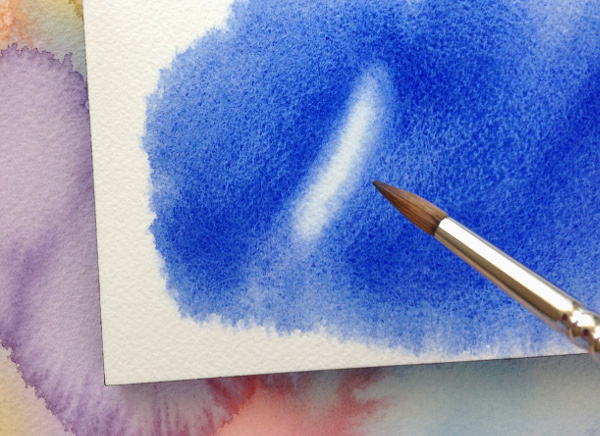 3. Lift with a "thirsty" brush
As long as the paper is still wet, you can easily make corrections if something goes wrong. Just blot your brush thoroughly and lift the paint back off the paper. In some cases, you may need to add clean water to the surface before lifting. The trick here is that the damp but blotted brush absorbs more water than it releases, so it will quickly pick the wet color up from your painting.
It's also possible to do some corrections when the paper is dry, but there are decent chances your painting will loose freshness and look overworked.
Note: Pay attention to the pigments you're using: some of them are harder to lift than others. You can find out wether a particular pigment is staining or non-staining on manufacturers' websites.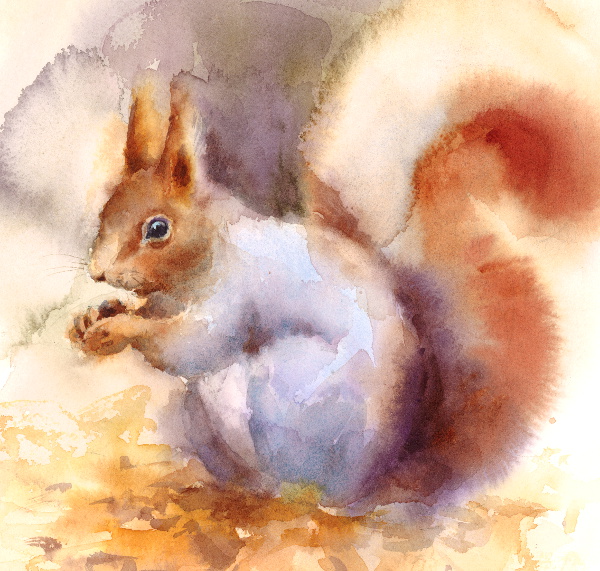 4. Use a hair dryer
Use a hair dryer when painting wet in wet, and you won't have to get bored waiting for the paper to dry to a perfect consistency.
For example, I've made a good use of my hair dryer when painting a squirrel (see the fragment above). The paper was blow dried to the point when it's almost completely dry between applying each layer, so watercolor brush strokes came out well defined and soft-edged at the same time. I love this method because it gives watercolor a delicate, crystal-translucent look.

Note: Be careful not to over dry the paper or blow the wash around.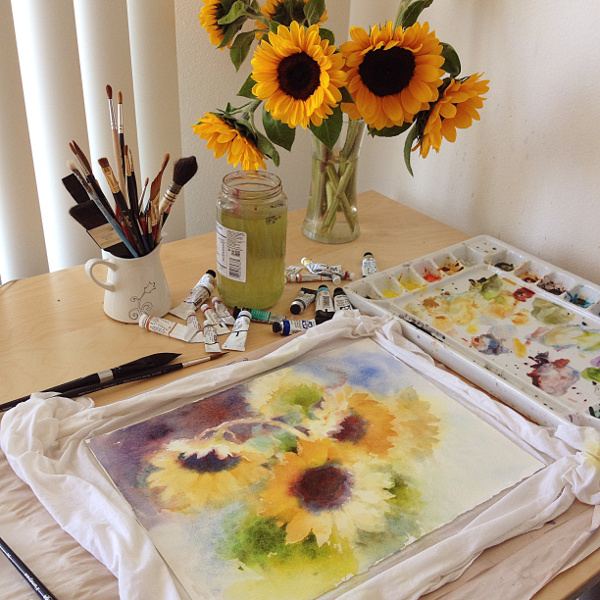 5. Use damp fabric to retain moisture
If you need paper to stay wet for a longer period of time, you can take a moisture-resistant surface (I use the glass from a photo frame), place a thin damp cotton fabric on it, and then put a sheet of paper, moistened from both sides, on top of this "sandwich". With this simple trick, the paper will lay flat and retain water for several hours.
Wow With Watercolors!