It's so important on someone's wedding day to capture as many moments as possible. The day is usually a blur for the couple, so looking back on the photos will help them remember things that may have flown by. That is why it's important to take a few minutes and photograph the little things, the details.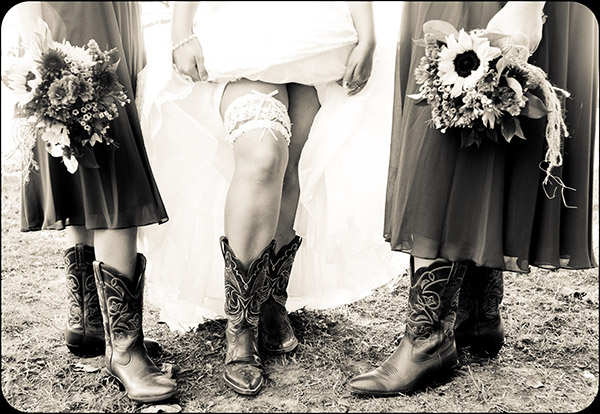 Here are a few things to remember when photographing the details, such as the cake, flowers, favors, shoes, napkins…you get the point.
1. The cake
It's an obvious thing to photograph and it's hard to miss. Try to get a photograph of it before the kids start swarming and trying really hard not to stick their fingers in the icing. (If that does happen, it would also make a good photo.)
When no one is around the cake, it's easier to set up some off-camera lights and get a great photo. Sometimes a cake is difficult to photograph in the available light, unless it's outdoors in the shade or next to a window.
I have noticed the trend now is white on white icing, which it hard to photograph. The trick is to have a light source coming in from a different angle than straight on. Pocket Wizards and some flashes are all you need to make this happen. Multiple light sources really make the cake beautiful and three-dimensional. And don't forget about the groom's cake!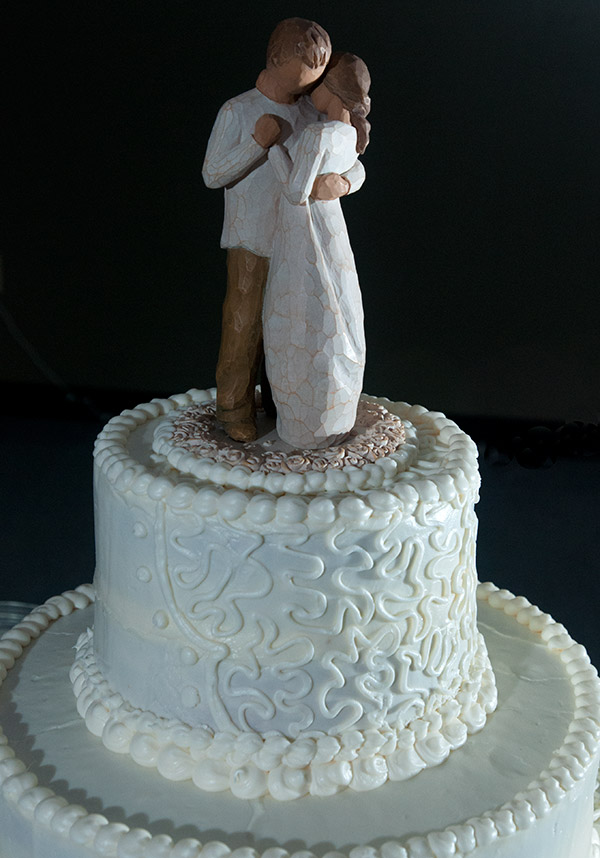 2. Flowers
Some weddings have thousands of dollars worth of flowers, while other brides make their own bouquets with fake flowers and antique jewelry. Either way, a lot of thought goes into them, so get photos of it all.
Sometimes brides will attach small keepsakes to their bouquet. They usually have a meaning, so always ask if you see it, then photograph it. One bride had her grandfather's small pocket watch from World War II tied to her bouquet as well as some other keepsakes from relatives who couldn't be there. These are the things brides and grooms want to remember, so the best thing to do is keep your eyes open and ask questions.
At another wedding I photographed, a bride honored her late mother by placing her mother's favorite flowers on a seat where she would have sat during the ceremony. Every little detail has a meaning.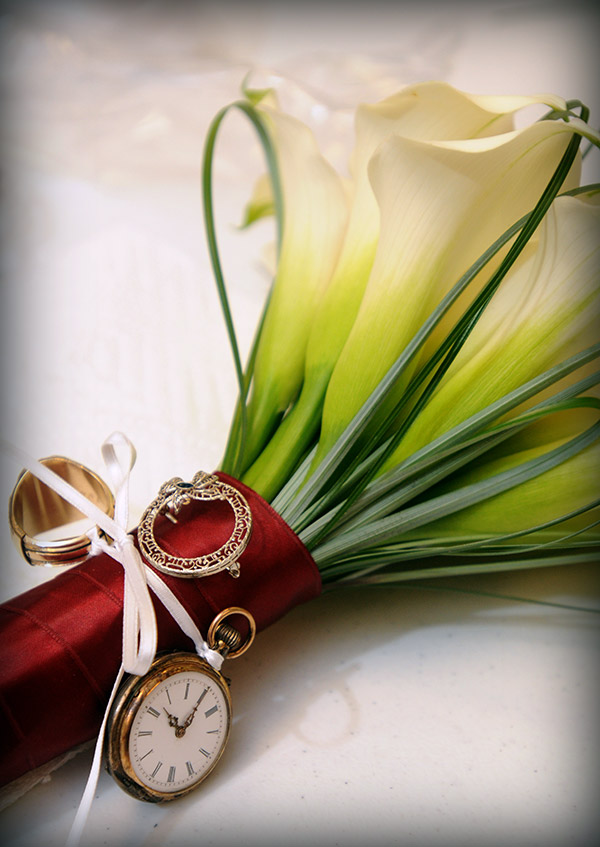 3. The dress
Every bride wants photos of her in her dress, but it's also important to capture the details of the dress as well. After the wedding they might get it cleaned and put in a box, but if they want to show someone what the dress really looked like it, will be a lot easier to pull out the photos.
Every dress is different, so focus on the little things that make a dress unique. Think of necklines, beading, lace-up backs, any kind of embellishments. This is also a good time to really start looking at jewelry, shoes, veils, etc. These small details are where couples really get to let their personalities show. I have been to Chaco weddings, where the entire wedding party wears Chaco sandals. At another wedding, the wedding party wore cowboy boots. If you see an interesting detail, make sure to capture it.
4. Quirky things
Couples go out of their way to do things that are unique to them on their wedding day. Feel free to ask them what those things might be, and if you see it, take a photo. One couple even had "Just Married" toilet paper put in the bathrooms at the reception. It's the little things that can have the most meaning at a wedding. Napkins or little candies with the couple's picture on it all have thought behind it. One couple brought rubber duckies that the groom used to propose to his bride. We made sure to get a lot of photos of them. If you see something that makes you think, "Oh, that really reminds me of the couple," take a photo of it!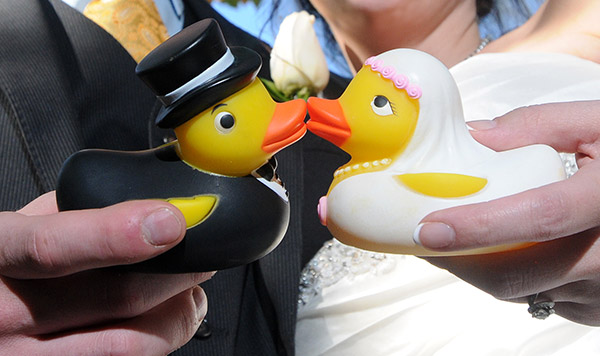 Weddings are huge events with a lot of things going on. It is easy to get caught up in the actions of the day and forget about the details. Try to make some downtime for yourself so you can go find the details that don't jump out at you throughout the day. These are some of the photos the couple will look back on 25 years from now and really cherish.
Come back to the Craftsy Blog next Wednesday for more wedding photography tips!
What are some unique details you have seen at weddings?