Very often as cake designers we are struck with inspiration from a variety of sources we encounter during everyday life. For example, perhaps one day you're strolling down a main shopping street and glance over into a glass window. Bam! A gorgeous ruffly dress with a sparkly beaded bodice grabs your attention. From there, your mind automatically goes to: "How will I translate this onto a cake?"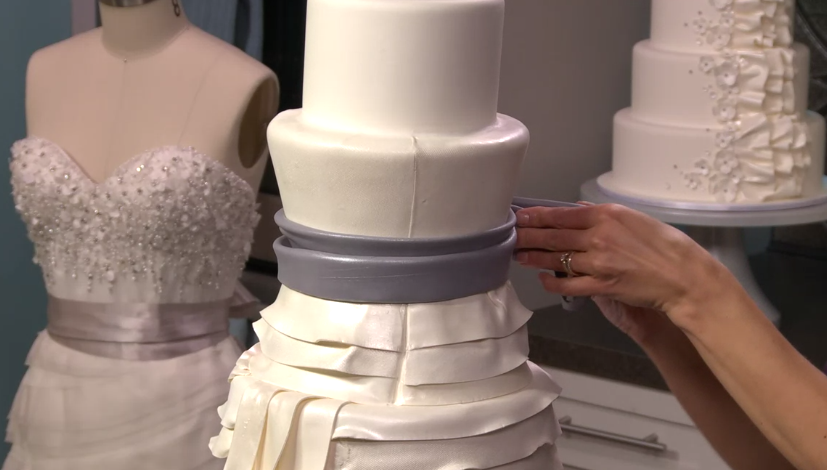 Craftsy instructor Rachael Teufel adds a design element to her wedding dress cake 
I love the idea of a wedding cake paying homage to a bride's lush and gorgeous gown. Of course you may also need a groom's cake to satisfy the groom, too!
Here you'll enjoy a collection of fabulous wedding fashion-inspired cakes!
Sign up for Rachael Teufel's Cake Design Made Simple: The Wedding Dress to learn how to re-create the fabulous and fashionable cakes seen below!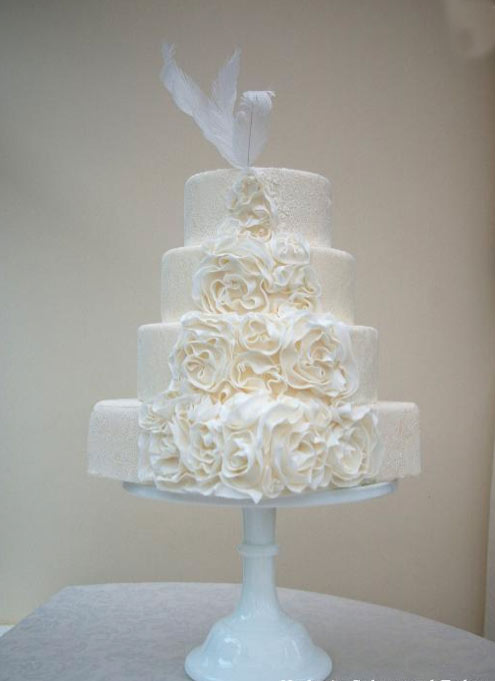 Photo via Craftsy member Nadya TK 
Ruffly rose pyramid dress cake:
You have to love those gorgeous ruffles climbing their way to the top of this stylish couture four-tiered cake. It looks like you could step into this cake and walk down the nearest aisle.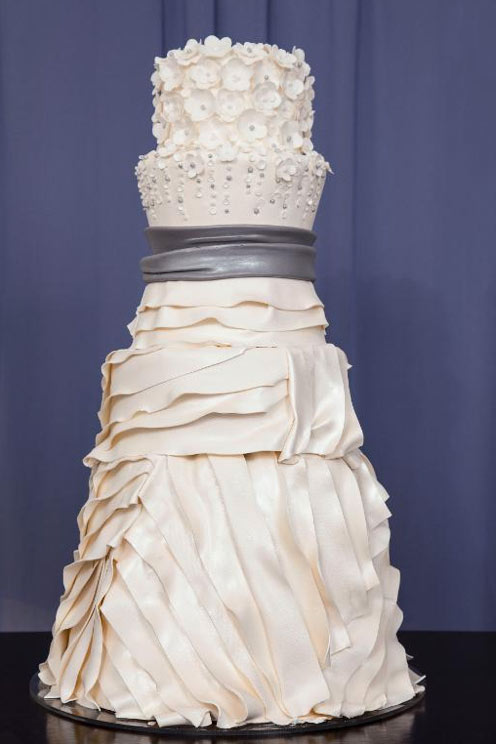 Photo via Craftsy instructor Rachel Teufel
Flowers, beads and ruching wedding dress cake:
Craftsy instructor Rachel Teufel created this lovely wedding dress inspired cake. She used fondant to cover the cake tiers and modeling chocolate for the details of the "tulle" ruched skirt. You, too, can discover how to make your own in her class Cake Design Made Simple.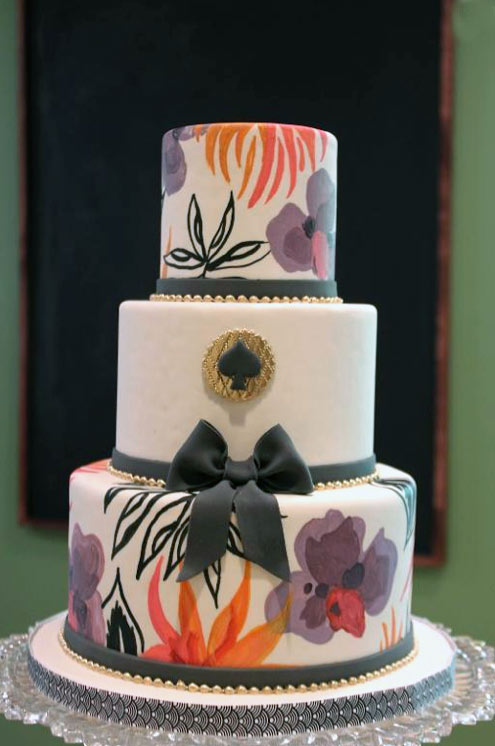 Photo via Craftsy instructor Joshua John Russell
Cake Spade dress:
This rather hilariously named cake is modeled after a Kate Spade dress design! Created by Craftsy's very own instructor of  Fashion-Inspired Fondant, the cake is covered in fondant and hand-painted with gel food coloring. Inspiration can truly strike from anywhere!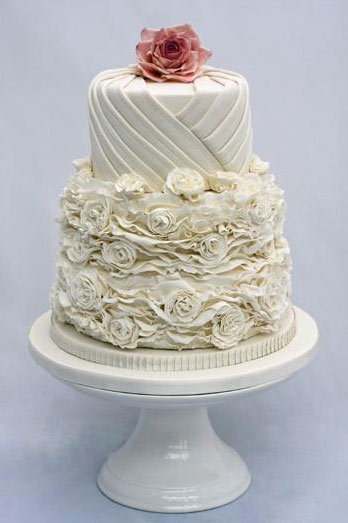 Photo via Craftsy member Bite Me Bakery
Sunday Rose wedding gown inspired cake:
Craftsy member Bite Me Bakery was inspired to make this beautiful cake by wedding dress designer Monique Lhuillier's "Sunday Rose" wedding gown. She executed the design with the help of Maggie Austin's ever popular Craftsy class Fondant Frills. I love the bottom tier of ruffles and paper thin fondant roses against the second tier of clean-lined ruching– all topped with a beautiful pink sugar rose bloom.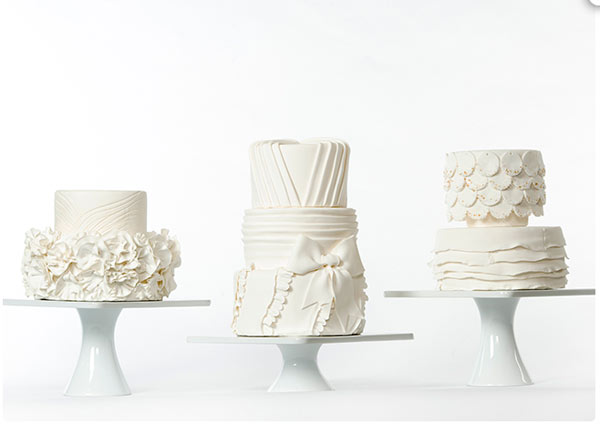 Photo via Style Sweet Ca
Triple threat bridal couture cakes:
Bows, ruffles, scallops and ruching – all the stuff of bridal gown dreams. I love this trio of cakes from Style Sweet Ca. Would you consider offering a trio of wedding cakes to clients as opposed to one giant wedding cake? What are the pros and cons of each?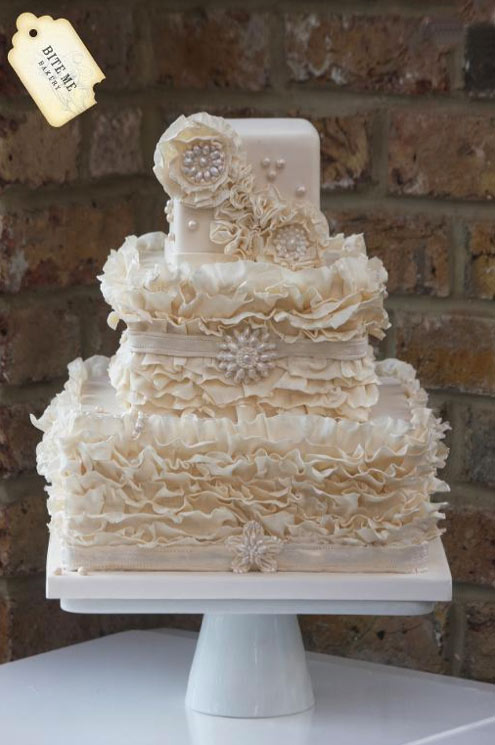 Photo via Craftsy member Bite Me Bakery
Explosion in a frills factory wedding cake:
Craftsy member Bite Me Bakery named her cake appropriately– what a gorgeous explosion of frilly ruffles, don't you think? This frilled cake reminds me of a beautiful champagne colored ruffly confection of a wedding dress, perhaps short and cocktail in length. I love how romantic and fun it feels. And, the frills look as though you could run your fingers through them– so delicate and soft!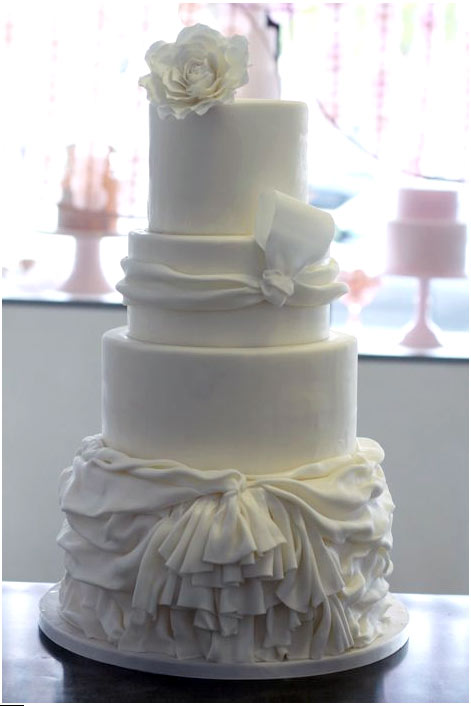 Photo via Sweet & Saucy Shop
Southern bride wedding gown cake:
There's something very Scarlett O'Hara about the skirt of this cake  billows of fabric! I like how the dress slimlines it's way to the top, tied with a sash in the middle and topped with a simple white ruffly sugar rose bloom.
Enroll in Marina Sousa's exciting new class Designer Fondant Textures! In this class, among other things (18 techniques in total) you'll learn to hand-paint and emboss ruching that mimics the look of actual couture gowns!
Fashion and cake! Are you sold on the idea?