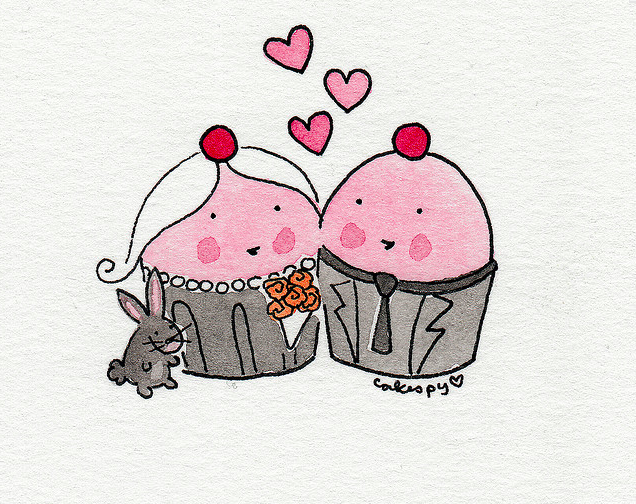 Photo via CakeSpy
When it's time for wedding bells to ring, it's also time for tastebuds to sing. Why? Because there's probably going to be cake involved. But in recent years, more and more brides and grooms are veering off of the traditional wedding cake path, instead opting for cupcakes on their big day! Here's an exploration of why, and some creative wedding cupcake ideas to get you inspired!
Why Cupcakes?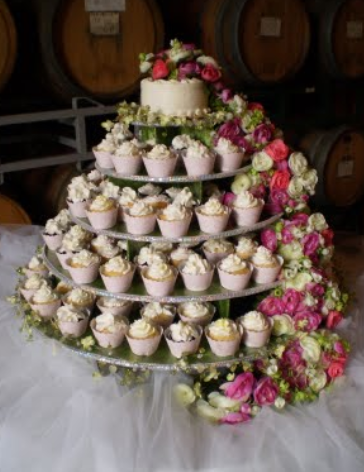 Photo via Bella Cupcake Couture
Presentation: While the cake may be downsized, the overall effect is not. Single-serving cakes can add up to a big-time presentation. If using a cupcake pedestal, the tiered effect of a traditional wedding cake can be mimicked, and the overall effect can be quite big!
Easy to serve: No doubt about it, there's less fuss when it comes to serving cupcakes! Portions are clearly proportioned, and nobody's going to have hard feelings about not getting a corner slice, as they might with a cake. Plus, it's easy to eat cupcakes while standing up–ideal for a party where people are mingling!
Variation and versatility: It's easy to have multiple cupcake flavors at a wedding, which is great for pleasing all sorts of palates. This is also great if you have to take dietary restrictions into account–it's easy to have some vegan cupcakes in the mix! Plus, the small servings allow guests to take them home for later if they're too stuffed from dinner!
Adorableness: There might not be a "cutting the cake" moment, but the couple certainly can make it a highly adorable experience by cutting a cupcake in half and (if it's that type of wedding) mashing it in one another's face!
Sweet decoration: Of course, possibly most importantly, cupcakes are a fantastic palette for all sorts of artistic, clever, beautiful, and creative ideas.
Here are just a few: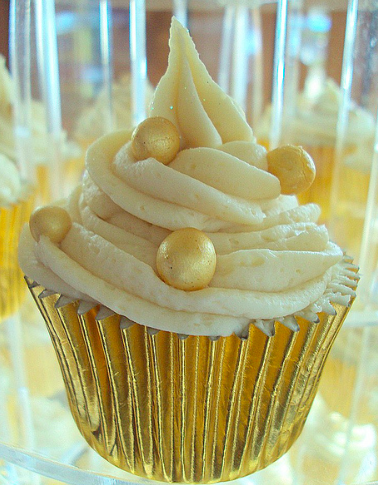 Photo via Heavenly-Cupcakes
All that Glitters: Adding edible pearls or dragées is a simple way to attain a sophisticated effect. Cake decorating supply stores will carry all the colors of the rainbow, but of course silver, gold, or pearlescent white are always classic choices.


Photo via Sugarush a Sweet Experience
Beachy Keen: For a beach wedding, what could be sweeter than cupcakes "sanded" with sugar and garnished with chocolate seashells and starfish? Don't even ask if the guests will be delighted– that's a shore thing.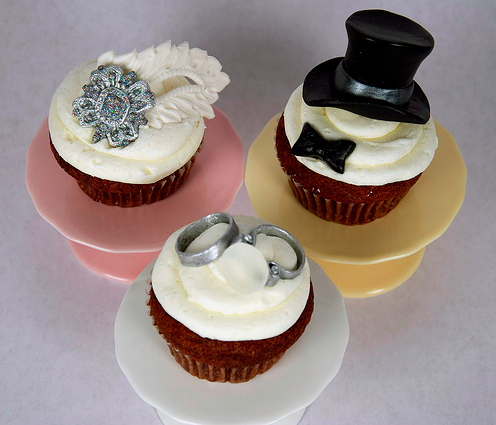 Photo via For the Love of Cake
Here comes the Bride: Not much is sweeter than bride and groom themed cupcakes. The small surface allows for micro-detailing which is sure to get lots of admiring murmurs.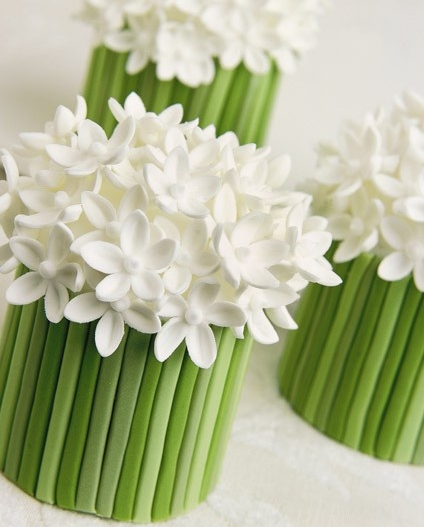 Photo via Pinterest.com
Centerpiece cakes: Are they centerpieces? Bouquets? Yes to both, plus cake! These beautiful cupcakes are covered with strings of fondant and decorated with sugar paste flowers to form conversation-provoking mini masterpieces.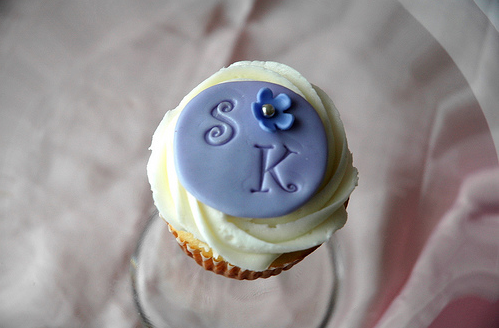 Photo via Flickr User Creativecupcakes
Monogrammed Cupcakes: Who's getting married? Oh yeah, the people whose initials are on the cakes! Monogrammed cupcakes are a sweet way to celebrate the happy couple on an individual scale, and when displayed together, they have a stunning visual appeal.
These are just a few ideas of how to embrace this sweet rising trend for weddings. The sky's the limit when it comes to sweet, creative ways to serve these lilliputian cakes on your big day!
Be sure to come back to the Craftsy blog on Tuesday to learn how to melt candy melts. And it case you missed it catch these tricky cakes that look like other foods.