Diamonds may be a girl's best friend, but pearls are definitely a cake's best friend! The simple elegance and beautiful luster are perfect for a myriad of designs. From vintage to modern, wedding cakes with pearls speak to the soul and enchant the heart. They express beauty, love, determination and strength. Since ancient times, pearls have been a symbol of unblemished perfection. In Latin, pearl literally means "unique" — as with snowflakes, no two pearls are exactly alike.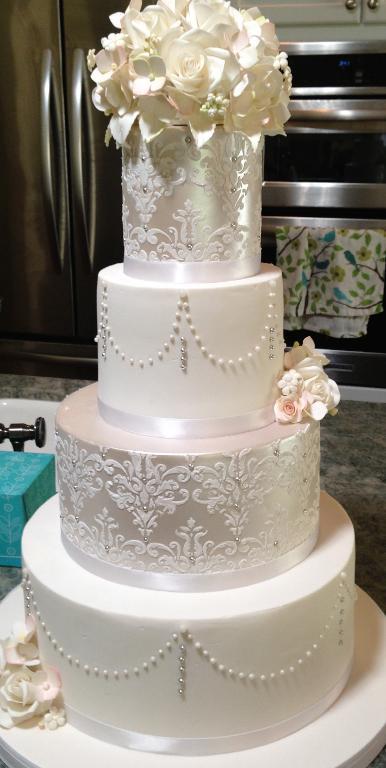 Photo via Bluprint Member SugarArtBySusan
Pearl swags
Piped pearls made of royal icing add a beautiful touch to this four-tier masterpiece, the Grand Island Mansion Wedding cake, by Bluprint member SugarArtBySusan. The silver pearls add dimension to the stenciled tiers as they are placed within the design.
[box type="shadow"]You might also enjoy our post on how to string fondant pearls.[/box]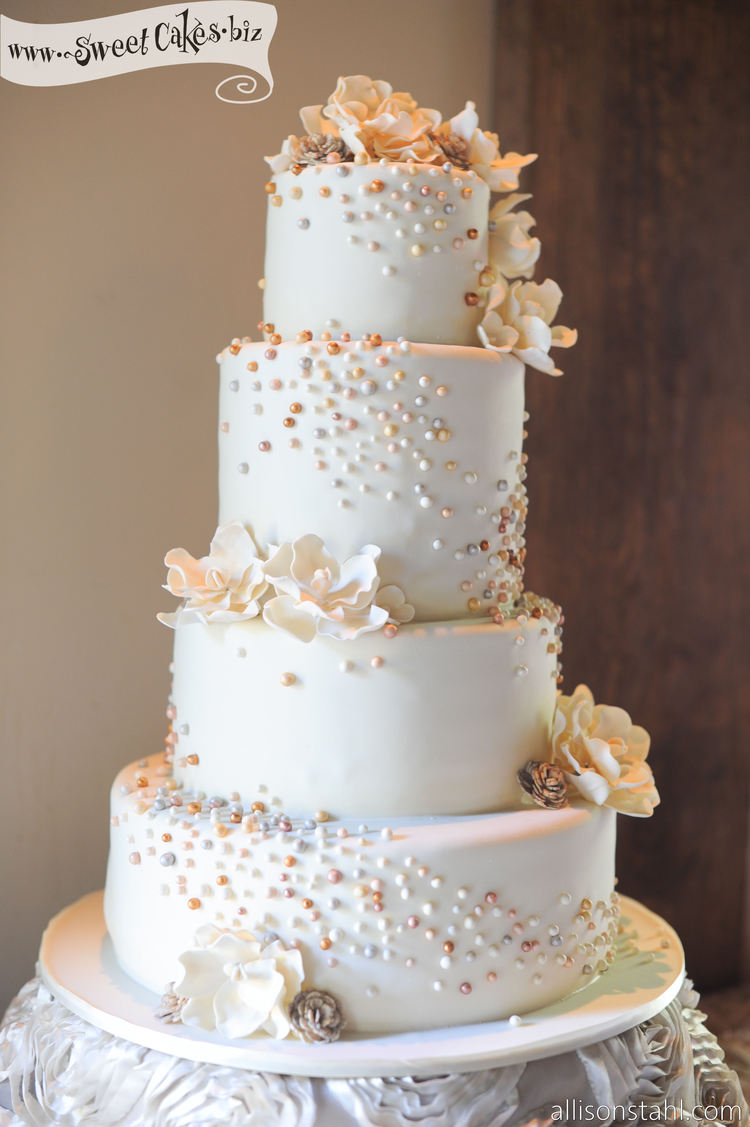 Photo via Sweet Cakes by Rebecca
Cascading pearls
Pearls can range in color from white to gold to silver to black. This incredible display by Sweet Cakes by Rebecca brings together the uniqueness and individuality of pearls while accenting their beauty with perfectly placed sugar magnolias.
[box type="shadow"]Learn how to make lovely sugar magnolias like these in Maggie Austin's Southern Sugar Flowers Bluprint class.[/box]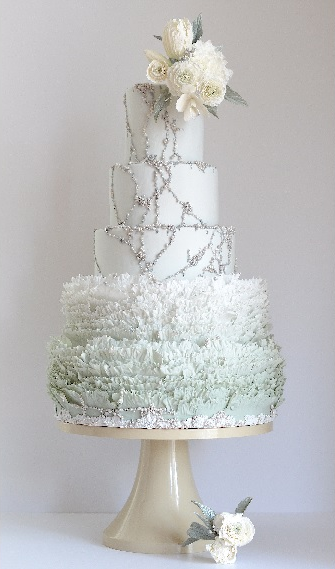 Photo via Maggie Austin Cake
Freshwater pearls
Maggie Austin never disappoints. With each individual handmade pearl, she excels at perfection. The pale sea foam green ombré ruffles and luster she applies to the pearls bring a natural and sophisticated look to this indelible design.
[box type="shadow"]Learn to make Maggie's signature fondant ruffles in her Bluprint class Fondant Frills.[/box]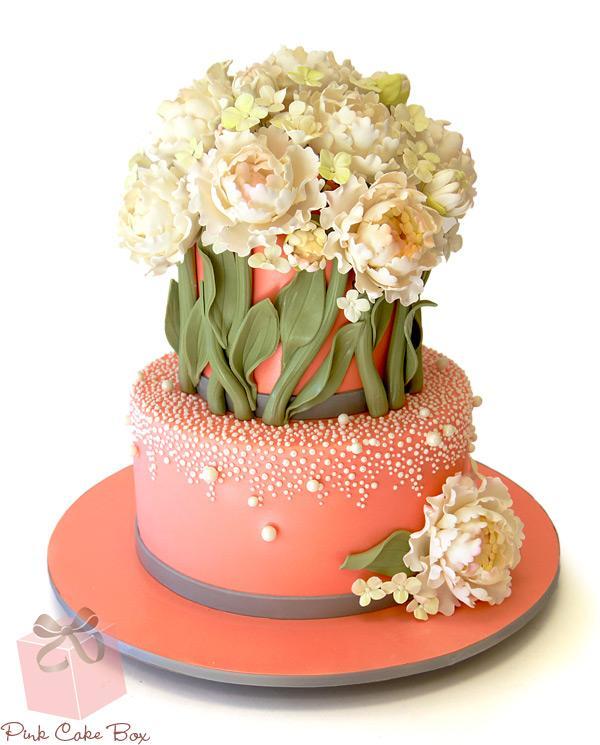 Peonies and pearls cake via Bluprint Instructor Anne Heap
Spring peonies and pearls
This beautiful coral and gray bridal cake by Anne Heap, instructor of the Bluprint class Cake Topper Techniques: Figure Modeling, seems to be calling for spring and warmer weather. Sprouting gum paste peonies, this cake is beautifully accented with fondant and piped royal icing pearls.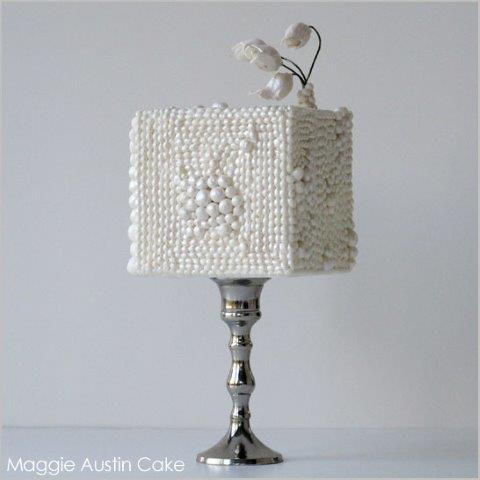 Photo via Bluprint instructor Maggie Austin Cake
Modern square cake with pearls
With a modern twist, these strands of fondant pearls fit perfectly in the box they have been designed for, except for those few on top that is climbing out and exploring a whole new world. This design beautifully blends the lines between cake and art.
[box type="shadow"]You might also enjoy our post on how to make fondant pearls.[/box]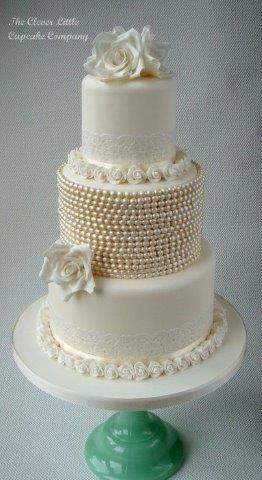 Photo via The Clever Little Cupcake Company
Pearls, roses, and lace
Oh, my! Strands upon strands of champagne-colored pearls envelop the middle tier in this three-tiered beauty by The Clever Little Cupcake Company. The dozens of mini sugar roses accenting the top and bottom tiers is a perfect finishing touch to this lovely design.
[box type="shadow"]Perfect the art of making sugar roses in Nicholas Lodge's Bluprint class The Ultimate Sugar Rose.[/box]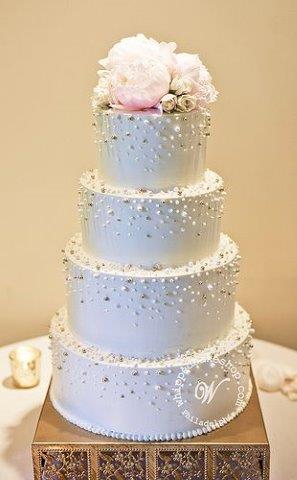 Photo via Whipped Bakeshop
Pearl chandelier
As light shimmers and reflects off the multicolored pearls, I am reminded of a chandelier shining scattering light across a dance floor. This buttercream cake boasts both buttercream and dragée pearls. The use of dragées in cake design can be an elegant addition, adding beauty and luster to your cake.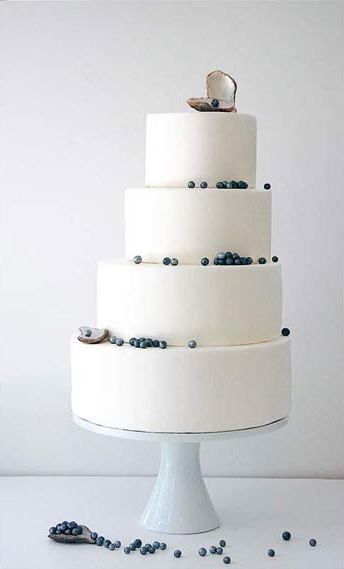 Photo via Maggie Austin Cake
Black pearls
The rarest of all pearls is the beautiful and mysterious black pearl. Handmade by Maggie Austin Cakes, this stunning design highlights the simplistic beauty of these rare gems.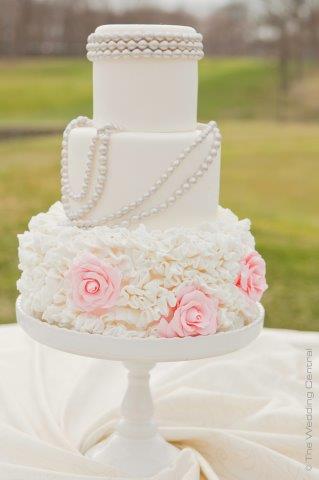 Photo via Sweet Grace Cake Designs
Pearls and roses
This three-tiered wedding cake by Sweet Grace Cake Designs elegantly displays the simple beauty of a strand of pearls as it wraps around the top tier and cascades down the cake. The fondant ruffles and rose pink sugar roses add the perfect balance for a vintage look.
[box type="shadow"]Learn to make fondant pearls and to work with dragées in Marina Sousa's Bluprint class Jeweled Wedding Cake. For piping techniques and design ideas, check out Elegant Lace Cakes with Zoe Clark or Cake Design Made Simple: The Wedding Dress with Rachael Teufel.[/box]
Do you prefer using dragées or piping your own when decorating wedding cakes with pearls?