One of the key parts of our jobs as cake decorators is to keep our eyes peeled and our ears to the ground for new trends, looks and innovations every year. The industrious wedding season is definitely a great opportunity and time to implement some fabulous on-trend ideas into your collections. With this in mind, here are some gorgeous show-stealing trends that we've taken a note of when keeping up with latest cake fashions!
Discover some incredible wedding cake trends of 2014…

Photo via Bluprint member Alex Narramore
Statement designs
Statement wedding cakes can vary from elaborate bas-relief adorned tiers to an otherwise plain cake bedecked with waves of bold sugar flowers! One things for sure, when it comes to statement cakes their job is to pretty much steal the show and the above creation certainly is an attention grabber!
If you're planning a statement design decorated with stunning conversation stirring sugar flowers why not enroll in Nicholas Lodge's Mastering Modern Sugar Flowers class!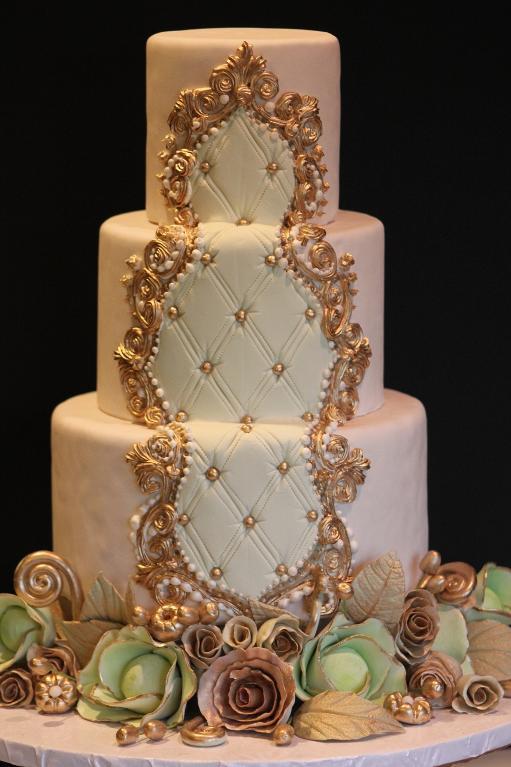 Photo via Bluprint instructor Joshua John Russell
Gold glamor
Using gold and other metallics is a sure fire way to add a wonderful touch of luxury and decadence to a gorgeous wedding cake. Recently we've spotted so many fantastic gilded wedding cakes online, in various magazines and at trade shows too. We love the gold-painted, hand-piped frame that lends a wonderful antique feel to the above cake.
Discover some incredible piping techniques to help create fabulous royal icing borders, trims and frames with Joshua John Russell's Modern Piping class!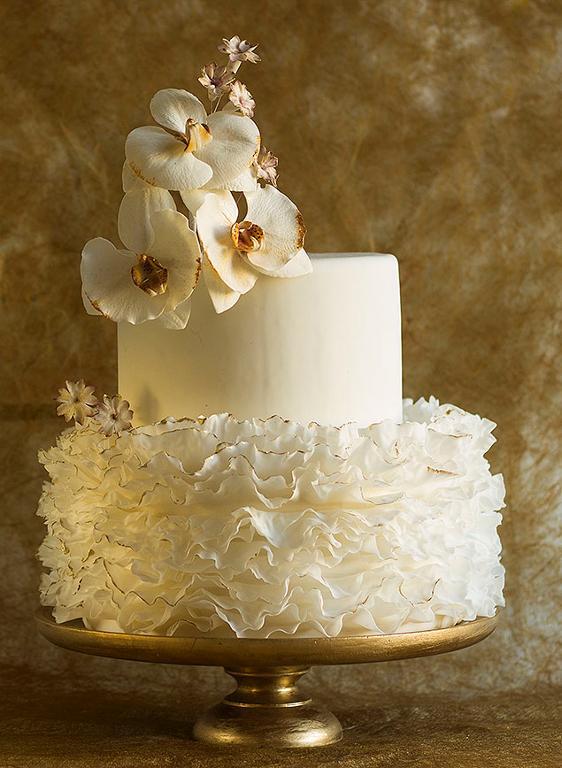 Photo via Bluprint member ModernLovers
Romantic ruffles
Delicate fondant ruffles have been a popular choice for wedding cakes for the past few years and luckily this look doesn't seem to be on it's way out. We love the softness of the edible frills that cover the bottom tier of the above cake; plus the gold edging is such a great and subtle way to incorporate another wedding cake trend!
To create a sweet ruffled look for you next project why not sign-up for Maggie Austin's Fondant Frills class today!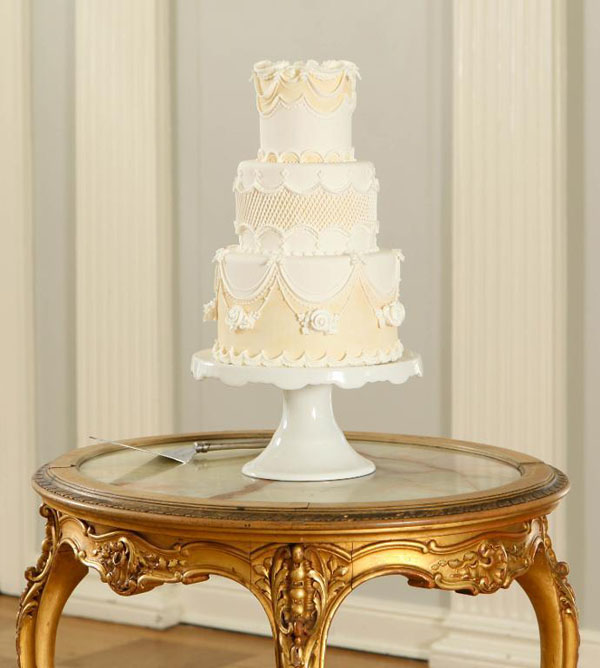 Photo via Bluprint instructor Wendy Kromer
Vintage lace
Utilising lace on wedding cakes is always a popular choice and every year this design element stays firmly on the wedding cake trend list. Lace designs are a great way to add detail and a touch of personalisation to a cake. We love seeing lace adorned wedding cakes that have thoughtfully incorporated details from dresses, linens or even filigree embossed place cards! A terrific vintage technique, the Lambeth method, has been getting quite popular once again and creates some dramatic lace-inspired effects!
Wendy Kromer's Dream Wedding Cakes class is perfect for picking up some valuable advice and techniques to create a beautiful wedding cake!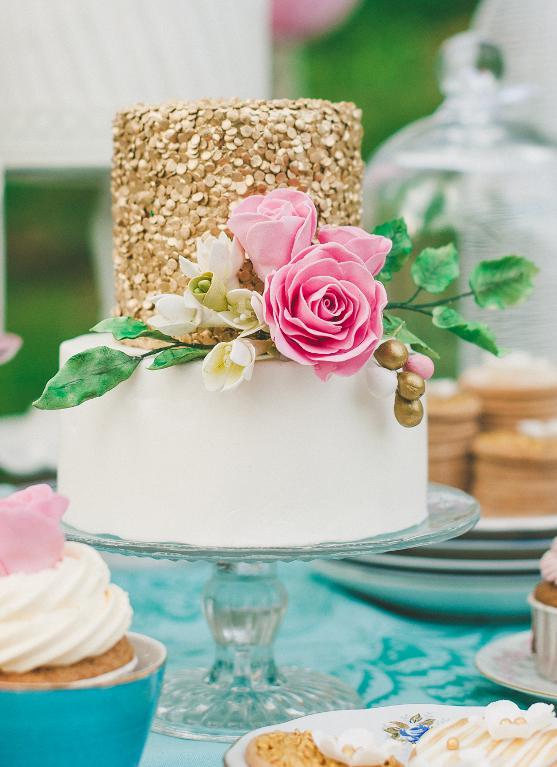 Photo via Bluprint member Sockrrus
Stunning sequins
One of our favorite trends is the glimmering sequin covered cake! What a fun yet luxurious way to decorate a wedding cake. This style not only incorporates the trend for gold and metallic painted cakes, but adds texture, interest and a wonderful quirkiness to the end design!
Enroll in Erin Gardner's Cakes in Full Bloom class to discover how to create a glamorous sequin covered wedding cake!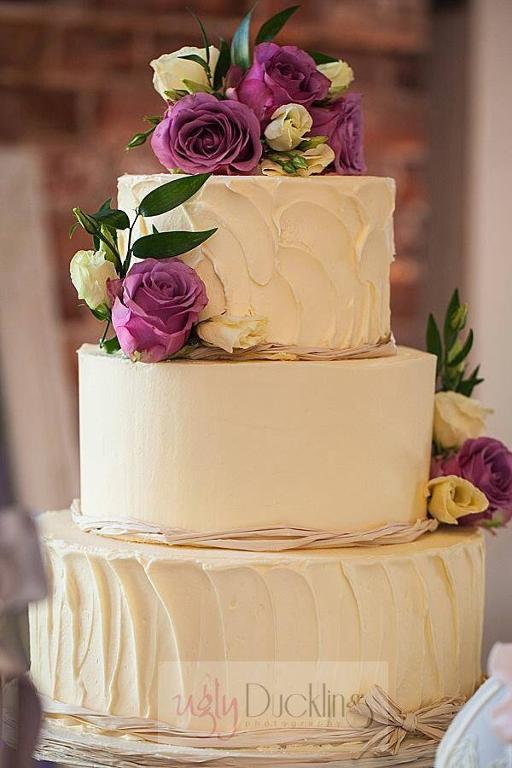 Photo via Bluprint member Woody77
Rustic influence
Chic yet rustic influenced styling is gaining popularity in the wedding industry especially when it comes to the all-important wedding cake. From fruit adorned naked cakes to textured buttercream this subtle yet stylish trend is perfect for weddings with a romantic carefree feel.
Learn some essential buttercream techniques to help create gorgeous cakes with Beth Somers' The Wilton Method®: Buttercream Skills class!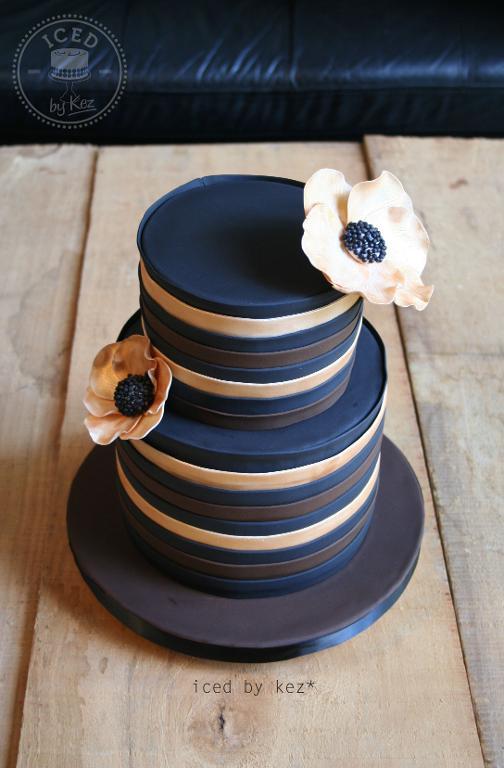 Photo via Bluprint member IcedbyKez
Dark hues
Dramatic black and dark fondant cakes began making a popular appearance in our trend forecasts for the year. We love this unusual and quirky look and think that darker cakes are perfect for both intimate settings and grand receptions. They also suit being paired with some other current trends such as gold painted accents, sequin cakes, soft lace and statement cake designs! We also think darker and bolder palettes would be perfect for fashion influenced styles too.
Why not try Joshua John Russell's Fashion Inspired Fondant class for some exciting techniques and design ideas; perfect for creating theatrical dark cake designs!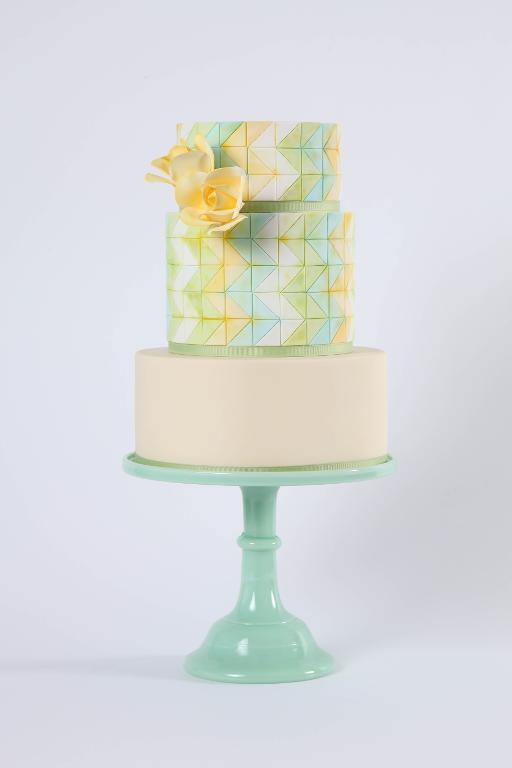 Photo via Bluprint instructor Allison Kelleher
Modern chic
Whilst sleek chevron patterns are still popular in the wedding cake industry they've given way to a host of geometric styles and designs. One up and coming trend is for the mosaic or patchwork technique which creates crisp and clean finishes and edges.
Enroll in Allison Kelleher's Modern Mosaic Cakes class to discover how to create super sleek and stylish modern wedding cakes today!
Creating wedding cakes certainly is challenging. however, it is also exciting incorporating new ideas, innovative styles and show-stopping design inspiration into your latest creation. Always keep a look out for creative new ideas, influences and looks in the industry to keep your collections stunning and on trend!
What's your favorite wedding cake trend of 2014?