Wedding season: It's almost that time of year again. Don't get stuck behind the times when it comes to designing and decorating show-stopping wedding tiers! Always keep your eyes peeled and your palette knife at the ready because these days wedding cake trends move fast.
If you're stuck for some sweet inspiration or just don't know where to look for fabulous new ideas have no fear because we're happy to share a slice of the beautiful trends that are sure to be hot this year!
Here's our forecast of six stunning wedding cake trends for 2015!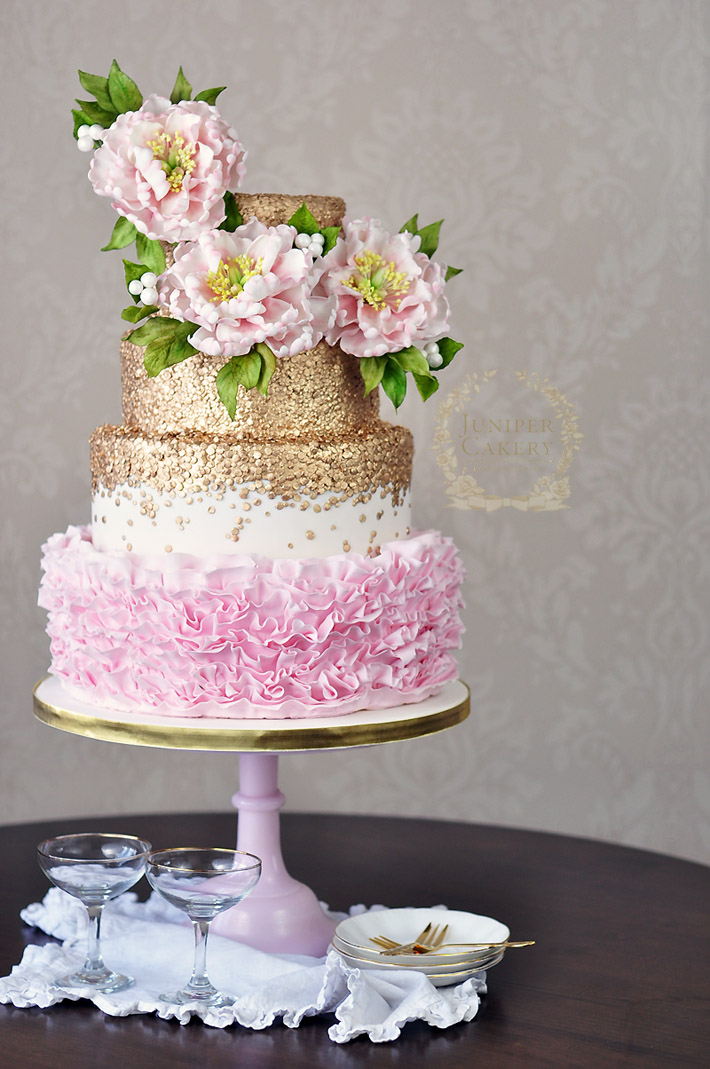 Photo via Juniper Cakery
Trend #1: Gold
Gorgeous, glistening gold cakes have been gaining popularity fast over the past couple of years. And, for 2015, we think this gilded trend will be big! As cake designs for weddings develop into more of a statement centre piece, the color palettes will become more luxurious and decadent. From golden painted sequins to elegantly lustered tiers, we definitely think this eye-catching metallic is a keeper!
Design idea:
For the above cake, we covered two top tiers with the gold sequin look before adding a toppled sequin effect to a plain white iced tier. The addition of gold sequins not only adds texture and a more faceted surface that would catch light and exude shine, but incorporated a stylish fashion-element to a sleek design!
To create stunningly pretty sugar peonies why not sign up for Nicholas Lodge's Classic Sugar Flower class now! You'll even discover to to make striking anemones and tulips too!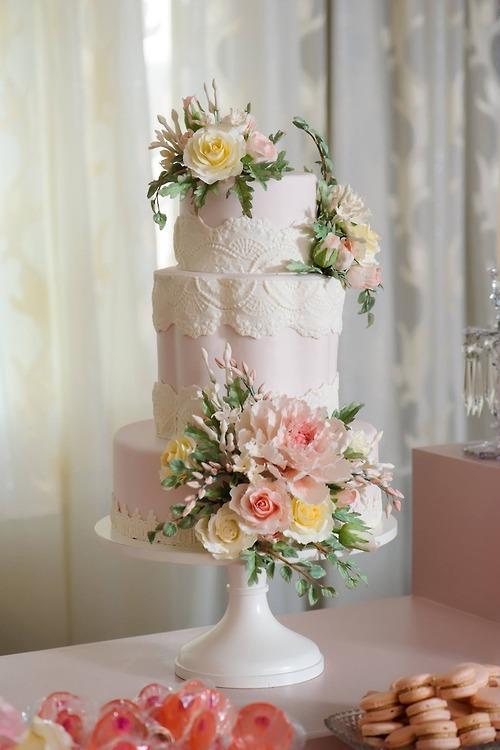 Photo via Bluprint member Alex Narramore
Trend #2: Blossom shapes
When we began gathering design ideas and palettes for our next wedding show collection we noticed a strong appearance of blossom shaped tiers. Mixing these shapes with deep tiers and sleek straight corners take a traditional and somewhat dated shape into something chic and on-trend.
Design idea:
We adore the sweet cake above with its play of depths, lovely scalloped middle tier and super pretty lace detailing. If you're excited about working with a blossom shaped cake, you could create a scalloped bottom tier, deep middle and top the design off with a small blossom tier featuring florals that reach and drape along the side of the cake.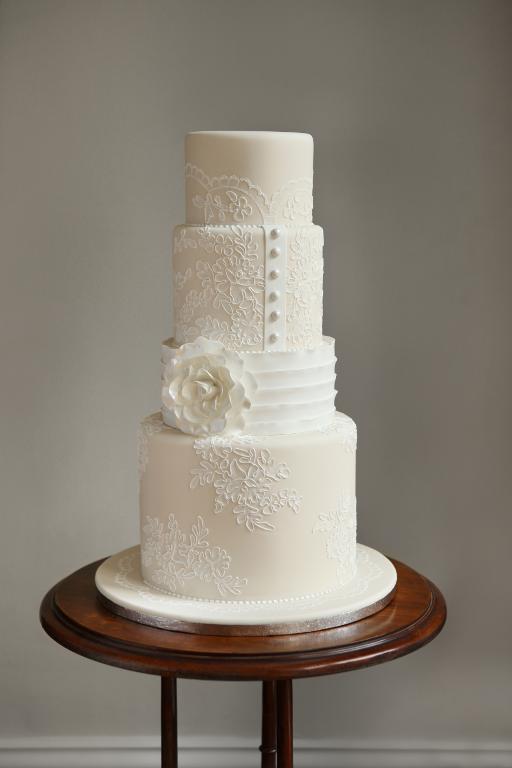 Photo via Bluprint instructor Zoë Clark
Trend #3: Porcelain
In terms of color one pretty trend we've been noticing is the porcelain look – soft and blanched neutrals that evoke a definite sense of fine china pieces such as Wedgwood's famous Jasperware. Another key characteristic of this trend is that crisp white detailing be it intricately piped royal icing brush embroidery or pristine sugar flowers!
Design idea:
The above lace wedding cake features the porcelain trend perfectly — a bright ivory background detailed with delicate white features. We love the idea of mimicking this cakes incredible piping work, soft fondant pleats, fabric button style features and the Camellia flower adorning the middle.
Discover how to design and decorate luxurious lace adorned tiers and sign up for Zoe Clark's Elegant Lace Cakes class now!

Photo via Bluprint member SugarArtBySusan
Trend #4: Separates
Another popular look and idea for 2015 wedding cakes is to create and decorate each tier as separate design that still work together harmoniously together! This is a fabulous way for any cake decorator to play with scale, color, texture or motif!
The cake above is simple, modern and elegant. Each tier features it's own slight variant of style due to the heavily rosette ruffled bottom tier, sandy coloured middle and floral adorned ivory top tier!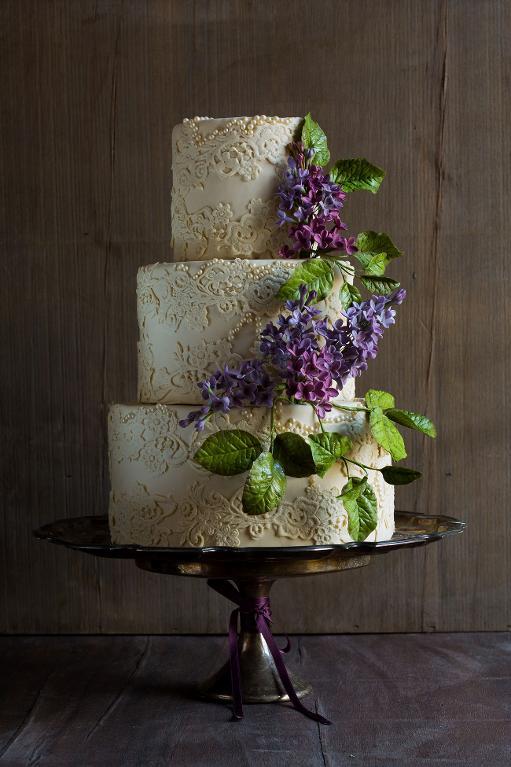 Photo via Bluprint member ModernLovers
Trend #5: Country garden
The charming country garden style easily and elegantly combines the popular vintage look with the beautiful florals typically found adorning lovely wedding designs. Think darker ivory and cream lace details, grosgrain ribbons, swiss dots, wildflowers, berries, larger blooms (garden roses, lilacs, peonies, tulips etc), and fondant insects such as butterflies or bumble bees!
Design idea:
We adore the above Victorian inspired lilac wedding cake. The sugar pearl studded leave details in their darker color are set off beautiful by the large deep purple sugar lilacs. The wonderful vibrant green leaves add a wilder and more carefree feel to the design too, making great inspiration for your next design.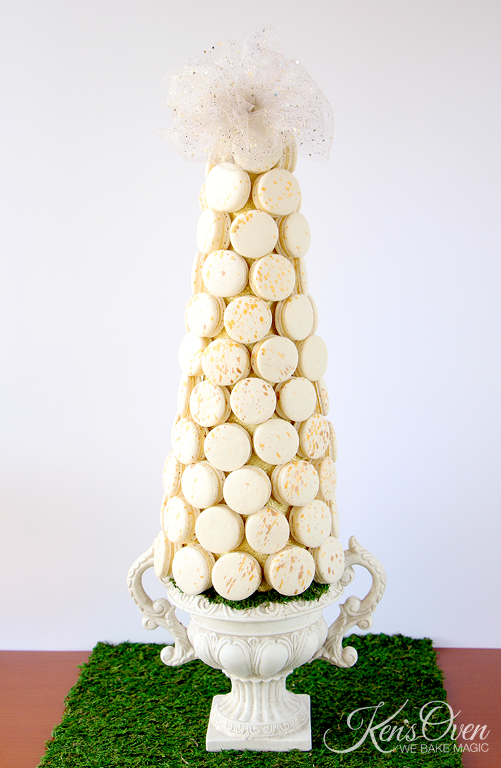 Photo via Bluprint member Kendari Gordon
Trend #6: Patisserie
It just doesn't get more elegant than a patisserie inspired cake or dessert table centre piece does it? We love them! Who wouldn't love hundreds of tiny sweet treats towering above them? Take inspiration from tiny french sweets such as macarons, madeleines or profiteroles for a truly inspiring design.
Don't you love the above impressive macaron tower? It's simply perfect for a luxurious wedding reception and would definitely add a certain je ne said quoi! The gold edible paint splattered onto the macarons create a wonderfully modern and laissez-faire touch to the tower whilst topping off the design with a bundle of tulle evokes a lavish feel!
Armed with such chic and stunning wedding cake ideas we just know you can't wait to get creating! Why not reach for your cake decorating tools and get your creative imagination working wonders on your next wedding cake design! Who knows…maybe you'll start a must-have trend for 2016?
What's your favorite wedding cake trend prediction for 2015?
Free Online Cake Decorating Class