These days wedding cakes are more than just traditional white tiers and a few expertly created sugar flowers. Today's discerning and fashion-forward couples have developed a keen eye for unique and show-stopping looks and ideas. If you want to stay ahead of the pack and keep your cake designs on-trend, keep reading to discover five wedding cake trends that are going to be taking the cake world by storm in 2016.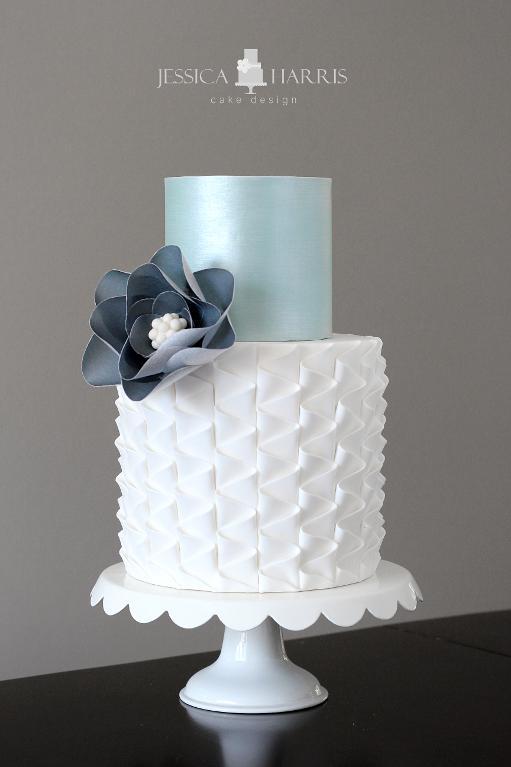 Photo by Bluprint instructor Jessica Harris
1. Straight edges
Super sleek straight edges are here to stay! This is a trend that emerged a few years ago and inspired utter awe from cake designers around the world. We love Bluprint instructor Jessica Harris' unbelievable straight edges in the elegant two-tiered cake above. Those angled fondant ruffles are just too chic to eat, and they compliment the sharp edging of the top tier beautifully.
Learn how to achieve this sleek, stunning look in Jessica Harris' online class The Clean & Simple Collection: Elegant Techniques.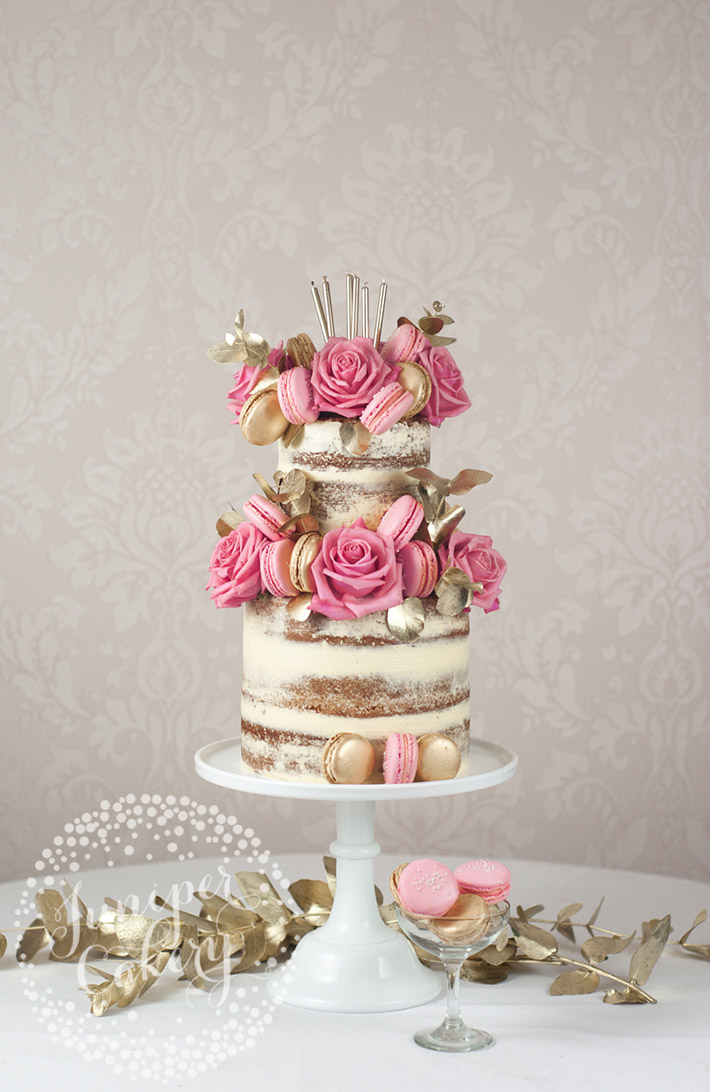 Photo via Juniper Cakery
2. Skimmed buttercream/semi-naked cakes
Love them or hate them, naked cakes are an enduring trend for 2016. But instead of the super rustic and randomly decorated naked cakes of years past, the new trend is for ultra stylish skimmed buttercream, or semi-naked cakes. Smooth sharp edges, a peek of cake from beneath silky buttercream, and more design-led florals help elevate the humble naked cake into a new and more glamorous year!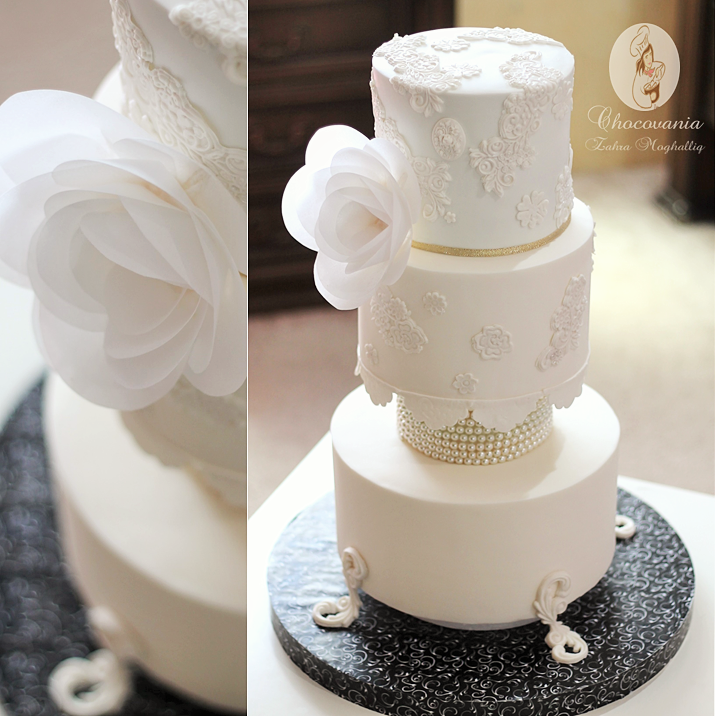 Photo via Bluprint member Zahra Ali
3. Fashionable textures
Fashion-forward textures and looks are steadily growing more and more popular in the cake decorating world, but for 2016 this trend is going to be taken to a whole new level with the help of elegant couture influences. Less is more for this wedding cake icing style. Choose a few fashion influences to balance perfectly across the tiers, stick to a simple color palette and use the best tools and materials for an out-of-this-world design.
The fashion-influenced wedding cake design above utilizes a few impressive couture details, such as the glistening pearls that separate the bottom and middle tiers, and the gorgeous lace appliqué adorning the top two tiers. The super simple ivory color palette with a touch of gold helps add instant elegance to this cake.
Learn how to make stunning fashion-inspired confections in Lori Hutchinson's Couture Cakes Bluprint class.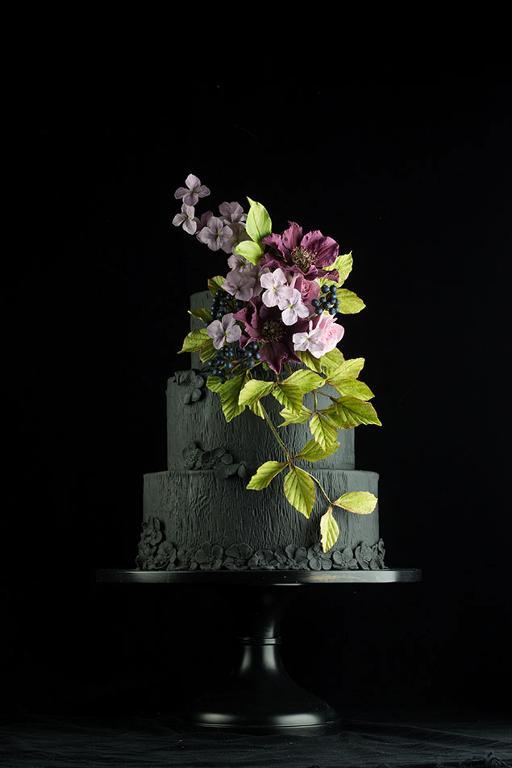 Photo via Bluprint member ModernLovers
4. Back in black
Black cakes aren't for the faint-hearted, so if you're looking for something eye-catching and unusual, then this trend may just be perfect for you. Juxtapose the harsh black with pretty pink florals and hints of gold for a fabulously quirky design.
If you're intrigued by the black cake trend, but still a little unsure, then a rustically sweet chalkboard cake would be a great idea to try. Pair one black tier with soft colors, whites or gold, carefree florals and a sweet hand-painted message for a truly romantic centerpiece.
See also our post on how to make black buttercream icing.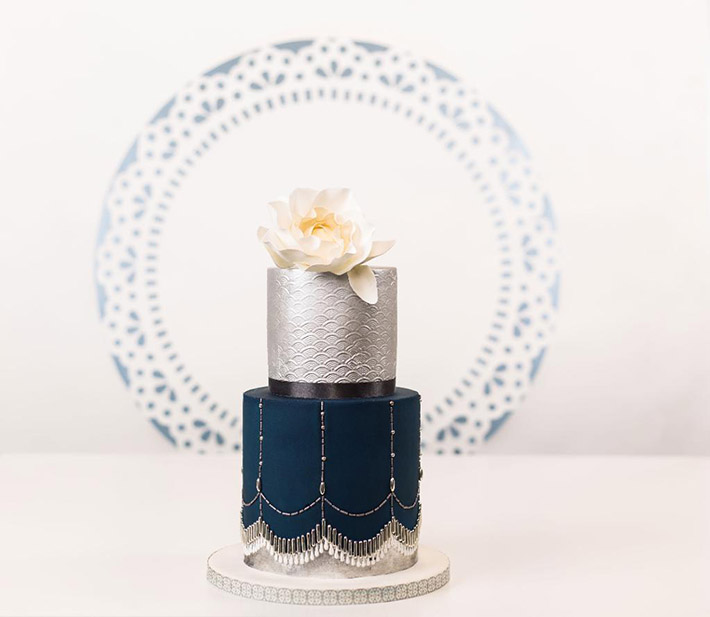 Photo via Bluprint instructor Faye Cahill
5. Luster and metallic 
Glamor has definitely been a key word in cake design for the past few years. With so many amazing designers creating stunning cakes using 24k gold paint, edible silver leaf and indulgent sugar crystals, it's not hard to see why luster and metallic looks on cakes continue to be so popular.
Bluprint instructor Faye Cahill's stunning Art Deco-influenced beauty above combines so many luxe cake decorating techniques perfectly. We love the sleek silver painted top tier paired with glistening silver beading and simple detailing.
Learn how to make luxurious cakes like this in Faye Cahill's online class Layered Embellishments: 12 Stunning Techniques.
Which 2016 wedding cake trends are you most excited about?
Make Stunning Wedding Cakes & Cupcakes!
Explore Bluprint's collection of wedding cake classes and get all the tricks and techniques you need to create beautiful wedding cakes that will make someone's special day. Browse Classes Now »