This wedding season, I've noticed couples using cake pops as place card holders or as favors — how fun is that? This can be done with cake pops of all kind, but one especially cool request I got recently is a cake pop that replicates the actual wedding cake!

It's a sight to see a grad wedding cake and tiny little cake pop replicas at each seat. This is such a cool concept that I hope will continue to trend. Today, I'll teach you how to make a beautiful multi-tiered wedding cake cake pops that will blow wedding guests away.

How do I customize these cake pops to match the wedding cake?
This tutorial provides basic instruction for a three-tier design. Use this tutorial to create a blank palette to be decorated as desired.
From there, the options are really endless! You can alter it by using different shaped fondant cutters or incorporating edible decor (like candies and sprinkles). You could even make various styles in the wedding color palette, which makes for a beautiful visual effect. But I recommend only using up to three layers — otherwise the weight and structure will make dipping challenging.
Wedding cake cake pops tutorial
You'll need:
Cake pop dough ready for shaping

White candy coating

Paramount crystals, EZ-Thin or virgin coconut oil

Gold luster dust (optional)

Lemon extract or grain alcohol like Everclear (optional)

Sprinkles (optional)

Round fondant cutters in three sizes: ⅝", 1″, 1⅜"

Small rolling pin

Lollipop sticks

Waxed paper

Toothpicks

Cake pop stand or styrofoam block
Step 1:
The first step is creating the "cake" layers using cake pop dough. If you're unfamiliar with the process of creating cake pop dough, please refer to this tutorial.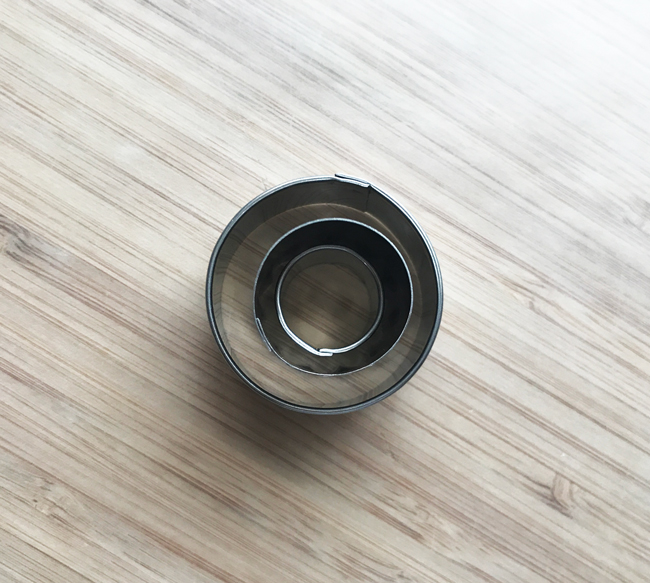 I'm using  ⅝", 1" and 1⅜" inch round fondant cutter to help create this effect. The cake pop dough should slide right out with just a little bit of a push from your fingers.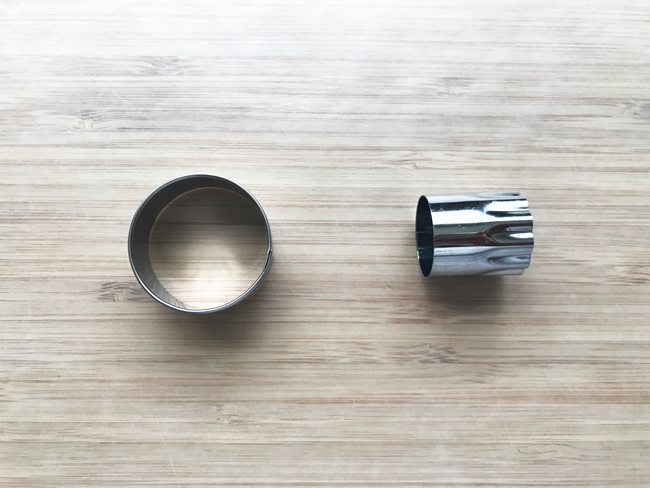 There's two ways of doing this depending on the type of cutters you have — either regular round cutters (above left) or double-sided round cutters (above right).
Regular round cutters:

Pack cake pop dough into the round cutter. Use a small fondant rolling pin or similar object to flatten and even out the top, while pushing the excess dough over the sides. Use your fingers to gently push the cake pop dough out of the cutter. 
Double-sided round cutters:

Double sided round cutters:
If you're using extra-tall cutters like these, it's easier to roll out your cake pop dough to a uniform high.
Place two stacks of magazines or books on either side of the dough, leaving room for the dough to spread a bit. Then, use the stacks as a guide for your rolling pin. Once the dough is level, punch rounds with the cutter to create your cake layers.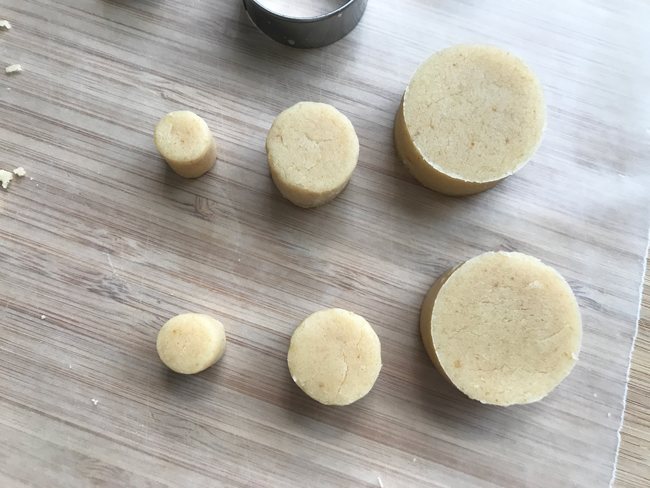 Regardless of the method you use, create an equal amount of rounds for all sizes. Refrigerate all pieces on a waxed paper–lined cookie sheet.
Step 2:

While the forms are chilling in the fridge, melt the white candy coating. Place wafers in a microwave-safe plastic bowl or cup and heat for 1 minute at 50 percent power. Give it a quick stir even though it has not yet melted. Then, microwave for 30 seconds at 50 percent power and stir. Continue to microwave in 30-second intervals at 50 percent power until the coating is melted and smooth.

Thin the coating using paramount crystals, EZ-Thin or solid virgin coconut oil until the consistency is smooth and fluid, like a fresh can of paint. Set aside for a few minutes so the heat can dissipate.

If you need more info on how to melt candy melts, we recommend this post.

Step 3:
Dip ⅓ of the lollipop stick into the white coating. Push the stick into the largest round until it pokes through the top. Next, use a toothpick to spread candy coating onto one flat side of the middle layer. Place it place on top of the large layer. Repeat, placing the smallest tier on the middle tier.
Step 4:
Now we dip! Keep reading for more tips. If you're using sprinkles to decorate, have them nearby.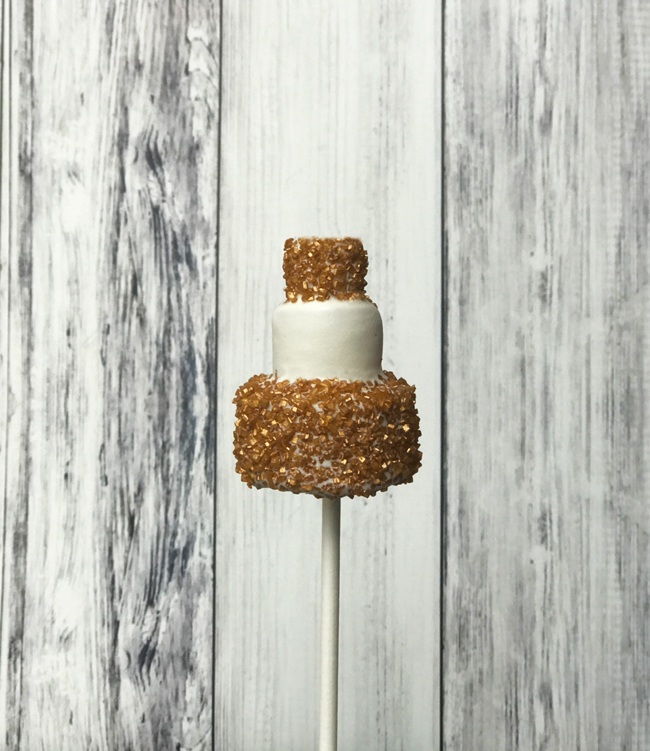 Dip the cake pop into the coating. Lift out and gently shake the cake pop to allow the excess coating to fall off. Use a toothpick to pierce any air bubbles you see.
Step 5: 
If you're coating your whole cake pop, simply pour the sprinkles over the pops while the coating is still wet. If you're using sprinkles only on certain tiers, place the sprinkles in a small container so you have more control when you pour it over the desired tier.:
To decorate with luster or petal dusts, mix ⅛ teaspoon of gold dust with 1 teaspoon of grain alcohol or extract in a small bowl. This mixture should be really loose and fluid. A little goes a long way and you can either thicken or thin it as you wish. The alcohol will evaporate.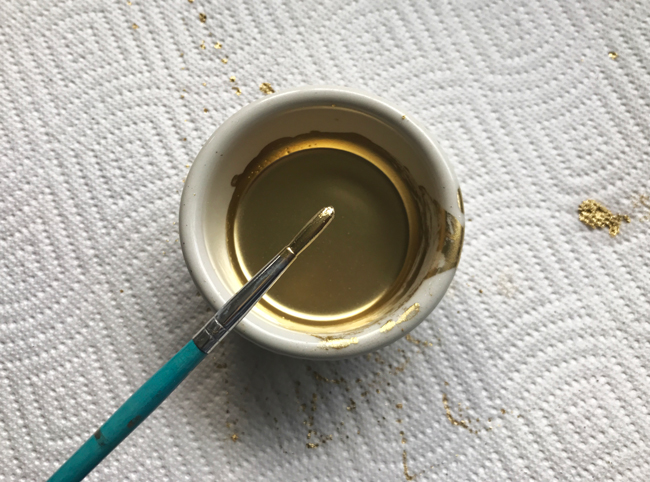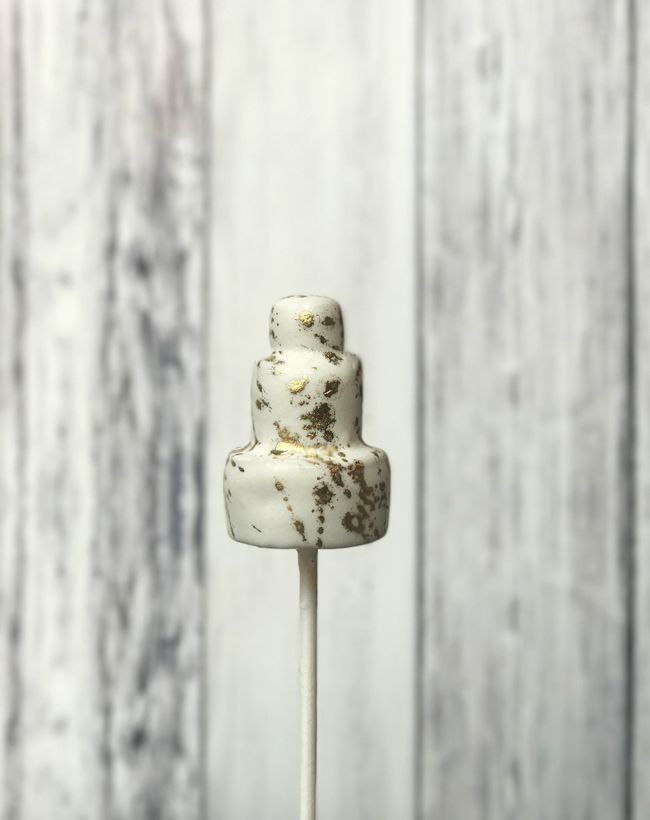 To create this splatter effect, use a paintbrush dipped in the gold liquid and, with a flick of the wrist, create your splatter, over each cake pop. Remember to cover your work space or work over a large cardboard box! For a slightly neater alternative, the gold can be brushed directly onto the cake pop.
Please share your creations with us! I'd love to see the beautiful cake pop cakes you make.