Looking at graph paper gives me nightmares about elementary-school math. (Does anyone else remember what the formula for a slope is? I don't!) Little did I know, similar graph paper would come in handy years later when I moved on to more advanced knitting.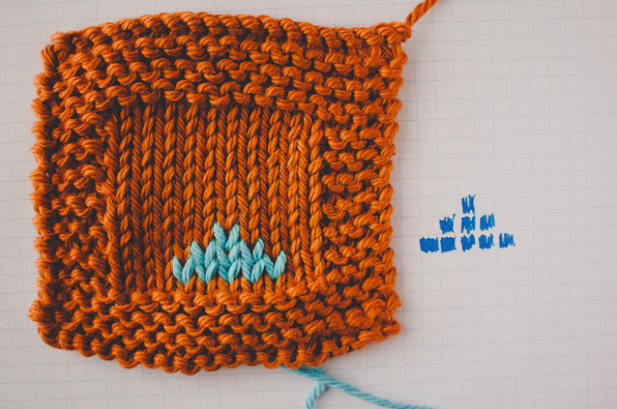 Types of Knitting Graph Paper
If you're going to use graph paper, be careful when choosing what kind to buy. You can buy the regular graph paper that's available anywhere school supplies are sold, but be aware that if you're using it for designing, the size of the squares isn't accurate. In fact, "square" is the issue. Knit stitches aren't really square, so anything you design on regular graph paper will look squishy vertically when knitted.
You can buy knitting graph paper from craft stores like Jo-Ann, or you can find printable graph paper online. The Knitting Site has PDFs of graph paper you can print right at home.
Here are a few ways knitting graph paper might come in handy for you when knitting:
Setting Sleeves
Sometimes you need to get a visual picture of how something works in order to successfully knit it. That's definitely the case when making modifications for set-in sleeves. Modifying a pattern can get tricky. You're decreasing, increasing, adding rows — it's a lot to keep up with unless you map it out. And what makes mapping something out like a sleeve even better is that you'll probably get it right the very first time you knit it, so you're not just ripping it out and trying again and again.
Lefty Knitting
I hear a lot of left-handed knitters complain that reading a color chart can be a nightmare. If you're left-handed and want to make your chart reading much easier, re-chart it on knitting graph paper. Read more about charting for lefties and other left-handed knitting tips.
Designing Your Own Patterns
Designing any complicated knitting pattern is impossible without graph paper. Graph paper not only lets you chart out the pattern as you go, but it also keeps a record of how you created the stitch in case you want to re-create it again.
If you're interested in designing your own patterns, you may also want to take a look at Shirley Paden's Craftsy class Handknit Garment Design for even more tips on charts and shaping, and helpful calculations.
From crochet to knitting
Did you see a really awesome crochet pattern that you think would look lovely using knitting stitches? I tried a few times to turn a crochet chart into a knit one, and it's a real pain to do unless you chart it on paper. Knitting graph paper to the rescue! You can use graph paper to convert crochet charts to knitting charts.
How do you use graph paper in your knitting?