Have you ever heard of Watergate Cake? To those who were of baking (or eating) age in the 1970s, this extremely moist, pistachio-pudding-mix-packed cake may sound familiar. Why call it Watergate? Turns out, it was the product of serendipitous timing.
The late 1960s into the 70s was an era during which cakes made with pudding mix reigned. Good examples can be found in Better Than Sex Cake or Sock It to Me Cake. (Go ahead, Google them. They're not as dramatic as they sound, but they're decidedly tasty.)
After the Watergate scandal broke, there was a surge of interest in all things Richard Nixon. Turns out, pistachio was a favorite flavor of Nixon's, and so all sorts of pistachio-flavored treats proliferated and were dubbed "Watergate." This cake is one of the more enduring examples, possibly because of its clever topping: "cover up" icing (a still-famous term in the cake decorating world).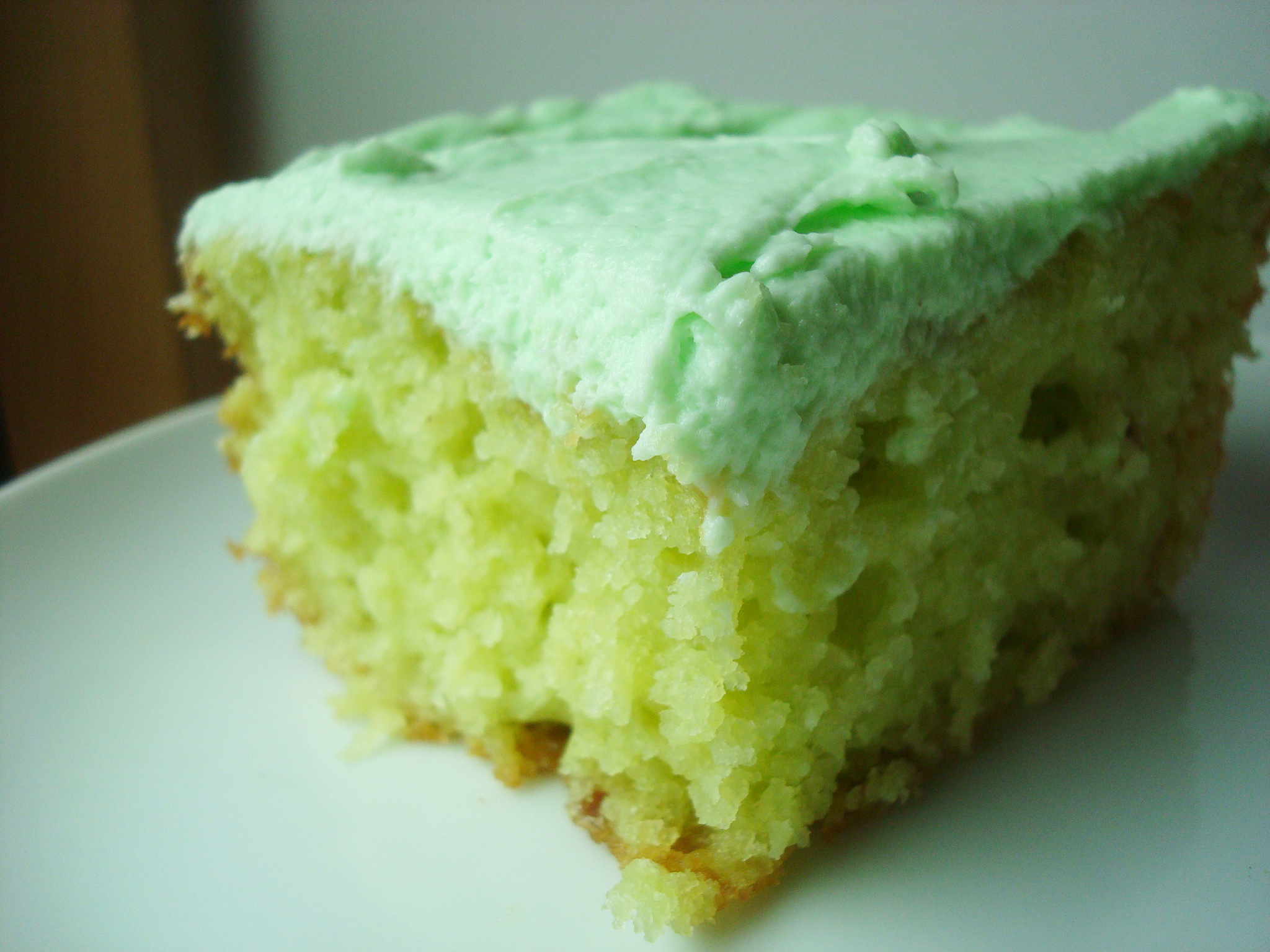 Yes, this recipe does call for both pudding mix and cake mix. But don't dismiss it based on this — the nostalgic punch delivered in a taste of this cake is well worth a try.
You might just be surprised that, considering its somewhat unsophisticated ingredients, the cake is really, legitimately good. Sweet, incredibly moist, with a soupçon of pistachio, and a thick, delicious icing that will make you lick your fork until it's totally clean.
Who knows what the motivation was behind decorating this cake with a coconut and pecan garnish instead of pistachio, but oh my, is it ever good. Make it and share it with your friends!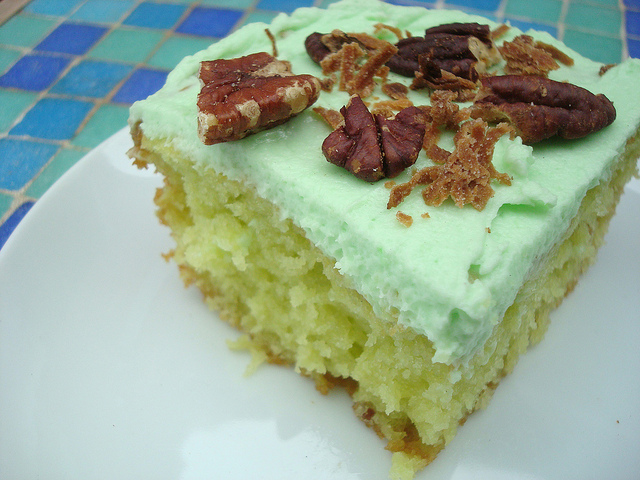 Recipe notes:
If you would like to try to make the cake from scratch, you are commended. A cake such as 7-Up Cake with a packet of pudding stirred in might just work, although that recipe has not yet been tested.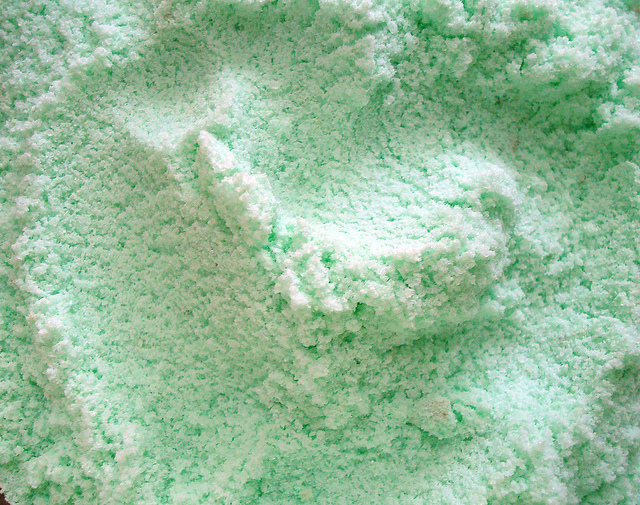 Regarding the pudding mix:
Be sure to use the instant kind rather than the slow cook kind that needs to be heated. It just doesn't work quite the same.
Also, do not use sugar-free pudding mix. This is not just for the flavor — it could react differently with other ingredients.
Finally, go for the brand name stuff. An observation from the Bluprint crew is that the generic mixes tend to have fewer pistachio chunks, and trust us, you want those chunks.
Regarding the color:
The cake does lighten to a more yellow-green tone when baked. Do you want a really green cake? Consider adding a few drops of food coloring, though this is by no means necessary.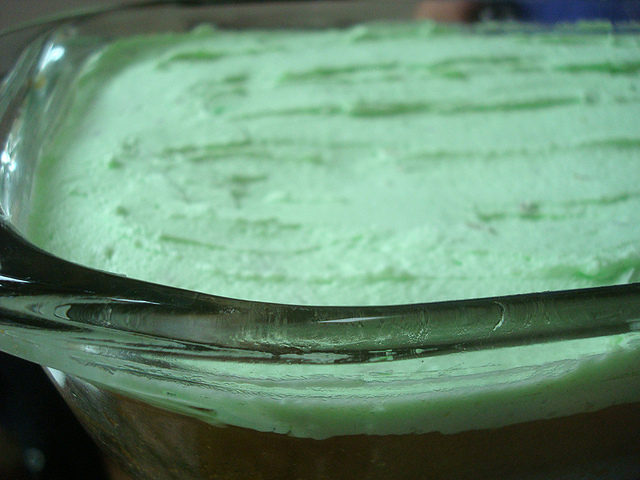 Baking as a sheet cake:
The original recipes for Watergate Cake call for the cake to be baked in a 9″ x 13″ pan, which makes it easy as a one-dish treat that can be iced right in the pan and served right out of it, too. However, there doesn't seem to be any reason why this cake wouldn't bake equally well as layers or as cupcakes; just keep an eye on the baking time, as it will be less for either of these variations.
Changes from traditional Watergate Cake recipes:
Although this version is reverent of the original Watergate Cake, it doesn't follow the recipe exactly. The cake itself employs melted butter and many older recipes call for the same quantity of vegetable oil. The butter seems to add a wonderful density to the cake that really makes it feel like an indulgent treat — so go for it! If you prefer a lighter cake, stick with the oil.
Additionally, original recipes call for lemon-lime soda, but this tends to make the cake distractingly sweet. Substituting lemon–lime seltzer or sparkling water allows the pistachio flavor to shine.
Regarding the icing, the recipe below does differ quite a bit from traditional Watergate Cake recipes, which call for an icing made with Dream Whip. However, this version with homemade whipped cream adds a wonderfully rich mouthfeel, as the icing gently melts in your mouth.
As odd as it may seem that the cake is topped with pecans and coconut rather than pistachios, it does seem to be the case. The flavors work beautifully. If you'd like to toast the pecans and coconut, you can do so by placing it in a thin layer on a baking pan. Place the pan in the oven while it preheats for the cake baking. It will only take a couple of minutes to toast, so keep a careful eye on it. You'll know it's ready when you can lightly smell the pecans, and the coconut is just lightly browned.
Watergate Cake with "Cover Up" icing (or, pistachio pudding mix cake)
For the cake:
1 box yellow or white cake mix
1 package (3.4 ounces) instant pistachio pudding
3 eggs
1 cup melted butter
1 cup lemon-lime seltzer or soda
1 cup chopped pecans (optional)
1 cup flaked coconut (optional)
For the icing:
1 1/2 cups heavy whipping cream
1 package (3.4 ounces) instant pistachio pudding
Procedure
Step 1:
Preheat oven to 350 degrees F. Grease a 9″ x 13″ baking pan. If you'd like to use pecans and/or coconut* to top the cake, toast them now while the oven is preheating. (*See recipe notes above.)
Step 2:
Mix together the cake mix and pudding mix with a whisk. Place the dry mixes in the bowl of an electric mixer (or grab a wooden spoon and flex your bicep, because it's gonna be some heavy mixing).
Step 3:
Stir in the melted butter, and add to the combined cake and pudding mixes, stirring well.
Step 4:
Lightly beat the three eggs with a fork. Add to the batter and mix until incorporated. It's going to be very thick at this point.
Step 5:
Add in the seltzer, a little bit at a time, pausing to mix and incorporate before adding more. The batter will become thick but pourable.
Step 6:
Transfer the batter to your prepared 9″ x 13″ pan, and bake in the preheated oven for 30 to 40 minutes, or until golden on top. Then, remove from the oven, and let cool in the pan on a wire rack until room temperature before icing the cake.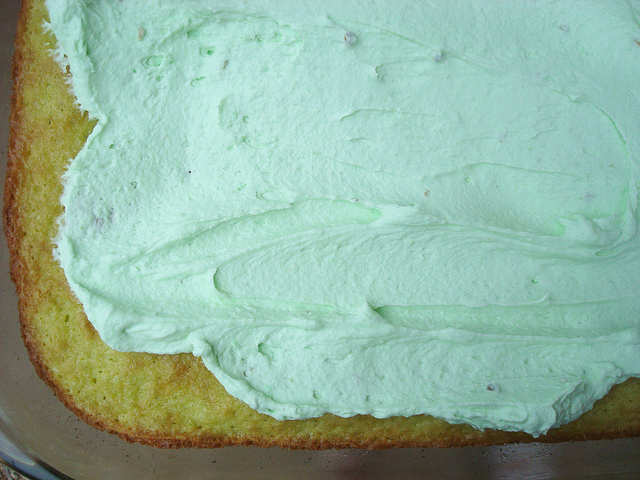 Step 7:
To make the icing, beat the whipping cream until very soft peaks form. Stir in the pudding mix until incorporated. It will thicken rather rapidly. Use immediately, as it will firm up the longer it sits and may be come hard to spread.
Step 8:
Simply spread on top of the cake with an icing spatula, distributing the icing evenly along the entire top of the cake.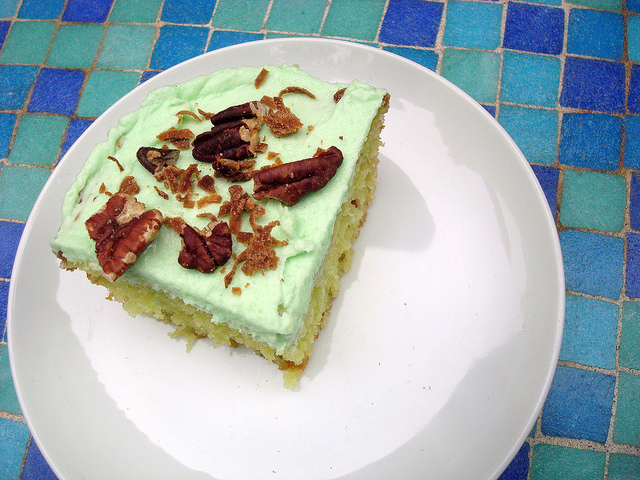 Step 9:
If desired, top with toasted pecans and/or coconut. Slice into squares to serve. Consider serving with ice cream.
Store well-wrapped leftovers in the refrigerator for up to two days.
If you love pistachios like Richard Nixon, come back to the Bluprint Blog on Saturday for a roundup of delicious pistachio recipes!
Do you remember Watergate Cakes? Will you whip up this nostalgic (and tasty!) treat?