Many knitters think that just because it's summer, that means knitting is off limits. No way!
With the right yarn and the perfect pattern, warm-weather knitting is totally doable.
While it's smart to start crafting holiday gifts in summer, those knitting projects often include wool and other heavy fibers — definitely not what you'd like to feel resting on your lap when it's blistering hot outside. Why not take a little break from holiday knitting and make something that you can actually wear during warm-weather months? After all, winter isn't the only time you're allowed to show off your beautiful knitting.
The key to warm-weather knits isn't just to knit short-sleeved tops. There are plenty of other options that you've probably never considered.
No clue where to start? Here are a couple of patterns and warm-weather knitting ideas to get you started.

Photo via Fabricdesign
Swimwear
Get the exact style and fit you want when you knit up your own swimwear. This Brazilian-style bikini combines knitting and crochet to bring beautiful side panels and ruffles to your swimsuit. If you're not a fan of ruffles, just skip 'em and stick with a solid color.
If you're all set in the swimwear department, you can knit a beach cover up to wear over your swimsuit instead.
Get the bikini pattern.

Photo via Universal Yarn
Wraps and shawls
A light, airy wrap or creative shawl is great for throwing over a sundress after the sun goes down. You can also use it at work if your office tends to be chilly during the day.
This Garden Gold Wrap is a great choice for summer. The wrap incorporates beads to add even more shimmer, and I love the metallic cotton yarn that pattern designer Universal Yarn used to knit this piece.
Get the wrap pattern.

Photo via Jill Wolcott Knits
Tank tops
Sleeveless knits offer the perfect balance in warm weather. They can even take you right through the fall and winter if you layer them with cardigans. What other knitting project can do that?
The lace edgings and eyelet panel of this Clay Tank really caught my attention. It's great practice for knitting in the round and perfecting those yarn overs.
Get the tank top pattern.

Photo via Designs by the Sexy Knitter
Dresses
Yep, even knitted dresses are appropriate for summer! Knit one in a cotton yarn to get plenty of wear out of it. This 60s-inspired Miss Holloway Dress will take you from late summer straight into fall — with the right accessories, of course. If you're not crazy about knitting an entire dress, the pattern includes modifications for making a sweater instead.
Get the dress pattern.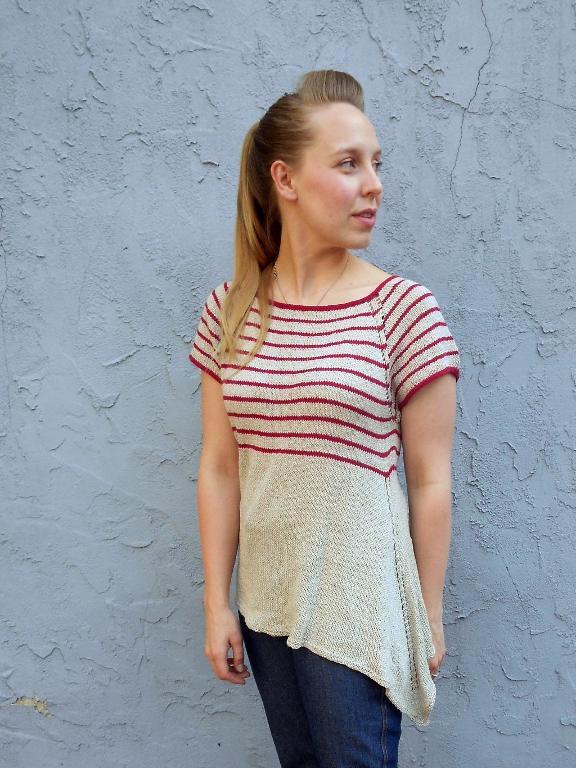 Photo via Blue Betty
Nautical stripes
Knit any piece nautical-style for a look that is classic summer. This Set-Sail Top was knit in a hemp/cotton/modal blend with a bit of ease, so it won't cling to your skin on hot days.
Not a fan of nautical stripes? It's easy enough to skip the stripes and just knit this in one solid color.
Get the top pattern.
Want to see more warm-weather knits and yarn recommendations? Check out our list of Summer-Perfect Patterns and Yarns, plus 5 free patterns to knit this summer. You can also see plenty of summer-friendly yarns to use for these projects in the Bluprint yarn shop.
Come back to the Bluprint Blog tomorrow to learn two techniques for knitting onto leather.
What do you knit during warm seasons?