Think that waffles are just for breakfast? Think again. There are so many creative waffle ideas out there — waffles can truly be enjoyed as part of every meal, from breakfast to after-dinner dessert. 
And, since it's National Waffle Day on August 24, there's no better time to explore the many different ways that you can enjoy waffles.
These inventive waffle ideas will have you thinking about this breakfast staple in a whole new light!
1. Make a delectable pull-apart bread 
Forget monkey bread this time — try out a waffle pull-apart bread! Made by battering up waffles and baking them together with layers of custardy goodness, these gooey treats are a great way to make your next brunch memorable. It's almost like a French toast casserole in a simple pan form. Check out our recipe for waffle pull-apart bread!
2. Bake waffles as cupcakes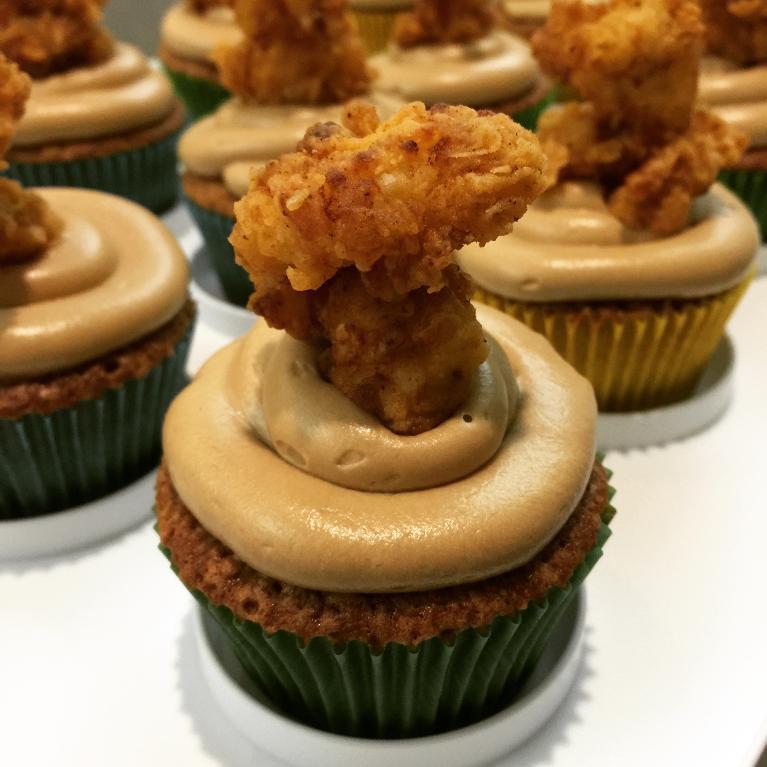 Chicken n' waffles cupcakes via Craftsy member Blackwebdiva
Waffle batter doesn't have to go into an iron to yield delicious results. In this case, waffle batter is baked (with maple syrup mixed right in!) in cupcake liners. This makes your waffle batter the perfect canvas for a generous dollop of frosting, and if you dare, a creative topping like these chicken and waffles cupcakes! 
3. Savory wafflewiches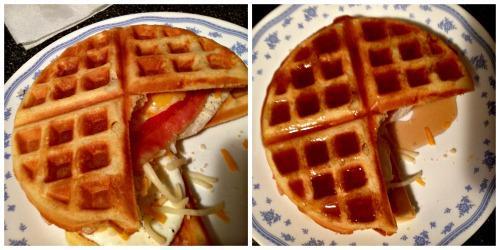 Pac-Man Waffle Sandwich Supreme via Craftsy member starrcreative
Waffles can be used as the base of extra-special sandwiches. Once you've got fresh waffles, sandwich two together with your favorite sandwich fixings inside. You can grill the waffles again with fillings, panini-style, or simply enjoy as-is. Either way it's a delicious way to enjoy a sandwich without bread. 
4. Ice cream wafflewiches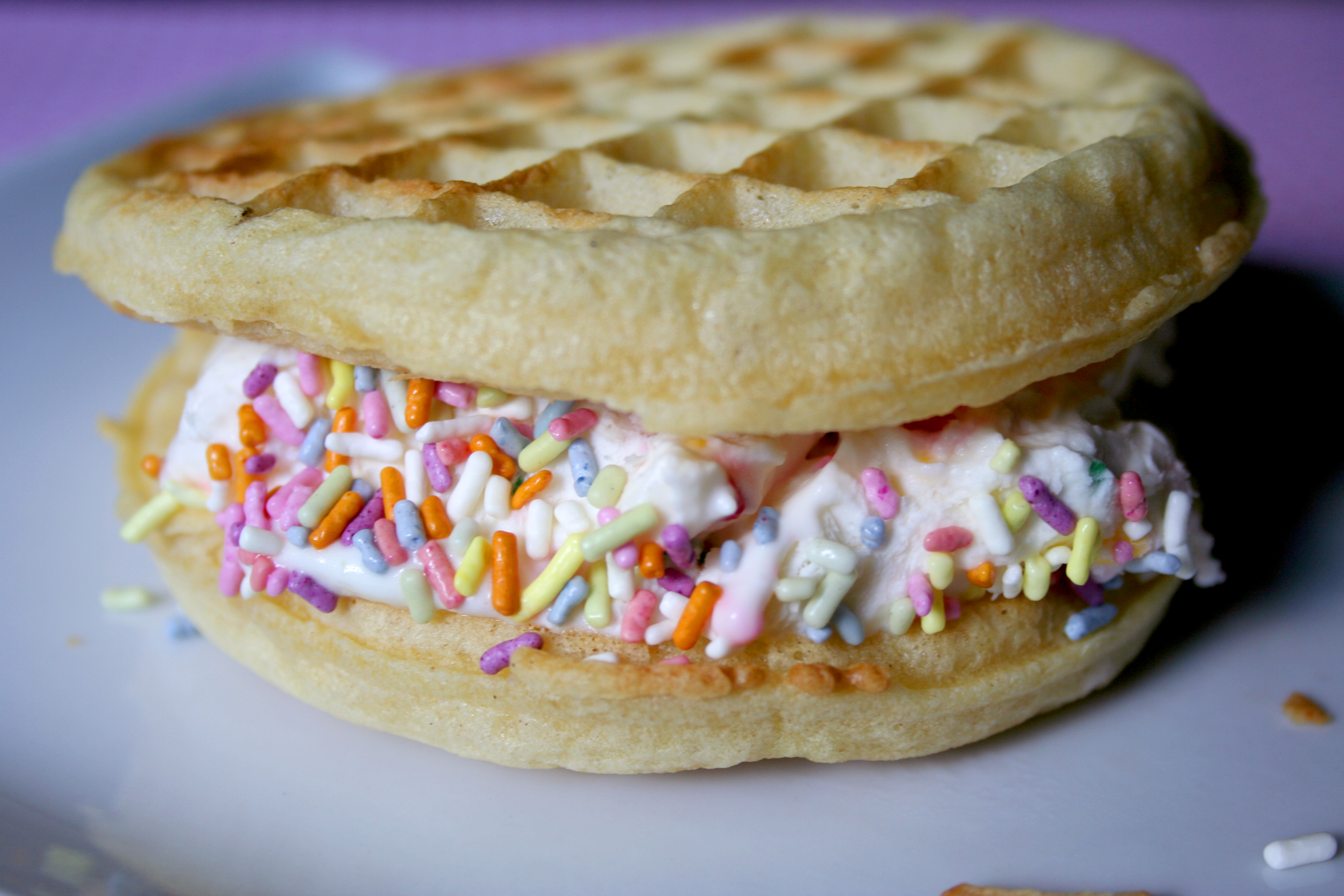 Love waffle cones but not their tendency to drip from the bottom? Get all the flavor of waffles and ice cream by making them into sandwiches instead. Toasted waffles with creamy ice cream make for an ice cream sandwich sensation unlike any other. 
5. Pizza waffle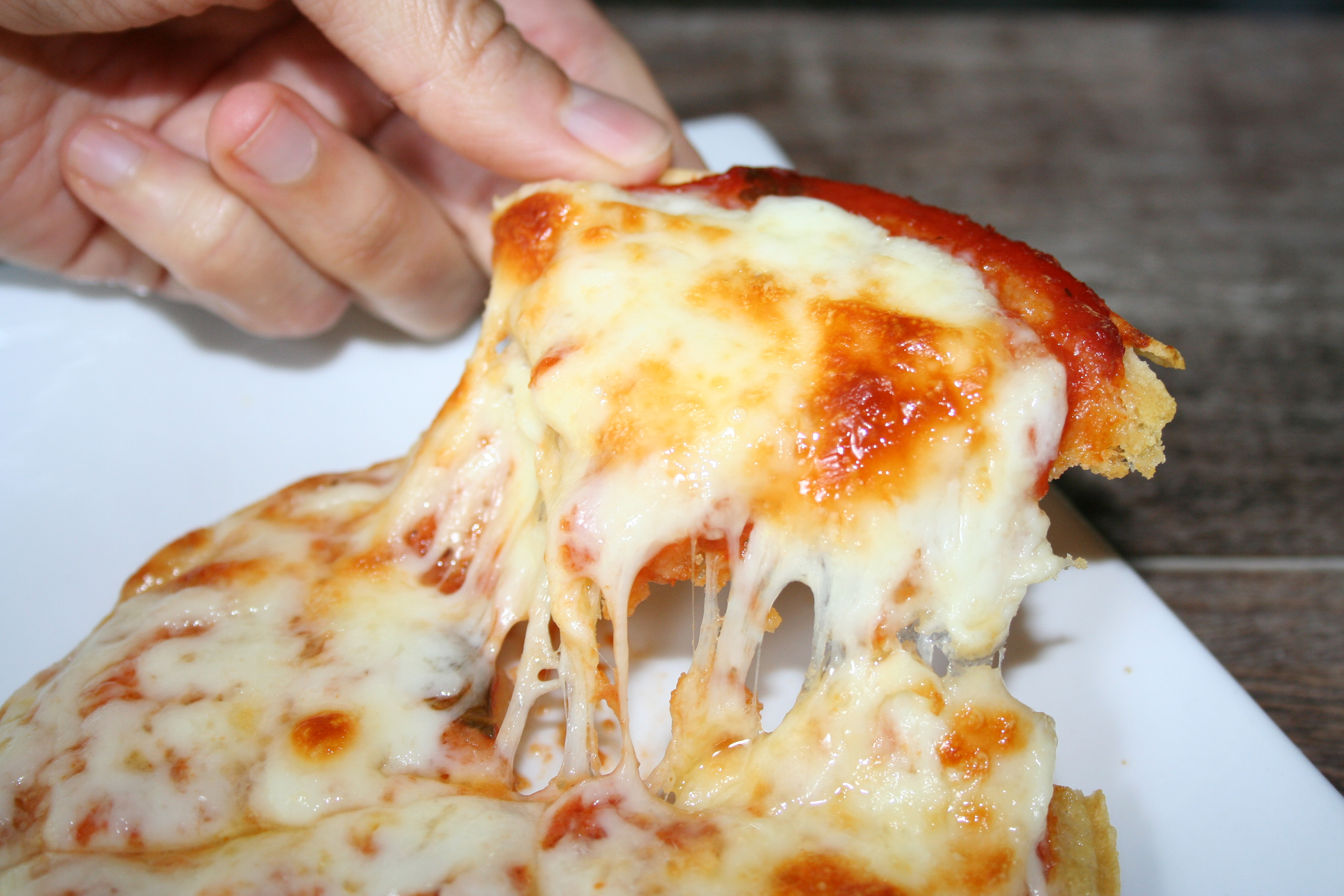 There are two approaches to making pizza waffles. The first, which is pictured above, is probably the easiest one: top a waffle with sauce and cheese and bake to perfection. There are also variations where you can combine the dough, sauce and cheese, and put the entire thing in a waffle maker and press it to pizza perfection. 
6. Waffle kebabs 
Here's a cute idea to serve at parties or picnics: waffle kebabs! Slice waffles into cubes or wedges, and then skewer them with alternating ingredients. Get creative! You could make a waffle dessert kebab with marshmallows and fruit; waffle brunch kebabs featuring slices of sausage and cubes of frittata; or a tasty chicken and waffle variation.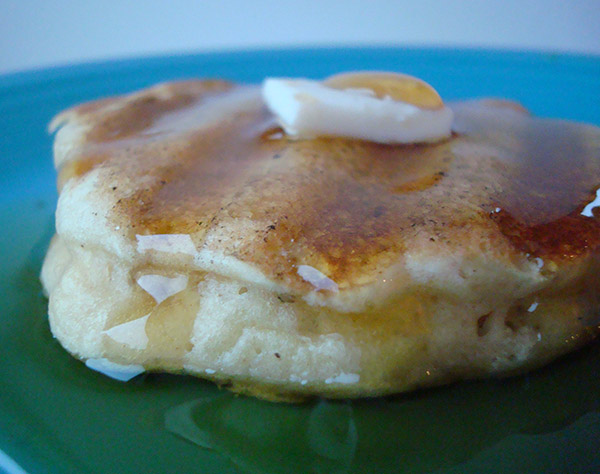 7. Make them without a waffle iron!
Um…have you been holding back on making waffles because you don't have a waffle iron? Never again! If you have a grill pan (they're cheap!) you can make waffles any time. Here's our easy method for making waffles without a waffle iron.
8. Cinnamon roll waffles 
File under "life changing." Did you know that you can place unbaked cinnamon rolls (either the kind from the tube or homemade) in your waffle maker and cook them up in mere moments. Simply place in the center of your waffle maker, press down, and cook for 3-4 minutes or until done. Glaze after cooking, and enjoy.
9. Make waffles from a carrot cake batter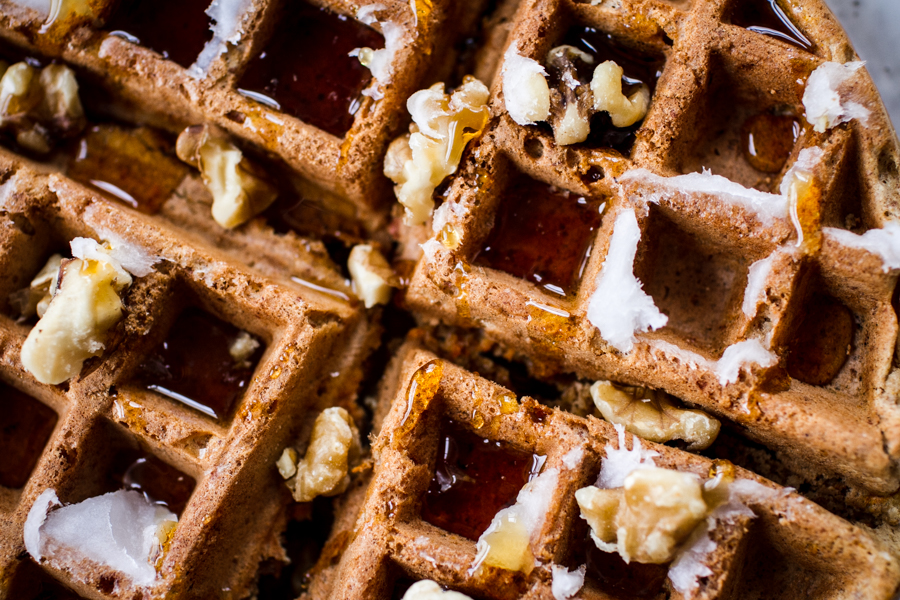 It's easy to alter a carrot cake batter so that instead of a layer cake, it yields crispy-on-the-outside, tender-on-the-inside, crave-worthy waffles! The recipe on our blog is a cinch to put together, and is guaranteed to help you win at brunch. 
10. Waffle bread pudding 
Bread pudding is rendered extra-special when you use an alternate carb such as cinnamon rolls or pumpkin bread. Waffles work wonders, too! Instead of bread cubes, substitute cubes of toasty waffles for your next bread pudding recipe. You'll love the results! For a starting point, check out our irresistible bread pudding recipe. 
11. Waffle cake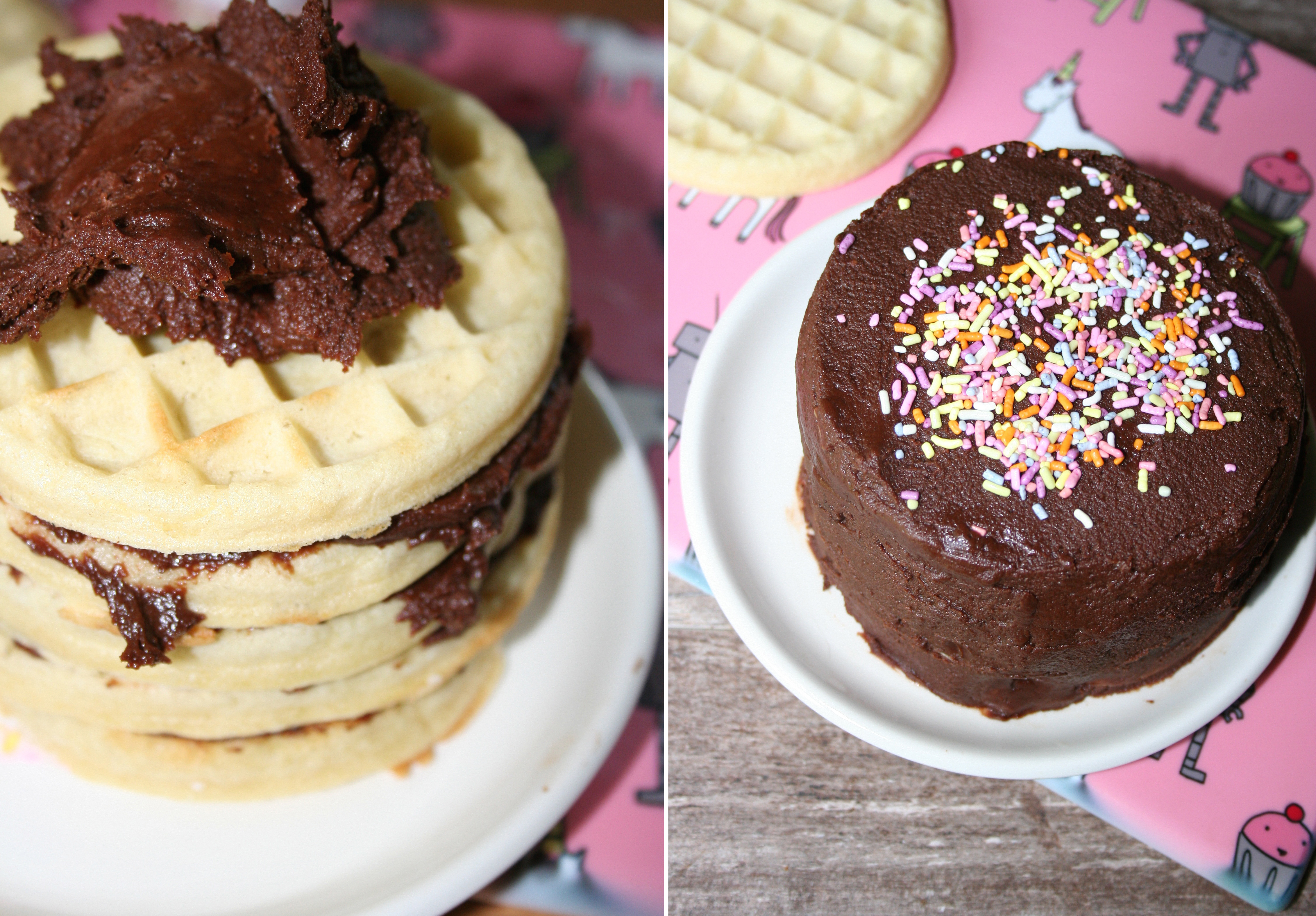 Got buttercream? Got waffles? You can make an easy and adorable layer cake in minutes. Treat the waffles as if they are cake layers, stack them with layers of buttercream. Then, ice the entire tower of waffles. The buttercream will sink into the little valleys in your waffle, making for a finished cake that appeals to buttercream lovers in a big way. 
12. S'mores waffles 
It doesn't get much easier (or more delicious) than this. While graham crackers are great, there's something magical about s'mores sandwiched between toasty waffles. It makes for a truly memorable combination that will help your next brunch go down in history. 
13. Waffle quesadillas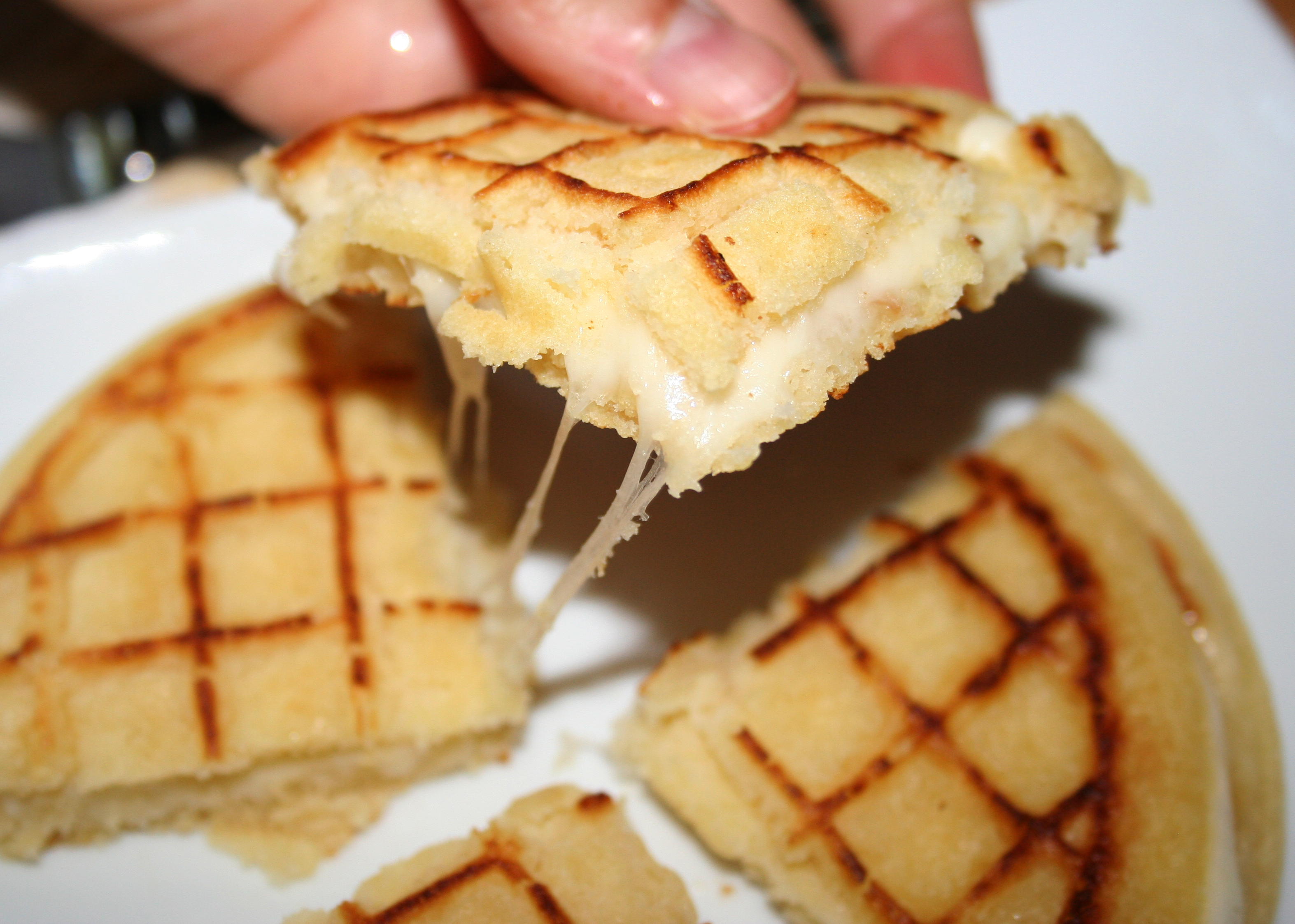 Prefer savory to sweet when it comes to waffles? Make your waffles crave-worthy by stuffing them with cheese and placing them on a hot griddle. Flatten with a metal spatula as you cook, until the cheese is melty and the waffle grid toasty-looking. As easy as that, you've got yourself some delicious waffle quesadillas! 
Discover even more creative cooking ideas on The Craftsy Blog!