My 11-month-old baby boy has gravitated toward cars already, and I haven't even made a point of emphasizing them. What is it about guys and cars? Well, luckily they can have their cars and eat them, too.
Check out this collection of car cakes, from kiddie cakes to 60th birthday cakes, and get ready to zoom off into cake land!

Photo via Craftsy member KateLousCakes
Vintage yellow jacked-up Chevy car cake:
This awesome yellow fondant-covered vanilla cake was created by Craftsy member KateLousCakes. She based it on a photo provided by a customer of his most prized possession. Such a unique car that translated into a very unique and cartoon-like car cake, indeed! Love how those headlights become eyes. Kate Lou was most proud of how the engine turned out. We think the whole cake turned out pretty spiffy.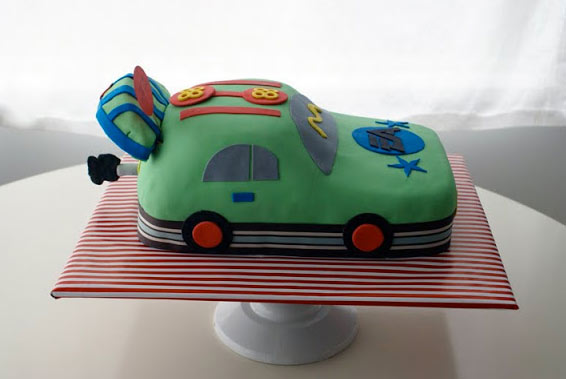 Photo via Coco Cake Land
Need for speed car cake:
This cartoon cutie car cake was made for the makers of the video game "Need for Speed." A simple body carved from two 9×12 vanilla cake layers, vanilla buttercream and covered in green fondant. A French striped ribbon borders the whole cake, and the wheels are simple circle cutouts using fondant. My favorite part, however, is probably the exhaust pipe made of grey fondant with a puff of black fondant for the stinky car exhaust.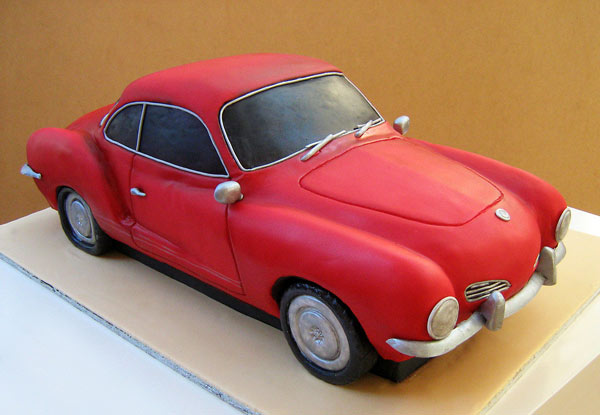 Photo via Sweet Disposition Cakes
Spectacular red Karmann Ghia cake:
How cool is this ride? Cake or car, I'll take either. Love the body style of this particular car, and it translates into such a cute car cake! I love what Lisa of Sweet Disposition Cakes had to say about her cake: "My first car cake. My birthday present to myself, I have always wanted to make a car cake and always wanted a Karmann Ghia." When you can't have the real thing, have it in cake form! It was also a chocolate mud cake that measured 52 centimeters long. Looks can be deceiving, right? Doesn't it look like you could drive this one away?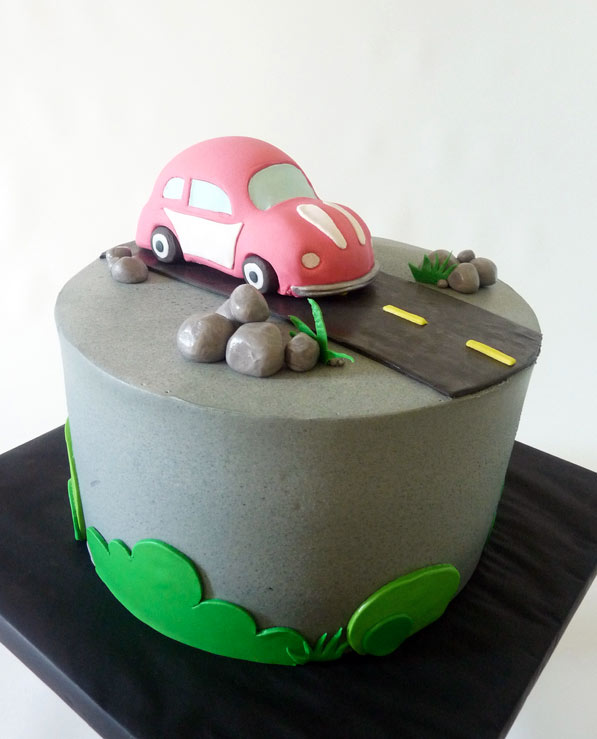 Photo via Tuff Cookie Cakes
Clean and modern buttercream car cake:
Sylvia of Tuff Cookie Cakes might be one of my favorite decorators. Her work is so clean and clever. I think she's a terrific cake designer. Can you believe how smooth she gets her buttercream? This cake is so cute. Love the gray asphalt buttercream color, the shiny fondant rocks, and especially the VW bug cake topper. Her work is never overdesigned. This is a great cake idea for a little boy's birthday party, don't you agree?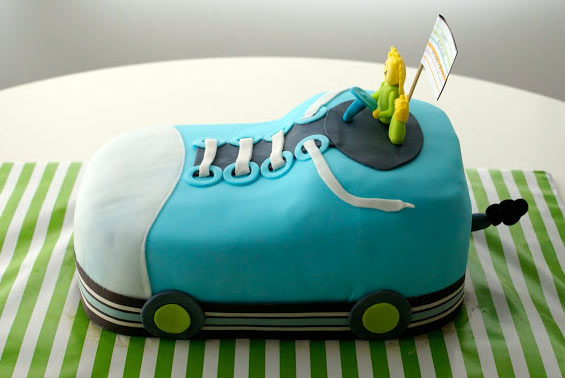 Photo via Coco Cake Land
Richard Scarry sneaker car cake:
A car, a sneaker and a cake, all rolled into one? Why, yes! This big old sneaker car cake is an homage to the wonderful Richard Scarry and his awesome children's book illustrations. This cake was a vanilla cake with vanilla buttercream, covered in bright blue fondant and decorated with fondant details, such as circles cut for the shoelace holes, and white fondant for the shoelaces themselves. I like how the shoelace is blowing in the wind, as though this sneaker car cake is chugging along at a great pace. A fun cake idea for a children's party.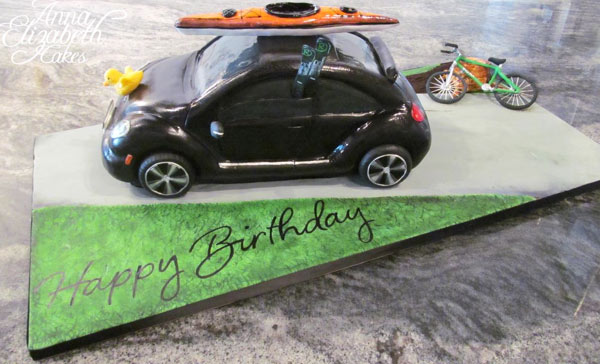 Photo via Anna Elizabeth Cakes
Black Volkswagen Bug car cake:
Anna Elizabeth Cakes created this awesome, super shiny VW bug car cake for a 60th birthday celebration. I love how the all-edible details reflected the lucky birthday recipient's interests: biking, skiing and kayaking. So much time and detail went into this cake, and it certainly shows.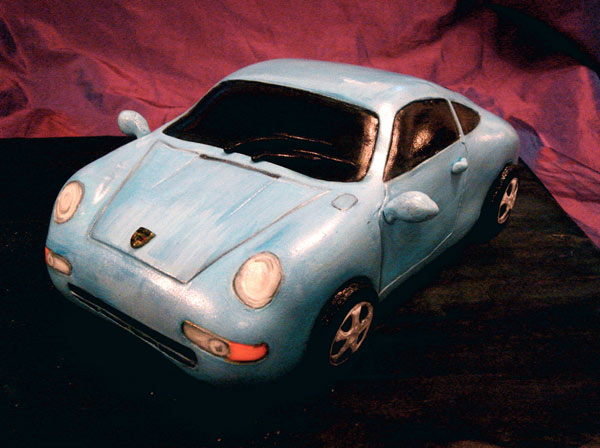 Photo via the Lady Gloom
Powder blue Porsche cake:
The talented Lady Gloom created this awesome 3-D powder blue Porsche cake for a lucky car lover. Great details, including the mag wheels and the Porsche emblem. I like the hand-painted look of this cake, too.
Ready to carve out your own car cake for your next birthday celebration? Try out Craftsy's awesome new class Classic Car, Timeless Techniques with Mike McCarey!