Have you ever wondered how fabric is made? Your favorite fabric is most likely either screen printed or digitally printed. In the fabric factory, designs are rolled out one at a time and everyone works together to produce quality fabrics for your projects. Discover the many ways beautiful fabrics to life, and then learn how to dye your own custom fabric.
Now, let's take a closer look!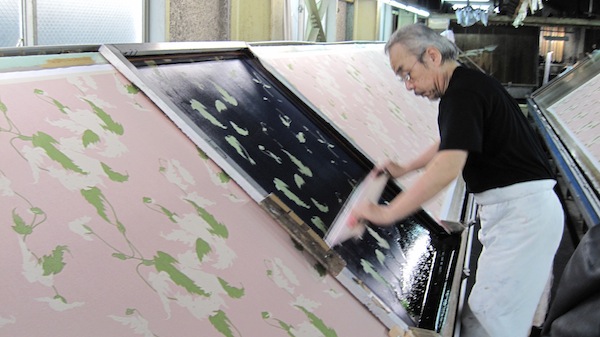 In some fabric factories, like the Pagong factory in Japan, workers screen print fabric section by section as it is rolled out on a long "easel."
The Kansai Eye blog explains how the Pagong company used to specialize in printing kimono fabrics, but switched to fabrics for western apparel over the last several years.
The Marimekko Blog shares a pair of articles showing how their pretty screen-printed fabrics are made in a Helsinki, Finland, fabric factory.
Their process has undergone an overhaul in the last decade as they've developed more advanced printing screens for the operation. After being printed with a layer of color, fabric is traditionally heat-set before another layer of color is added.
Another type of fabric factory involves digital printing on textiles. The Spoonflower factory in Durham, North Carolina, prints fabric on demand for customers who place orders via their Web site.
As you can see above, all of the colors are printed onto fabric simultaneously with this fabric production method. A bonus of this production method is that Spoonflower customers can design their own prints and order them by the yard.
Julia of All Sparked Up shares more fun photos from her visit to the Spoonflower fabric facilities.
Another fun aspect of digital printing is the connection to modern technology, such as body scans. What's that, you ask?
Sally Aitken shares some photos from her visit to TC2, the Textile Clothing Technology Corporation, in Cary, North Carolina.
The photo above shows a section of fabric that was printed only in the areas needed for a skirt sewing pattern. This means that less dye, water and energy is used to print the fabric, and the white scraps can be recycled and used again.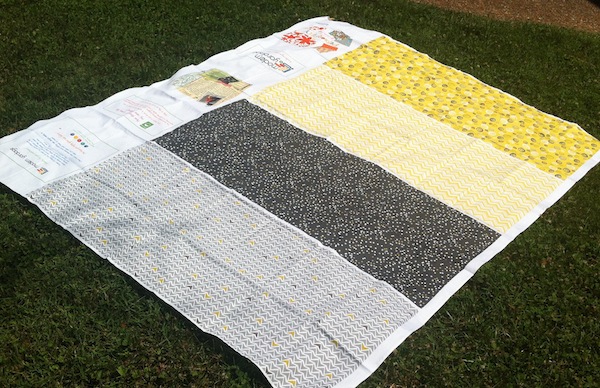 A newcomer to the digital printing market, Modern Yardage is a company that digitally prints fabric designs from licensed designers.
Above is an example of a 2-yard cut of fabric with four half-yard designs printed right next to each other. The fabric is shipped directly to the customer after their order is placed. As a result, fabric is not over printed.
But what if you can't decide what fabric to choose? There's something great about visiting a local fabric shop and perusing the actual fabrics, which you can touch and feel.
Michael Lawrence at Books, Quilts and Sewing shares some photo outtakes from his trip to the Moda fabric warehouse in Dallas. As you can see, the rows and shelves are labeled to store plastic-wrapped bolts of finished fabric. After the factory, fabric typically goes to a warehouse to be stored until the orders roll in. When your local fabric shop places an order, the fabric is shipped from the warehouse to your hometown.
Now that you know how factories do it, learn to design and dye your own custom fabrics in the Bluprint classes The Art of Cloth Dyeing and Fabric Patterning with Wax Resist. Come back to the Bluprint blog on Thursday. We'll be taking a look at how to dye fabrics using items from nature, from plums and onion skins to blueberries and tree bark.
Have you ever visited a fabric factory? What part of the fabric-printing process most interests you?