There's one thing we can say about quilts: they have endurance. An American tradition, vintage quilt patterns often date back to our colonial days. Many popular quilt designs today come from these vintage patterns, and having vintage quilts around allows us to continue replicating them in new and exciting ways.
If you're new to quilting and are finding a lot of your patterns online, you might not know that a lot of today's popular quilt patterns actually go back several hundred years! Churn dash, lone star, double wedding ring and hexagon quilts are all vintage quilt patterns that boast a long history. (Did you know that the double wedding ring motif goes back to ancient Rome?!) Two published quilt patterns very popular now are based on the lesser-known Dutch rose and Ohio star blocks.
Using modern fabrics, scaling block sizes, doing wonky piecing, and arranging blocks differently have all been ways that modern quilters have adapted vintage quilt patterns.
Here are some ideas for adapting vintage quilt patterns for modern quilts!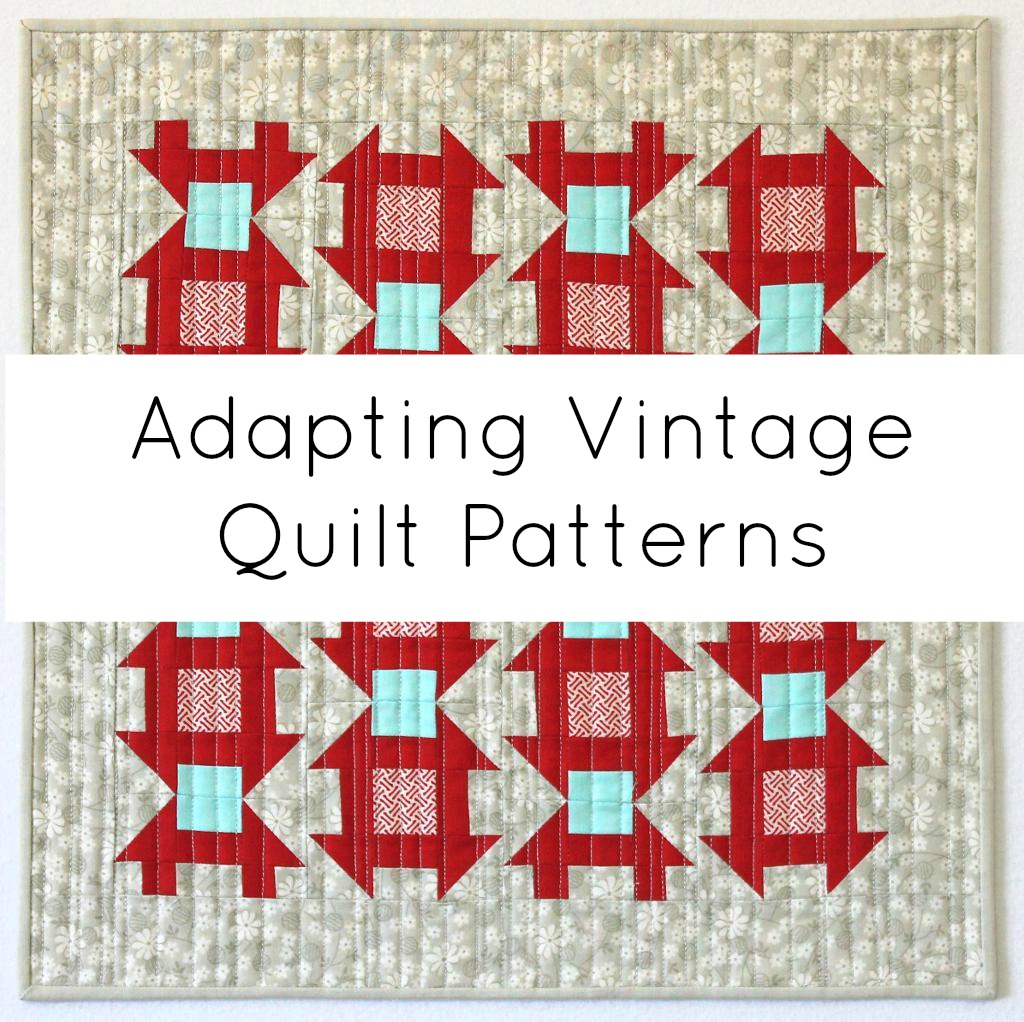 Bluprint member Christa Quilts's Mini Churn Dash pattern
Traditional patterns + modern colors = A recipe for success!
Christa Watson's churn dash pattern (above) is a very traditional vintage quilt pattern, but what makes it different and unique is her blend of a traditional background with very bold and modern colors in the forefront. Simply changing the color of a quilt block is a great way to turn it on its head and make people look at it a different way. Modern quilts often involve white, gray or low-volume backgrounds, along with unexpected color combinations.
Here is a traditional quilt block that I've re-envisioned in more modern solids: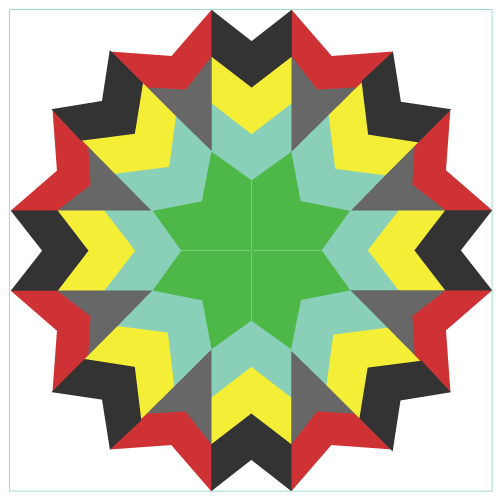 Illustration via Right Sides Together
Wonk-ify your blocks
Another great way to update vintage quilt patterns is to let them serve as general inspiration for an improv project. Wonky log cabin blocks, fashioned after the very geometric and precise originals, are a mainstay of the quilting community! Recently, I've also seen wonky pineapple blocks, wonky stars and wonky churn dashes. Thinking outside the ruler is a great way to "play" with and reference the original patterns but make them unique and more updated.
Making alternative arrangements
Another way to incorporate vintage quilt patterns into modern design is to offset the blocks and play with scale. Often, modern traditional quilts forgo pattern repetition and instead opt for one large block, or they play with scale and arrangement as in Bluprint member CityStitches's Star Chaser quilt.
Photo via CityStitches
In this baby quilt, a traditional sawtooth star becomes a graphic focal point, while other "comet" blocks draw the eye downward. Making a super-sized one-block quilt is a fabulous and easy way to highlight your quilting skills (since they'll show up more clearly) or use a large-scale print.
Drafting your own vintage pattern
While we have blogs, magazines, books and printed patterns today, vintage quilt patterns were often circulated person-to-person and constructed in bees. Often, women would collect quilt blocks simply as a reminder of how they were arranged. It wasn't until the wide publication of magazines and the wide availability of fabric in the early 20th century that any sort of "standard" for quilt making came about.
It's helpful to have instructions for vintage patterns, but it's not necessary if you can figure out how the quilt is cut and pieced. (Graph paper or graphic design software like Adobe Illustrator is key here!) Jinny Beyer's fabulous book, The Quilter's Album of Patchwork Patterns, contains more than 4,500 quilt blocks and provides fabulous instruction and a handy grid system for how to draft them on your own.
What's your favorite vintage quilt pattern? How have you incorporated it into your quilt designs?
Quilting Kits You'll Love!
Your next project, made easy: Get a designer pattern & perfectly paired fabric.Shop Kits Now>>