As a Christmas present one year, my aunt gave me a really great gift, then she threw in a few vintage knitting books that she'd found for free at a yard sale. She laughed as I practically ignored the actual gift and instead happily perused the colorful retro patterns.
It's not just the knits that are fun. I love looking at the styling of the models, and I find inspiration in their hair and makeup. Over the years, I've discovered vintage knitting patterns and books in many places — some obvious, some not so obvious.
Here are a couple of my go-to resources for finding those hip vintage knitting patterns.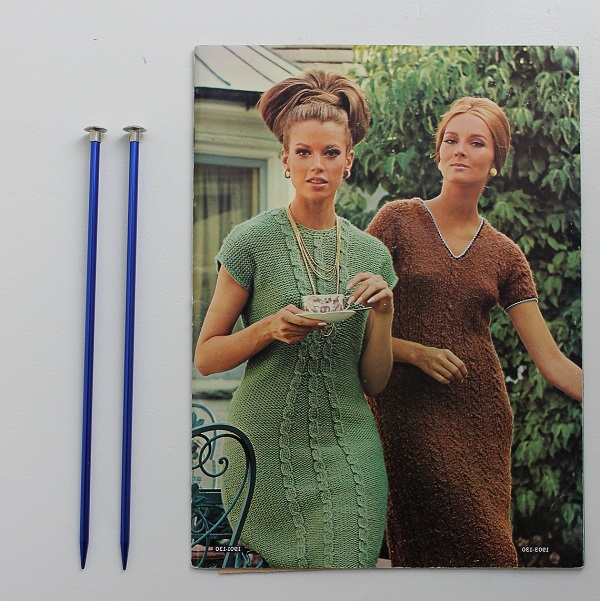 One of my favorite vintage knitting patterns from my collection
Thrift stores
This is an obvious one. Stores like Salvation Army and Goodwill are crawling with old knitting books and patterns. You might have to dig through quite a bit before you can find it, but hey, that's the fun part!
Google Books
This is one of those resources that I never thought about until it popped up in a search result. I was doing some research on Elizabeth Zimmermann for a post on pi shawls when — voila! — a portion of Knitter's Almanac appeared on Google Books. Sometimes you can only get a preview of the book, but others are available with full text depending on the publishing copyright. You can also try Project Gutenberg, another similar site that archives books with expired copyrights.
Fiber swaps
My local stitch group hosts an annual fiber swap, and those vintage knitting patterns come out of the woodwork! If you aren't a member of a local stitch group, check Meetup.com and see if there's a group in your area. You could even arrange an informal swap with group members who want to trade vintage patterns for yarn.
I've also attended a few fiber swaps hosted by a local YMCA and found some really amazing patterns, including the patterns pictured in this post that were part of a Bernat Handicrafter book.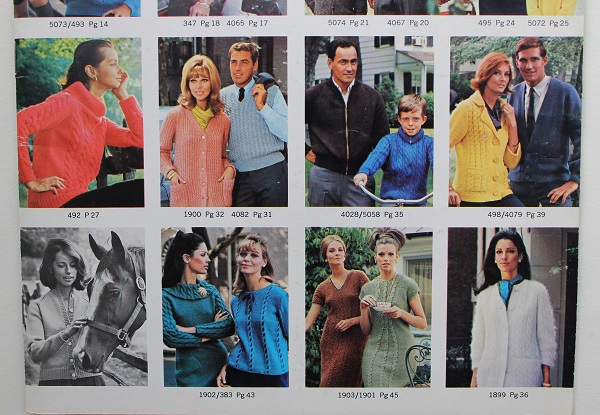 Patterns from a Bernat Handicrafter book
Yard sales and estate sales
Lots of people are trying desperately to rid themselves of their grandmother's old knitting books. Can you imagine that? Take advantage of those crazy people. Stop off at a random yard sale. If there's a lot of stuff to sift through and you're in a hurry, kindly ask the seller if there are any craft books in the mix and save yourself the trouble of digging.
Your neighbor's attic
You wouldn't believe the treasures that lie in your neighbor's attic or basement. Your neighbor doesn't even have to be a knitter. People inherit yarn and old knitting books from family members and toss them into boxes, forgotten until you refresh their memories. Your neighbor will probably be happy to unload those books!
Library book sales
Libraries are a great resource for vintage knitting books, but when you borrow a book you must return it. Luckily, libraries often hold books sales to make room for new books. These sales often include older knitting books, so call or check your local library's web site to find out when they're holding the next sale.
Online
There are dozens of web sites dedicated to archiving vintage knitting patterns. I love Free Vintage Knitting, a site that organizes vintage patterns by category. There's also Vintage Purls, a site with plenty of vintage patterns to download. Antique Pattern Library includes not just vintage knitting patterns, but also other categories like embroidery, beading, dressmaking, and more.
Those are just a few of  the resources out there. Poke around and see what else you can find!
[box type="shadow"]
And speaking of vintage, lately I'm loving the idea of vintage lace as a trim on my plain t-shirts and tote bags. Bluprint's Heirloom Lace Edgings class with Franklin Habit is a great resource for learning how to knit lace edgings, plus how to make them look a little more modern.
[/box]
Where do you find your vintage knitting patterns?