Are you a lover of vintage cake design? Vintage-inspired cakes are so romantic and nostalgic, as though they popped up from another decade. I've been loving the look of birdcage cakes, lately. They're feminine and pretty, with so much room to customize and personalize, birdcage cakes can truly fly!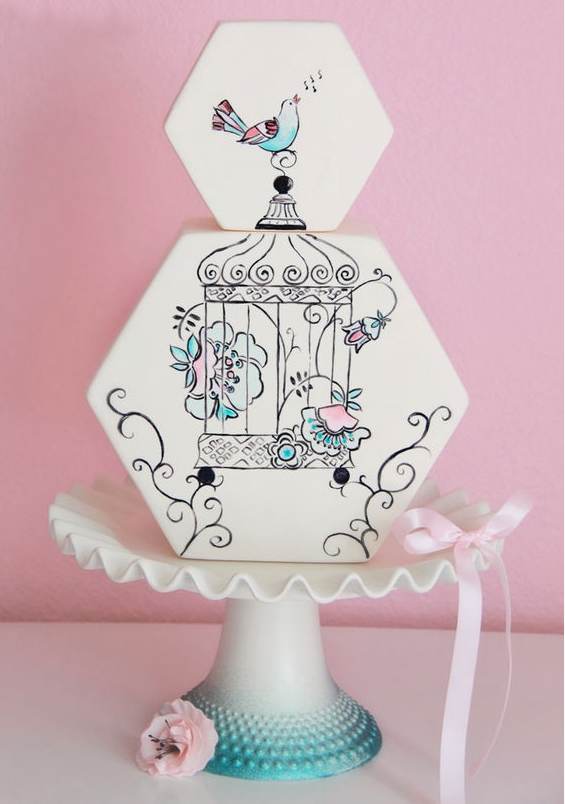 Photo via Three Little Blackbirds Cakes
Hand-painted birdcage cake:
Not only is the cake itself a work of art, the photo styling is simple and adds so much, from the ruffled and dotted cake stand to the ribbon and flower. Back to the beautiful hand-painted cake — such a sweet, simple and artful painting style, with a minimalist feel in the use of color palette. Erin Schaefgen of Three Little Blackbirds is well known for her hand-painted work — in fact, she shares her skills in the FREE Craftsy mini-class The Hand-Painted Cake.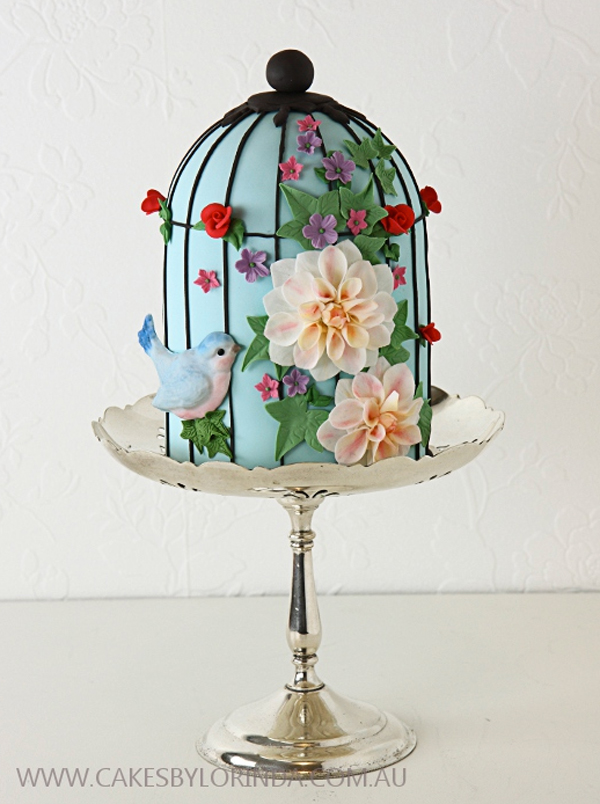 Photo via Cakes by Lorinda
Delicate sugar flower birdcage cake:
I love the contrasting lines of the black birdcage against the baby sky blue fondant cake, and the splash of sweet sugar flowers including dahlias, mini rosettes and ivy leaves. The bird reminds me of a 1960s vintage clay wall hanging, giving the whole cake a pastel retro feel.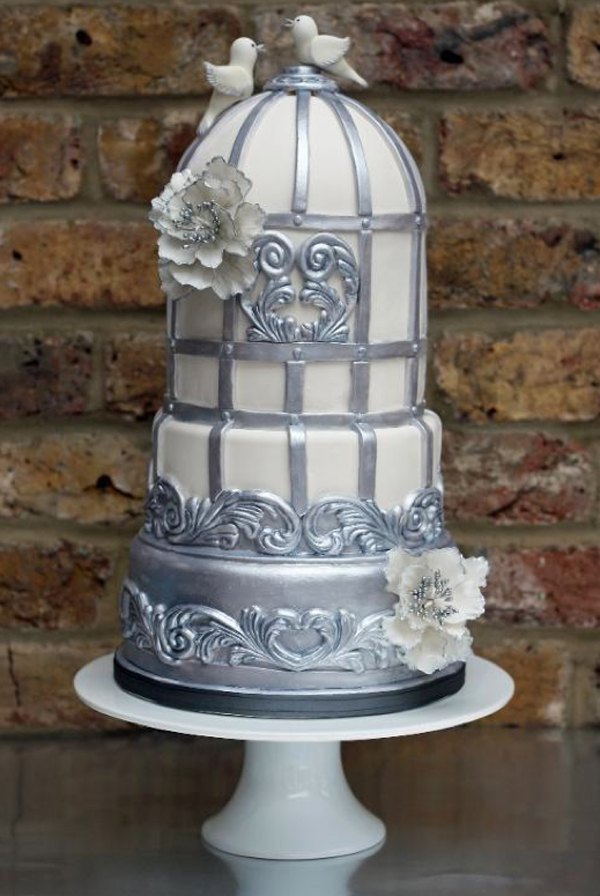 Photo via Craftsy member Bite Me Bakery
Silver baroque birdcage cake:
This monochromatic silver and white themed birdcage cake was created by Craftsy member Bite Me Bakery. She used fondant molds for the silver scroll work. Wouldn't those molds be cool for an ocean wave application, too? The silver-edged sugar flowers continue the monochrome metallic color theme nicely, and the little birdies escaped — happily chirping atop their cage.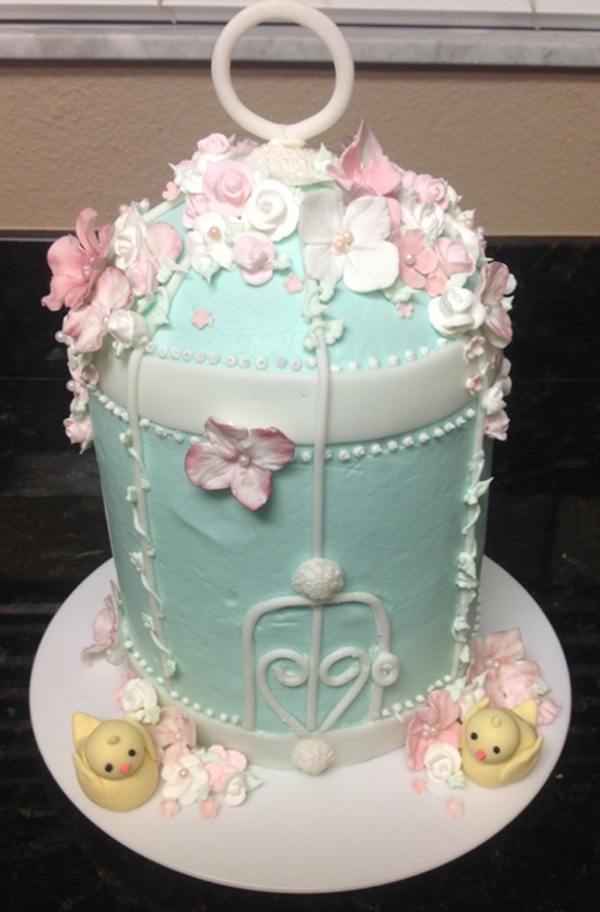 Photo via Craftsy member Lusherm
Baby shower birdcage cake:
This buttercream iced baby shower birdcage cake is covered in an array of sugar blooms, including some delicate hydrangeas that were made as part of Craftsy's class Handcrafted Sugar Flowers.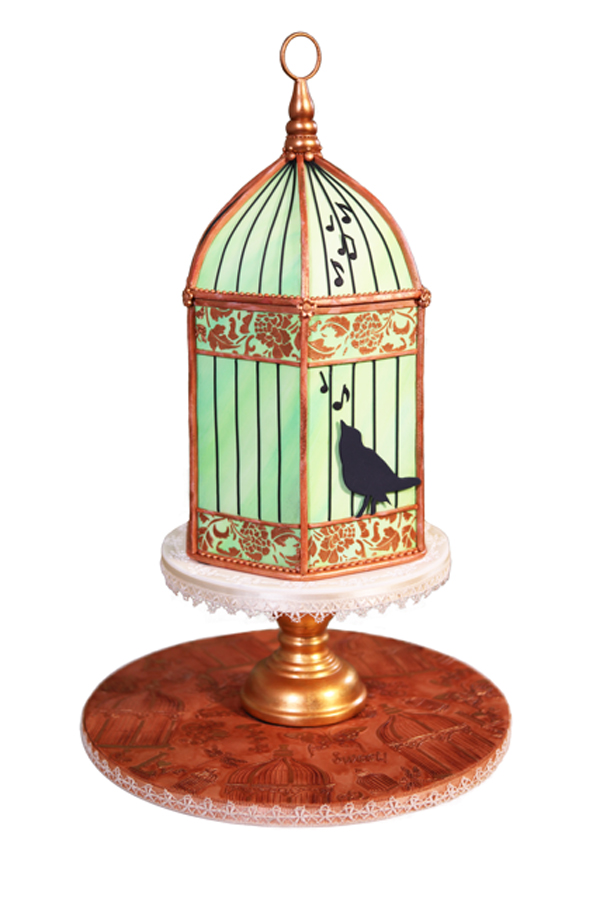 Photo via Craftsy instructor Lindy Smith
Sculpted vintage look birdcage cake:
Innovative cake artist and designer Lindy Smith created this incredible birdcage cake for her latest Craftsy class, Vintage Cake Design: Sculpting & Stenciling. Using a particular type of cake recipe, stencils, royal icing and pastillage (a type of sugar paste that dries very hard), a birdcage cake comes to life. Ready for customization, you can create your birdcage cake in any color combination or add things like sugar flowers to make your birdcage really sing. Sign up for Lindy's class to learn how to sculpt and decorate your own vintage-inspired cake design.
Are you inspired by vintage cake designs?