Searching for a sewing project with retro flair? Or maybe you want to get a head start on National Tie One on Day? A vintage apron pattern may be exactly what you're looking for.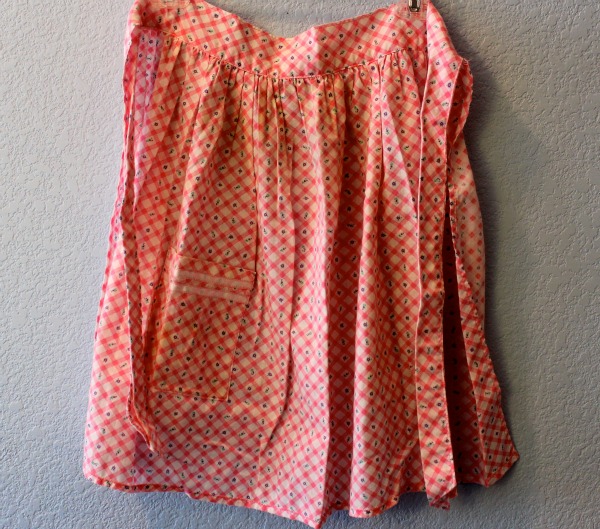 There are four different ways to get your hands on vintage apron patterns:
1. Actual vintage patterns.
Vintage patterns are easily found at thrift stores, estate sales, garage sales and on the Web on sites like Etsy and eBay. There's bound to be an apron pattern amongst them, though it may require quite a bit of digging.
Once you do come across a vintage apron pattern, be sure to check out my tips for sewing vintage patterns. Believe it or not, sewing patterns have changed quite a bit of the years, so you'll want to know what you're getting yourself into. If you are interested in sewing vintage patterns, a simple project like an apron is a perfect place to start.
2. Reproductions of vintage patterns.
Some pattern companies are reprinting patterns from their archives. This is a great way to get your hands on a truly authentic vintage apron pattern, but with a lot less hunting and dealing with aged sewing patterns.
Simplicity is one company that has done this. Simplicity 2592 reproduces four apron patterns from the 1950s, while Simplicity 3544 reproduces four more apron patterns from the 1940s and 1950s.
Vogue has also gotten into the reprint business. V8643 is a vintage apron pattern with five options.
Butterick 6567 is also a vintage apron pattern, with full and half-apron options.
3. Online tutorials and patterns.
You can also find vintage apron patterns by searching around the Internet. The blog Tipnut has a free download of 50+ vintage apron patterns, so there's sure to be one that strikes your fancy. I also found a pattern for an Edwardian apron (or "dress-protector," in the parlance of the day). Sew4Home has a vintage style apron pattern up, with a cute sweetheart neckline and useful pockets on the apron front.
4. Vintage inspired patterns.
Another option is to look for a modern pattern with vintage sensibilities, like the Almost Vintage Apron from Sew Simple Patterns. Indie pattern designer The Paisley Pincushion has several apron patterns with a vintage feel. Of course, there are also many apron patterns available on Bluprint. The Betsey Reversible Apron has vintage sensibilities, as does this sweet pillowcase apron, which can fit everyone from toddler to adult.
Want to venture beyond sewing an apron? If you love retro fashion, sign up for the Sew Retro Perfect Bombshell Dress Bluprint class with Gretchen Hirsch to learn how to stitch up a retro-inspired dress to wear under your cute vintage apron!
Don't forget about Bluprint's beginner sewing classes when you are ready for your next project!
Have you sewn with vintage apron patterns before? Do you have any other pattern sources to share?