Villains have become quite a prominent theme when it comes to cake decorating and sugar art, especially with the rise in popularity of recent movies and shows that feature such vivid, larger-than-life characters.
Be inspired by this collection of sinfully sweet villain cakes, cupcakes and treats for your next wicked celebration!
Photo via Michelle's Party Plan-It
Maleficent dessert table
This gorgeous Maleficent dessert table by Michelle's Party Plan-It was inspired by the classic villain from the Sleeping Beauty story, along with the recently released Disney film, Maleficent. Centered around silhouette artwork by Isabel Talsma, the presentation was styled with a dark and ominous feel, including the backdrop frame by Ten23 Designs, popped with rich shades of purple and green.
The centerpiece cake by Fancy Cakes was adorned beautifully with black cake lace and topped with a fondant frame, which was created with the use of a mold and a hand-cut silhouette. Additional treats included: Opulent cake pops, candy apples and chocolate-covered Oreos by Autumn Lynn's Chocolate Sins (adorned with glitzy sticks from Painting Paris Pink), character cookies by Creating Awesomenessity and fondant cupcake toppers by Kima's Konfections.
Find out more about adding lace designs to your cake designs in the Bluprint course Elegant Lace Cakes with Zoe Clark and learn new techniques in Alan Tetreault's The Secret to Perfect Stenciling to creating beautiful and delicate works of art.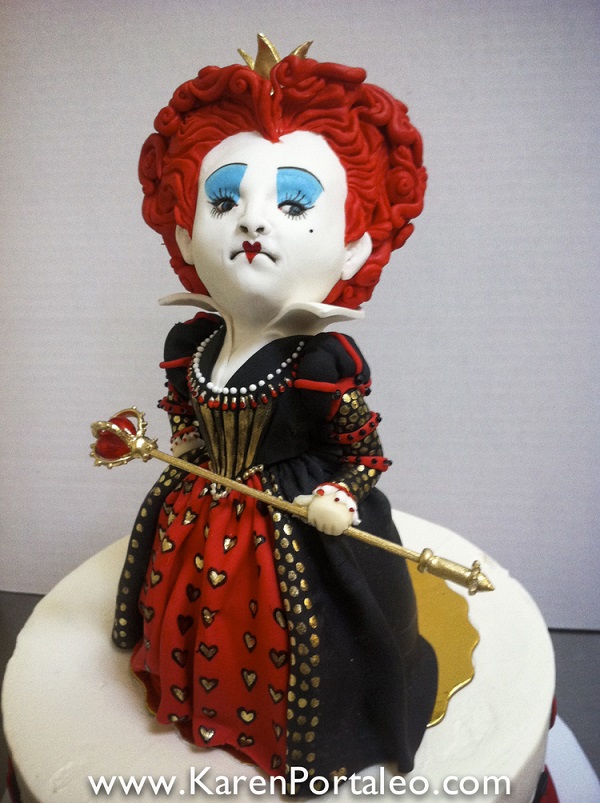 Photo via Karen Portaleo
Red Queen cake
This absolutely amazing cake by renowned cake artist Karen Portaleo is a replica of the Red Queen from the 2010 remake of the film Alice in Wonderland. The movie's director, Tim Burton, is well-known for creating whimsical and exaggerated characters. These big personalities lend themselves perfectly for sugar art — and the Red Queen is no exception! This evil queen was carved, covered and decorated flawlessly, bringing her to life in an exquisite (and delicious) work of art.
Learn how to carve and sculpt amazing cakes, along with stand construction tips in Mike McCarey's Advanced Cake Sculpting: Bobbleheads Bluprint course to create cakes such as this.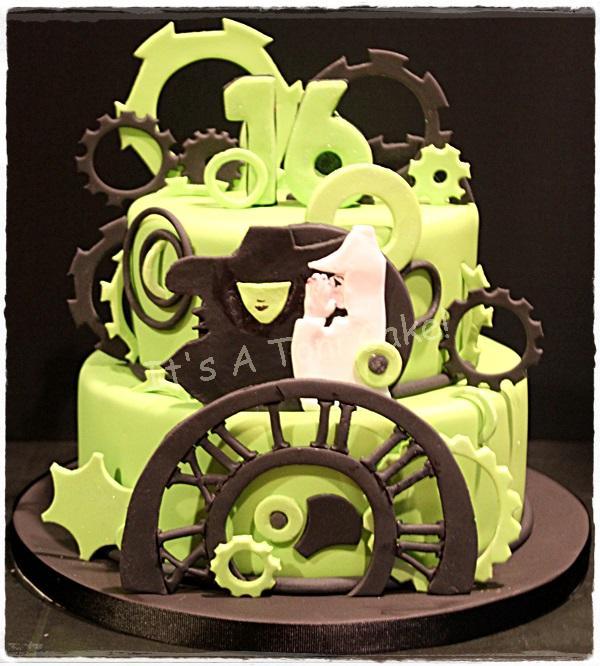 Photo via Bluprint member Tonicake
Wickedly Awesome cake
Another story that has been re-told is that of the Wicked Witch from the Wizard of Oz in the award-winning Broadway show Wicked. This marvelous Wickedly Awesome cake by Bluprint member Tonicake plays upon the show's poster and set decorations with the use of shapes carefully cut-out of fondant by hand, then assembled and attached with the use of melted chocolate. And finally, the guest of honor's age was reflected in the fondant number topper.
For additional instruction, check out the course Cake Design Made Simple: Art Deco with Lindy Smith for tips on creating sleek designs such as this, as well as Clean & Simple Cake Design with Jessica Harris for techniques on applying patterns.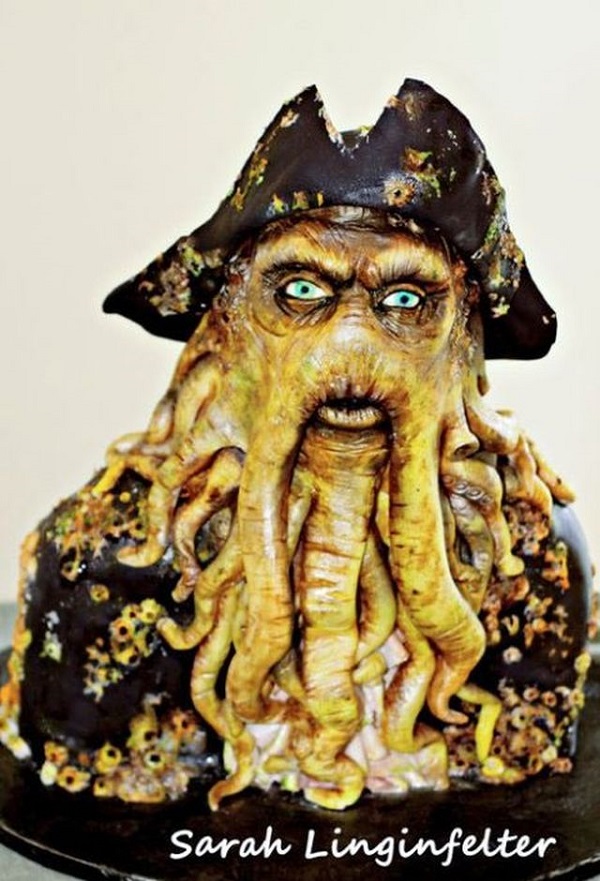 Photo via Sarah Linginfelter Photography
Davy Jones bust cake
Davy Jones, the tyrant captain of the movie series Pirates of the Caribbean was magnificently re-created by Cake artist Sarah Jones. Sarah did a splendid job of carving the character bust and the fondant decorations that form the creature's facial features are incredibly detailed and impressive. Davy Jones is brought to life with the use of shading, achieved with hand-painting and airbrushing. Even the cake's texture and shine add tremendous liveliness to the cake, allowing the belief that he came straight from the ocean!
Learn to stack and carve a cake in Elisa Strauss' Sculpted Dog Cake course with tips on adding texture and facial features. Interested in learning how to airbrush? Check out the Art of Airbrushing with Lisa Berczel to familiarize yourself with the tools and practice different techniques to achieve the desired shades and patterns.
Photo via Nerdache Cakes
Disney Villains cookies
The theme of Disney Villains has become so increasingly popular that the amusement parks have created a Villains Unleashed event in honor of these malicious characters! Cake artist Ant from Nerdache Cakes created this extraordinary set of cookies, representing fabulous female villains from a variety of animated films. In her simulated paper-crafting technique, Ant hand cut layers of fondant to build each character, which were attached to airbrushed backgrounds on sugar cookies, creating amazing compositions and works of art.
To practice your cookie decorating skills, take a look at the course Decorating Essentials: Designer Cookies with Autumn Carpenter to learn techniques to decorate with run sugar, utilize edible images, hand-paint cookies and more.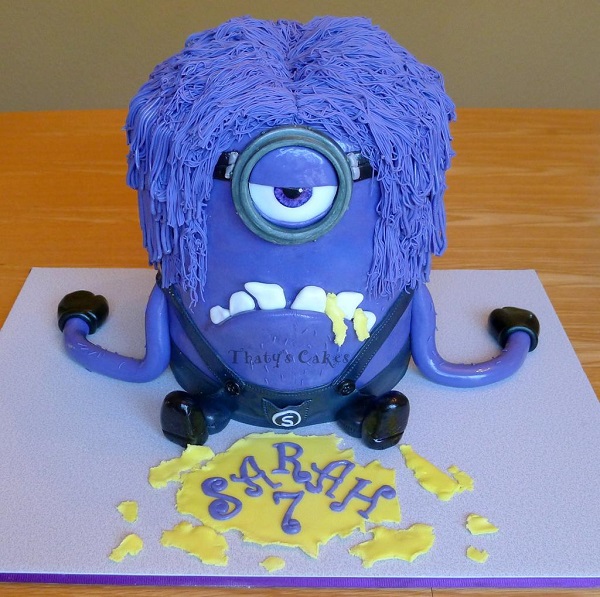 Photo via Bluprint member Thaty
Evil Minion cake
Bluprint member and cake decorator Thaty created this adorable Evil Minion cake from the animated film, Despicable Me 2. The popularity of minions has not decreased one bit and different versions and takes on these hilarious characters are constantly interpreted in sugar form! Thaty stacked, carved and decorated this nefarious creature with the perfect facial features, capturing its emotions.
Learn the basics of cake sculpting in the course Cake-osaurus Rex with Catherine Ruehle to design and build three-dimensional cakes such as this one.
When it comes to movie villains, who do you love to hate?