I'll admit, when I first heard about Viking knitting, I thought it referred to either knitting Viking-like hats, or to Vikings actually knitting. Color me surprised to find out that this is a jewelry wirework technique used to knit wire and make cords. Here, I'll explain to you what Viking knitting is, where it came from and even share some tutorials on Craftsy to help you create your own items with the unique Viking knitting technique. Let's dig in!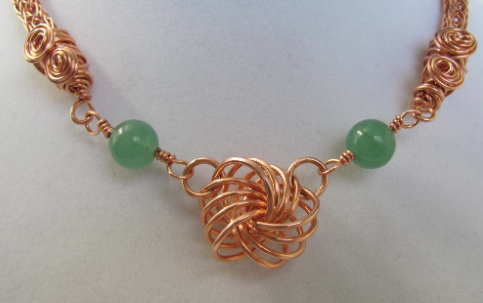 Viking Knitting dates all the way back to, well, the Vikings. Handmade chains were found in Viking treasure troves in Scandinavia. Made from melted down coins turned into fine wire, these chains were formed using a loop in loop technique. Basically, the Vikings literally wore their treasure!
Tools for Viking Knitting
There are a few tools needed to recreate this ancient method of knitting. First you will need some craft wire, the thinner the better to make it more pliable. Try starting off with cheap 26 gauge craft wire to perfect your skills and then move up to gorgeous thin copper or sterling silver.
Shaping
Next you must have something to shape your cord. Some use a metal knitting needle, others use an allen wrench or even just a pencil. You will also need tape and a drawplate, which is a metal or wood block with various sized holes that you will use to draw your chain through, to properly shape it. You can also try using a simple knitting needle gauge plate.
Vanilla Bead has a great pattern and tutorial here to show you how to use this technique with over 40 illustrations and 25 pages of step-by-step instructions. It's a steal at only $5.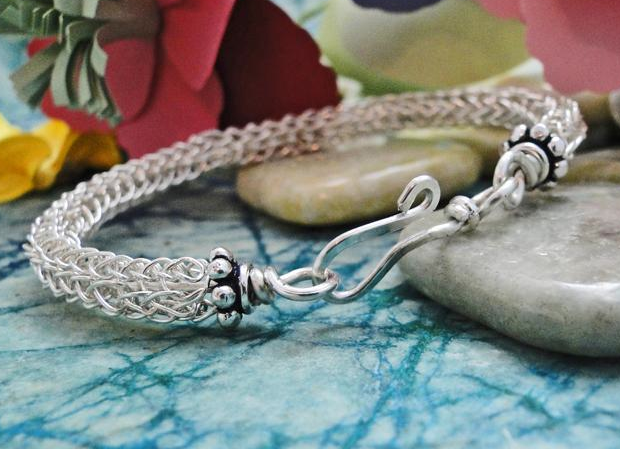 Member BeadedJewelry also has a lovely tutorial on this complex craft. She has created an ebook that will help you to determine how much wire is needed for a project, how to make end caps, and how to put the pieces together for beautiful jewelry!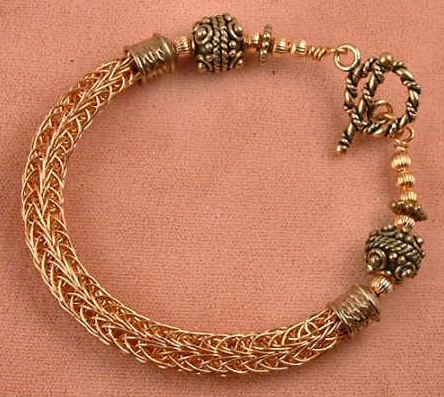 Or if you need a bit of inspiration before you dig in, check out some of the amazing Viking knit projects done by our very own Craftsy members! Abby Hook has a few finished projects that are stunning in copper! This 6 loop bracelet looks so intricate, yet powerful, true to the nature and design the Vikings wanted to showcase.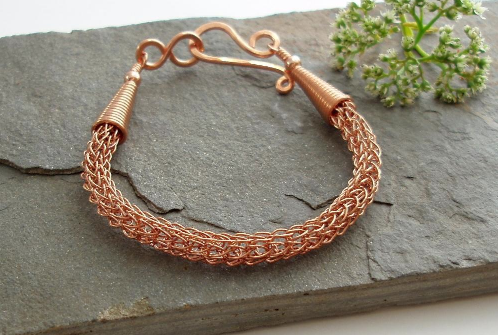 Another member TjeCan has created one of the most stunning necklaces I've seen using the Viking knitting technique. Her copper and jade necklace is unbelievable! She also included a Danish knot and beads to complete this St. Patrick's Day inspired look.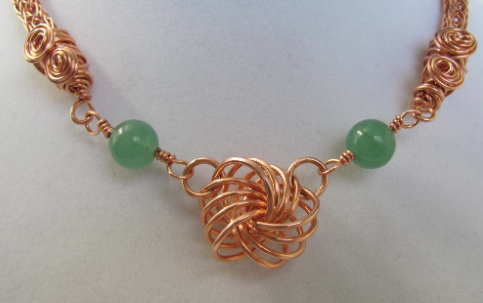 You may be interested in trying the FREE Craftsy class Micro Torch Basics, which walks through the steps of finishing metal jewelry with a torch.
So now that you know Viking knitting doesn't mean knitting miniature vikings, will you try your hand at this ancient craft?