Computer music beeping along with synthesizer high notes, the addictive rush as you madly press buttons, shooting out fireballs or lasers or simply jumping to get to safety: those are my memories of video game playing as a kid! I know these days, video games are more vividly real than real life and much more terrifying, too! But, in delicious and fantastic cake form, video games are rated G for everyone. Here's a fun collection of video game-themed cupcakes and cakes that will have you itching to hit the arcade, after the kitchen.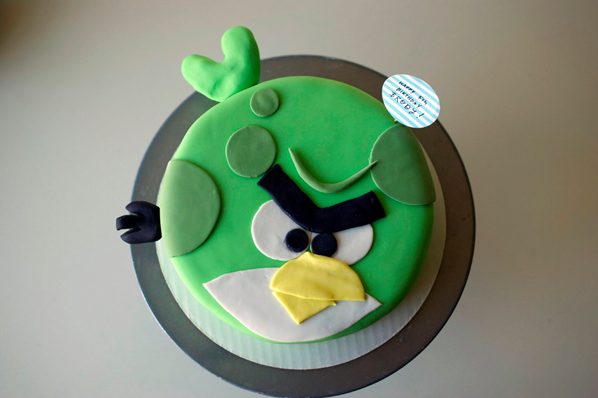 Photo via Coco Cake Land
Angry Birds space cake:
Check out this green Angry Birds cake! This cake was made for a little boy's 5th birthday party with the specific request for Terrence, a character from Angry Birds Space. The cake was an 8 inch round dark chocolate with vanilla buttercream and covered and decorated in fondant. The tail and feathers are made of fondant and stay in place by way of wooden skewers.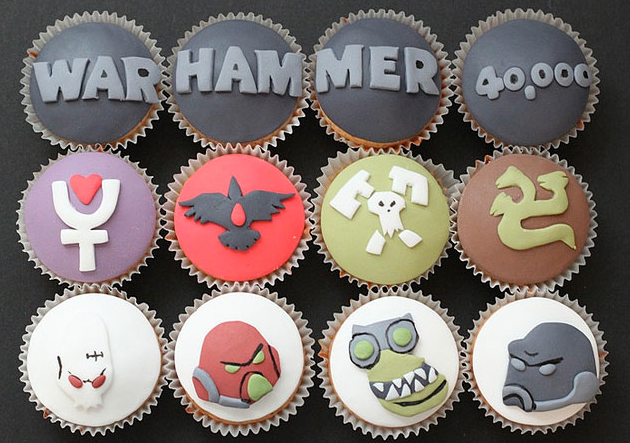 Photo via Hello Naomi
Warhammer cupcakes:
Only the wonderfully talented cake artist Naomi can take the gruesome, raw imagery of Warhammer and turn it into the cutest collection of cupcakes. I wonder what the characters of Warhammer would do if presented with a dozen beautiful cupcakes? I'm thinking they'd stuff them brutally into their mouths and put down their weapons for at least a minute to enjoy the deliciousness.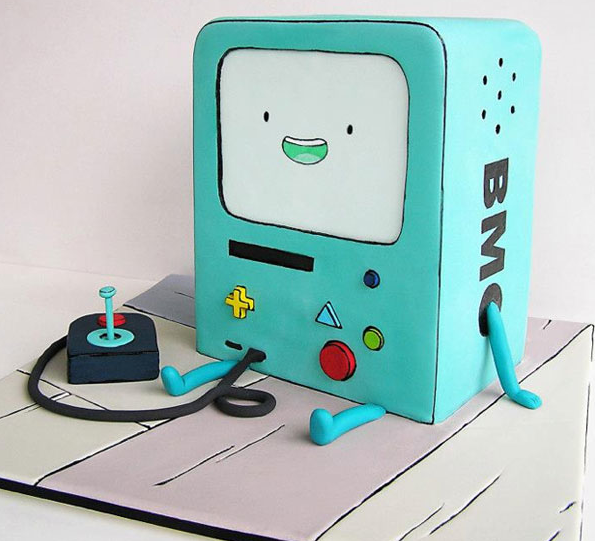 Photo via Sweet Disposition Cakes
Adorable Beemo cake:
Who is this "Beemo" fellow, you ask? He is a video game console from a children's television show. Sweet Disposition Cakes really gave Beemo the cartoon treatment. I love the black outlines which give Beemo a hand-drawn feel, and the beautiful attention to detail, including Beemo's lovely covered cakeboard that resembles a wooden slatted floor!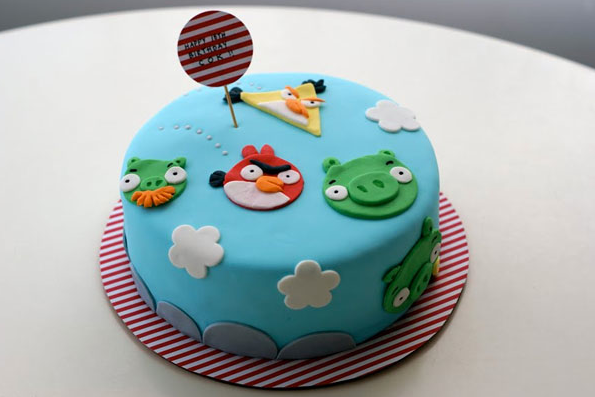 Photo via Coco Cake Land
Angry Birds character cake: 
A collection of Angry Birds characters are flying through the sky in this sweet and simple 9 inch round fondant covered cake. The grey rocks were made using classic circle cutters then cut in two, and the clouds are five petal flower cutters. The birds look like they are in "action" thanks to the help of white drageé candy pearls leaving trails behind the birds, just like in the game. Woosh!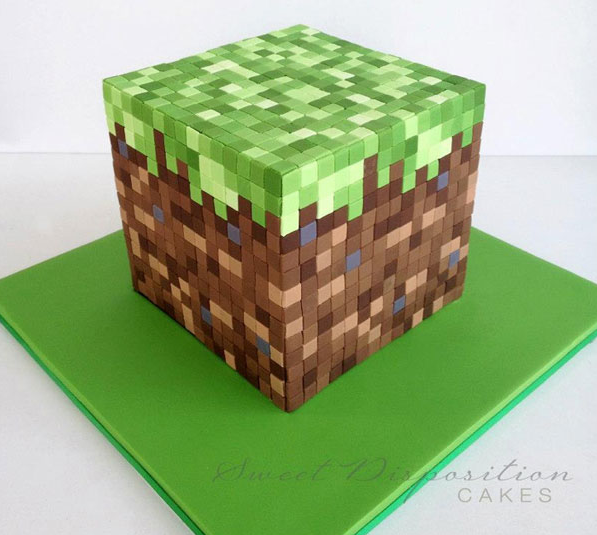 Photo via Sweet Disposition Cakes
Minecraft cake:
To some, this might look like an avant garde cubist cake. But to the video game enthusiast, there could be no mistaking this cake: Minecraft, the 3D construction game! With the amazing detail on this cake, I can only imagine the long hand-numbing hours cutting out little squares of fondant in varying shades of green, brown and grey. Worth the effort, I would say!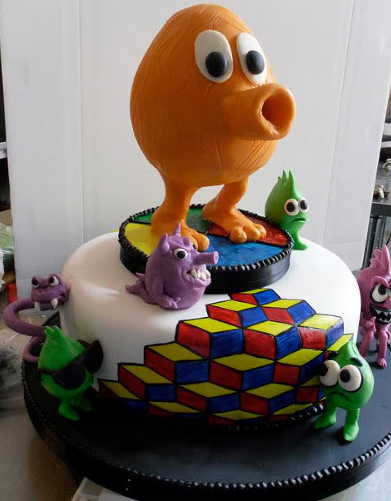 Photo via Highland Bakery
Q*bert cake:
What a fun cake! Q*bert made his way to the top of his cubes, hooray! Hand-colored 3-D geometric cubes cover the white fondant cake and weird-eyed goblins hover around the jumbo-sized Q*bert's legs.

Photo via Hello Naomi
Super Mario Brothers cupcake set:
And the pièce de résistance of video games: Super Mario Brothers! I love how Naomi created a "set" which mimics the game play itself. Mario's about to get a 1-up mushroom but he better jump extra high over that man-eating plant! The details on these Super Mario cupcakes are created with fondant and edible marker.
What video game would you like to see be turned into a delicious cake? Craft your own with help from Bluprint's online cake classes; so many to choose from and more in production all the time! Check out the cake decorating classes here!