Though there were a few traces of electronics prior to the 1970's, it wasn't until this decade that video games emerged on the scene and grew tremendously in popularity. From home video consoles to arcade games to computers and hand-held devices, the sophistication and quality of video games have evolved exponentially, as have the fans and players. Gamers are extremely passionate about their games of preference and luckily, the characters and game components make the perfect subject matter for cake design and cupcake decorating!
Navigate your way through this collection of video game cupcakes, from the classics to today's current favorites for kids and adults of all ages.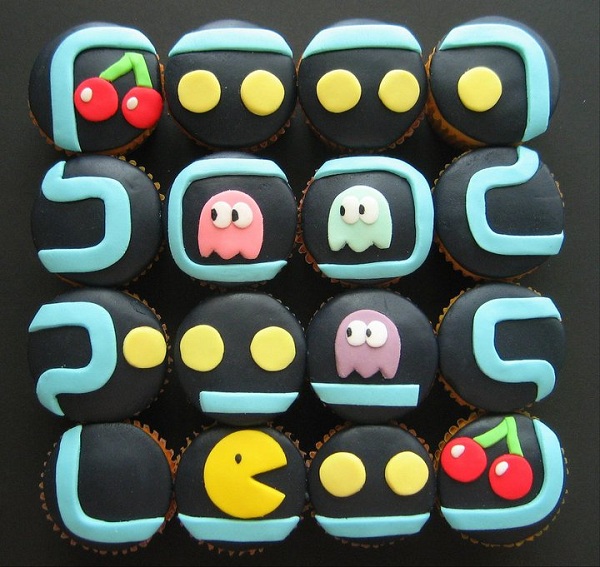 Photo via Hello Naomi
Pac-Man arcade cupcakes
Cake artist Hello Naomi created these adorable cupcakes representing the classic arcade game Pac-Man, synonymous of 1980's pop culture. By covering the entire surface of the cupcake with fondant and adding the game components and characters, the sweets were strategically displayed to resemble the iconic arcade screen.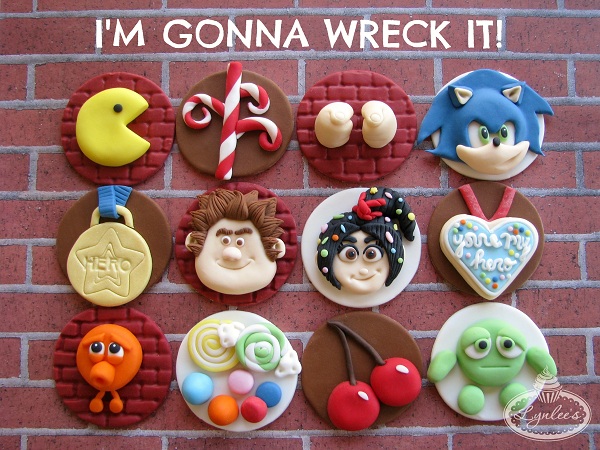 Photo via Lynlee's Petite Cakes
Wreck-It Ralph fondant toppers
Disney's recent release of Wreck-It Ralph brought characters of arcade games to life in a fun animated movie. Classic game personalities were assembled together in this virtual world, including Pac-Man, Sonic the Hedgehog, Q*bert and more. These cupcake toppers demonstrate the ability to capture characters with a bit of dimension, but not as full three-dimensional figures. The addition of texture to some of the toppers also stands out, which can easily be achieved with fondant impression mats.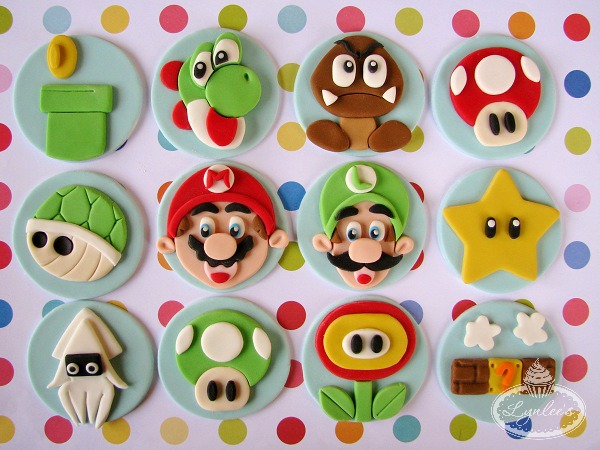 Photo via Lynlee's Petite Cakes
Super Mario Bros. fondant toppers
Super Mario Bros. is a video game, also originating from the 1980's, but developed for the home console. These cupcake toppers are primarily two-dimensional, but with the added details, easily capture the characters' personalities and the overall essence of the game. The use of one simple color for the background ties the collection together.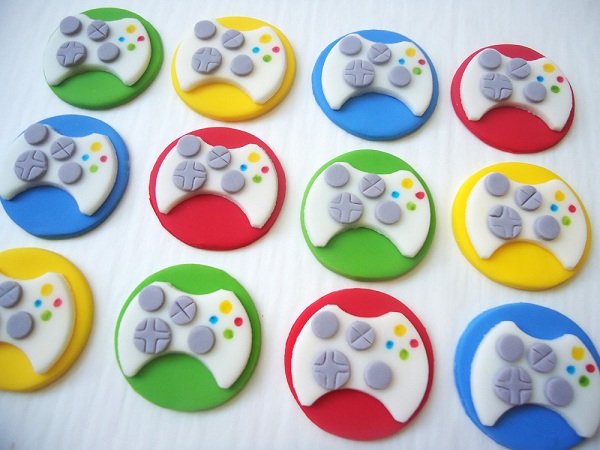 Photo via Cakes and Kids
Gaming controller fondant toppers
Not only have the games, themes and graphics of video games evolved drastically throughout the years, so have the controllers. Cakes and Kids   created these cute and colorful home console controller toppers, depicting the variety of buttons and joysticks. When making a large quantity of cupcake toppers, repeating the same designs facilitates the process for time-management purposes, but simple variations, such as the colors of the bottom toppers, can provide added interest and enhance the presentation.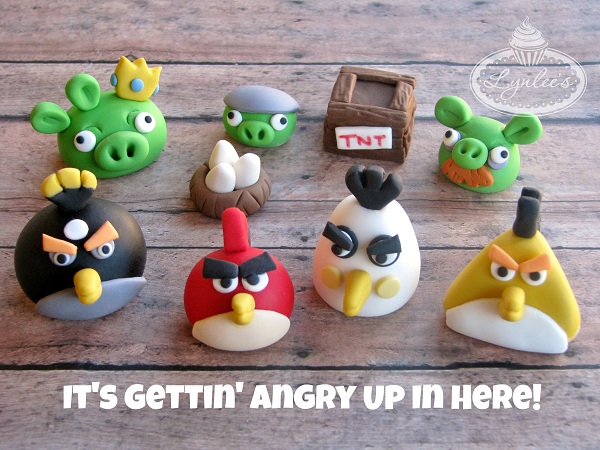 Photo via Lynlee's Petite Cakes
Angry Birds fondant toppers
Angry Birds was originally developed as an application for smartphones and tablets, but due to its incredible popularity, has taken over home consoles, computers and the lives of so many fans young and old! These three-dimensional fondant toppers represent several of the game's characters that can easily be utilized to decorate cupcakes, cakes and other treats. The birds' feathers and pigs' ears can be attached with edible glue, but for added support, insert raw spaghetti to hold them in place.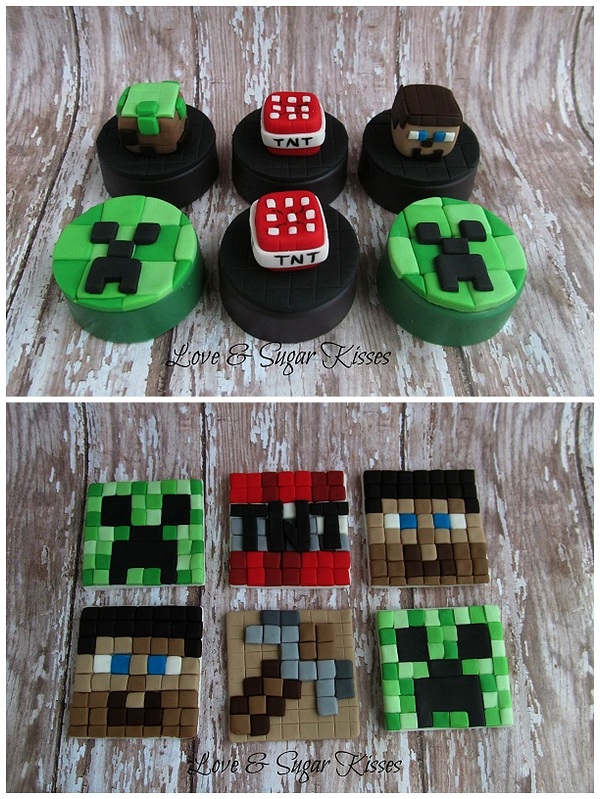 Photo via Love & Sugar Kisses
Minecraft fondant toppers
Minecraft originated as a computer game whose graphics resemble textured cubes. Love & Sugar Kisses did a tremendous job capturing the dimensional illustrations in these fondant figures topping the chocolate-covered Oreos and especially with the flat cupcake toppers, achieved with the piecing together of small fondant squares. When making patterns such as this, roll out a very thin layer of fondant to act as a canvas, glue the pieces of the arrangement directly onto it and allow it to dry thoroughly to maintain the design.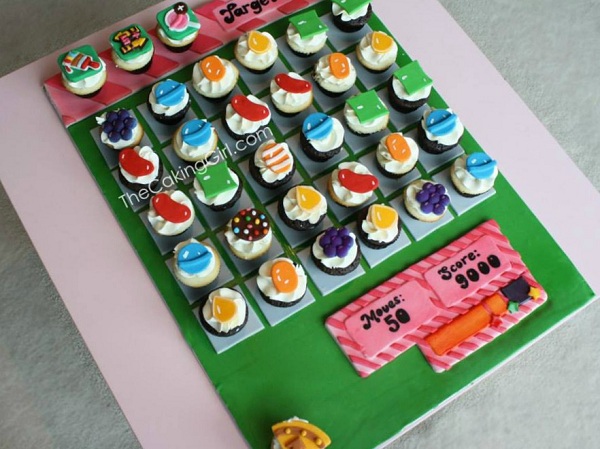 Photo via The Caking Girl
Candy Crush cupcakes
The game of Candy Crush was originally developed as a Facebook game and with its increase in popularity, has also evolved into an application for smartphones. The Caking Girl created an incredibly adorable and detailed cupcake presentation to resemble the game, including the colorful candy elements, and demonstrates the process in a time-lapse video. In addition to Candy Crush, The Caking Girl also shares the evolution of her cupcake projects based on the games Draw Something and Fruit Ninja.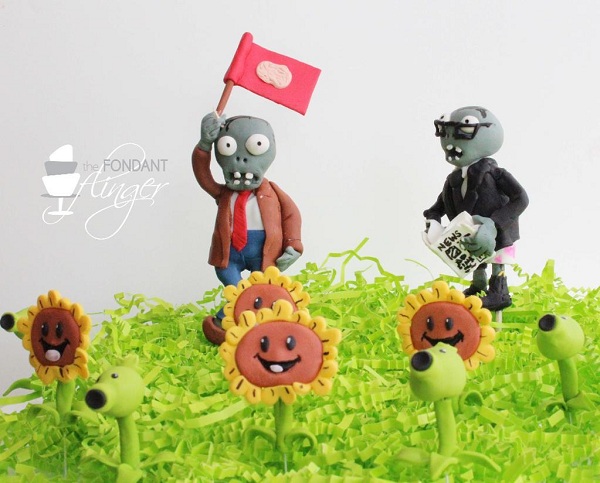 Photo via Fondant Flinger
Plants vs. Zombies fondant toppers
The Plants vs. Zombies game centers around the use of plants to ward off an army of zombies, which Fondant Flinger captured perfectly in these fondant toppers after completing the course Cake Topper Techniques: Figure Modeling with Anne Heap. Zombies have never looked so good! These three-dimensional fondant creations could easily top aptly themed cake or cupcakes or be utilized for upcoming Halloween projects.
Whether a fan of new and current video games or timeless classics, there is no doubt there is a game for everyone… and a cupcake to match!
How will you transform your favorite video game into cake?