It's rare that I repeat a recipe. In fact, when I do I know that it's a keeper. My recipe for baking chocolate chip cookies has been made no less than a hundred times. I find no recipe to deviate from it. It's definitely a keeper.
Wisps of toffee scent the air as they near the end of their stay in the oven. There's enough chocolate to get your face and fingers excessively dirty, a sweet crackle as you bite into a bit of raw sugar, and a texture that crisps around the edges while the interior remains chewy and dense.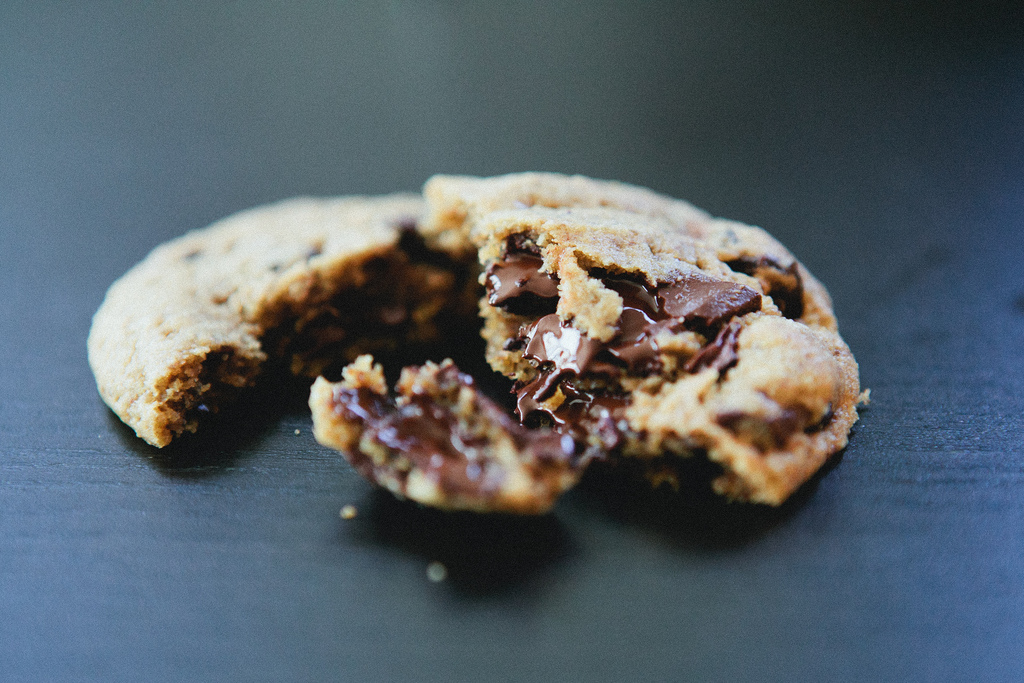 Sometimes I do change things up just a bit. Occasionally the chocolate is set aside for say, white chocolate and crushed candy canes or toasted walnuts with warming spices like cinnamon and cardamom. I have a friend, a very smart one I say, who has crumbled up bits of cookie (Candy Cane Joe-Joe's) and mixed that with this dough.
No matter what you mix, in the cookies come out beautifully with this versatile cookie dough. The base always remains the same but what is thrown in at the end of the mixing is entirely dependent on my mood or what I can find in the pantry. Below you'll find three of my favorite deviations.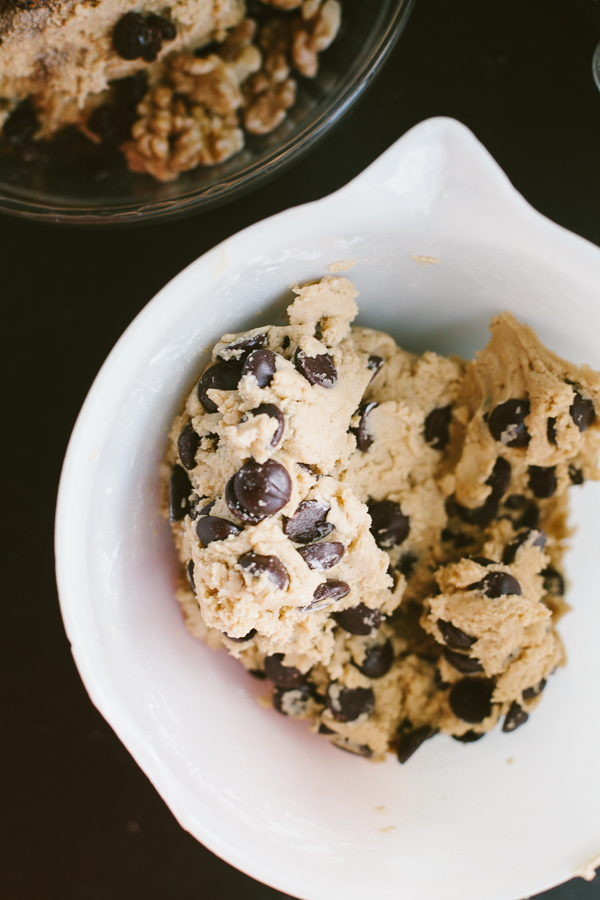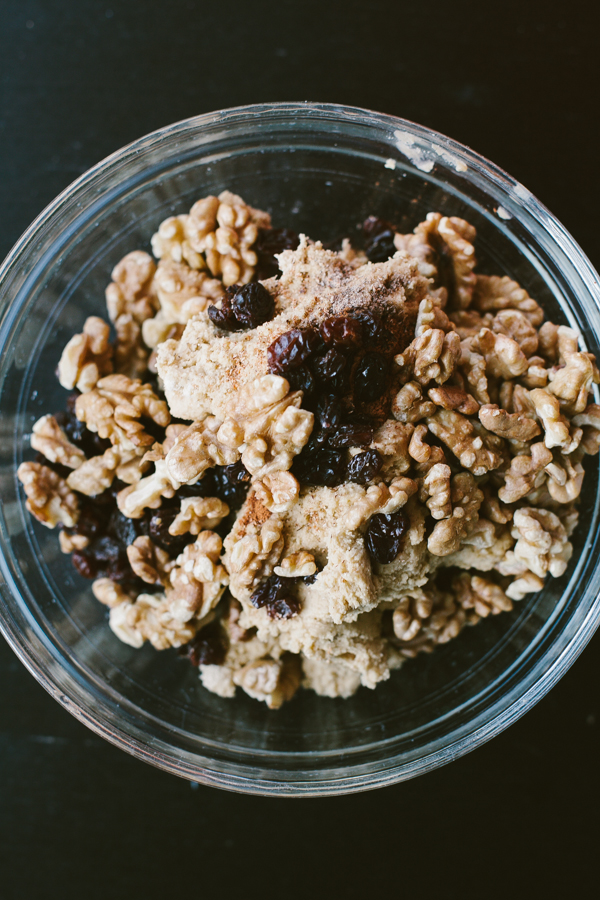 Versatile cookie dough recipe (the base)

Makes 3 dozen cookies (can easily be halved)
Ingredients:
2 sticks butter (8 oz)
¼ cup white sugar (2 oz )
¼ cup turbinado sugar (2 oz )
1 ¾ cup light brown sugar, packed (12 oz )
2 eggs
2 tsp vanilla (¼ oz)
3 ½ cup all-purpose flour (1 lb.)
1 ½ tsp baking soda
½ tsp salt
½ teaspoon good quality salt, for sprinkling on top before baking
Step 1:
In the bowl of a stand mixer fitted with the paddle attachment, cream the butter and the sugars until very light and fluffy, about 5 minutes on medium high.
Step 2:
Scrape down the sides of the bowl. Continue mixing while adding the eggs one at time. Make sure each egg is incorporated before adding the next. Add the vanilla. Scrape down the bowl with a spatula.
Step 3:
Combine the flour, soda and salt in another bowl. Whisk to combine. With the machine on low, slowly add the flour. Mix until just combined, taking care not to over-mix. With a spatula fold in your mix-ins.
Step 4:
If you so choose, and I do recommend that you do, sprinkle a very fine dusting of good quality sea salt. Fleur de sel or Murray River pink salt are my recommendations.
Step 5:
Bake at 360°F for 12 minutes. They should be lightly golden on the outside but still look gooey on the inside.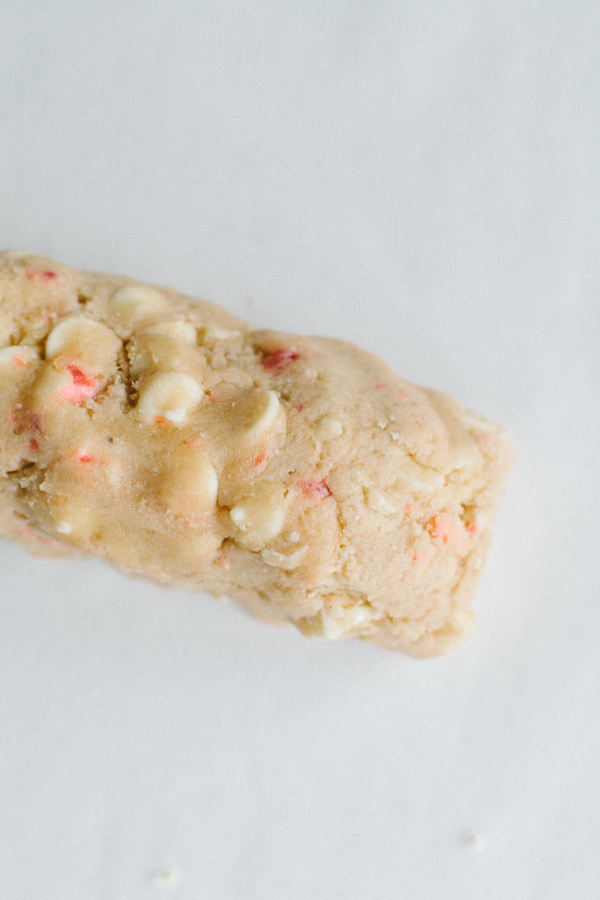 I like to roll my dough into a 1 ½-inch log, wrap in parchment, and then let it sit in the fridge for at least 24 hours. The flavor and texture improve after some rest.
Add-ins
Classic chocolate chip
12 ounces chocolate bittersweet chips or coverture (bar) cut in ½-inch pieces
Spiced walnut raisin
1 cup toasted walnut halves
1/2 cup raisins
1 teaspoon ground cinnamon
1/8 teaspoon ground cardamom
1/8 teaspoon freshly ground nutmeg
White chocolate peppermint
12 ounces white chocolate chips or bar cut in 1/2-inch pieces
1/2 tsp peppermint extract (more or less, to taste)
1/2 cup crushed candy canes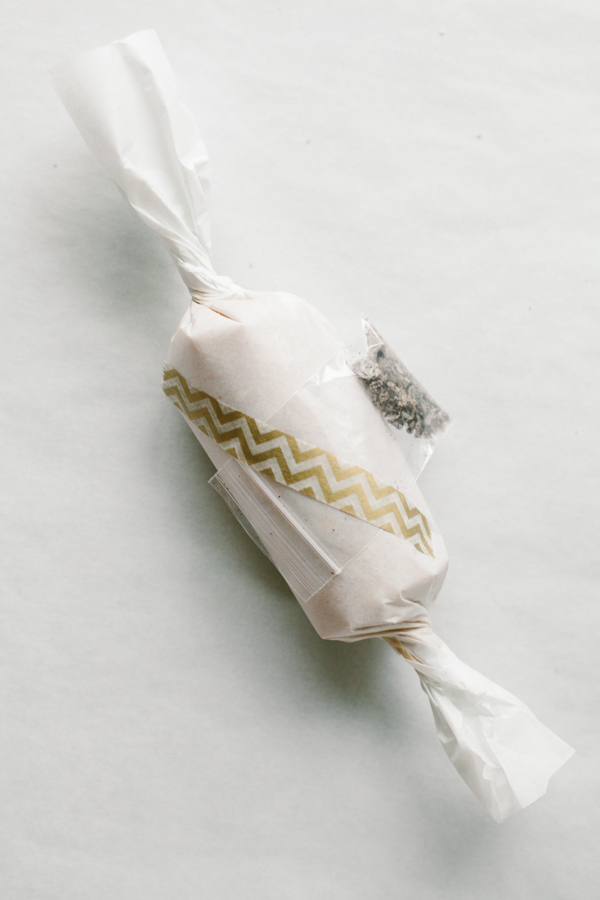 Tip: Rolled-up cookie dough packaged with a bit of salt (here, vanilla salt) makes a great gift!
You might also enjoy our posts on how to make perfect sugar cookies and our ideas for creative chocolate chip cookie variations.
What other kinds of add-ins would you use with this versatile cookie dough?