Brace yourselves! You are about to learn how to make a crowd-pleasing, one-pan vegetarian casserole recipe. Yes, you read that right! This meal is cooked entirely in one pan, is packed with vegetables, herbs and cheese, and has a lovely chewy texture.
But most importantly, it's incredibly filling.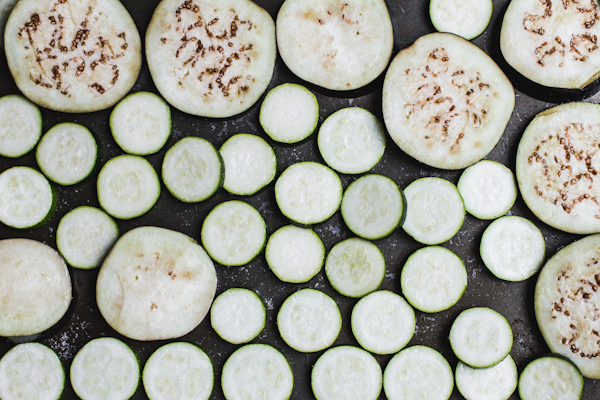 Photos via Edible Perspective
Coming up with vegetarian dishes that will please everyone's taste buds can sometimes be difficult, but it doesn't have to be! If cooking for a crowd leaves you frustrated I am here to help you out.
Enter this healthy, one-dish meal. It's about to be your new go-to! And this isn't just for a crowd. It's perfect for the family and can be dished out for leftovers the rest of the week. Or, you can halve the recipe, if you're splitting it between two.
It's also naturally gluten-free, loaded with veggies and packed with protein.
I promise no one will miss the meat!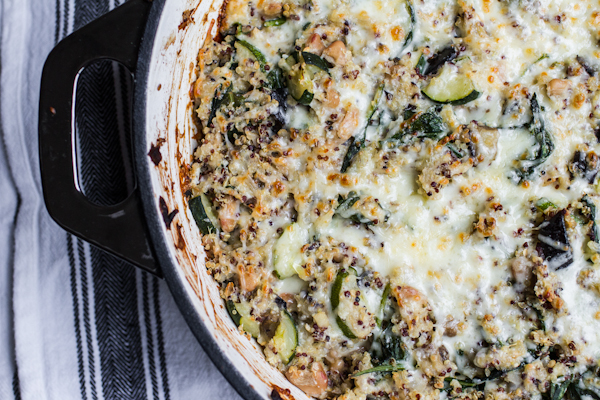 First, you'll start by cooking the quinoa. I suppose this is not truly a "one-pan" dish since the quinoa has to be cooked in a separate pot. But lets just look the other way for that.
While the quinoa cooks, you'll slice up the zucchini and eggplant. Next, liberally salt the slices, and let them sit for 20 minutes. After 20 minutes, you'll squeeze them with a towel to soak up all of the moisture the salt brought out. Why you ask? It helps tremendously with the texture! The salt wicks out a lot of the water, which in turn helps firm and brown the veggies in the pan. I promise this step is worth it!
Next, you'll cook all of the vegetables in the pan with a few fresh herbs and then stir in the perfectly cooked quinoa. Last but not least, you'll fold in all of the cheesy goodness and send it off to bake. Broiling a little extra cheese on top is not to be missed and is probably my favorite part!
The great thing about this recipe is that once you're comfortable with the cooking process, you can change it up, swapping in almost any vegetable you want! You can also add in things like sun-dried tomatoes, olives, peppers, etc. A Tex-Mex version could be really tasty, too! All you need to do is use black beans instead of cannellini, add in Mexican spices (i.e.: cumin, chili powder, cayenne, etc.), and add cheddar cheese instead of mozzarella.
I promise you're going to love this.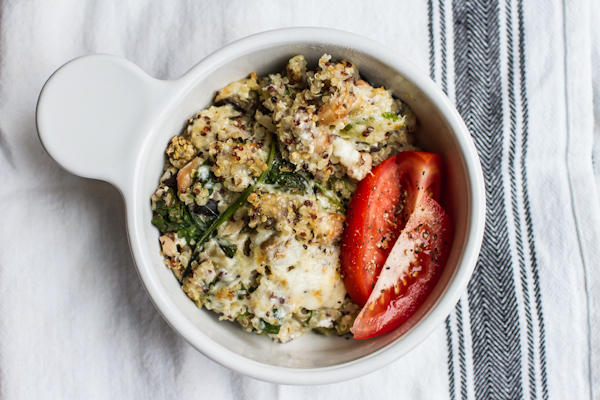 One-dish vegetarian quinoa casserole
Yields: approximately 8 servings
Ingredients:
Quinoa:
1 1/2 cups uncooked quinoa, (rinsed and drained)
2 1/4 cups water
1/4 teaspoon salt
Casserole:
2 small/medium zucchini
1 small eggplant
1 tablespoon extra virgin olive oil
3/4 cup diced sweet yellow onion
1 tablespoon minced garlic
3 tablespoons finely chopped fresh basil
1 1/2 tablespoons finely chopped fresh oregano
1, 15oz can cannellini beans, (rinsed and drained)
4-6oz baby spinach
1/2 teaspoon salt
1/4 teaspoon black pepper
red pepper flakes, (optional)
1-2oz finely grated mozzarella, (for topping)
Cheese mixture:
1 cup full-fat ricotta cheese
1/3 cup whole milk, (or 2%)
3/4 cup shredded parmesan cheese
4oz [1+ cup] grated mozzarella
1/4 teaspoon black pepper
For perfectly cooked quinoa:
Place a medium-sized pot over medium heat. Once hot, add the quinoa and slowly pour in the water and salt. Stir. Bring to a boil over medium-high heat. Once boiling, reduce heat to simmer and cover with a tight fitting lid for about 15 minutes, or until water is absorbed. Do not stir while cooking. Remove from the heat and let sit with the lid on for 10 minutes. Fluff with a fork.
For the zucchini and eggplant:
Note: This step is optional but highly recommended for the best vegetable texture.
Trim ends from zucchini and eggplant. Slice zucchini about 1/4-inch thick. Slice eggplant about 1/2-inch thick. Place on one to two large baking sheets and sprinkle liberally with salt. Let sit for 20 minutes then squeeze each slice between a towel to soak up the moisture.
Putting it all together — the casserole:
Heat a 12 to 14-inch oven-safe pan over medium-low heat with the oil. Once hot, add the onion and 1/4 teaspoon salt. Stir frequently and let cook down for about 10-12 minutes.
While the onions cook, stir together the ricotta and milk until smooth. Stir in the cheeses and pepper. Cube the eggplant and zucchini into 1/2-inch pieces.
Preheat your oven to 350 F.
Add the garlic to the onions and stir for another 1-2 minutes until the garlic is just starting to brown. Next, stir in the zucchini and eggplant for about 8-10 minutes until tender and just starting to brown. Add in the beans and cook for another 3-5 minutes. Stir in the basil and oregano for 30 seconds then add in the spinach and stir. Cook until just wilted. Remove from the heat. Taste the mixture and add more salt, pepper, and red pepper flakes (if using).
Measure 4 cups of the fluffed quinoa and fold it in to the pan of vegetables. Next, fold the ricotta mixture in with the vegetables and quinoa until evenly distributed. Taste and add more salt/pepper if needed.
Bake in your oven-safe pan, or empty into a 2.5-3.5qt (or 9×13) casserole dish and evenly spread but don't pack down. Cover tightly with a lid or foil and bake in the center of your oven for 25 minutes. Remove from the oven and set to broil. Sprinkle remaining 1-2oz of mozzarella on top and broil for 2-5 minutes until golden brown and bubbly. Watch closely to avoid burning.
Remove and let sit for about 5 minutes then serve with a sprinkle of fresh herbs + red pepper flakes if desired. Let cool to room temperature before storing in a sealed container in the fridge for about 4 days.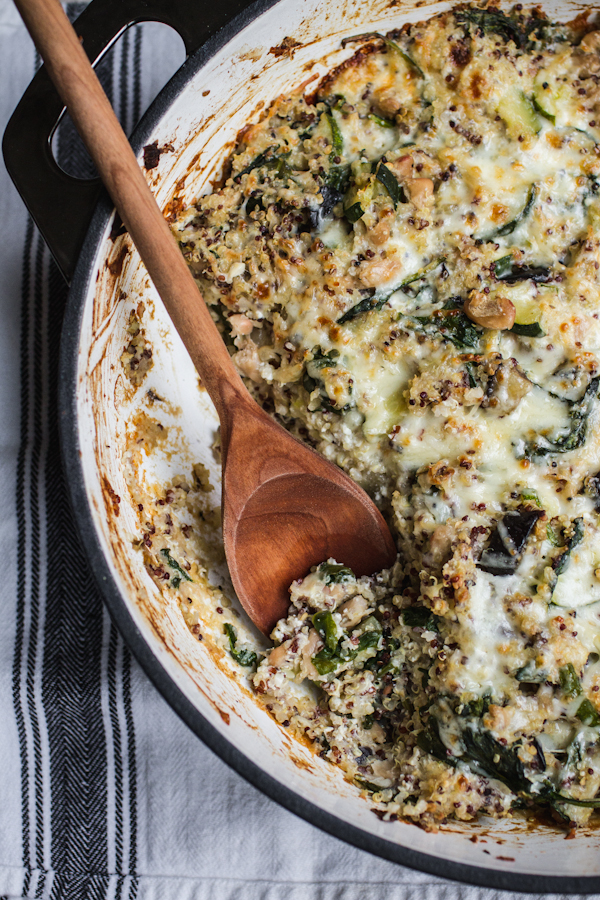 Even more healthy, wholesome vegetarian meals are right within your reach! Sign up for the Craftsy class Big Bowls: Hearty Vegetarian Meals to learn essential vegetarian cooking techniques, like marinated tofu, along with six vegetarian one-bowl meals recipes. Meatless Monday just got so much tastier!
What are your favorite vegetables to throw in a cheesy casserole?