Are you so excited to learn the trick to making quiche without any eggs? Whether you eat a vegan diet, are allergic to eggs or just aren't a fan of the taste, this recipe is going to be your new best friend.
It's packed with flavor and protein and is a perfect for a weekend brunch menu or eating all week long for lunch. You are going to be shocked at how amazing this tofu quiche recipe tastes!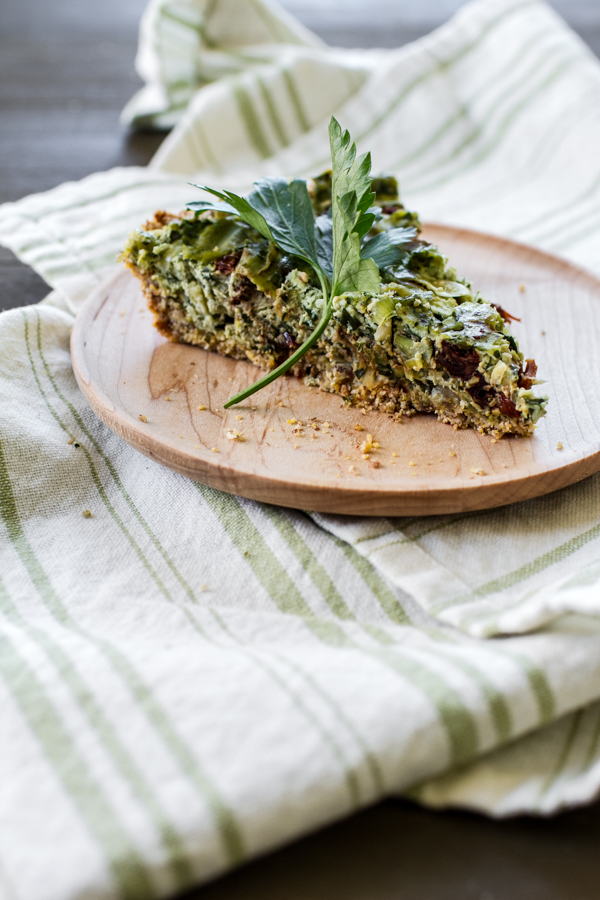 Photos via Edible Perspective
It all starts with the gluten-free crust. I've used a combination of three flours, coconut oil, dried herbs, and salt. The crust is held together by the coconut oil and has a nutty, herb-infused flavor. Surprisingly, it holds together well, too!
Vegan and gluten-free crust is not super easy to get right!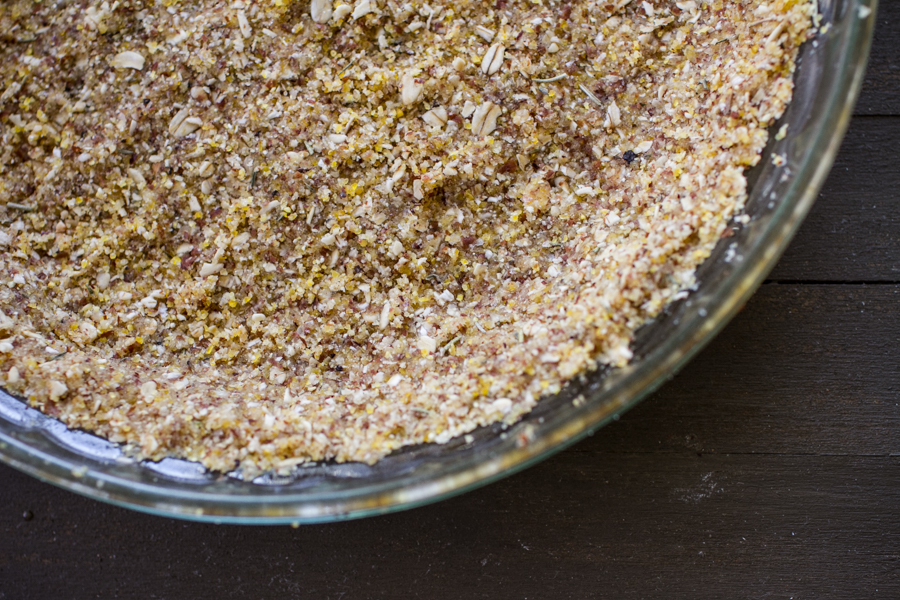 Now let's get to the tofu filling. I know it may sound a bit odd, but I swear once it's baked this tofu quiche has a very similar texture to egg quiche. Also, tofu has an extremely mild flavor which let's us get creative with the add-ins.
In today's recipe I've included leeks, garlic, kale, sun-dried tomatoes, artichoke hearts, and dried herbs.
After baking the quiche there's not much else left to do but dive in.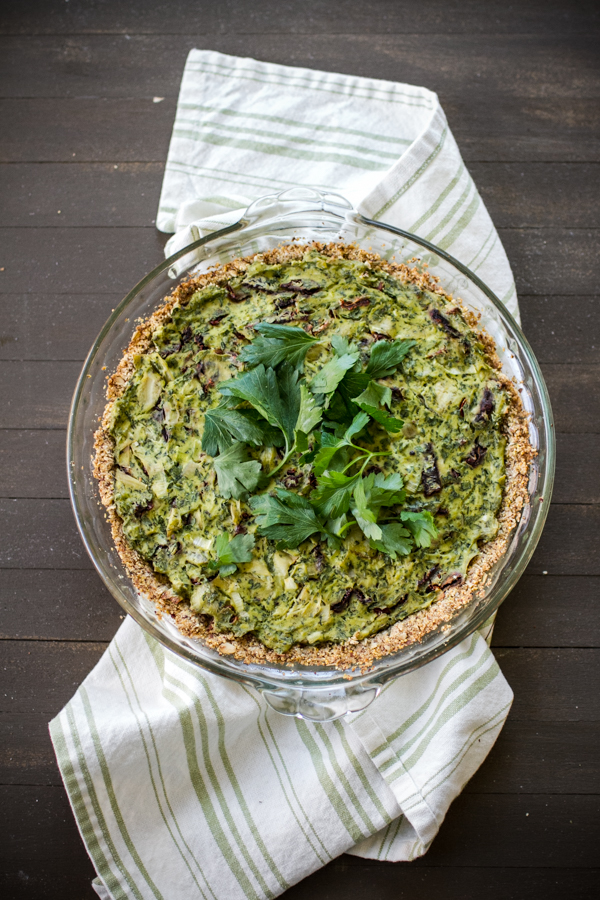 This is one of my favorite high-protein vegan dinners or lunches. It's extremely adaptable and can take on any flavors you like! You can even add in things like roasted broccoli or cauliflower, roasted red peppers, olives, spinach, and more.
But before you go changing things I highly recommend you try this version first.
I mean, just LOOK!
How to Make Vegetable Tofu Quiche
Yields: 6 – 8 servings 
Ingredients:
For the crust:
3/4 cup almond meal
3/4 cup finely ground cornmeal
1/2 cup partially ground gluten-free rolled oats
1 teaspoon dried thyme
1/2 teaspoon salt and pepper
1/4 cup softened (not melted) unrefined coconut oil
1-2 tablespoons cold water
For the quiche:
2 teaspoons
3/4 cup chopped leaks
1 1/2 teaspoons minced garlic
1, 15oz block firm tofu (drained and blotted with a towel)
2 tablespoons nutritional yeast
1 1/2 tablespoons extra virgin olive oil
1 tablespoon unsweetened almond or soy milk
1/2 teaspoon dried oregano
1/2 teaspoon dried thyme
1/4+ teaspoon salt and pepper
1/2 cup sliced sun-dried tomatoes (not oil-packed)
1/2 cup chopped artichoke hearts
2 cups thinly sliced lacinato/dino kale (stems removed)
Step 1:
Preheat your oven to 375 F and grease a 9-inch pie pan.
Step 2:
Mix the almond meal, cornmeal, ground oats, thyme, salt, and pepper in a large bowl.  Add in the coconut oil and 1 tablespoon of ice cold water.  Mix thoroughly with both hands until the mixture starts to hold together when squeezed.  Add 1-2 tablespoons more water if needed to help hold together.
Step 3:
Press the mixture firmly into the pie dish starting at the center working your way out. Push the dough about 1-inch up the side of the pan.  Firmly pack the dough all the way around the sides and on the top edge.
Step 4:
Bake for 10-12 minutes until just starting to brown.  Let cool.
Step 5:
Add the oil to a sauté pan and place over medium heat.  Once hot add the leeks and a pinch of salt. Stir frequently for about 4-5 minutes, until just starting to brown.  Add in the garlic and stir for about 30 seconds – 1 minute.  Remove from heat.
Step 6:
Place tofu, nutritional yeast, olive oil, milk, oregano, thyme, salt and pepper in your large food processor. Turn on and process until smooth, scraping the sides of the bowl as needed.
Step 7:
Empty into a mixing bowl and stir in the leek mixture. Then fold in the sun-dried tomatoes, artichokes, and kale until fully combined. Taste and mix in more salt and pepper if desired. Remember the crust has a good bit of salt in it.
Step 8:
Scrape the mixture on top of the crust and gently and evenly spread the mixture to the edges.
Step 9:
Bake uncovered for 32-38 minutes, until the tofu feels set and the crust is golden brown.  Let cool 10-15 minutes then slice with a sharp knife and remove each slice with a thin spatula. The top of the crust may crumble a bit, but if you pressed it in tightly it should be minimal.
Notes: You could also make these in individual sized baking dishes or in tart pans!