Vegetable Soup with Farro Recipe courtesy of Domenica Marchetti from Authentic Italian Soups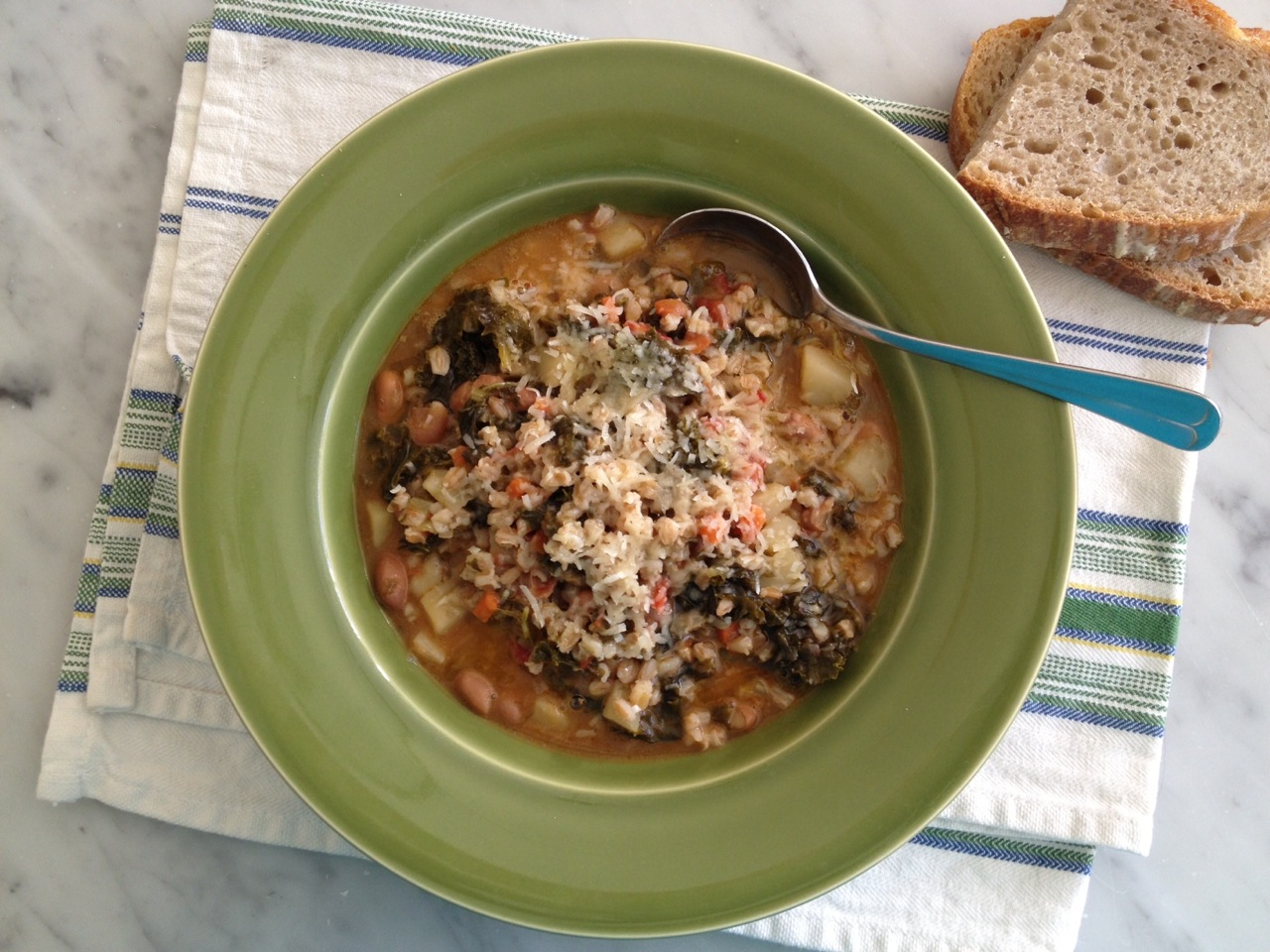 Ingredients
1/4 cup (60 ml) extra-virgin olive oil
1/3 cup (75 g) finely chopped carrots
1/3 cup (37 g) finely chopped onion
1/3 cup (33 g) finely chopped celery
1 tablespoon minced fresh flat-leaf parsley
1 teaspoon minced fresh rosemary
2 ounces (60 g) piece pancetta
1 small Yukon gold potato, peeled and cut into 1/2-inch (12-mm) pieces
2 cups (455 g) cooked cannellini beans or 1 can, 15 ounces (425 g) cannellini beans
1 cup (240 ml) tomato purée
1 1/2 cups (315 g) pearled farro, rinsed and drained
4 cups (950 ml) Homemade Vegetable Broth
1 small piece Parmigiano-Reggiano rind
Kosher or sea salt to taste
Best quality extra-virgin olive oil, for drizzling
Directions
Put the oil, carrots, onion, celery, parsley and rosemary in a Dutch oven or other heavy-bottomed pot, and set over medium-low heat. Cook, stirring often, for about 10 minutes, or until the vegetables are shiny and softened.

Add the pancetta and potato to the pot and cook, stirring often to keep the potato from sticking, for about 7 minutes, or until the potato has begun to soften and the pancetta has barely begun to brown. Stir in the beans and tomato purée and cook, stirring from time to time, for 5 minutes. Use a potato masher to coarsely mash some of the beans (leave some whole).

Stir in the farro and broth, and toss in the cheese rind. Raise the heat to medium-high and bring to a boil. Reduce the heat to medium-low, cover partially, and cook at a gentle simmer for 30 minutes. Taste and season with salt, if you like. Let the soup simmer for an additional 10 minutes, or until the farro is tender but still pleasantly chewy.

Ladle the soup into bowls, and drizzle a little of your best olive oil over each serving.
Variation
Some versions of this classic Tuscan soup call for the addition of Tuscan kale, a flavorful kale with long, crinkly, dark green leaves. Add a couple of handfuls, coarsely shredded, when you add the potato. Cook, stirring frequently, until the kale is wilted, then proceed as directed in the recipe. 
Yield: Serves 4.