Recipe courtesy of Catherine Ruehle from Intro to Cake Sculpting: Cake-osaurus Rex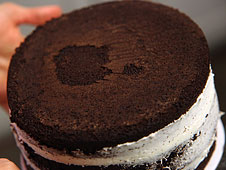 Ingredients
1 1/4 cups (160 g) flour
1 cup (200 g) sugar
1/3 cup (40 g) unsweetened cocoa powder
1 teaspoon (5 ml) baking soda
1/2 (2.5 ml) teaspoon salt
1 cup (240 ml) warm water
1 teaspoon (5 ml) vanilla extract
1/3 cup (80 ml) vegetable oil
1 teaspoon (5 ml) distilled white or apple cider vinegar
Directions
Preheat the oven to 350°F.

In mixing bowl combine the flour, sugar, cocoa, baking soda, and salt, whisking well to insure all is blended.

Add the water, vanilla, oil, and vinegar, and mix on low-medium to combine, scraping down sides of bowl.

Bake at 350°F until a toothpick tests clean.

This recipe makes 1-8 inch round cake.
High Altitude Adjustments: Increase flour by 1/4 cup. Bake cake at 325°F for 25 minutes.