This vegan Caesar salad is one of my very favorite salads to date. It has everything I look for in a salad, especially crunch! The kale, romaine, roasted chickpeas and almonds provide ample amounts of crispy bite, while the rick and creamy dressing ties the whole salad together.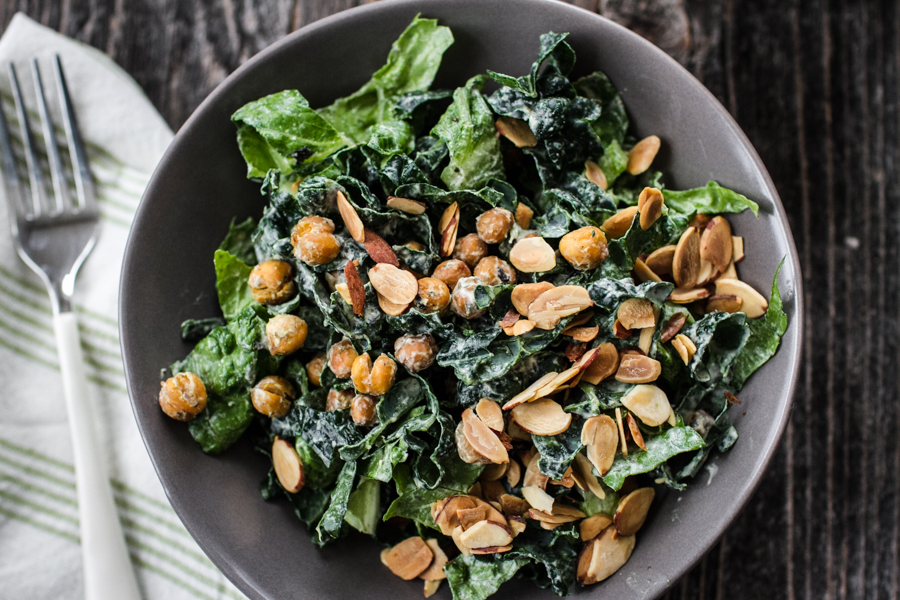 Photos via Edible Perspective
Are you ready to learn how to make a vegan Caesar salad with crunchy roasted chickpeas and almonds?
It all starts with the dressing. Since this salad is vegan, we're obviously not using anchovies in the dressing. But how else are we going to infuse the dressing with a bit of sea-like flavor?
Enter, nori! You know, what your sushi is wrapped up in! Cool, huh?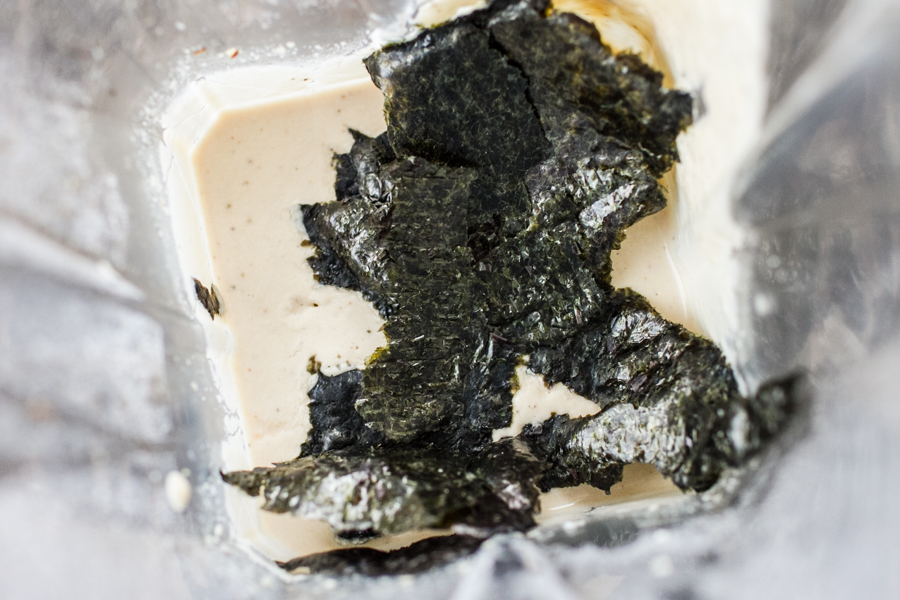 Nori provides just the right amount of flavor to make this taste similar to Caesar dressing. And while most vegan Caesar dressings are solely cashew-based, I decided to mix the cashews with chickpeas to lighten it up a bit. Don't worry, it's still extremely thick and creamy!
Mixing kale and romaine is probably my very favorite base for a salad. Sometimes an all-kale salad can be a little overwhelming. So much chewing! The easier-to-chew romaine helps balance things a bit.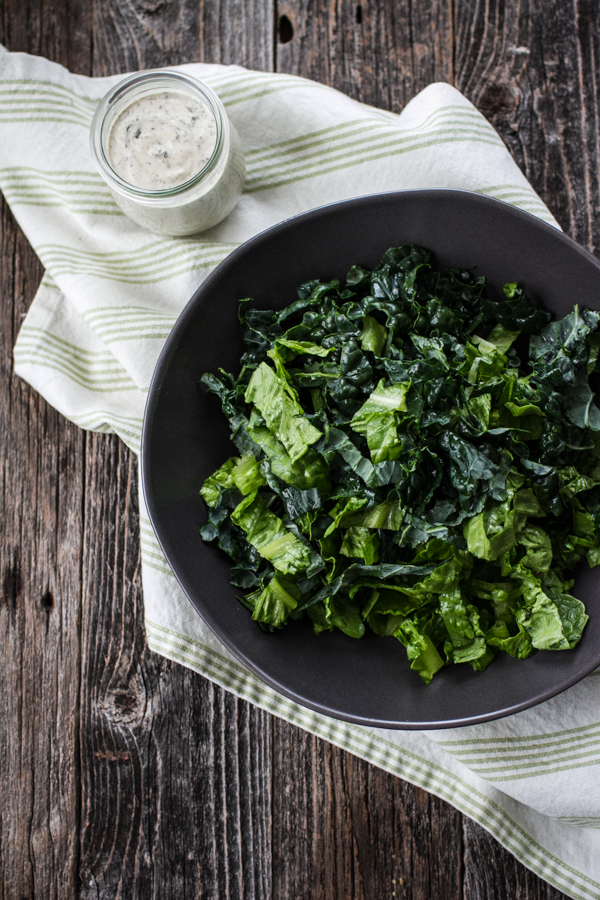 And then, the crunchy roasted chickpeas. These may be the star! I figured out the perfect method for roasting these to crispy perfection. Get this, you roast them twice!
I thought they were fully crispy after 45 minutes of roasting, but after they cooled and I tasted a few and they still had too much chew. I thought I would try throwing them back into the oven and 10 minutes later, wouldn't you know they were fully crisped.
I could eat these all day long.
Throw on some sliced almonds for more roasted flavor and crunch and your meal is complete!
If you're trying to make this for a work lunch, just prep all your ingredients and keep them separate. When you're ready to eat, pour on the dressing and add all ingredients to one large container. Shake with the lid on and you're all set.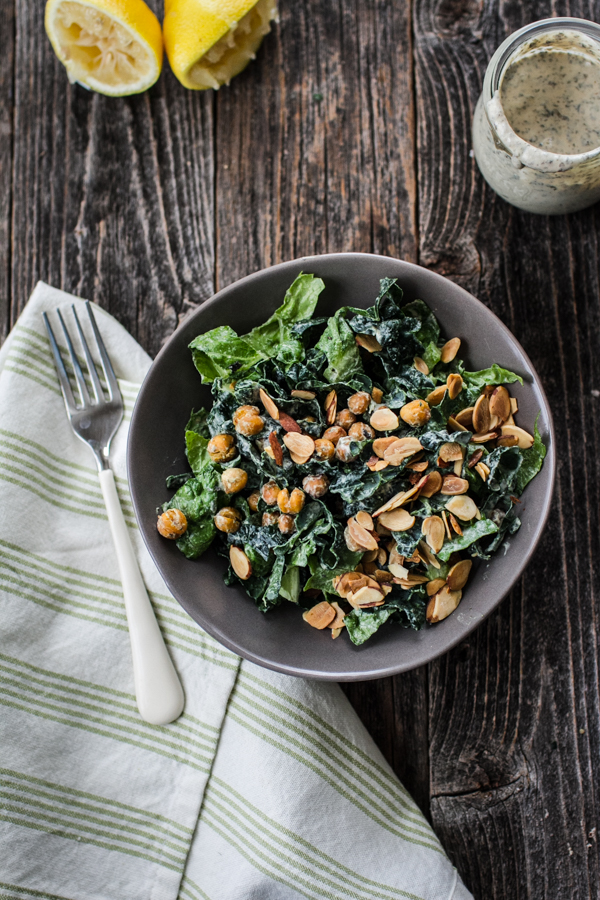 Recipe for vegan Caesar salad with roasted chickpeas and almonds
Yields: 4 large servings
Adapted from my Vegan Caesar Lettuce Wraps 
Ingredients:
1 1/2 cups cooked chickpeas
1 tablespoon avocado oil, (or other cooking oil)
1/2 cup sliced almonds
1/2 cup cooked chickpeas
1/3 cup raw cashew pieces, soaked for at least 4 hours or overnight
5-6 tablespoons fresh lemon juice
1/3 – 2/3 cups water
2 tablespoons cashew butter (almond butter or tahini)
2-3 teaspoons gluten-free tamari/soy sauce
1 medium clove garlic
1 teaspoon agave (or honey)
1 teaspoon stone ground mustard
3/4 of an 8″ x 8″ sheet of sushi nori
Salt and pepper, to taste
1 head lacinato kale, (de-stemmed)
1 small head romaine lettuce
Step 1:
Preheat your oven to 375 F. Place 1 1/2 cups chickpeas on an un-lined, rimmed baking sheet and toss with oil. Sprinkle liberally with salt and pepper.
Step 2:
Roast chickpeas in the oven for about 40-45 minutes, turning once or twice while roasting. Chickpeas will be deep golden brown and split open. They won't be fully crunchy yet. Remove from the oven for 10-15 minutes, then place back in the oven for another 10 minutes, until fully crispy. (The second roast is crucial for extra crispy chickpeas.)
Let cool before adding to the salad.
Step 3:
While the chickpeas roast, place the almonds on another baking sheet and toss with 1 teaspoon of tamari (optional). Roast until golden brown, turning a few times so they don't burn. About 10-15 minutes.
Let cool before adding to the salad.
Step 4:
Meanwhile, rinse and drain your chickpeas and soaked cashews and place in a high-speed blender with lemon juice, 1/3 cup water, cashew butter, 2-3 teaspoons tamari, garlic, agave, mustard and 1/2 teaspoon black pepper.
Step 5:
Blend until fully smooth, scraping the sides as needed. Add more water as needed to thin to desired consistency.
Step 6:
Crumble 3/4 of an 8″ x 8″ sheet of sushi nori and blend into the dressing until the nori is incorporated and chopped into small pieces.
Step 7:
Taste and adjust flavors as necessary, adding more lemon, salt and pepper, and/or the last 1/4 sheet of nori if desired. (Avoid adding more tamari for extra saltiness as the flavor will become too pronounced.)
Step 8:
Refrigerate in a sealed jar for about 5 days. Dressing thickens as it sits. Thin out with water and/or lemon juice as needed.
Step 9:
Stack kale and romaine leaves and slice into ribbons. Pat dry if needed. Place in a large bowl and toss with desired amount of dressing. You may want to massage it in a bit.
Top salad with roasted chickpeas and almonds.
Recipe notes:

Nori is crucial for the sea-like flavor. Taste as you go and add salt/pepper/lemon to your liking.
Quick soak cashew method: Place cashews in a small pot and cover with water. Bring to a boil, covered, then remove from the heat and let sit for 1 – 1 1/2 hours (still covered). Drain, rinse, and you're ready to go. Or soak with tap water for 4-12 hours on the counter.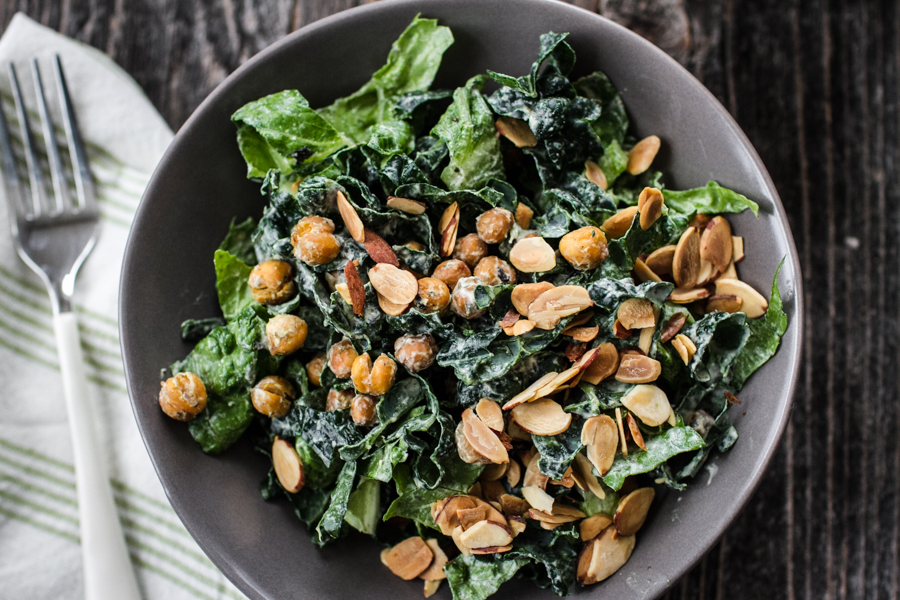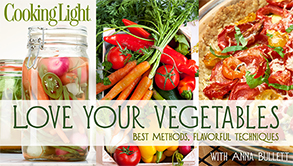 Put fresh vegetables at the center of your plate! Get instant access to included, downloadable recipes and even a bonus lesson on refrigerator pickling in the online cooking class Love Your Vegetables: Best Methods, Flavorful Techniques, taught by Cooking Light executive chef Anna Bullett.
Join Now!
What makes online Craftsy classes great?
Learn for life! With lifetime access to your classes, you can watch lessons at your preferred pace and easily revisit your favorite concepts with just a click.
Kick up your feet! Enjoy classes anytime from the convenience of your home or even on-the-go with our mobile apps.
Get personalized guidance! Ask your instructor questions to receive all the answers and feedback you need to succeed.
Love it! There's no risk in trying with our 100% money back guarantee.