Post-Impressionism is an art period that took place for the last two decades of the nineteenth century (more precisely from 1886 to 1914) during which many famous and iconic modern artworks were painted.
The term "Post-Impressionism" was first used by artist and art critic Roger Fry in London, for a 1910 exhibition at the Grafton Gallery: "Monet and the Post-Impressionists." At the time, he was looking for a term that would underline both a continuity with Impressionism and a departure from it.
The most famous Post-Impressionist artists are Paul Cézanne, Paul Gauguin, Georges Seurat, and Vincent van Gogh. These artists influenced generations of artists to come, and Post-Impressionism is, in many ways, considered to be at the root of modern art.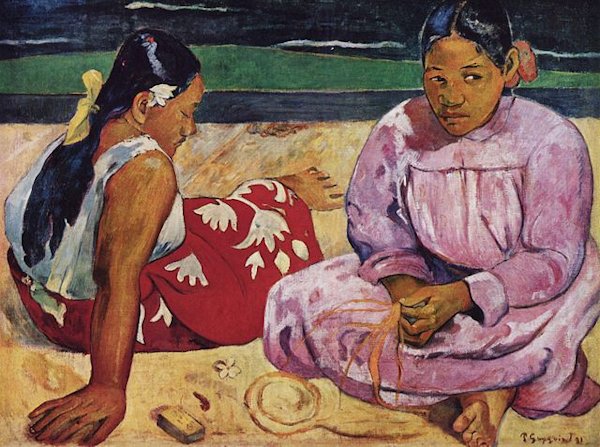 Paul Gauguin (1848–1903),  Tahitian Women on the Beach.
Gauguin liked exotic themes with symbolism and traveled to Brittany, Provence, Panama, and Polynesia  in search of a primitive lifestyle. Flat areas of emphasized colors with black outlines and simplified shapes are characteristics of his painting style. His work is considered a precursor of Fauvism.
The Post-Impressionists were an eclectic group of younger artists that were rebelling against Impressionism which had become mainstream at that point.
They used various styles of painting and approaches to express their unique view of the world: more geometric and definitive  forms, unnatural, bold  and simplified colors and sometimes symbolic content. Even though the style was still figurative, Post-Impressionists were starting to experiment with a bit of abstraction by simplifying the shapes and laying the emphasis on the artificiality of the picture with such characteristics as cropped and flattened perspectives. They were followed by Cubism, Fauvism and Abstract Art.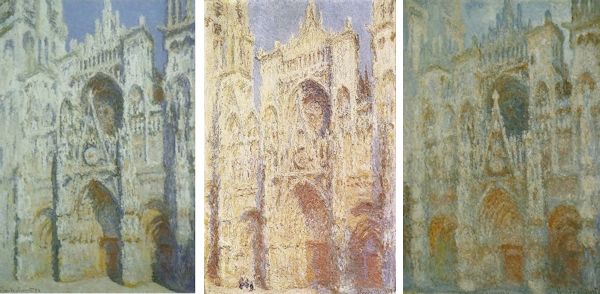 Impressionist painter Claude Monet painted more then 30 views of the Rouen Cathedrale facade, studying the variations of light at different times of the day and of the year.
Post-Impressionist artists did, however, share some similitude with their Impressionist predecessors.
In particular, in their choice of everyday life subjects, which was a breakthrough from traditional religious and mythological subjects. They also used bold colors and thick brushstrokes. But as Impressionist artists were interested in recording on canvas the fleeting effect of light and color of nature, Post-Impressionist artists wanted to break away from naturalism. Instead, they painted with emotion and were interested in a more individual, subjective and creative view of the world.
See Paul Heaston's post here about the Masters of Impressionism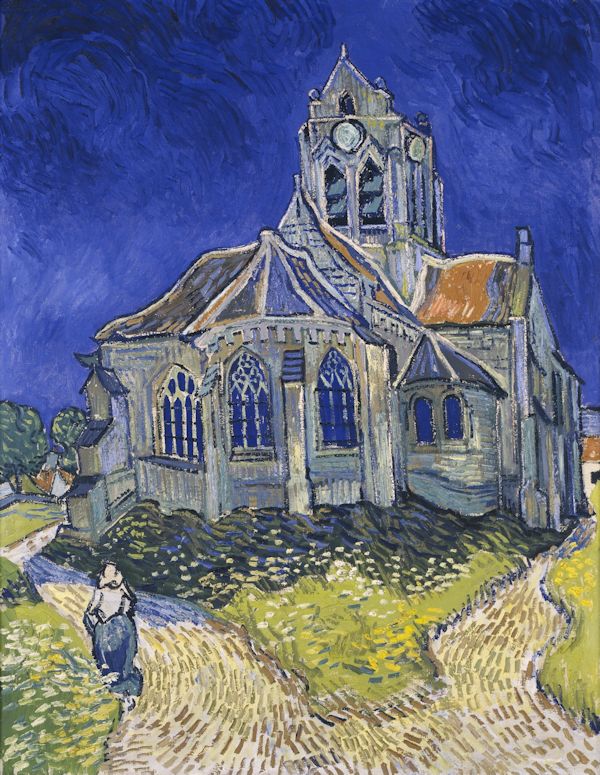 Vincent Van Gogh- The church at Auvers sur Oise
Painted in June 1890,  a few months before his death, Vincent van Gogh distorted the shape of the church, this makes the picture appear more gloomy and anticipated the works of Expressionists.
Vincent Van Gogh is considered the greatest Dutch painter after Rembrandt and is one of the most famous painters in the world.
He was largely self-taught and worked at a frantic pace, making about 900 paintings in his life. He struggled with mental illness and poverty most of his life and became the stereotype of the troubled artistic genius, selling only one painting on his living but becoming rapidly famous after his death.
His body of work can be split into two main periods:
Pre 1886: He was painting very much in the Dutch style with dark and earthy colors.
Post-1886: Upon moving to Paris, he adopted the bolder brushstrokes and vibrant colors of the Impressionists, and accentuated them.
The emotional intensity of his painting conveyed by expressive colors and exaggerated rhythms has connected with millions of art lovers. He died at the age of 37, influencing generations of artists after him as he was one of the precursors of early Abstraction, Fauvism, and Expressionism.
What do you think made Vincent Van Gogh appealing to such a wide audience even today?