Have you ever taken a closer look at your yarn? I mean really looked? The yarns in your stash are as different as you and me, and each yarn has its own special texture that can make the most of your knitting project.
Knowing about characteristics like yarn textures is super important, especially when you are substituting yarn or even choosing yarn for your own designs. Certain yarn textures, for instance, can highlight cables while other textures make a project instantly cozy.
Take a look at some different yarn textures and how they can make the most of your knitting stitches.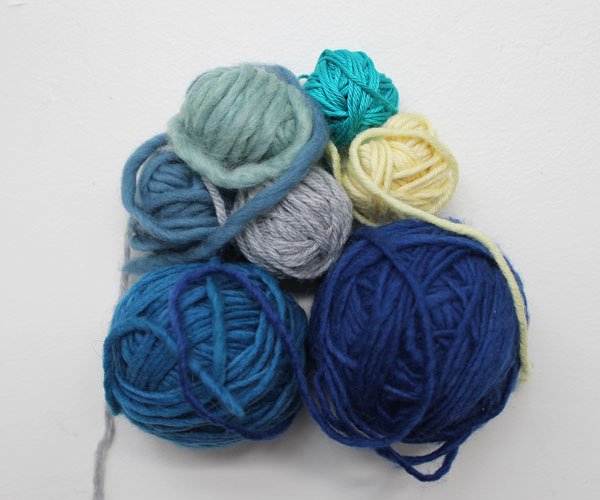 Yarn ply
Yarn ply is simply the strands that are twisted together to form the yarn. Pick up some random skeins of yarn from your stash and notice the twist in each one. If you're curious, you can even untwist the strands at the end of the yarn and count how many there are. If you only see two strands, then you have a two-ply yarn. If you untwist three strands, you have a three-ply yarn.
Yarn ply can totally affect the texture of your knitting project. A general rule to remember: The more plies the yarn has, the more defined the stitch definition will be. Yarns with a lot of plies are twisted tighter and are therefore great for cables and other special stitches that you really want to show off.
Let's look at a few different plies as examples.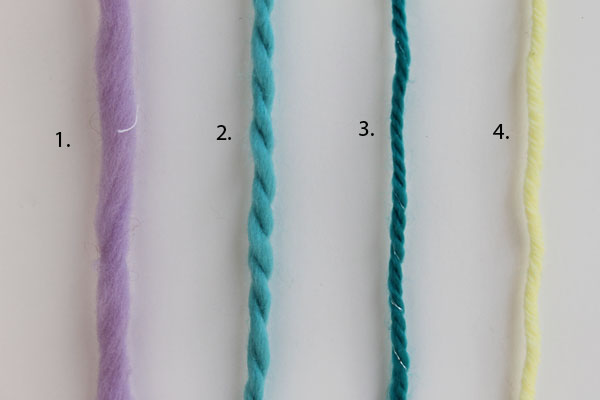 1. Single ply: Debbie Bliss Como
This yarn has only one twist in it, making it single-ply. The stitches you knit with this yarn won't have a lot of definition. They may even look a little fuzzy. Yarns like this are often used to knit warm, chunky accessories you can cozy up to. Think scarves and cowls!
2. Two-ply: Paton's Beehive Baby Chunky
This oh-so-soft baby yarn has only two strands twisted around each other. You'll get a little bit of stitch definition with this one, but I wouldn't use it to knit cables; the definition of the cable would probably be lost. Like the single-ply yarn to the left of it, this yarn would also be great for basic stitches on cozy garments and accessories.
3. Three-ply: Cascade Cherub Aran Sparkle
I love this yarn because it's soft, inexpensive, and it has that awesome bit of sparkle running through it! This yarn has three twisted strands and would be a good choice for a cable pattern or any other special stitch that you want to show off.
4. Ten-ply: Mystery yarn from my stash
I untwisted this mystery yarn to find ten fine, individual strands of yarn. Yarns like these have the ultimate in stitch definition because they're twisted so tightly. This yarn would also be a great choice for cable patterns.
Yarn textures
Ready to get crazy? Let's play with yarn textures. Yarn textures can vary from fuzzy yarn to ribbon yarn and even yarn embellished with beads. Knit with a textured yarn if you want to steer clear of a well-defined stitch in your project, and avoid yarns like these if you're working with cables or another textured knitting stitch. Just keep it simple with stockinette or garter stitch and let these yarns do all the talking on their own.
Take a look at a few yarns with interesting textures: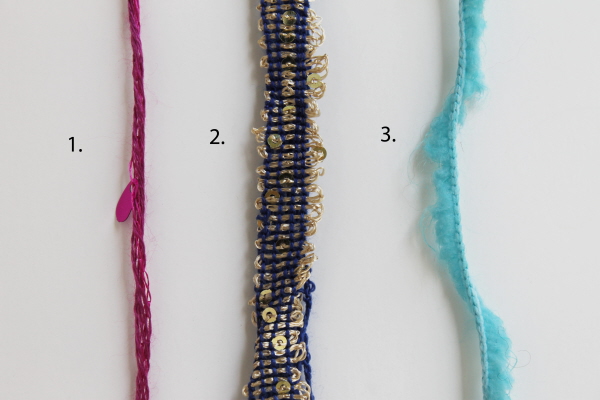 1. Red Heart Boutique Swanky: This yarn is embellished with little tear-drop sequins that add sparkle to your project. Check out this Elegant Bib Necklace to see the yarn worked into a gorgeous piece of jewelry.
2. Red Heart Boutique Sashay Boho: You've probably seen a lot of these trendy ribbon yarns around lately. If you're yarn shopping on Bluprint, grab this Loop-d-Loop yarn from Teva Durham Fern Yarn that has a similar texture.
3. Berroco Plush: This yarn (sadly discontinued now) is the perfect amount of fuzzy. I've used this yarn to make accessories like smartphone cases because it offers little to no stitch definition. The knitted fabric just looks like a solid wall of plush!
[box type="shadow"]
Want to dig even deeper into the world of yarn? Join Clara Parkes for Know Your Yarn, a class that shows you how to find the perfect yarn and even evaluate the yarn right in your local yarn store.
[/box]
What texture of yarn do you find yourself knitting with most often?