Machine embroidery appliqué techniques are as diverse as the designs that are stitched. Everyone has their own special ways of doing things. Whether to using fusible for machine embroidery appliqué, glue or nothing at all on your fabric is one of the many choices we make when stitching. But knowing which option to choose is difficult as many stitchers wonder if they should use fusible appliqué or not.
Using a fusible, or even glue, can absolutely be viable techniques to consider. Let's delve into some of the options you have that can make your stitching a little easier.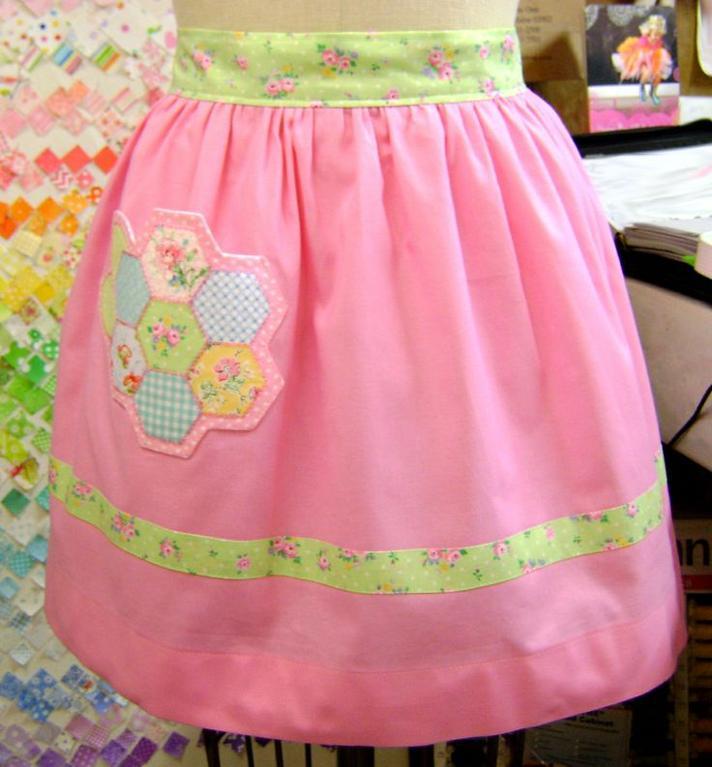 Pastel Retro Apron via Craftsy class Machine Embroidered Appliqué
When stitching machine embroidery appliqué that uses the traditional method of tackdown and trim, there are two additional options for attaching the appliqué fabric to the background fabric. One, you could use a fusible on the back of the appliqué fabric, or two, you can use a glue stick on the background fabric inside the placement lines.
Get step-by-step instruction on all of these appliqué techniques in the Craftsy class Machine Embroidered Appliqué with JoAnn Connolly.
Method 1: the fusible
This method is most often used with pre-cut appliqué shapes that are cut using a die-cutting machine or an electronic cutter. The fusible is applied, and the shape is cut before removing the paper. You can score the paper with a pin for easy removal. The placement lines are stitched and the shape is fused with a mini iron just inside or on top of the placement lines. 
The advantage of using fusible for machine embroidery appliqué is that the shape stays in place during the decorative machine appliqué stitch, and it prevents fraying around the edge of the fabric as you work with it.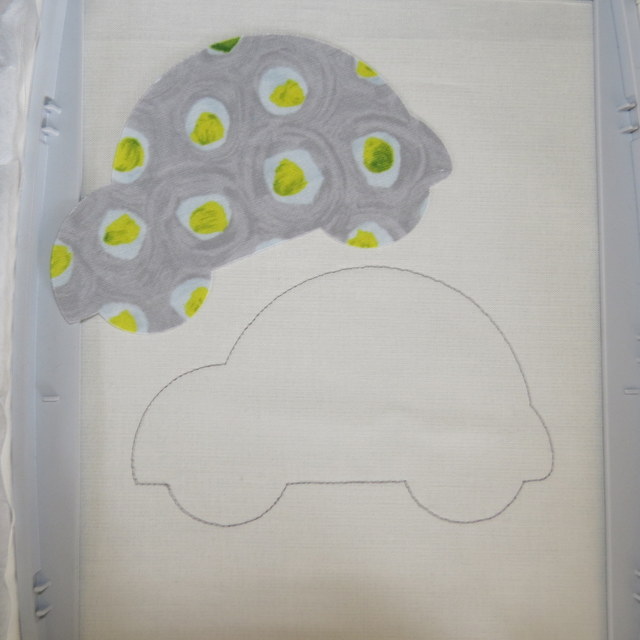 This method can also be used for the traditional tackdown and trim method, but the paper backing is removed before the fabric is placed for the tackdown stitching. Once the tackdown stitches are complete, the shape is trimmed to fit and the decorative stitching is completed.
Does fusible type matter?
Yes! The type of fusible does matter. The goal is to have a soft and pliable machine embroidery appliqué. Thus, selecting a lightweight but secure fusible is advised. It is easy to evaluate the pliability of a fusible just by working with it.
I recommend trying different types to find the one that works best for you and for a particular project. Just like making a stitch bible, one can also make samples of fusibles and stabilizers used in embroidery to include in your "bible."
Some have reservations about using fusible with their appliqué, but my experience with fusible has been excellent. I have quilts that were made over 30 years ago with fusible machine embroidery appliqué that have been washed and used constantly, and the fabric colors and appliqué are still beautiful.
Method 2: glue
With this method, the placement line is stitched and then a light coating of glue is applied to the background fabric, just inside the stitching. The fabric is then laid over the placement stitches and is smoothed and finger pressed lightly over the area.
A mini iron can be used to help dry the glue if preferred, but there is no need to wait until the glue dries. The tackdown stitches are completed, the fabric is trimmed and the decorative machine embroidery appliqué stitches are completed.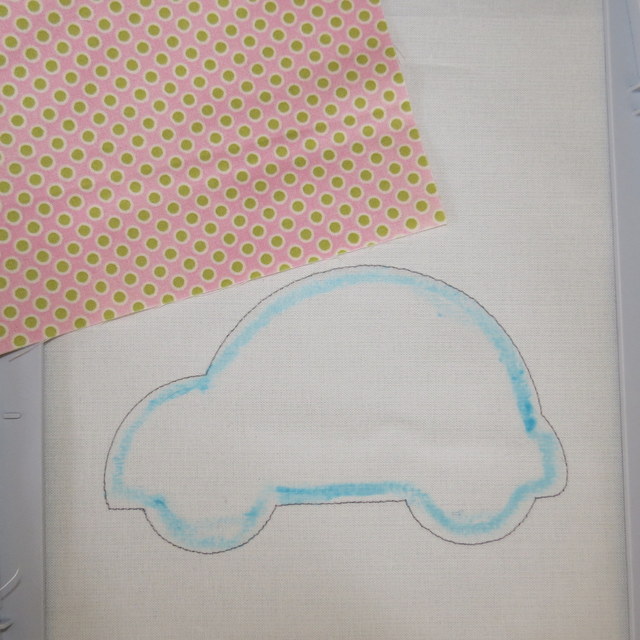 Does the type of glue matter?
Just like with a fusible, the type of glue matters. There are several different types of glue that can be used with machine embroidered appliqué. Most importantly, whatever glue is selected should be acid-free and water soluble. A glue stick is definitely preferred.
I often use Elmer's school glue stick (the purple one), a fabric basting stick or a glue pen. When glue is used, it is recommended that the project be washed after completion to remove any excess glue. In fact, that's the advantage of glue — it all washes away!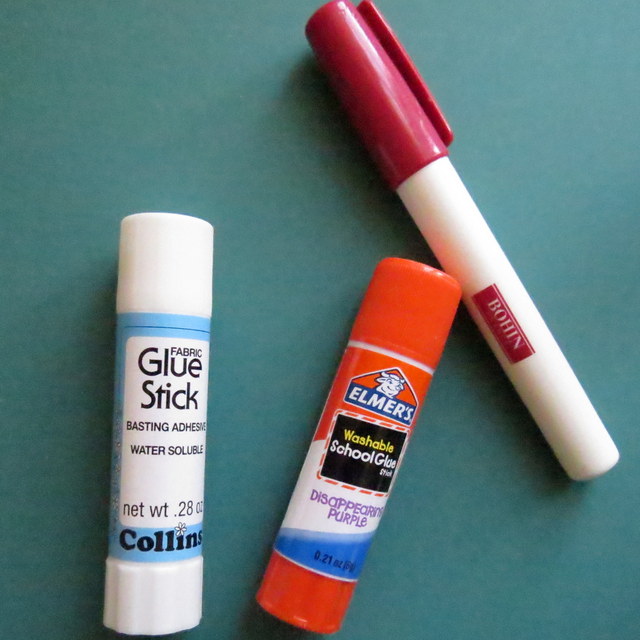 Again, it should be noted that some people have reservations about whether the glue will affect the thread or needle. My experience is that even when the glue is slightly damp, it does not have a negative effect on the appliqué process.
So there you go, knowing if you should use fusible appliqué is really about what's the best option for you and your project. Regardless, now you know two great options for making your appliqué process just a little bit easier! Happy stitching!
You might also enjoy our tips for machine embroidery appliqué.
When attaching pieces, what's your preferred technique? Would you choose a fusible or glue with your machine embroidery appliqué?