I've considered buying a dress form for years, but I always thought it would only be helpful for my sewing projects. Like a lot of other supplies we think of as strictly for sewers — seam rippers, buttons, thread — dress forms can actually be super helpful for knitting, too!
I discovered just how helpful they could be when my boyfriend bought me one for my birthday in December. Since then, I've used it for both sewing and knitting, and it's equally helpful for both. I'm not just talking about fitting here, either. There are lots of ways a dress form can come in handy.
Don't let the sewers have all the fun. Here are a few ways that dress forms can help you with your knitting.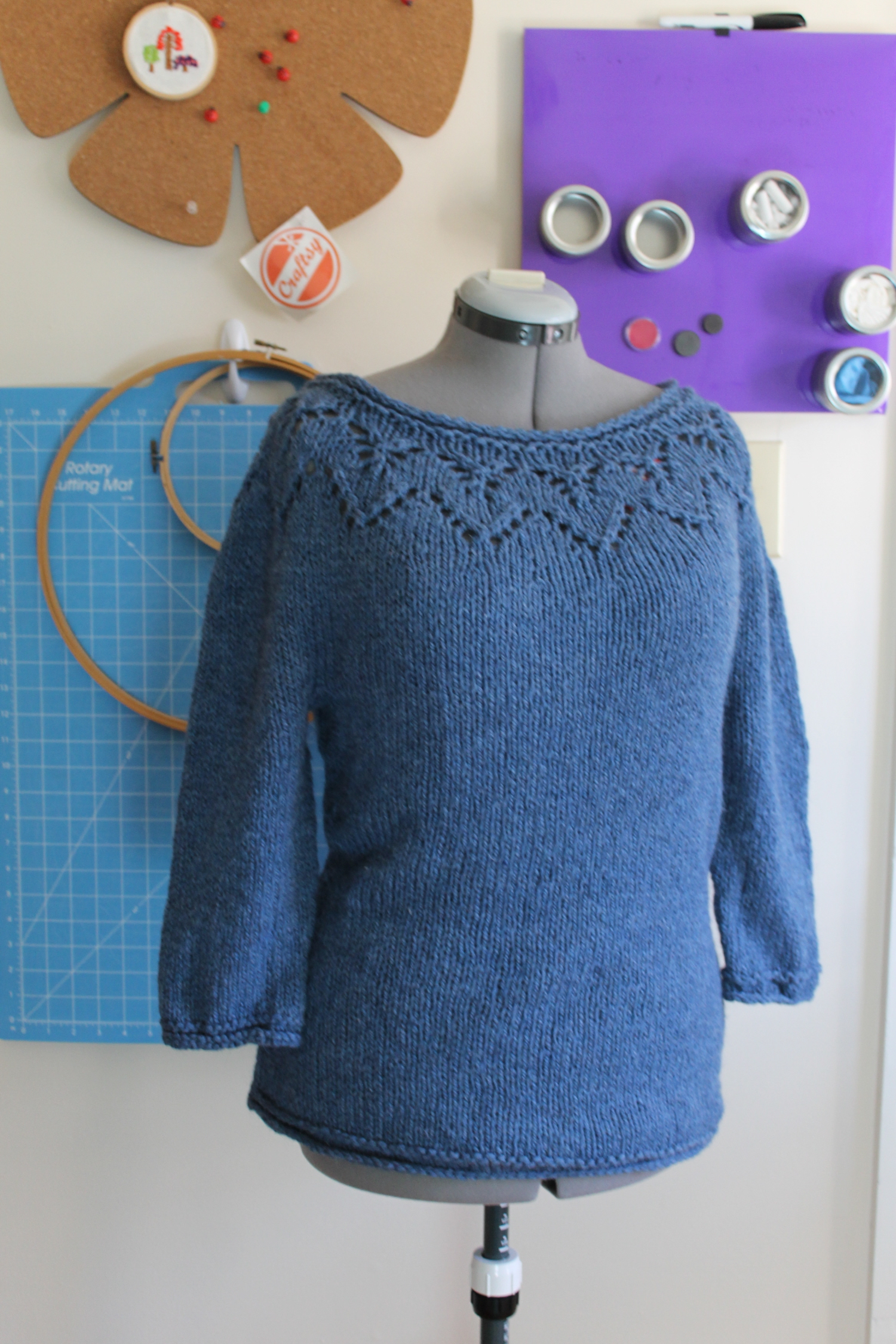 I used a dressform to check the fit on my Lace Wedge Yoke Sweater from Eunny Jang's Choose Your Own Sweater Adventure class
Fitting
Well this is obvious, isn't it? The dress form's main purpose is to help us with fitting issues. Trying on a sweater as you knit isn't always possible. For me the issue is that I'm using a circular needle that holds all the stitches but isn't long enough to slip over my shoulders. With a dress form, I can slip the sweater over more carefully and even make the shoulders narrower until the needle is safely over them.
This was the case with the Lace Wedge Yoke Sweater from Eunny Jang's Choose Your Own Sweater Adventure class that I knitted. I was checking some bust measurements, but I still had the sweater on a 16″ circular needle, so I didn't want to risk putting that over my head. After adjusting some of the dials, I was able to put it over the dress form without having any live stitches to deal with afterwards.
Seeing it from all angles
You can try on the garment, sure. But can you see that pucker in the back or that gap in the seam of the sleeve? Trying the garment on the dress form lets you see it from every angle and examine it much more closely than when it's on your body. Plus, you can tuck, pin, darn, or do whatever you need to do in order to remind yourself where the issue is. No need to wait for a buddy to pin it for you!
Photographing your work
It can be difficult to photograph your finished garments. Even if you have a friend to help, it's a pain to schedule photography time with them, find just the right light — you know how it goes. I fussed with a tripod and a timer on the camera for years, trying to take just the right photo of me wearing the garment, but the photos never turned out as great as I hoped they would.
Instead of messing with all that, just display that garment on the dress form with a nice background behind it. And hey, if you can find just the right light and just the right photographer to photograph you wearing the garment, use that photo too!
Testing the drape of yarn
I often make larger swatches and pin them to the dressform to see how they're going to drape. This is especially helpful for shawl patterns when I'm using a yarn I'm not familiar with. You can even pin several swatches on there at once to compare. It's really helpful when you're feeling indecisive about a yarn choice. Sometimes it can even help with color choice.
Are you itching to get a better fit for your garments?
Try Knit Lab: Fit Your Knits with Stefanie Japel to get the down low on how to measure your body, plus how to remedy tight busts, boxy sweaters, and more. Sign me up! »
Do you use a dressform for your knitting? Do you find it helpful?