Unicorns have been so popular in cake form — and now, in cookie form, too! We've put together this post to help you make ridiculously easy unicorn cookies in no time. First of all, you don't need a fancy unicorn-shaped cutter to make these cuties. Plus, this tutorial is royal icing–free, so if you're a beginner or pressed for time, there's no need for messy piping bags or hours of drying time! How magical is that?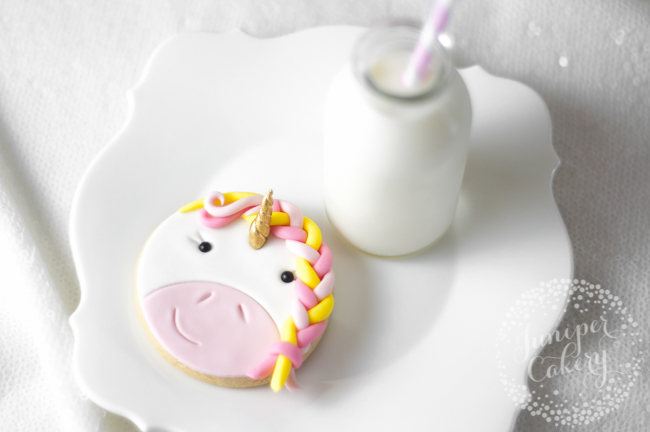 Easy unicorn cookies tutorial
What you need:
Baked round cookies
Two circle cookie cutters (one the same size as your cookies and the other smaller)
Small ball and veining tools
Light corn syrup
Edible glue
Fondant in white, pale pink, bubble-gum pink, yellow and tan
Small rolling pin
Edible gold paint
Food-safe paintbrushes
Black sugar pearl sprinkles
Step 1: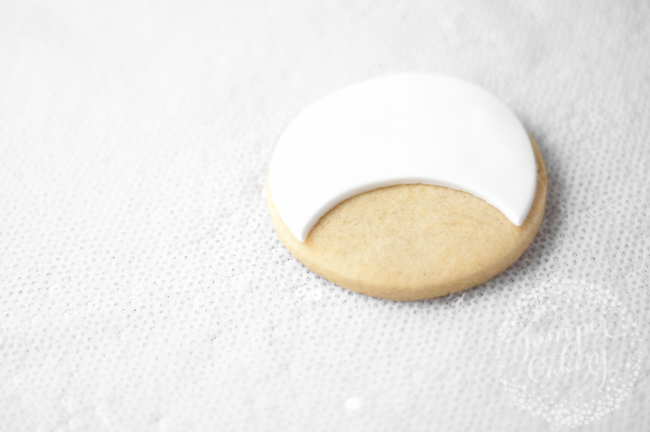 Roll out your white fondant and cut out a circle using the same size cutter you used to cut your cookies with. Then, use your small cutter to cut away the bottom half of the white fondant circle. This should make a fat crescent moon shape.
Tip! Don't throw away the the cut-out section from your white fondant! It'll come in handy in Step 2, when you'll use it to get the perfect size and shape for the unicorn's muzzle.
Brush your edible glue (or bit of light corn syrup) onto the cookie and attach your fondant piece in place.
Step 2: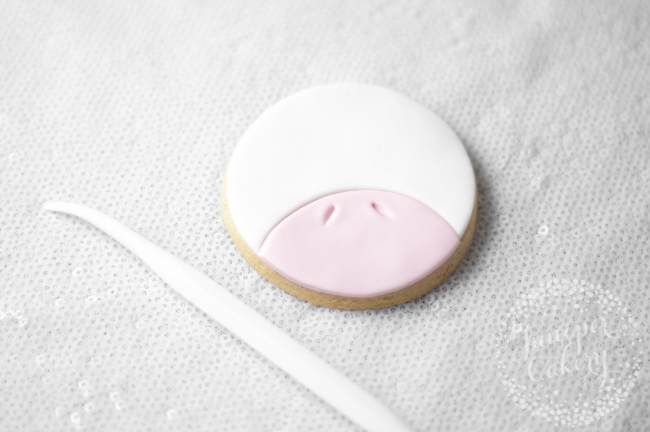 Roll out your pale pink fondant and use the smaller circle cutter to cut out a piece that fills the cut-out part of your white fondant. Remember the tip in the last step? Just use the white piece you cut away from Step 1 to check just how big your pink pieces should be.
Step 3: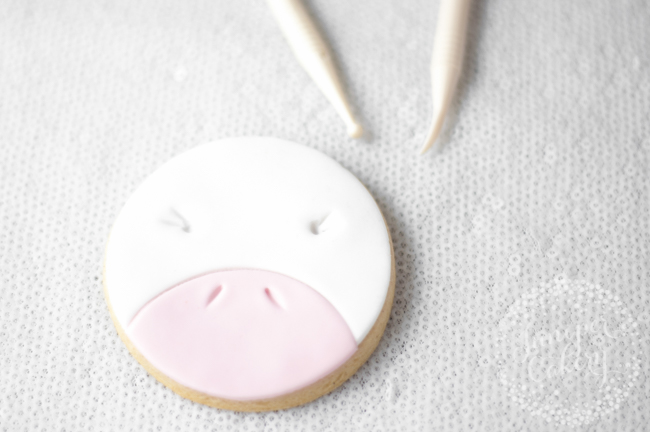 Add in facial features using your small ball and veining tools. Use the ball tool to make indentations for the eyes, and use the veiner to add a few eyelashes. Again, use your veining tool to add nostrils on the muzzle.
Note: You can add in a smile at this stage, too. We added in a cheeky little grin later on.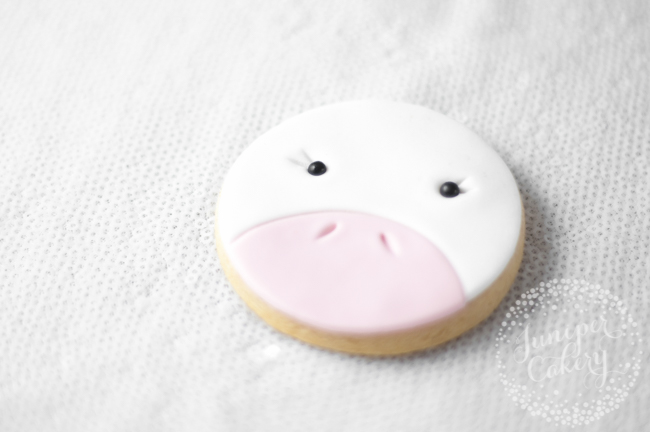 With a tiny amount of edible glue, attach two black sugar pearl sprinkles where you made the indentations for your eyes.
Tip: Never add too much edible glue. It can be slightly yellow in color, which is not going to look good if excess glue seeps out!
Step 4:
Now it's time for your little unicorn cookie's horn. Roll two small pieces of caramel-colored fondant into ropes, then taper them off at one end. Then lightly press both together, with the tapered ends matching up. Gently twist from the base to the thinner tops to make your swirly unicorn horn! Set aside to dry and harden a little.
Step 5: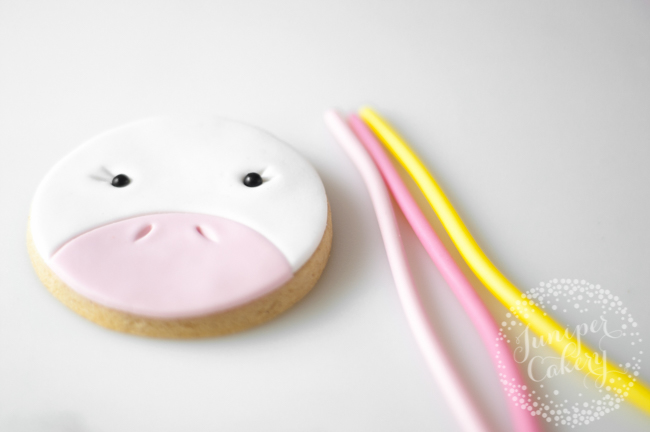 Next up, we'll make the unicorn's mane! Roll three ropes of fondant, each in a different color (we used your pale pink fondant, bubble-gum pink fondant and yellow fondant.
Tip: To get even and smooth ropes of fondant, try using an icing smoother to roll fondant back and forth.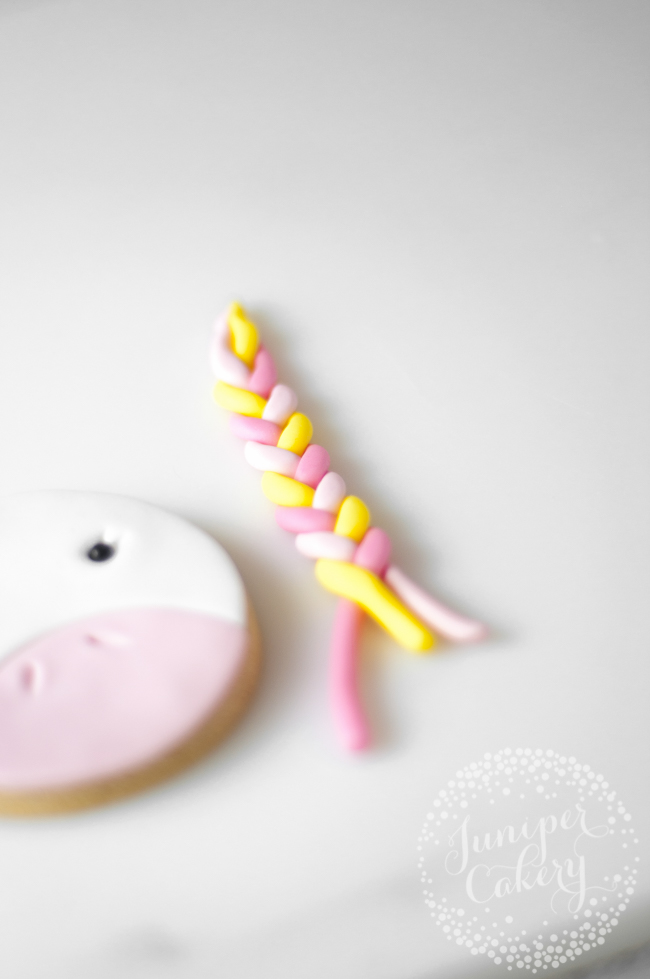 You can style your unicorn's mane however you like. We thought it'd be cute to make our's a little fashion-forward and braid its colorful hair! You can curl your fondant ropes into a fancy mane or even just add wavy locks.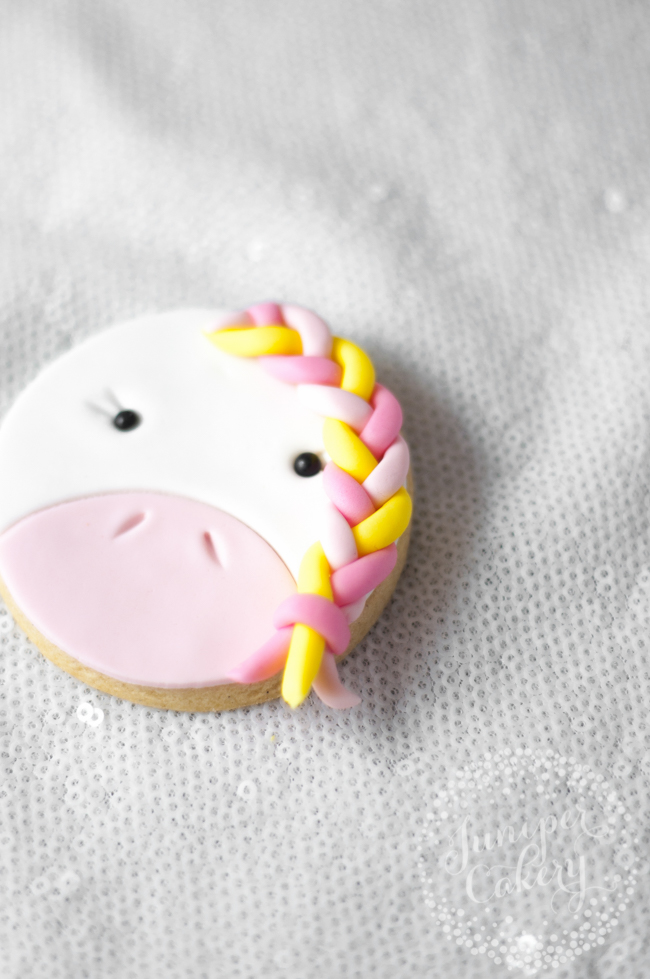 With some edible glue, attach your unicorn's mane to the top and sides of your cookie.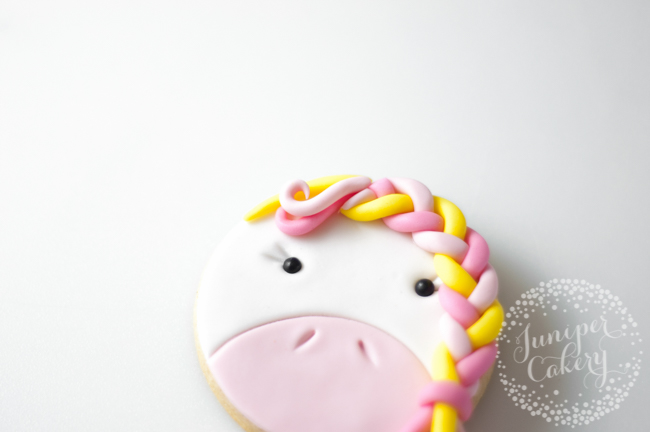 Step 6: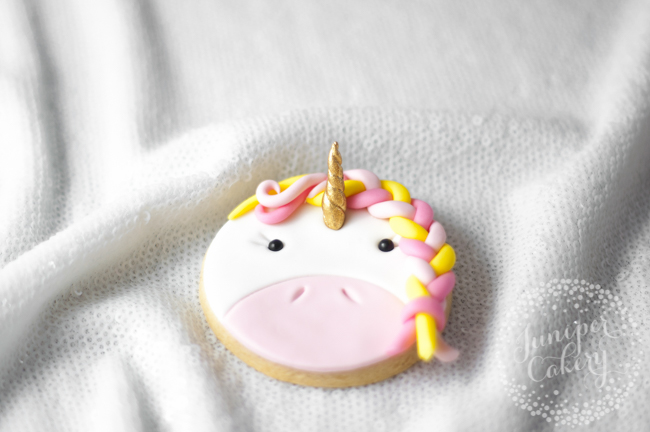 Now to really make your unicorn shine! It's time to add that glistening horn. With your small ball tool gently indent the center of your unicorn's forehead. Make sure the indentation is the perfect size for your horn. Add a little edible glue and then fix your unicorn's horn in place.
Once steady, you can paint your unicorn a glimmering gold.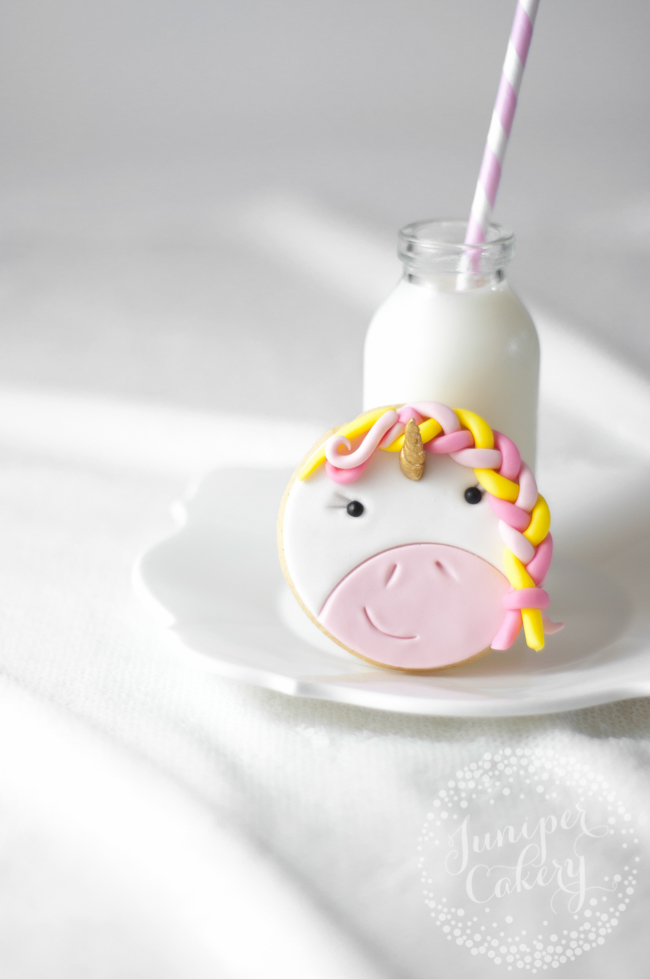 Yay! How cute is your unicorn cookie? Perfect for kids' parties, thank you gifts or just as a treat, this magically easy unicorn cookie tutorial is just the ticket!