If you are what you eat, then be magical and sweet! That won't be hard to do when you're serving a unicorn themed cake. From prancing pretties to majestic rainbow manes, here's a whimsical and imaginative collection of unicorn cakes. Taste the magic!

Photo via CakeSpy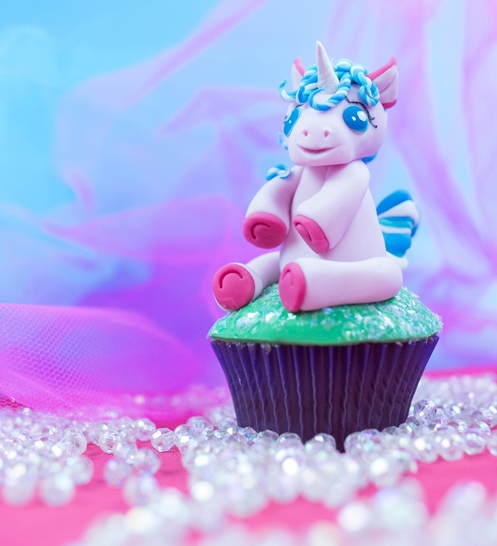 Photo via Paul Bradford Cakes
Unicorn Cupcake Toppers:
Believe it or not, this unicorn cupcake topper is actually quite simple to make! Simple shapes of fondant tinted in vibrant colors come together for a stunning effect, and sparkle sugar adds a bit of magic. The finished result is delightful and whimsical.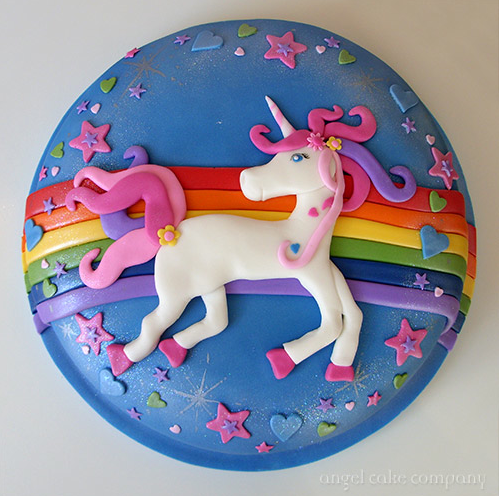 Photo via Angel Cake Company
Vibrant Unicorn Cake:
This rainbow wonder features layered shapes of fondant that come together for a stellar, groovy, and positively galactic result. A bright rainbow topped with a simple unicorn shape with a playfully curled mane makes for a seriously smile-inducing cake.
Rainbow Overload Unicorn Cake:
This cake is pure magic, plain and simple! Textures and shapes have a common theme: rainbows! Even the cake under all of the decoration is rainbow tinted layers, but it's what's on top–rainbow spirals, kaleidoscopes, corkscrews, and flowers, all garnishing an impeccably molded unicorn shape–that makes it seem almost too pretty to cut into and eat!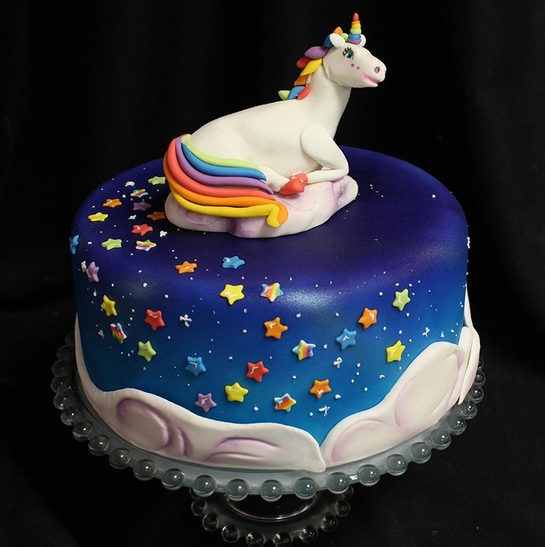 Photo via Amanda Oakleaf Cake Designs
Lisa Frank Inspired Unicorn Cake:
Commissioned to make a Lisa Frank-inspired cake (to those not in the know, that's a popular artist for technicolor and cosmic kids' stationery and products, primarily in the 90's), a cake designer came up with this delightful cake, which features a gorgeous gradient on the cake's backdrop, which is then topped with multicolored stars, swirling clouds, and–of course–a majestic unicorn with a rainbow mane on top!

Photo via Complete Deelite
Rainbow and Pastel Unicorn Cake:
Understated pastel gets a seriously magical makeover on this cake. Muted white and blue tiers are adorned with simple geometric shapes and flowers in quiet pink and lavender…but then come the rainbows! Fondant rainbow bead-shaped borders and a cascading rainbow behind a unicorn make this cake eye-catching and memorable.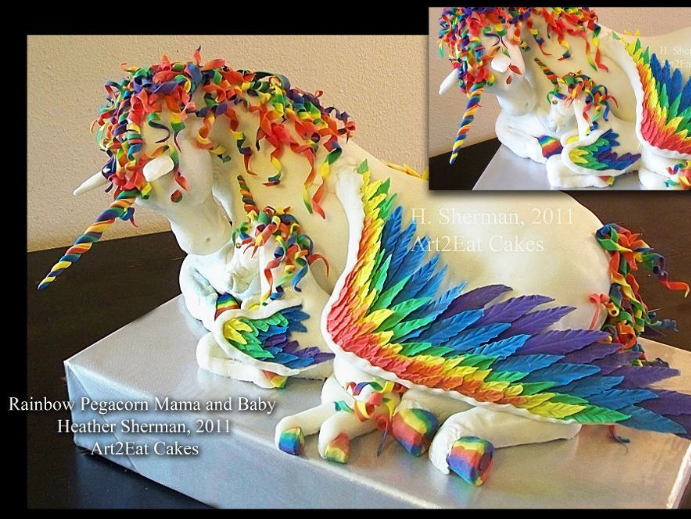 Photo via Craftsy member Art2Eat Cakes
Amazing Unicorn Cake:
This cake is made using fondant, rice krispie treats, gum paste, and buttercream, but the finished result is so much greater than the sum of its parts! This is a true sculpted work of art, with an impeccably shaped unicorn flanked by a baby unicorn. Both could practically pass as real ponies, if it weren't for the rainbow wings, hooves, and horns.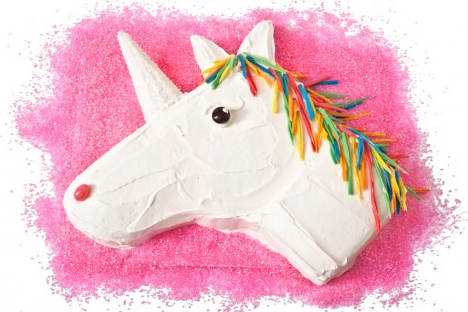 Photo via Parenting.com
Sweet Unicorn Cake:
For a cake that's simple but very, very sweet, consider this easy-to-make unicorn cake. Simply cut a sheet cake into a horse's "bust" shape, top it with an ice cream cone for a horn, and adorn with rainbow candy for a mane and other facial details, and you've got yourself an absolutely charming cake!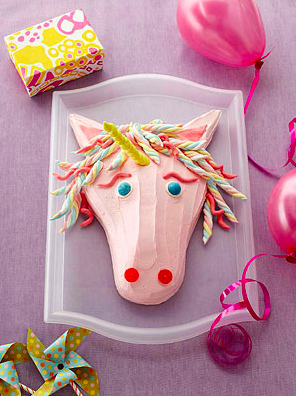 Photo via Parents.com
Unicorn Face Cake:
This is another variation on the unicorn face, featuring a frontal view. Similar to the cake featured above, this cake is cut to form a horse's head shape, and then adorned with buttercream and bright candies to form facial features and (most importantly!) the horn. Simple and sweet, it is a sure crowd pleaser.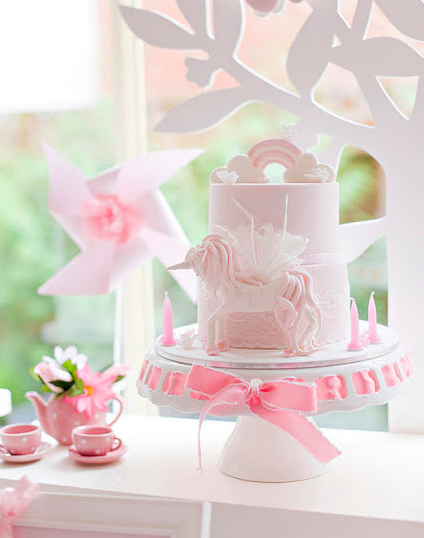 Photo via Kara's Party Ideas
Sophisticated Unicorn Cake:
Unicorns can be sophisticated as well as magical, and this cake serves as proof. The petal pink color featured on the cake and its unicorn garnish make for a classy, silhouette-like look which may not be as flashy as some of the bright rainbow cakes, but is certainly beautiful enough to act as a party centerpiece!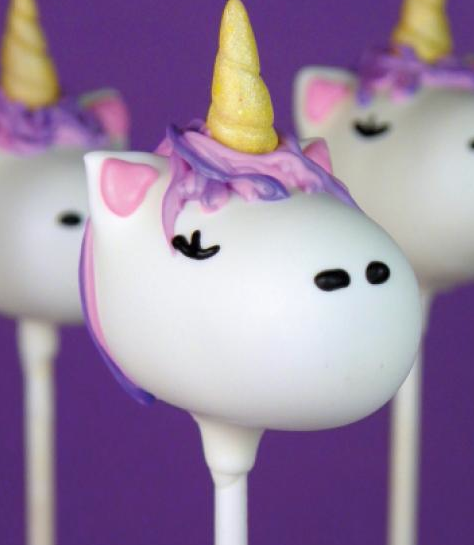 Photo via My KC Bakes
Unicorn Cake Pops:
For a more casual take on the cake, why not make unicorn cake pops? Topped with white melted chocolate and melted candy manes and horns, the sweet expression on these pretty pops is bound to charm eaters and make these treats a high demand favor or party snack!
Talk about a unicornucopia of wonder and whimsy! May these sweet cakes inspire you to create your own mystically delicious treats! Take your cake sculpting skills to new heights with the online Craftsy class Sculpted Dog Cake and create any sculpted celebration cake. Or accompany your unicorn with a castle cake with guidance from Sharon Wee in Design Your Own Castle Cake. Plus, come back to the Craftsy blog tomorrow for an adorable roundup of princess cakes.