I've been taking nature and landscape photography for a few years now, and over this time I've developed a list of the gear I bring with me on almost every shoot. On this list are items I find indispensable, items that makes my life as an outdoor photographer easier, enable me to fully exercise my creativity in any weather, or and allow me to safely reach the places I want to photograph.
Not every item on the list makes it into my camera bag for every outing, the season, weather, and location will dictate what I bring. But the items on the list have helped to make me a better photographer.
So here's the list of unexpected photography tools that help me get that coveted shot: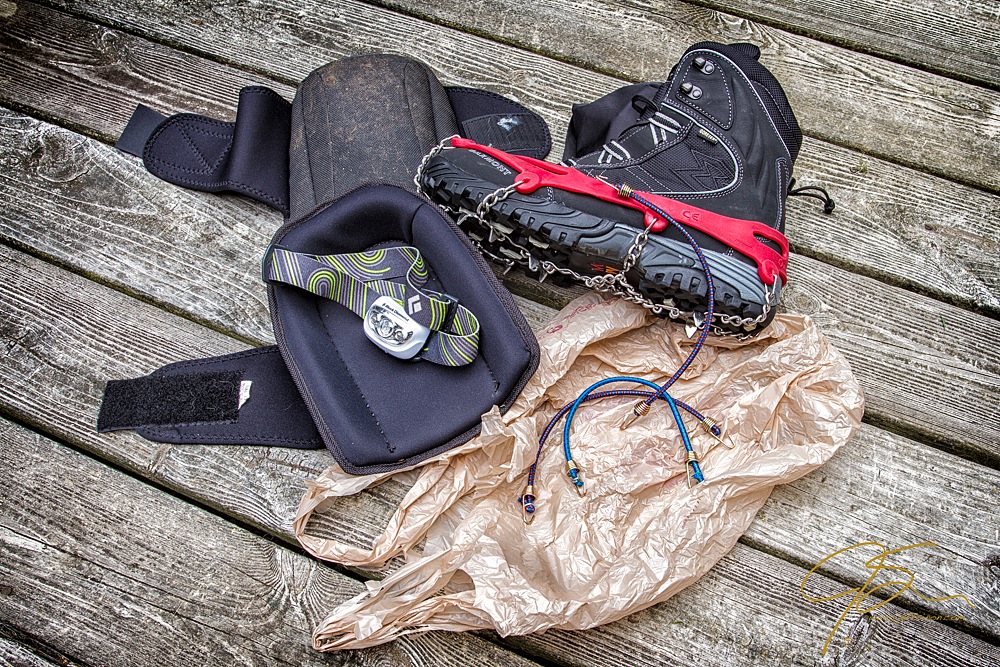 Plastic shopping bag, check.
Bungy cords, check.
MicroSpikes, check.
Knee pads, never leave home without them.
Headlamp, along with spare batteries, check.
You may be asking, "Knee pads, shopping bags, huh, what? What do you mean, knee pads, I thought this was going to be a photography gear list?"
This is my photography gear list, the difference being, the items on this list you won't likely find in a camera shop or rarely if ever mentioned in how-to articles about landscape photography. Yet every one of these items has made my nature and landscape photography in some way better, more unique, and made it easier to create the photographs I set out to make. At times I find the items on this list as important as my camera and tripod when it comes to making a photo.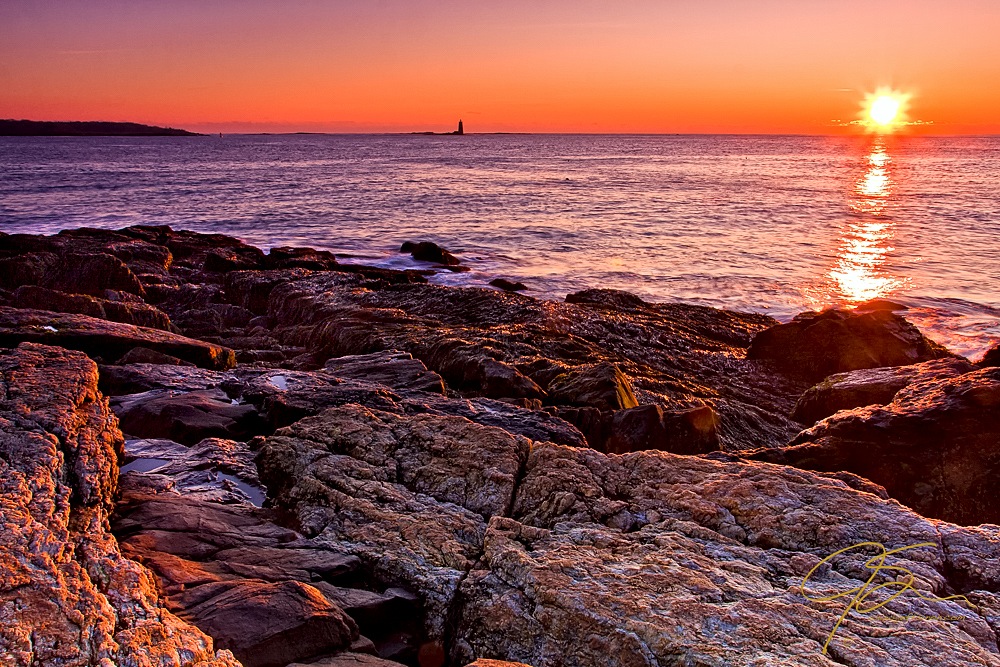 Knee pads
Knee pads don't make getting a shot like the above photo possible, they make it more enjoyable. One thing I like to do in my photographs is emphasize the foreground by setting the camera low to the ground. This means getting down on my knees to frame the shot. As you might imagine, those shoreline rocks are pretty rough on bare, or even pants covered knees. You can pick up an inexpensive pair of knee pads at any home improvement store. You knees will thank you.
Bungy cords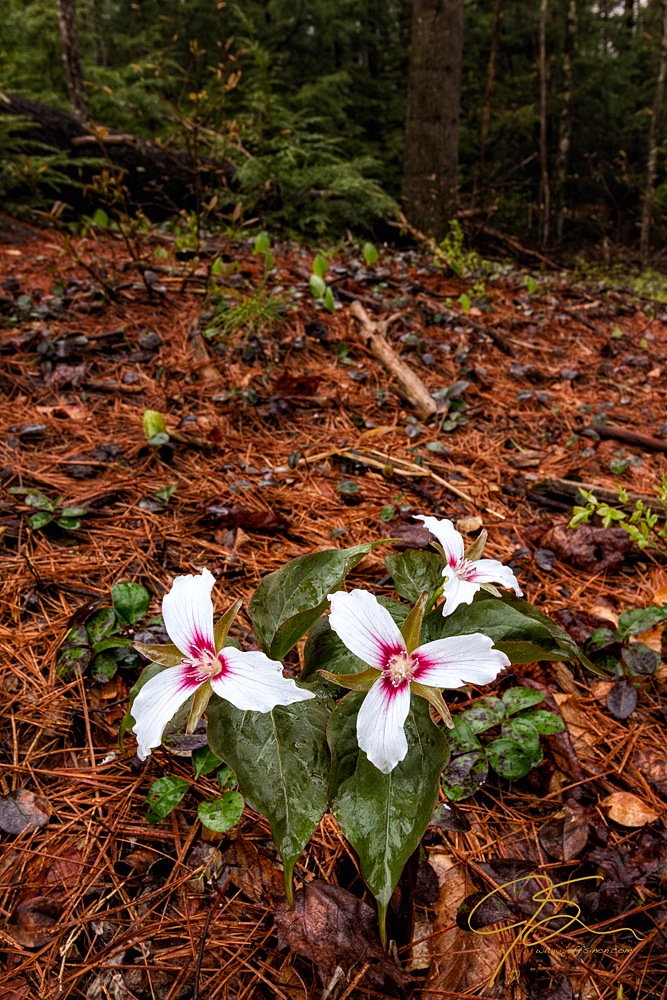 When I'm setting up a shot I have no problem doing what I refer to as "landscaping," removing errant twigs, leaves, or other debris that may be cluttering up the shot. What I don't like to do is rip out something that's still alive. When framing this shot of three painted trillium flowers there was a small sapling just off to the right with one of its branches running right through the frame. I simply used a couple of the small bungy cords I keep in my camera bag to secure the branch out of the way.
No baby trees were harmed in the making of this photo.
MicroSpikes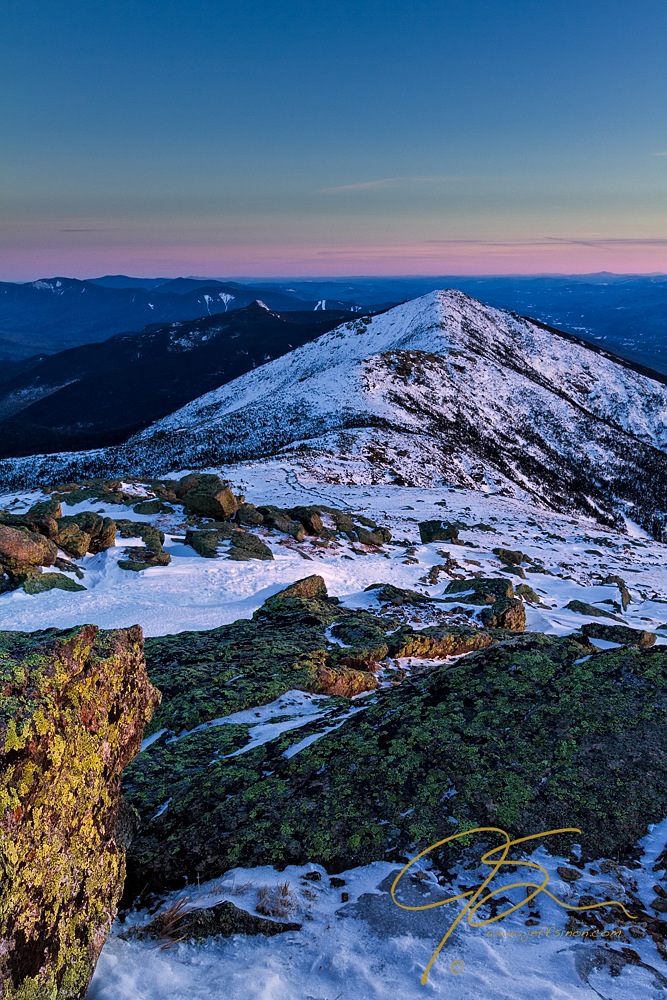 I absolutely love hiking and photographing high in the mountains during the winter. Safely traversing the snow and ice covered trails in order to photograph them requires traction and plenty of it. Kahtoola MicroSpikes, or similar traction aids, enable me to visit and photograph some of the highest peaks here in New Hampshire when the trails are covered in ice and snow.
Plastic shopping bags
Plastic shopping bags, like the kind you get at the grocery store have many uses for the nature and landscape photographer. Here are a few.
They work great as a camera cover when an unexpected shower threatens to put a damper on your photo outing. Pull one of these over your camera and secure it in place with one of the small bungy cords and your camera will stay nice and dry.
On a windy day you can fill one with dirt, sand, or a few rocks, and hang it from the hook on your tripod for added stability.
I keep a few on hand just for trash. If I see litter on the trail, I'll pick it up to dispose of properly.
A headlamp
Many of the locations I want to photograph require a 4-5 mile, or more, hike to reach. If I want to be there in time for sunrise, or stay for sunset, I'm going to be doing some hiking in the dark. Alright, a lot of hiking in the dark. A good headlamp, like this one, or similar, found at most outdoor retailers, along with spare batteries, will light your way. For the photo below, I needed to be on the trail by 2:30 in the morning in order to be at this spot in time for sunrise at 5:20. A good headlamp was essential in lighting the way.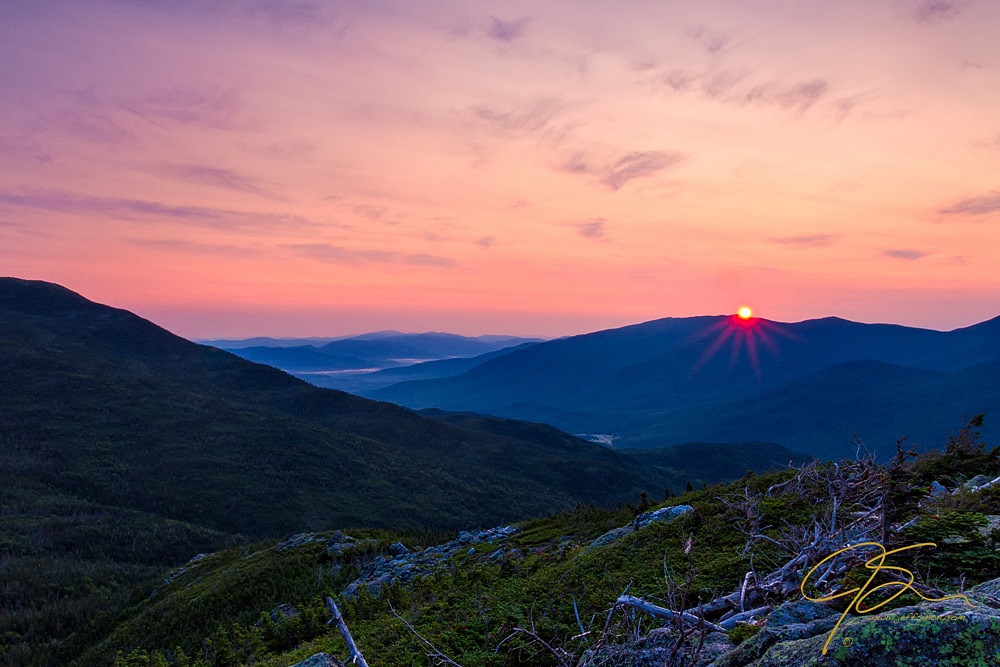 One last item…
Water shoes, I forgot to mention water shoes. When I photograph water lilies, I don't do it from shore, I wade right in. Often waist deep. When I photograph a waterfall, I'll get right into the middle of the stream for a different perspective. You don't really need to go out and buy a dedicated pair of water shoes either. Any old pair of sneakers you don't care about getting wet will do. Me personally, I like my Vibram FiveFingers.
So, there you have it, my list of unexpected photography tools. Tools that have helped make it possible for me to make the photos I make.
What surprising tools are on your essential yet unexpected list?