Decadent, rich, thick, fudgy, chewy, chocolaty and mouthwatering…these are the proper adjectives to describe what we're baking today: brownies.
I cannot express in words how much I love chocolate and since brownies are definitely one of my favorite sweets, trust me when I say I will not steer you wrong! These ultimate dark chocolate brownies will become one of your favorite sweets.
From start to finish: here's how to bake, cut and devour these ultimate sweet treats!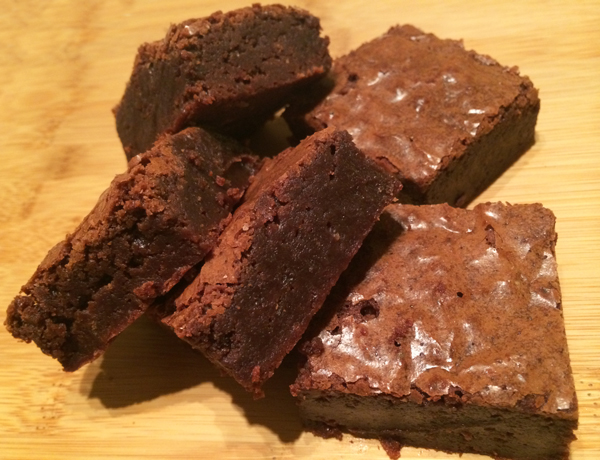 Is this the best brownie recipe ever?
Yes. You will get weak at the sight and smell of it. One taste and you'll fall into euphoria!  I've made these brownies for all ages and many different occasions. These brownies have the power to convert a few chocolate-dislikers into super brownie fans!  One thing is certain: They'll be the talk of the town and you'll be the hero.
Lets get started so we can eat!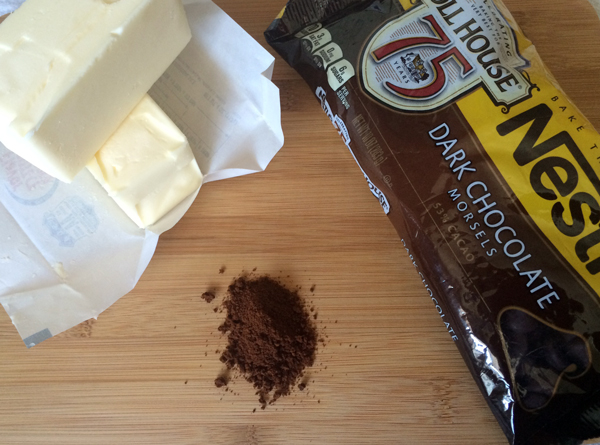 First, you'll need to gather two sticks of butter, 10 ounces of dark chocolate and some instant espresso powder.
Melt this goodness up in a bowl on top of a saucepan with an inch of simmering water. Whisk until smooth.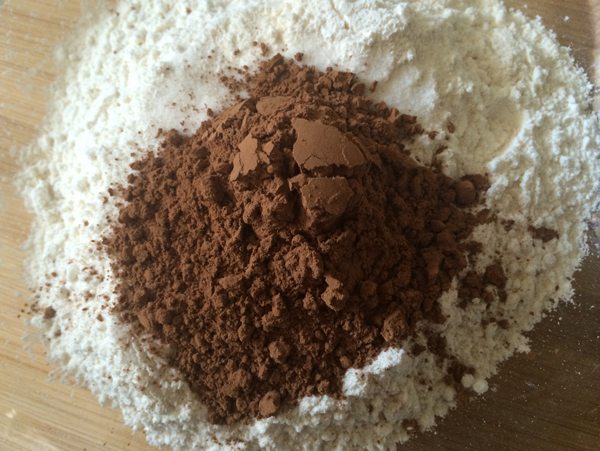 Place flour, salt and cocoa powder in a bowl and whisk it all together.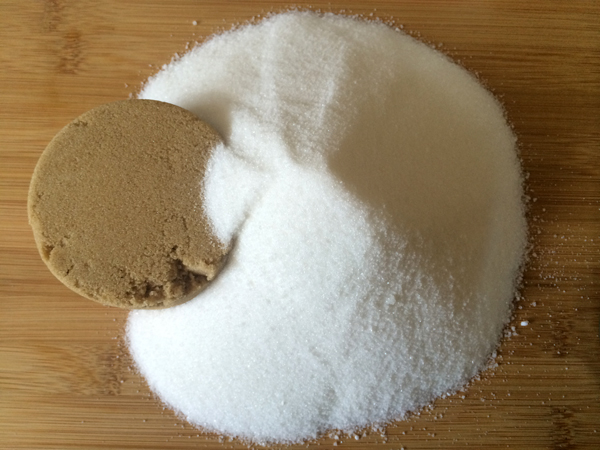 Grab some brown sugar and white granulated sugar, sugar!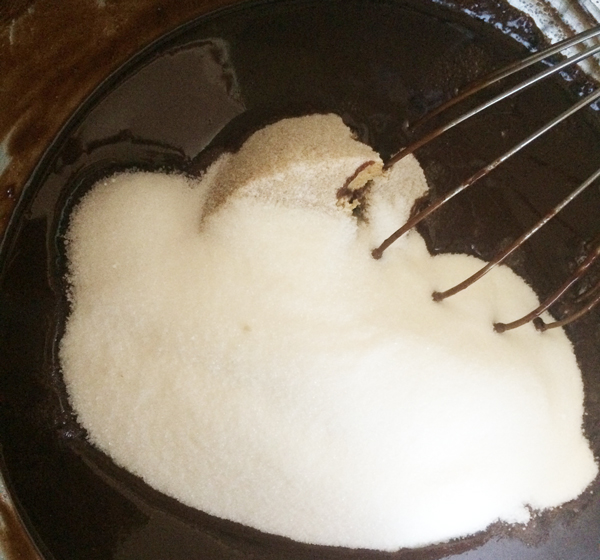 When the chocolate mixture is nice and smooth, remove it from the heat and add the sugars. Whisk until incorporated. At this point, it shouldn't be hot to the touch.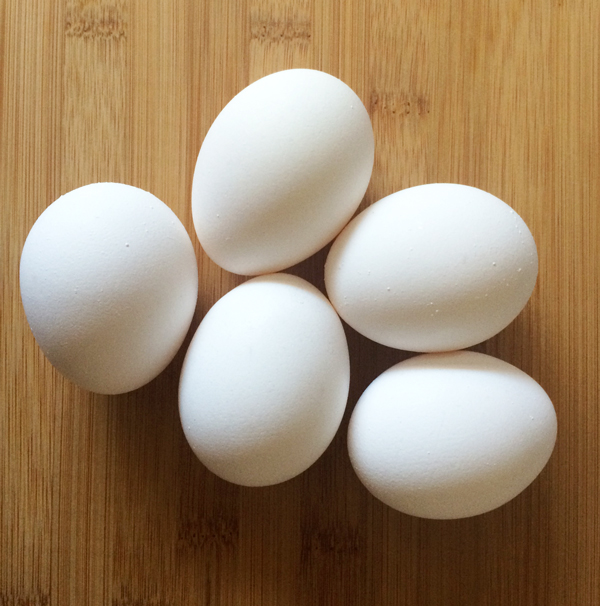 You'll need five eggs at room temperature.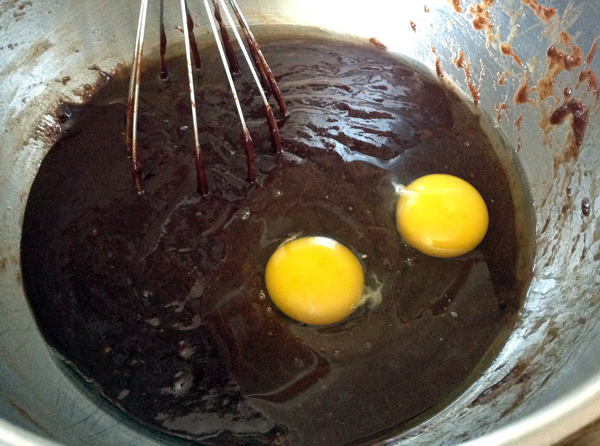 Add two eggs to the chocolate mixture and carefully whisk. Once incorporated, add remaining eggs. Do not overbeat! Add vanilla and stir it in with a spatula.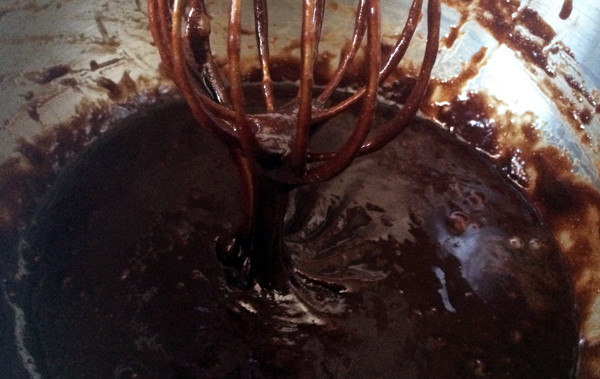 It should look something like this when it's fully incorporated.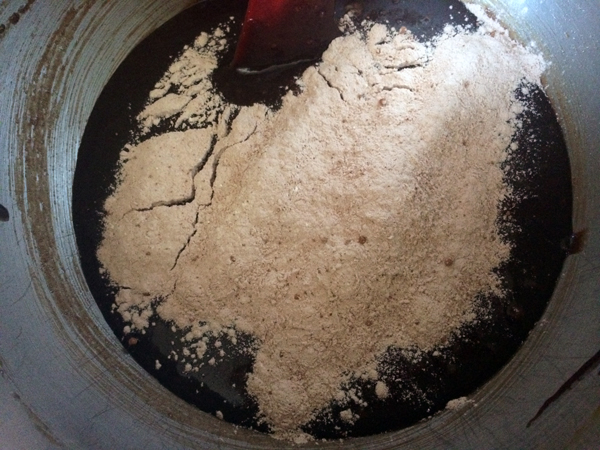 Sprinkle half of the flour mixture evenly on the top of the chocolate mixture.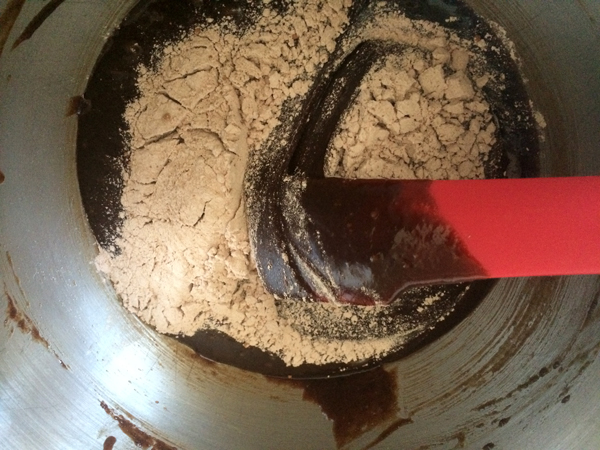 Grab your most flexible spatula with the widest blade and fold! Fold, fold, fold. After a few strokes, add the remaining flour mixture.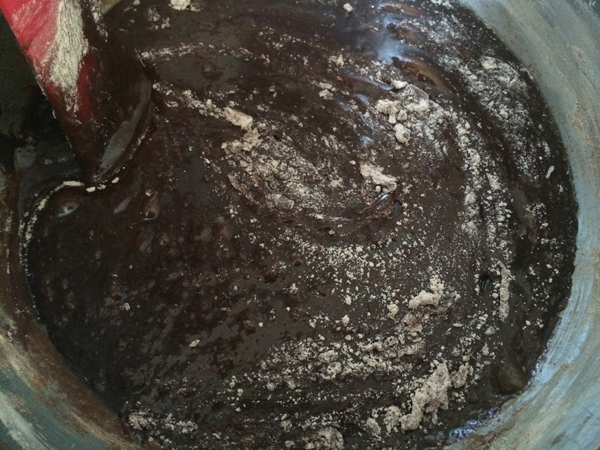 When it looks like this, you're almost there! Just do another flick of the wrist or two.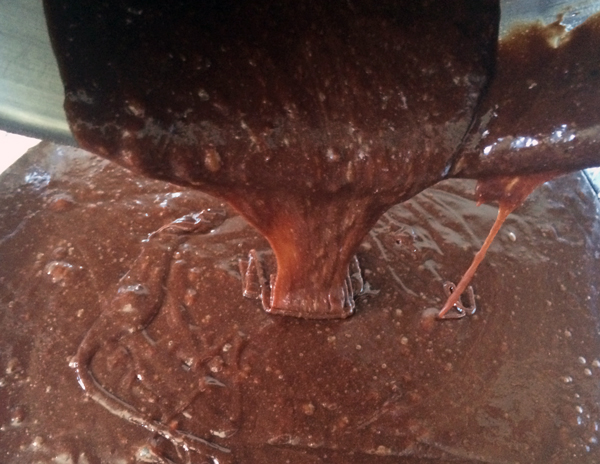 Pour into a pan that you've lined with foil and buttered and bake in a 350 F oven for 30 minutes. Being patient is so hard!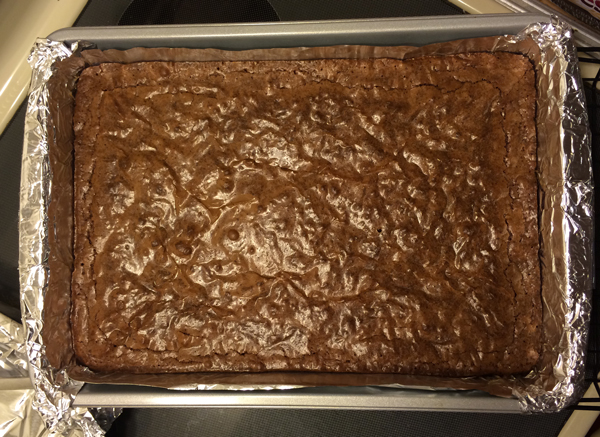 This is what it should look like when it's done and cooled. See that amazing crust? Oh gosh, I am drooling over here!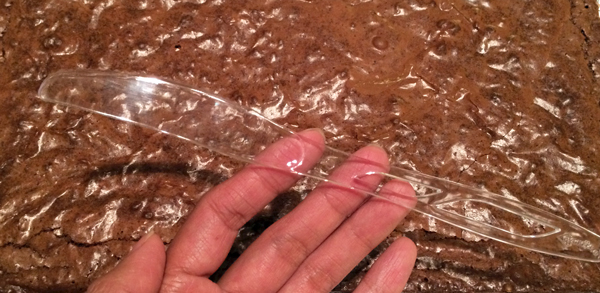 Time to cut! Here's a well kept secret. The most important tool for making brownies is a plastic knife. Yup, a super-cheap disposable plastic knife. The one thing that seems to be completely useless in everyday life is golden in the brownie business. Amazing, isn't it? This is the only way you'll get perfect cuts 100% of the time.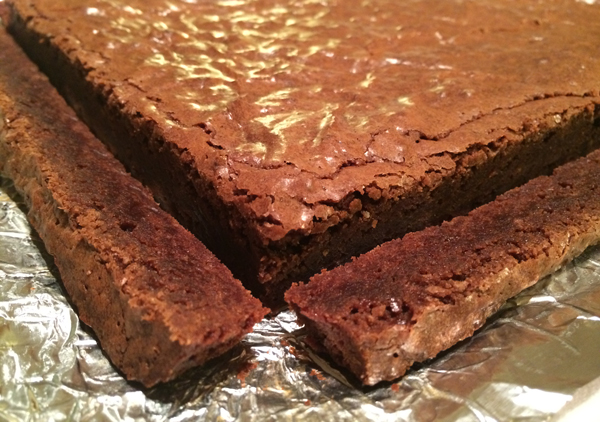 Since we're on the topic of cutting, I have a confession, and I don't know whether or not I should feel shameful. I cut off about a ⅓ inch all the way around the entire perimeter of the brownie pan. In other words, I trim all of the edges and keep them for myself to snack on. Ohhhh the shame! (But secretly I have no shame in admitting this).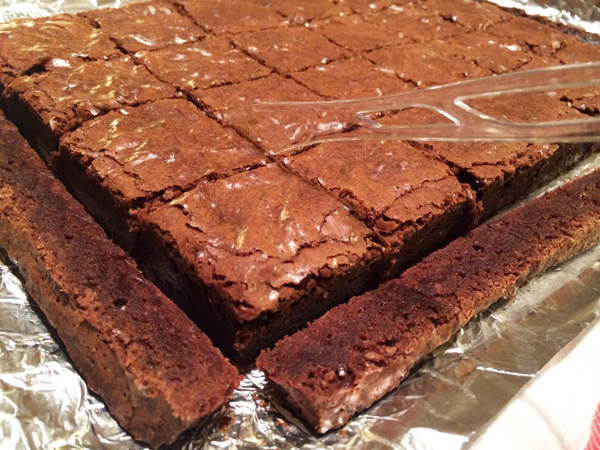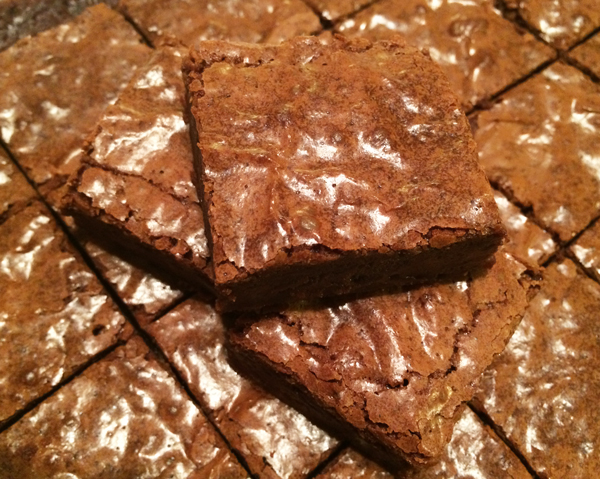 I do this with every pan of brownies and I justify it by what my habit does to the presentation of the brownies– all the edges are nice and perfectly uniform!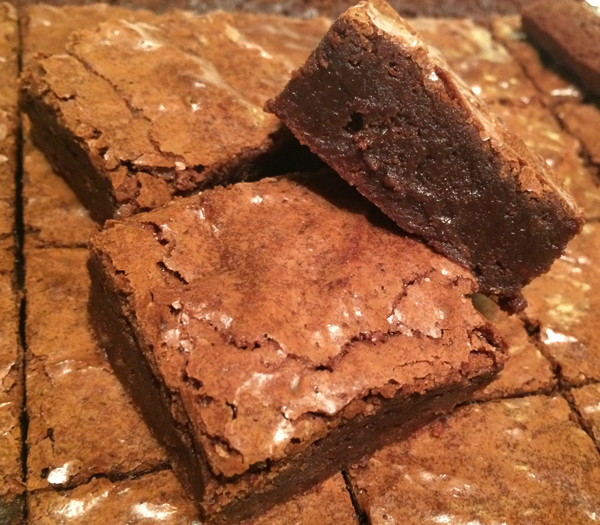 This is edible perfection!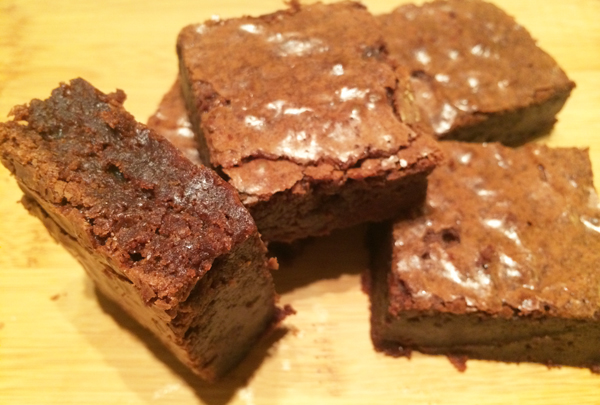 Don't they look divine? Enjoy a brownie for me. It's the perfect excuse to have just one more piece! Here's a good
Ultimate dark chocolate brownie recipe
Makes 24 brownies
Ingredients
2 sticks (1 cup) unsalted butter
10oz bag dark chocolate morsels
1 tsp espresso powder
1 ¼ cups, plus 2 Tbsp (6oz) flour
1 tsp salt
2 Tbsp unsweetened cocoa powder
1 ½ cups granulated sugar
½ cup packed brown sugar
5 eggs at room temperature
2 tsp vanilla extract
1. Preheat oven to 350 F. Line a 9×13 baking pan with aluminum foil. Carefully butter the sides and bottom.
2. Place an inch of water in a medium saucepan and bring to a simmer over low heat.
3. Place butter, chocolate morsels and espresso powder in a large glass or metal bowl and place bowl on top of the simmering water. You can also use a double boiler for this.
4. In another bowl, whisk together the flour, salt and cocoa powder. Set aside.
5. Whisk the chocolate and butter mixture until completely melted and smooth. Remove from heat and add sugars. Whisk until incorporated. Feel the mixture with your knuckle, it should not be too hot to the touch.
6. Add two eggs and whisk only until combined. Add remaining 3 eggs and whisk until combined. Stir in vanilla.
7. Evenly sprinkle half of the flour mixture over the chocolate mixture. Using a flexible and wide spatula, fold the flour mixture into the chocolate mixture until it starts to come together, then add the remaining flour mixture. Fold until only traces of flour mixture is visible.
8. Pour batter into foil-lined pan and bake for 27-30 minutes. A toothpick inserted in the middle should come out with a few crumbs and may have some chocolate stuck to the bottom. As long as it's not gooey, it's done. Then let cool completely.
9. When cooled, lift out of the pan using the foil. Pull the foil off the sides. Using a plastic knife, cut each side about ⅓ inch from the edges. Then cut into 24 squares.
Please give yourself a pat on the back as you enjoy these brownies! If you have any questions (or high-fives you'd like to give) with this tutorial, please let me know and leave a comment below!